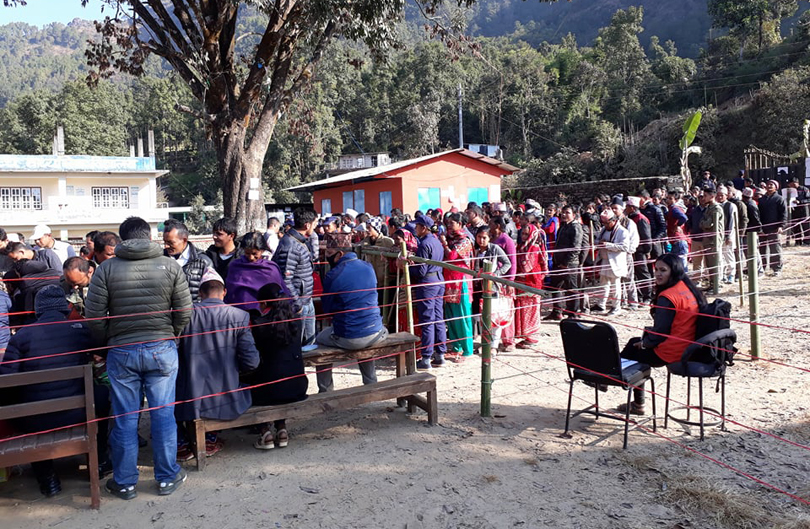 Kathmandu, December 6
Nepal on Thursday is concluding the first parliamentary elections after the promulgation of its new constitution drafted by people-elected Constituent Assembly in 2015.
Whereas 32 districts of mountainous and high hilly regions held voting on November 26, other 45 districts of hills and plains will go to voting tomorrow.
The polls will elect a 275-member House of Representatives, the Lower House of bicameral Parliament. Of 275 members, 165 will be elected through the first-past-the-post system from 165 constituencies of 77 districts.
Voters simultaneously cast their ballots to elect other 110 members in the proportional representation category. The entire country will be considered a single constituency for the PR system and the Election Commission divides 110 seats among the contesting parties on the basis of votes they would poll. Each party has to meet criteria of various cluster groups including women, Aadibasi Janajatis, Madheshis, Tharus, Muslims and Dalits while picking the winners.
Meanwhile, elections to seven provincial assemblies will also be held simultaneously. It will be Nepal's first exercise of operating provincial level legislative.
Each provincial assembly has varied strengths and constituencies on the basis of population. In total, there will be 550 members, exactly two-time the strength of House of Representatives. As in the House, 40 per cent of total (220) will be elected through the PR system.
Each House of Representatives constituency has two provincial constituencies for first-past-the-post polls and total 330 provincial legislators will be elected in seven provinces in total.
The Election Commission says it will announce FPTP results of provincial and parliamentary elections within fours days of the polls whereas four more days are required for the PR results. However, if the Commission's past performance is anything to go by, it is very unlikely to meet the deadline.
The constitution says a federal government will be formed within 35 days from the announcement of final results. Provincial governments will also be formed around the same time.
The government, however, is yet to appoint chiefs of provinces, who will act as representatives of the President to the provinces and will administer the oath of office and secrecy  to chief ministers.
Despite sporadic minor blasts, voter turnout is expected to exceed at least 60 per cent as the Commission had reported 65 per cent turnout in the first phase of polls held on November 26.