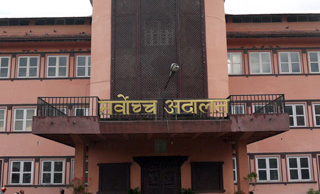 Kathmandu, August 5
The Supreme Court has ordered government to put an end to animal slaughter during the Gadhimai Festival, calling the practice cruel.
A joint bench of justices Ishwor Prasad Khatiwada and Anil Kumar Sinha, in its ruling, called the government to form a committee for stopping the cruelty against animals during the fair, Bishwo Raj Paudel, joint spokesperson for the court, said.
The ruling states: There's a need to make people aware that this practice is wrong. The government should create an environment in which people can enforce a code of conduct against this practice.
The government has also issued a directive to stop animal sacrifice, pointing that the practice is also against environmental well-being.
On November 20, 2014, advocate Arjun Kumar Aryal had filed a writ petition demanding an end to the practice of animal sacrifice at Gadhimai. He had made the Office of the Prime Minister and the Council of Ministers as well as the Gadhimai Temple Management Committee the defendants.