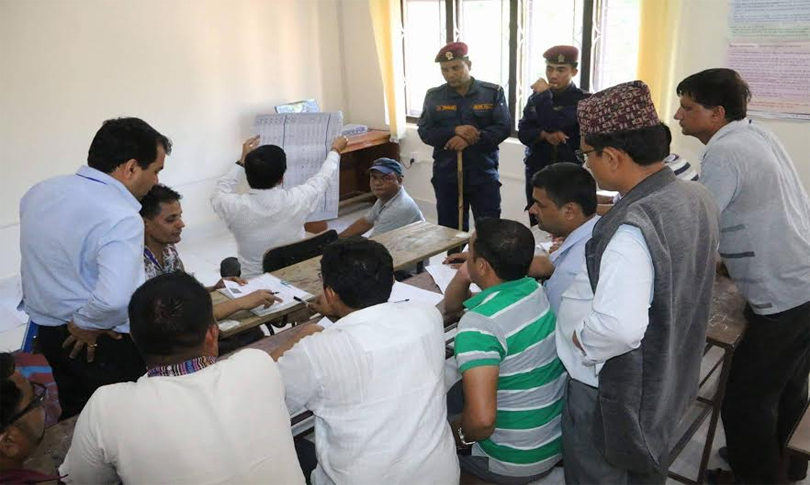 Kathmandu, July 7
Results of local level elections held last week have come out from 323 local units of provinces 1, 5 and 7 as of 10 am on Friday.
Results from other 11 local units out of 334 which went to polls are expected in few days as counting is underway.
So far, the CPN-UML has maintained the lead. It has won top posts in 144 places.
The front-runner is followed by the Nepali Congress which has so far 118 top-post victories.
The CPN-Maoist Centre is in the third position. It has clinched victory in 38 places only so far.
Fringe parties including the Nepal Democratic Forum, Federal Socialist Forum-Nepal, Naya Shakti, Rastriya Prajatantra Party and Rastriya Janamorcha Nepal have also found their places in the results.
Three independent candidates have also won the top position in Rupandehi and Kapilbastu districts of Province 5.
CPN-UML (144)
Province 1
1. Shankar Rai, Jantedhunga Rural Municipality, Khotang
2. Lila Prasad Niraula, Lamidanda Rural Municipality, Khotang
3. Pradeep Kumar Rai, Khatehang Rural Municipality, Khotang
4. Deep Narayan Rijal, Rupakot Majhuwagadhi Municipality, Khotang
5. Krishna Rai, Kepilasgadhi Rural Municipality, Khotang
6. Bir Bahadur Laxmi Karki, Sotang Rural Municipality, Solukhumbu
7. Buddhi Kiran Rai, Dudhkoshi Rural Municipality, Solukhumbu
8. Duphu Kumar Rai, Necha Salyan Rural Municipality, Solukhumbu
9. Ngimdorje Sherpa, Khumbu Pasang Lhamu Rural Municipality, Solukhumbu
10. Manoj Rai, Khalsa Chhintang Sahidbhumi Rural Municipality, Dhankuta
11. Birkha Bahadur Rai, Pakhribas Municipality, Dhankuta
12. Khajindra Rai, Chaubise Rural Municipality, Dhankuta
13. Sher Bahadur Limbu, Chhathar Jorpati Rural Municipality, Dhankuta
14. Chintan Tamang, Dhankuta Municipality, Dhankuta
15. Parashuram Nepal, Mahalaxmi Municipality, Dhankuta
16. Kumar Jung Yakha, Sangurigadhi Rural Municipality, Dhankuta
17. Bijaya Rai, Ram Prasad Rai Rural Municipality, Bhojpur
18. Dhruba Raj Rai, Tyamkemaiyum Rural Municipality, Bhojpur
19. Prem Kumar Rai, Hatuwagadhi Rural Municipality, Bhojpur
20. Kiran Rai, Pauwadungma Rural Municipality, Bhojpur
21. Rajan Kumar Thuklung, Maiwakhola Rural Municipality, Taplejung
22. Ram Kumar Sanwa, Mikwakhola Rural Municipality, Taplejung
23. Kailash Kumar Menyangbo Subba, Yangwarak Rural Municipality, Taplejung
24. Saroj Adheng, Phaktanglung Rural Municipality, Taplejung
25. Chhatrapati Pyakurel, Phungling Municipality, Taplejung
26. Gyanendra Shrestha, Katari Municipality, Udayapur
27. Uddhav Singh Thapa, Tapli Rural Municipality, Udayapur
28. Gajendra Bahadur Khadka, Rautamai Rural Municipality, Udayapur
29. Man Bahadur Kepchhaki Magar, Udayapurgadhi Rural Municipality, Udayapur
30. Bhuwani Prasad Lingden, Hilihang Rural Municipality, Panchthar
31. Jaya Bahadur Chemjong, Kummayak Rural Municipality, Panchthar
32. Lekhanath Ghimire, Yangwarak Rural Municipality, Panchthar
33. Bidur Linthep, Madi Municipality, Sankhuwasabha
34. Khadka Katuwal, Makalu Rural Municipality, Sankhuwasabha
35. Murari Prasad Khatiwada, Khandbari Municipality, Sankhuwasabha
36. Ratna Subba, Sabha Pokhari Rural Municipality, Sankhuwasabha
37. Bharat Kumar Khatri, Chainpur Municipality, Sankhuwasabha
38. Udaya Bahadur Rai, Sandakpur Rural Municipality, Ilam
39. Jit Bahadur Rai, Mai Jogmai Rural Municipality, Ilam
40. Pradeep Chandra Rai, Chulachuli Rural Municipality, Ilam
41. Surya Pokharel, Deumai Municipality, Ilam
42. Mahesh Basnet, Ilam Municipality, Ilam
43. Deep Bahadur Thebe, Mai Municipality, Ilam
44. Rana Bahadur Rai, Suryodaya Municipality, Ilam
45. Devi Prasad Acharya, Miklajung Rural Municipality, Morang
46. Tara Bahadur Kafle, Kanepokhari Rural Municipality, Morang
47. Gyanendra Subedi, Belbari Municipality, Morang
48. Shiva Narayan Tharu, Gramthan Rural Municipality, Morang
49. Kishor Rai, Pathari Shanishchare Municipality, Morang
50. Mohan Krishna Shrestha, Siddhicharan Municipality, Okhaldhunga
51. Maniraj Rai, Molung Rural Municipality, Okhaldhunga
52. Govinda Bahadur Paudel, Likhu Rural Municipality, Okhaldhunga
53. Sanjaya Tumbahamphe, Myanglung Municipality, Terhathum
54. Yadav Bahadur Khapung, Menchayayem Rural Municipality, Terhathum
55. Hari Chingwang, Phedap Rural Municipality, Terhathum
56. Santosh Tigela, Chhathar Rural Municipality, Terhathum
57. Bishnu Bikram Subba, Aathrai Rural Municipality, Terhathum
58. Rajendra Pokharel, Kankai Municipality, Jhapa
59. Menuka Kafle, Kamal Rural Municipality, Jhapa
60. Dhruva Shiwakoti, Birtamod Municipality, Jhapa
61. Jeevan Kumar Shrestha, Bhadrapur Municipality, Jhapa
62. Chandra Kumar Sherma, Shiva Satakshi Municipality, Jhapa
63. Nilam Khanal, Baraha Municipality, Sunsari
64. Dwarika Lal Chaudhary, Itahari Sub-Metropolitan City, Sunsari
Province 5
1. Ram Prasad Pandey, Triveni Susta Rural Municipality, Nawalparasi
2. Dhiraj Sharma, Bardaghat Municipality, Nawalparasi
3. Om Bahadur Gharti Magar, Tinau Rural Municipality, Palpa
4. Mukta Bahadur Saru, Nisti Rural Municipality, Palpa
5. Bishnu Prasad Bhandari, Rambha Rural Municipality, Palpa
6. Narayan Bahadur GC, Ribdikot Rural Municipality, Palpa
7. Nun Bahadur Thaoa Magar, Purba Khola Rural Municipality, Palpa
8. Ashok Kumar Shahi, Tansen Municipality, Palpa
9. Dilliraj Bhusal, Resunga Municipality, Gulmi
10. Dan Bahadur KC, Madane Rural Municipality, Gulmi
11. Laxman Bista, Isma Rural Municipality, Gulmi
12. Rit Bahadur Thapa, Malika Rural Municipality, Gulmi
13. Nilakantha Gautam, Ruru Rural Municipality, Gulmi
14. Madhu Krishna Panta, Chhatrakot Rural Municipality, Gulmi
15. Somnath Sapkota, Musikot Municipality, Gulmi
16. Jhag Bahadur Bishwakarma, Sarumarani Rural Municipality, Pyuthan
17. Netra Bahadur Rokaya, Swargadwari Municipality, Pyuthan
18. Shreedhar Rokka, Mandavi Rural Municipality, Pyuthan
19. Ghanashyam Pandey, Tulsipur Sub-Metropolitan City, Dang
20. Narulal Chaudhary, Ghorahi Sub-Metropolitan City, Dang
21. Bhagiram Chaudhary, Dangisharan Rural Municipality, Dang
22. Sahaj Ram Yadav, Gadhawa Rural Municipality, Dang
23. Bhuwaneshwor Paudel, Babai Rural Municipality, Dang
24. Kul Bahadur KC, Damahi Municipality, Dang
25. Ghan Narayan Shrestha, Thakurbaba Municipality, Bardiya
26. Lal Bahadur Shrestha, Badhaiyatal Rural Municipality, Bardiya
27. Shalik Ram Adhikari, Bansgadhi Municipality, Bardiya
28. Kisun Chandra Chaudhary, Suddhodhan Rural Municipality, Rupandehi
29. Shivaraj Subedi, Butwal Sub-Metropolitan City, Rupandehi
30. Gokarna Chhetri, Kanchan Rural Municipality, Rupandehi
31. Chitra Bahadur Karki, Sainamaina Municipality, Rupandehi
32. Basudev Ghimire, Tilottama Municipality, Rupandehi
33. Ayodhya Tharu, Siyari Rural Municipality, Rupandehi
34. Hari Prasad Adhikari, Siddhartha Nagar Municipality, Rupandehi
35. Shanta Kumar Wali, Triveni Rural Municipality, Rolpa
36. Balaram Budha Magar, Runtigadhi Rural Municipality, Rolpa
37. Gopal Thapa, Bijayanagar Rural Municipality, Kapilbastu
38. Netra Raj Adhikari, Shivaraj Municipality, Kapilbastu
39. Balkrishna Acharya, Malarani Rural Municipality, Arghakhanchi
40. Man Bahadur Ruchal, Baijanath Rural Municipality, Banke
41. Kismat Kumar Kashapati, Khajura Rural Municipality, Banke
42. Ram Niwas Yadav, Janaki Rural Municipality, Banke
43. Lut Bahadur Rawal, Kohalpur Municipality, Banke
Province 7
1. Karna Bahadur Kathayat, Masta Rural Municipality, Bajhang
2. Bhuwaneshwor Upadhyaya, Thalara Rural Municipality, Bajhang
3. Prayag Raj Joshi, Durgathali Rural Municipality, Bajhang
4. Lal Bahadur Bista, Talkot Rural Municipality, Bajhang
5. Prem Bahadur Bohora, Bitthadchir Rural Municipality, Bajhang
6. Indra Bhandari, Kedarsyun Rural Municipality, Bajhang
7. Akkal Dhami, Chhabispathibhera Rural Municipality, Bajhang
8. Birendra Bahadur Khadka, Jaya Prithvi Municipality, Bajhang
9. Kali Bahadur Shahi, Pandavgupha Rural Municipality, Bajura
10. Hari Rokaya, Gaumul Rural Municipality, Bajura
11. Chiranjivi Shahi, Swami Kartik Rural Municipality, Bajura
12. Gorakh Bahadur Chand, Pancheshwor Rural Municipality, Baitadi
13. Chakra Karki, Dogadakedar Rural Municipality, Baitadi
14. Ukendra Bohora, Dilasaini Rural Municipality, Baitadi
15. Bishweshwor Prasad (Bipin) Ojha, Amargadhi Municipality, Dadeldhura
16. Kawendra Bahadur Bista, Nawadurga Rural Municipality, Dadeldhura
17. Paramananda Joshi, Lekam Rural Municipality, Darchula
18. Dharmananda Manyal, Api Himal Rural Municipality, Darchula
19. Prem Singh Dhami, Naugad Rural Municipality, Darchula
20. Manju Malasi, Dipayal Silgadhi Municipality, Doti
21. Durgadatta Ojha, Jorayal Rural Municipality, Doti
22. Tej Bahadur Dumrel, Sayal Rural Municipality, Doti
23. Dirgha Bogati, Purbichauki Rural Municipality, Doti
24. Tek Bahadur Rokaya, Aadarsha Rural Municipality, Doti
25. Dhan Bahadur Thapa, Beldandi Rural Municipality, Kanchanpur
26. Ashok Chand, Bedkot Municipality, Kanchanpur
27. Karna Bahadur Hamal, Krishnapur Municipality, Kanchanpur
28. Dhan Bahadur Rokka Magar, Chure Rural Municipality, Kailali
29. Nawal Singh Rawal, Mohanyal Rural Municipality, Kailali
30. Bhim Bahadur Deuba, Gauriganga Municipality, Kailali
31. Tapendra Bahadur Rawal, Tikapur Municipality, Kailali
32. Hari Saud, Godawari Municipality, Kailali
33. Mamata Prasad Chaudhary, Ghodaghodi Municipality, Kailali
34. Mahadev Bajagain, Lamkichuha Municipality, Kailali
35. Padam Bahadur Bohora, Mangalsen Municipality, Achham
36. Harka Bahadur Saud, Chaurpati Rural Municipality, Achham
37. Kul Bahadur Kunwar, Sanphebagar, Achham
Nepali Congress (118)
Province 1
1. Pasang Norbu Sherpa, Chichila Rural Municipality, Sankhuwasabha
2. Ram Bahadur Kulung, Silichong Rural Municipality, Sankhuwasabha
3. Pemba Bhote, Bhotkhola Rural Municipality, Sankhuwasabha
4. Ramesh Jimi, Dharmadevi Municipality, Sankhuwasabha
5. Bipin Rai, Panchkhapan Municipality, Sankhuwasabha
6. Bishwanath Niraula, Ainselukharkha Rural Municipality, Khotang
7. Bhupendra Rai, Diprung Rural Municipality, Khotang
8. Shalik Ram Banjara, Baraha Pokhari Rural Municipality, Khotang
9. Iwan Rai, Halesi Tuwachung Municipality, Khotang
10. Bishwa Sitaula, Aathrai Triveni Rural Municipality, Taplejung
11. Ganesh Prasad Chongbang, Meringden Rural Municipality, Teplejung
12. Nara Bahadur Kadariya, Sidingwa Rural Municipality, Taplejung
13. Tika Gurung, Sirijangha Rural Municipality, Taplejung
14. Kailash Kumar Aale, Bhojpur Municipality, Bhojpur
15. Birbal Rai, Shadananda Municipality, Bhojpur
16. Gajendra Bahadur Karki, Arun Rural Municipality, Bhojpur
17. Mahesh Rai, Salpasilichho Rural Municipality, Bhojpur
18. Sancha Kumar Kerung, Phalelung Rural Municipality, Panchthar
19. Onahang Nembang, Phidim Municipality, Panchthar
20. Homnath Thapa, Tumbewa Rural Municipality, Panchthar
21. Amar Kumar Nembang, Phalgunanda Rural Municipality, Panchthar
22. Shankar Rai, Letang Municipality, Morang
23. Rabin Rai, Ratuwamai Municipality, Morang
24. Shiva Prasad Dhakal, Sundar Haraincha Municipality, Morang
25. Rohit Karki, Kerabari Rural Municipality, Morang
26. Ram Kumar Kamat, Katahari Rural Municipality, Morang
27. Kali Prasad Das, Sunbarshi Municipality, Morang
28. Khadga Phago, Urlabari Municipality, Morang
29. Motiraj Rai, Manebhanjyang Rural Municipality, Okhaldhunga
30. Bed Bahadur Rokka, Khijidemba Rural Municipality, Okhaldhunga
31. Nawaraj Joshi, Champadevi Rural Municipality, Okhaldhunga
32. Rudra Adhikari, Sunkoshi Rural Municipality, Okhaldhunga
33. Arjun Babu Mabohang, Laligurans Municipality, Terhathum
34. Namgel Jangbu Sherpa, Solu Dudhkunda Municipality, Solukhumbu
35. Dikendra Idingo, Mangsebung Rural Municipality, Ilam
36. Shamsher Rai, Rong Rural Municipality, Ilam
37. Ram Kumar Shrestha, Phakphokthum Rural Municipality, Ilam
38. Rajan Mehata, Inaruwa Municipality, Sunsari
39. Prakash Chaudhary, Ramdhuni Municipality, Sunsari
40. Lali Prasad Mehata, Dewangunj Rural Municipality, Sunsari
41. Gaphar Ansari Miya, Harinagara Rural Municipality, Sunsari
42. Shree Prasad Yadav, Gadhi Rural Municipality, Sunsari
43. Aiyub Ansari, Koshi Rural Municipality, Sunsari
44. Jaya Narayan Shah, Jhapa Rural Municipality, Jhapa
45. Rohit Kumar Shah, Gauradaha Municipality, Jhapa
46. Khadga Prasad Rajbanshi, Barhadashi Rural Municipality, Jhapa
47. Ramesh Bhujel, Buddhashanti Rural Municipality, Jhapa
48. Khagendra Rai, Chaudandigadhi Municipality, Udayapur
Province 5
1. Dron Khatri, Chandrakot Rural Municipality, Gulmi
2. Ashok Kumar Thapa, Gulmi Darbar Rural Municipality, Gulmi
3. Bed Magar, Kaligandaki Rural Municipality, Gulmi
4. Parishawar Dhakal, Satyawari Rural Municipality, Gulmi
5. Raj Kumar Sharma, Pratappur Rural Municipality, Nawalparasi
6. Bhim Bahadur Chhetri Bharat, Sunawal Municipality, Nawalparasi
7. Narendra Gupta, Ramgram Municipality, Nawalparasi
8. Lokraj KC, Rajpur Rural Municipality, Dang
9. Kaman Singh Dangi, Shanti Nagar Rural Municipality, Dang
10. Numananda Subedi, Rapti Rural Municipality, Dang
11. Surya Prasad Adhikari, Shitaganga Municipality, Arghakhanchi
12. Lekhanath Pokharel, Chhatradev Rural Municipality, Arghakhanchi
13. Achyut Gautam, Panini Rural Municipality, Arghakhanchi
14. Kamal Prasad Bhusal, Sandhikharka Municipality, Arghakhanchi
15. Durga Bahadur Khadka, Lungri Rural Municipality, Rolpa
16. Narendra Chaudhary Pappu, Duduwa Rural Municipality, Banke
17. Lahuram Tharu, Raptisonari Rural Municipality, Banke
18. Muktinath Yadav Kittu, Gulariya Municipality, Bardiya
19. Jawan Singh KC, Geruwa Rural Municipality, Bardiya
20. Girjesh Kumar Pandeya, Yashodhara Rural Municipality, Kapilbastu
21. Mangal Prasad Tharu, Banganga Municipality, Kapilbastu
22. Kiran Singh, Kapilbastu Municipality, Kapilbastu
23. Keshav Kumar Shrestha, Buddhabhumi Municipality, Kapilbastu
24. Abdul Kalam, Maharajgunj Municipality, Kapilbastu
25. Bishnu Kumar Giri, Gaumukhi Rural Municipality, Pyuthan
26. Shiva Regmi, Naubahini Rural Municipality, Pyuthan
27. Nabil Bikram Shah, Airawati Rural Municipality, Pyuthan
28. Ram Bahadur Karki Chhetri, Rainadevi Chhahara Rural Municipality, Palpa
29. Raman Bahadur Thapa, Rampur Municipality, Palpa
30. Santosh Kumar Thapa, Mathagadhi Rural Municipality, Palpa
31. Krishna Prasad Basyal, Baganaskali Rural Municipality, Palpa
32. Dhruba Narayan Chaudhary, Mayadevi Rural Municipality, Rupandehi
33. Hira Bahadur Khatri, Devdaha Municipality, Rupandehi
Province 7
1. Rajendra Dhami, Kanda Rural Municipality, Bajhang
2. Dhan Bahadur Bista, Bungal Municipality, Bajhang
3. Nara Bahadur Bohara, Surma Rural Municipality, Bajhang
4. Warka Rokaya, Khaptadchhana Rural Municipality, Bajhang
5. Nar Bahadur Rawal, Chhededaha Rural Municipality, Bajura
6. Govinda Malla, Himali Rural Municipality, Bajura
7. Padam Baduwal, Badimalika Municipality, Bajura
8. Deepak Bikram Shah, Budhiganga Municipality, Bajura
9. Padam Bahadur Giri, Budhinanda Municipality, Bajura
10. Ram Singh Rawal, Triveni Municipality, Bajura
11. Hansharaj Bhatta, Mahakali Municipality, Darchula
12. Narendra Singh Dhami, Malikarjun Rural Municipality, Darchula
13. Amar Singh Dhami, Shailyashikhar Municipality, Darchula
14. Dilip Singh Budha, Byas Rural Municipality, Darchula
15. Pulendra Bahadur Karki, Duhun Rural Municipality, Darchula
16. Kaushalya Bhatta, Bhageshwor Rural Municipality, Dadeldhura
17. Bal Bahadur Gurung, Aalital Rural Municipality, Dadeldhura
18. Nawal Singh Malla, Ganyapadhura Rural Municipality, Dadeldhura
19. Bhim Bahadur Saud, Parashuram Municipality, Dadeldhura
20. Lokendra Shahi, KI Singh Rural Municipality, Doti
21. Krishna Bahadur Chand, Badikedar Rural Municipality, Doti
22. Sitaram Joshi, Shikhar Municipality, Doti
23. Bir Bahadur Bista, Surnaya Rural Municipality, Baitadi
24. Khagendra Singh Dhami, Sigas Rural Municipality, Baitadi
25. Karna Bahadur Rana, Shivanath Rural Municipality, Baitadi
26. Keshav Bahadur Chand, Patan Municipality, Baitadi
27. Krishna Singh Nayak, Melauli Municipality, Baitadi
28. Narendra Singh Thapa, Dasharath Chand Municipality, Baitadi
29. Om Prakash Bista, Kamal Bazaar Municipality, Achham
30. Rajendra Khadka, Bannigadhi Jayadadh Rural Municipality, Achham
31. Devraj Devkota, Panchadewal Binayak Municipality, Achham
32. Pushpa Sharma, Turmakhand Rural Municipality, Achham
33. Dhan Bahadur Budha, Dhakari Rural Municipality, Achham
34. Dil Bahadur Air, Shuklaphanta Municipality, Kanchanpur
35. Bir Bahadur Sunar, Mahakali Municipality, Kanchanpur
36. Ram Krishna Chaudhary, Joshipur Rural Municipality, Kailali
37. Baliram Chaudhary, Bardagoriya Rural Municipality, Kailali
CPN-Maoist Centre (38)
Province 1
1. Dambar Bahadur Basnet, Likhu Pike Rural Municipality, Solukhumbu
2. Sagar Kiranti, Mahakulung Rural Municipality, Solukhumbu
3. Asim Rai, Dudhkaushika Rural Municipality, Solukhumbu
4. Nishant Sharma, Chisankhugadhi Rural Municipality, Okhaldhunga
5. Arjun Kumar Khadka, Sakela Rural Municipality, Khotang
6. Ashok Rai, Aamchok Rural Municipality, Bhojpur
7. Major Kumar Rai, Sunkoshi Rural Municipality, Udayapur
8. Amar Raj Makhim, Miklajung Rural Municipality, Panchthar
9. Dilip Agrawal, Rangeli Municipality, Morang
Province 5
1. Om Prasad Gharti, Putha Uttar Ganga Rural Municipality, Rukum
2. Ramsur Budha, Bhume Rural Municipality, Rukum
3. Kumari Baral Gautam, Sisne Rural Municipality, Rukum
4. Bhakta Bahadur Oli, Bangalachuli Rural Municipality, Dang
5. Aash Bahadur Pun Magar, Sunchhahari Rural Municipality, Rolpa
6. Bir Bahadur Gharti Magar Biyog, Thabang Rural Municipality, Rolpa
7. Gunendra Gharti Magar, Suwarnawati Rural Municipality, Rolpa
8. Puran Chhetri Current, Rolpa Municipality, Rolpa
9. Nanda Bahadur Pun, Madi Rural Municipality, Rolpa
10. Nimkant Dangi, Duikholi Rural Municipality, Rolpa
11. Bir Bahadur KC, Sukidaha Rural Municipality, Rolpa
12. Hira Kumar Kewat, Om Satiya Rural Municipality, Rupandehi
13. Ganesh KC, Madhuwan Municipality, Bardiya
14. Durga Bahadur Tharu, Barbardiya Municipality, Bardiya
15. Shiva Prasad Tharu, Rajapur Municipality, Bardiya
16. Bhupal Pokharel, Dhurkot Rural Municipality, Gulmi
17. Beju Prasad Gupta, Palhinandan Rural Municipality, Nawalparasi
18. Resham Thapa, Bhumikasthan Municipality, Arghakhanchi
19. Arjun Kumar Kakshapati, Pyuthan Municipality, Pyuthan
Province 7
1. Umesh Bhatta, Ajayameru Rural Municipality, Dadeldhura
2. Kamal Gadsila, Bogatan Rural Municipality, Doti
3. Jaman Singh Dhami, Marma Rural Municipality, Darchula
4. Madan Badayak, Laljhadi Rural Municipality, Kanchanpur
5. Potilal Chaudhary, Belauri Municipality, Kanchanpur
6. Jhankar Saud, Ramaroshan Rural Municipality, Achham
7. Lok Bahadur Bohora, Mellekh Rural Municipality, Achham
8. Ran Bahadur Kunwar, Purchaudi Municipality, Baitadi
9. Lajuram Chaudhary, Kailari Rural Municipality, Kailali
10. Sher Bahadur Chaudhary, Bhajani Municipality, Kailali
Forum-Naya Shakti (8)
Province 1
1. Mahendra Prasad Yadav, Bhokraha Rural Municipality, Sunsari
2. Kailash Prasad Mandal, Jahada Rural Municipality, Morang
Province 5
1. Istiyak Ahamad Sah, Narainapur Rural Municipality, Banke
2. Keshav Nanda Baniya, Marchawari Rural Municipality, Rupandehi
3. Sanoj Kumar Yadav, Rohini Rural Municipality, Rupandehi
4. Bachhu Kewat, Gaidahawa Rural Municipality, Rupandehi
5. Chandra Bhushan Yadav, Kotahimai Rural Municipality, Rupandehi
6. Bajarangi Kurmi, Mayadevi Rural Municipality, Kapilbastu
Nepal Democratic Forum (6)
Province 1
1. Raghundandan Chaudhary, Barju Rural Municipality, Sunsari
2. Bed Gachhadar, Dubahi Municipality, Sunsari
3. Balchandra Majhi, Budhiganga Rural Municipality, Morang
Province 5
1. Radheshyam Chaudhary Tharu, Sarawal Rural Municipality, Nawalparasi
2. Jitendra Nath Shukla, Sammarimai Rural Municipality, Rupandehi
Province 7
1. Pradeep Kumar Chaudhary, Janaki Rural Municipality, Kailali
Rastriya Prajatantra Party (4)
Province 1
1. Anjar Alam, Kachankawal Rural Municipality, Jhapa
2. Rabindra Lingden, Haldibari Rural Municipality, Jhapa
3. Baburaja Shrestha, Gauriganj Rural Municipality, Jhapa
Province 5
1. Dhawal Shamsher Rana, Nepalgunj Sub-Metropolitan City, Banke
Rastriya Janamorcha (2)
Province 5
1. Amar Dhwaj Rana, Mallarani Rural Municipality, Pyuthan
2. Tilak GC, Jhimruk Rural Municipality, Pyuthan
Independent (3)
Province 5
1. Ahmad Khan, Suddhodan Rural Municipality, Kapilbastu
2. Rajat Pratap Sah, Krishna Nagar Municipality, Kapilbastu
3. Manmohan Chaudhary, Lumbini Sanskritik Municipality, Rupandehi