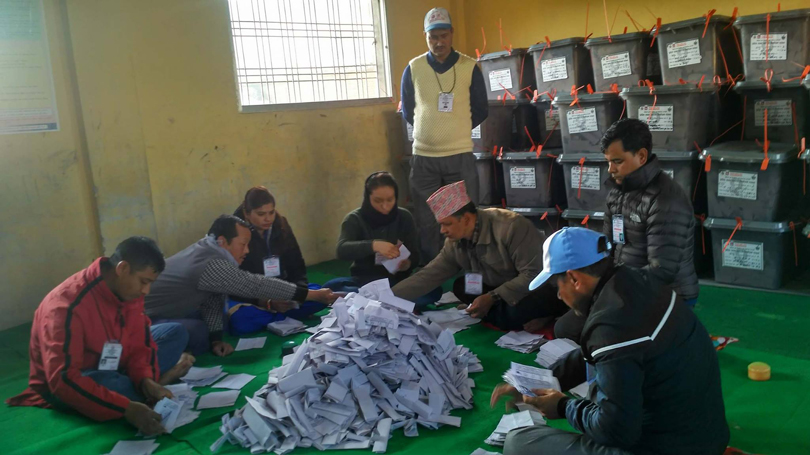 December 8,
So far, final results from seven House of Representatives constituencies have been announced. The  CPN-UML has won in five places. The CPN-Maoist Centre has secured victory in one place and an independent candidate has won in the remaining constituency.
The winners include:
Bhupendra Bahadur Thapa, Myagdi, CPN-UML
Gopal Bam, Mugu, CPN-UML
Bhairav Bahadur Singh, Bajhang, CPN-UML
Prem Prasad Tulachan, Mustang, CPN-UML
Palden Chhopang Gurung, Manang, CPN-UML
Kamala Rokka, Rukum East, CPN-Maoist Centre
Chhakka Bahadur Lama, Humla, Independent
The Nepali Congress is yet to register victory and the party is leading in only few places.
Updated at 5:00 pm
—
December 8
The leftist alliance is leading preliminary vote counts in most of constituencies where the counting has started. So far, final results from three federal constituencies have been announced and leftist candidates have emerged victorious in all of them.
The first House of Representatives election result was announced in the single constituency of Mustang district, where Prem Prasad Tulachan of CPN-UML won. Likewise, in the only constituency of Manang, UML's Polden Chhopang Gurung has been elected the parliamentarian.
In Mustang, UML candidates Mahendra Bahadur Thakali and Indradhara Bista were elected provincial lawmakers. Manang elected Nepali Congress' Chinta Bahadur Ghale and UML-supported independent candidate Rajeev Gurung aka Deepak Manange as provincial lawmakers.
In Rukum East, CPN-Maoist Centre's Kamala Rokka turned victorious for the House of Representatives. The same party's candidates Purna Bahadur Gharti and Tej Bahadur Oli have been elected provincial lawmakers in the district.
Currently, vote counting is underway in almost all constituencies that held the polls in the first phase on November  26. The leftist alliance is leading in all constituencies except five where candidates of Nepali Congress or those supported by the party are leading.
Meanwhile, vote counting will begin in Kathmandu at 10 am today.