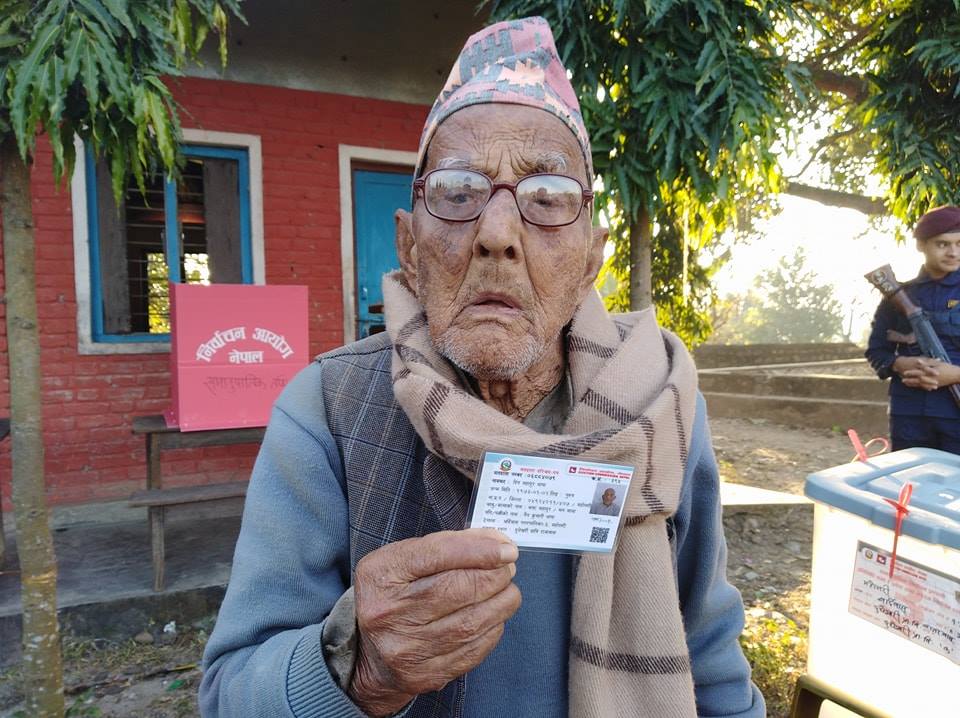 Kathmandu, December 7
Polls have closed in the second round of the provincial and parliamentary elections in Nepal following a relatively peaceful day of voting in 45 districts. Although voter turnout has been expected to be lower than that of the recently-concluded local elections, officials say there weren't any major incidents of violence.
Here's a summary of what happened during the day across the country:
Terathum, Dhankuta: Polling was peaceful. Ballot boxes to be brought to the district headquarters tonight. Count to begin tomorrow. Security was beefed up in Dhankuta where a person had lost his life in poll violence during the first CA elections.
Ilam: Polls have closed after a quiet day of voting. Counting to being tomorrow morning.
Udaypur: Polling was peaceful, no major incidents were reported.
Jhapa: Voter turnout was lower in areas near the highway. Polling was peaceful. Hari Prasad Wagle (101) cast his vote at Namuna High School booth.
Morang: Vote count will begin tomorrow. Polling peaceful. Ballot boxes from hilly areas of the district to be brought to district headquarters by 1 am.
Sunsari: Polling was largely peaceful in Sunsari. In Dharan, an IED was found near a polling station at around 9:30 am, but it was defused by security personnel.
 Saptari : According to reports, polls closed without major incidents of violence. In Mahadewa, local boycotted the polls protesting the lack of 'development' in their area.
Sarlahi: Four people were injured after the Nepali Congress and RJP cadres clashed in Phulparasi. Police had to resort to shooting in the air to take the situation under control.
Parsa : Polls closed peacefully
Dang : An IED exploded near the Adharbhoot School Doghare polling station
Achham : Cadres of UML and the Nepali Congress clashed in Charpati, Achham. Police fired tear gas shells to disperse protestors.
Argakhanchi : Polling has been cancelled in two stations in Neta, Argakhanchhi. The ballot papers were not signed by the returning officer, and the political parties threatened to boycott polls.
Syangja: Cadres of leftist and democratic alliances clashed at a polling station and police opened the fire in air to contain the situation.
Bhaktapur: Cadres of Nepali Congress and CPN-UML clashed. Both parties accused each-other for the incident.
Kathmandu Valley, Kavre, Dadeldhura : Polling closed peacefully with no major incidents of violence reported.