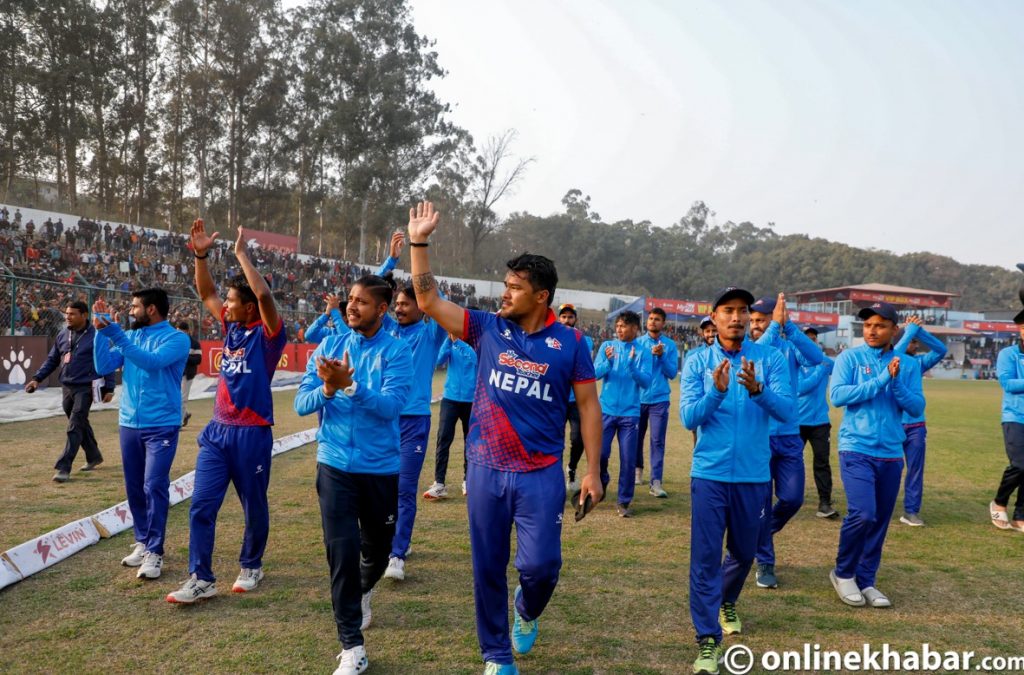 The Nepal cricket team on March 12 retained their ODI status by beating UAE at TU Cricket Ground. This, until a month ago, looked highly unlikely.
The team were in disarray as they had won only two games out of 10. But in the last month, the team won 10 out of 11 games and are one win away from reaching the ICC World Cup Qualifiers in Zimbabwe in July when they will face test nations like Zimbabwe and West Indies among others.
So what is behind this overhaul?
Hoping against hope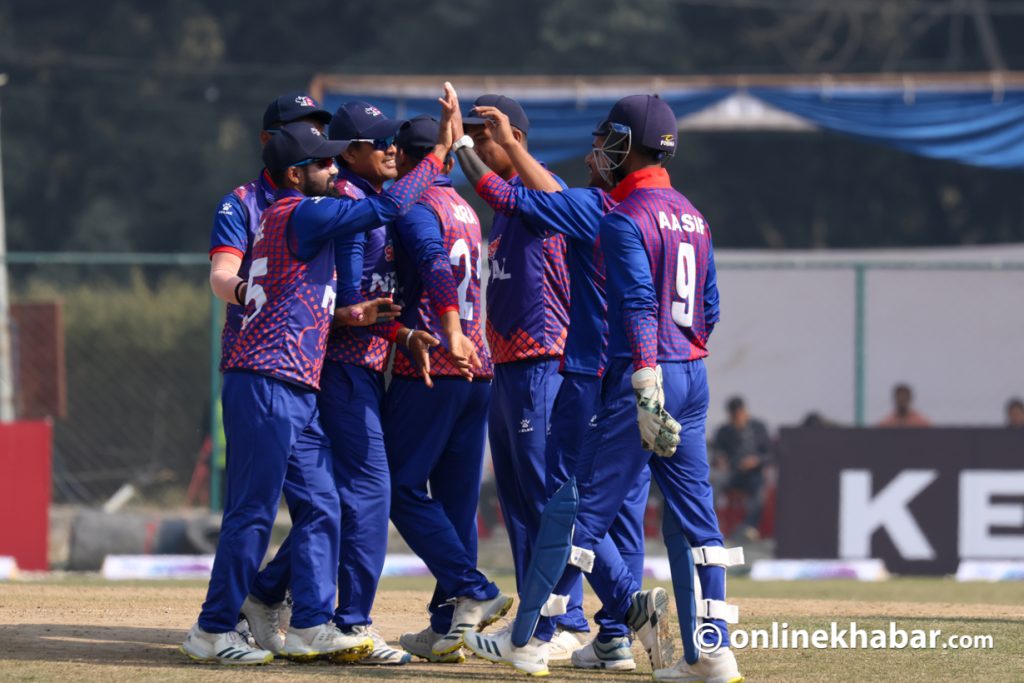 Nepal's start to ICC Men's Cricket World Cup League 2 had not been consistent. During the last four years, the Nepal cricket team have had five different coaches, three captains and a toxic and disjointed dressing room. The Covid pandemic shifting back one series after another did not help either.
In 2022, captain and superstar Sandeep Lamichhane was accused of raping a minor and was sent into judicial custody. Between all this, Nepal had forgotten to win as it had not won a single game in the League 2 series against Nabimia and Scotland in December 2022.
Following these results, the Nepal cricket team coach Manoj Prabhkar resigned and was replaced by Monty Desai on February 6. Desai's arrival came at a time when Nepal would be playing 12 ODI matches in 32 days. Out of the 12 games, Nepal had to win nine to retain their ODI status. But Nepal did one better as Nepal won 10 out of 11 games retaining their ODI status and edging closer to the World Cup Qualifiers.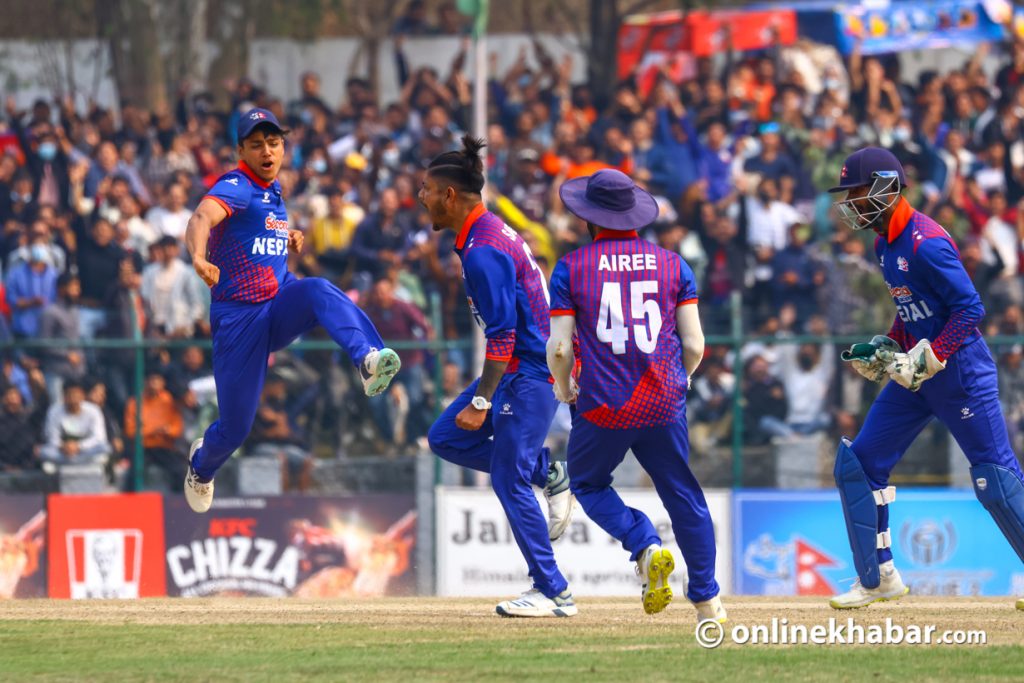 The run started in the home series against Nabimia and League 2 champions Scotland on February 14. By this time, Lamichhane had been released on bail and included in the team as the Cricket Association of Nepal stated the team needed him to save the ODI status. Nepal swept the series and Lamichhane's selection was justified.
The team was then due to play the UAE and PNG in back to back series – one in Dubai and the other one in Kathmandu.
The series in the UAE was going to be key for the Nepal cricket team and the Supreme Court allowing Lamichhane to travel to the UAE to play gave the team a huge boost. Nepal won three out of four games in the series that ended on March 6.
The team were back in Nepal to take on the same teams. So far, they have won all three games they have played comprehensively. They now only need one more win and if they are able to beat the UAE on Thursday, the Nepal cricket team will finish in the top three of League 2 and qualify for the World Cup Qualifiers with Scotland and Oman.
Key contributors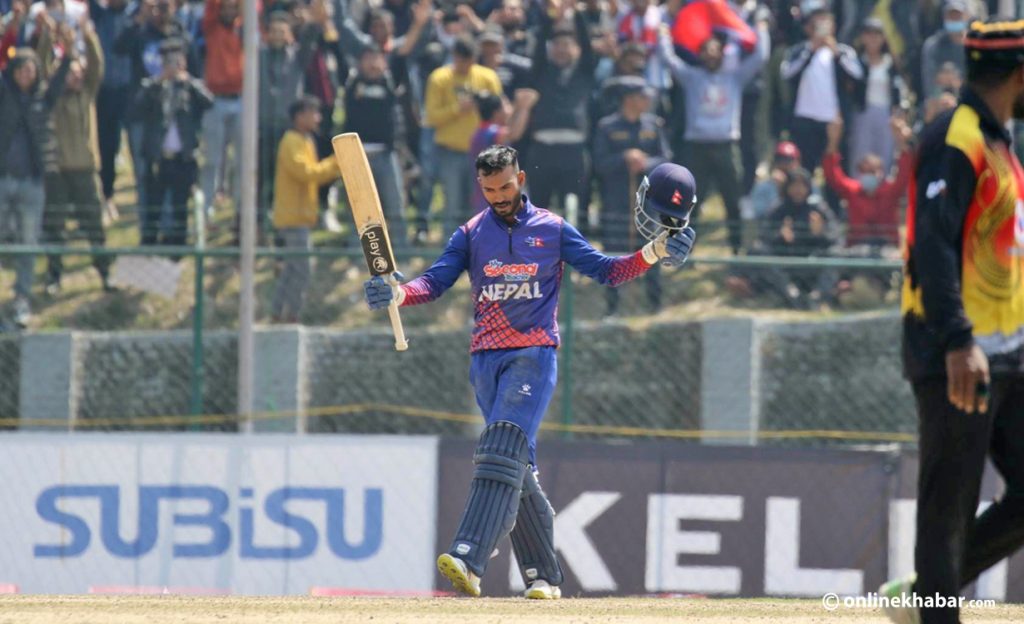 It has been a little over a month since Monty Desai got the job. His main goal was to save Nepal's ODI status. This was important for the development of cricket in the country too as the funds would dry up if Nepal were no longer an ODI nation. CAN president Chatur Bahadur Chand has said the Nepal cricket team had to include Lamichhane because they were desperate to retain the ODI status.
Lamichhane's return has been a boon too. Out of the 11 games, he has played in 10 and taken 29 wickets including a five-wicket haul against PNG on Monday. It is safe to say that he became one of the major contributors to the team.
What has also helped the Nepal cricket team is the different players standing up in different games. Both openers Kushal Bhurtel and Aasif Sheikh have played match-winning inning and scored centuries. Captain Rohit Paudel has won Nepal the games Nepal should have lost. Other batters like Kushal Malla, Gyanendra Malla and Dipendra Singh Airee all have contributed with the bat.
Apart from Lamichhane, Karan KC, Ariee, Kushal Malla and Lalit Rajbanshi have performed well with the ball. Rajbanshi took a five-for against the UAE on Sunday restricting them to only 71 runs.
Desai's dressing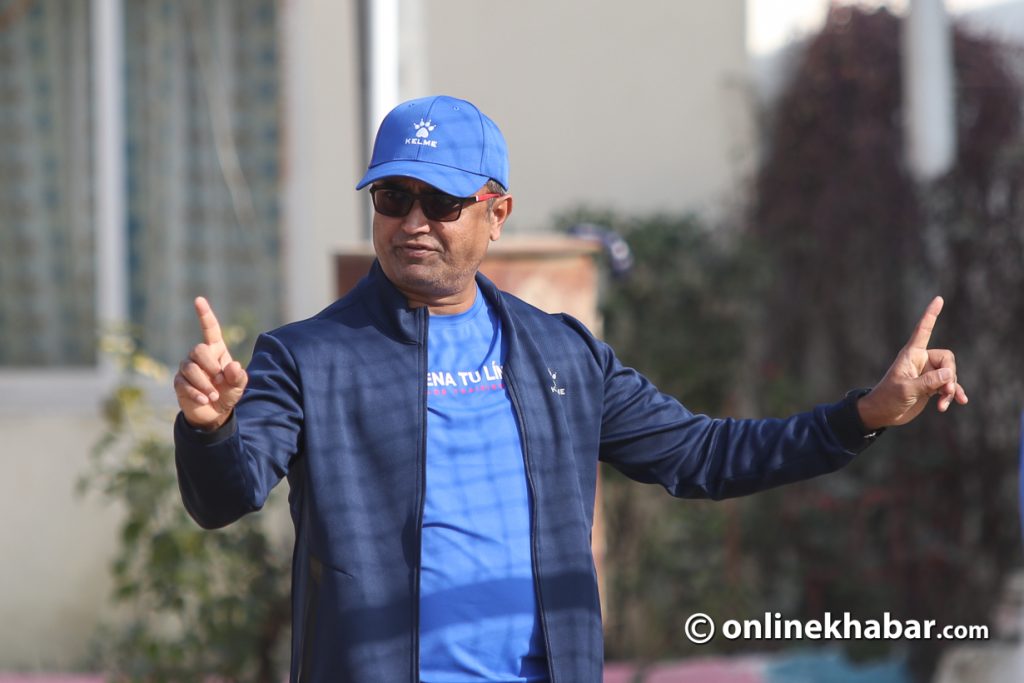 But how have the Nepal cricket team that had forgotten to win turned a corner and started to win one game after another? The players want to give credit to Desai.
Desai is someone who has worked in Nepali cricket in the past. In 2014 when Nepal reached the T20 World Cup in Bangladesh, Desai worked as an advisor. He did so with the U19 team during the 2016 U19 World Cup.
It is likely the wins are thanks to his positive attitude and focus on creating a connected and happy dressing room.
"He has made things easy for us. There's no pressure on us," said captain Paudel after the Nepal cricket team's win against the UAE on Sunday. "That has helped players perform when they needed to perform. The dressing room is great right now."
Prior to becoming Nepal's coach, Desai was working as the West Indies batting coach. Now, as he has seen his work reap rewards, he feels extremely elated. But he says CAN should also get credit for the team winning games as it has helped him a lot since he joined.
"I was excited as I knew a few players from my time before. But I knew it was going to be a challenge and that is after taking over, I emphasised the need for a connected and happy dressing room," said Desai on Sunday. "I'm glad the team have been able to do well in the last three series."
He believes that the result is positive because everything happened at the right time. He says each player is focused on playing for the Nepal cricket team rather than individually.
"The main role is to prepare everyone for everything in one way so that I can use their abilities in the right place when needed," he said during a recent press conference. "The atmosphere is such that everyone believes they can help each other to take on whatever challenge that may come their way. Even when the results are not coming, I appreciate their hard work."
A win against the UAE on Thursday and the Nepal cricket team can dream of the World Cup again. It is going to be the first time Nepal take part in the ODI World Cup qualifiers. If they lose to the UAE, Nepal go to Namibia to play in the Global Qualifier Playoff where they will have another chance to get to the World Cup.
Given how Nepal have performed in the past 11 games and how the UAE have capitulated in recent games, it is highly likely Nepal will win. But the players are not overconfident as they believe they need to work hard to ensure they go places where no Nepali team has gone.
If the Nepal cricket team make this, they will create history and etch their names in the country's cricketing history.
---
This story was translated from the original Nepali version and edited for clarity and length.