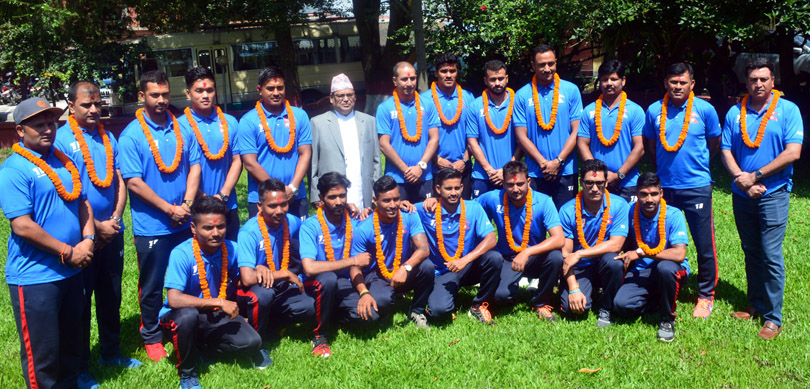 Kathmandu, August 20
The Nepal national cricket team have left Kathmandu for Sri Lanka en route to Malaysia to play the 2018 Asia Cup Qualifier scheduled to be held from August 29 to September 6.
During they stay in Sri Lanka, the Nepali squad will play practice matches with three local clubs before departing for Malaysia.
Speaker Krishna Bahadur Mahara bade farewell to the team amidst a progrmme here today.
Wishing the team all the success in the tournament, he said he was full confident that the team would qualify for the 2018 Asia Cup by winning the Qualifier.
The team's main coach Jagat Tamata said though monsoon caused some problems in the training for the team, practice matches the team would be playing in Sri Lanka would obviously help improve the team's performance.
Team captain Paras Khadka promised to give their best in the tournament and leave no stone unturned to make the country proud.
In the  Qualifier, Nepal will face Oman on August 29, UAE on August 30, host country Malaysia on September 1, Singapore on September 2 and Hong Kong on September 4.
The top two countries will contest in the final match while the winners will make their journey towards the 2018 Asia Cup cricket tournament to kick off in the UAE in mid-September.
Nepali cricket squad comprise captain Paras Khadhka, vice-captain Gyanendra Malla and players Basant Regmi, Anil Kumar Shah, Binod Bhandari, Dipendra Singh Airee, Karan KC, Lalit Bhandari, Lalit Narayan Rajbanshi, Aashif Sheikh, Rohit Kumar Poudel, Sagar Pun, Sandeep Lamichhane, Sompal Kami and Subash Khakurel.
Pradeep Airee, Kishor Mahato, Sunil Dhamala and Sushan Bhari are in the substitution role.
Sandeep Lamichhane who is playing domestic league in the West Indies would not play in the practice match. He will directly go to Malaysia from West Indies to play in the qualifying match.
RSS