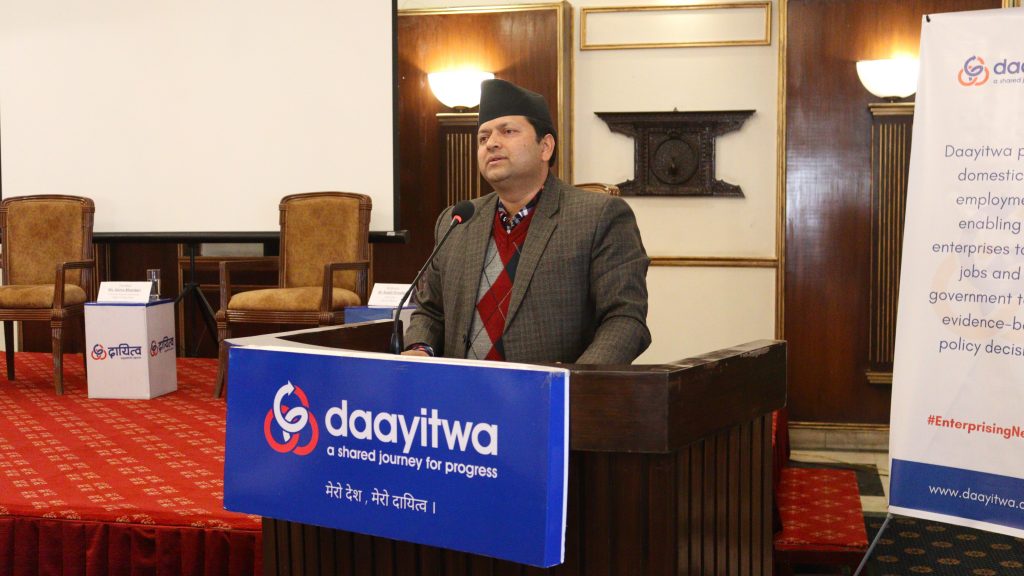 Kathmandu, February 15
Stakeholders representing different sectors have stressed strengthening the municipal enterprise ecosystem in Nepal for the country's economic development.
At an event held by Daayitwa, a policy research NGO, on Monday, over 60 stakeholders from private, public, and social sectors to discuss the current state of the entrepreneurial ecosystem, inspire collective actions, and deliberate on the ways forward.
As Daayitwa has concluded a Scoping Study for Municipal Engagement in Local Economic Development, the findings of the study conducted in seven municipalities can be implemented across the country, they said.
During the programme, a panel comprising Sunwal Mayor Bimala Aryal, agriculture entrepreneur Goma Bhandari, and educator Narottam Aryal discussed the challenges faced by local entrepreneurs, the government and the private sector, and stressed the need to develop a strong municipal enterprise ecosystem to bolster the economic development at the local level.
The discussion highlighted the issues and concerns related to the existing policy gaps; the need for connecting the market, academia, and the government; the importance of public, private and civil society collaboration; the necessity of implementing output-driven policies and programs instead of input and process-driven ones and tactful marketing and promotion of Nepali products and services.
Addressing the event as the chief guest, National Planning Commission member Ram Kumar Phuyal assured the commission would push for policy interventions upon receiving the final report of the scoping study.