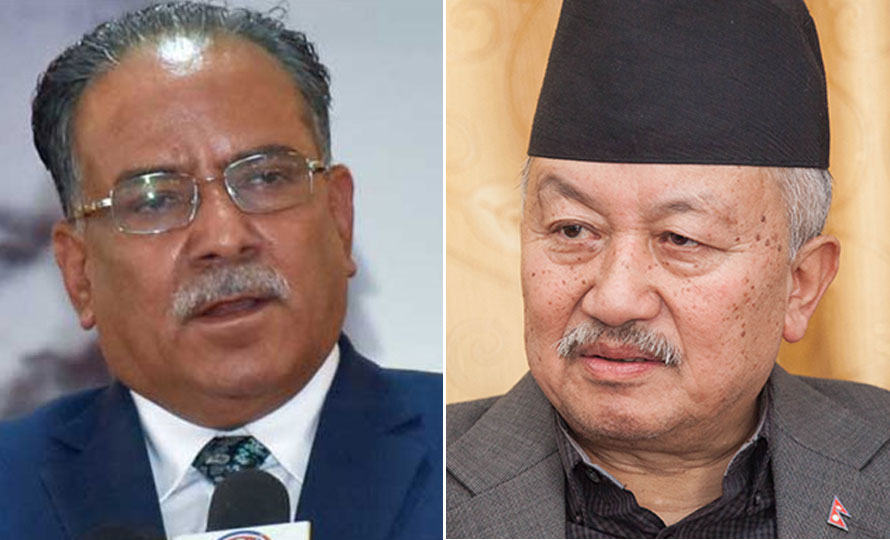 Kathmandu, August 6
The ruling Nepal Communist Party's chairman Pushpa Kamal Dahal met Subas Chandra Nembang, a close confidant of another chairman, Prime Minister KP Sharma Oli, in his bid to end the stalemate in the party.
After being called by Dahal, Nembang had gone to Dahal's residence in Baluwatar this morning. Details of the discussion have not been divulged, but Nembang told journalists after the meeting that he was hopeful that the two chairpersons would find a solution to the current problem in consensus soon. However, according to some other sources, Dahal told Nembang that the party was on the verge of a split and Oli should be more flexible to avoid it.
When the party's standing committee meeting began on June 24, Dahal had demanded Oli's resignation from the positions of party chair and prime minister, accusing him of failure. Oli, however, has been refusing to give up even one position, leading the party to the months-long stalemate. Following the dispute, the standing committee meeting has been repeatedly postponed without discussing any item of the set agenda.
Now Dahal wants to resume the halted meeting but Oli wants to postpone indefinitely and find a solution in the nine-member secretariat. Oli has further warned Dahal that he would not attend the standing committee meeting called by Dahal and added such a meeting would not be legitimate, inform sources privy recent meetings between the two.