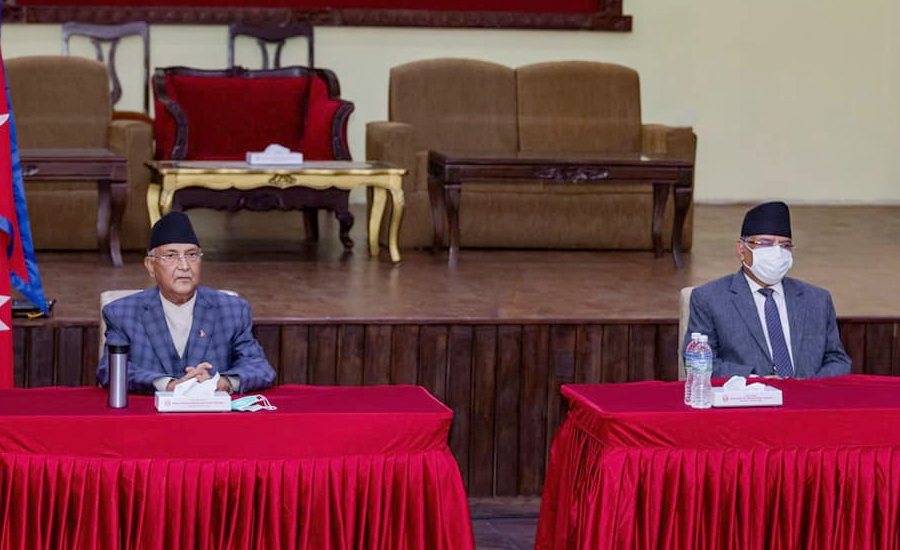 Kathmandu, August 3
Two chairpersons of the ruling Nepal Communist Party have failed to make headway towards solving a dispute between them on Monday also.
KP Sharma Oli and Pushpa Kamal Dahal, accompanied by Subas Chandra Nembang and Jhala Nath Khanal respectively, held a meeting at the prime minister's residence in Baluwatar this morning in their bid to find a solution, but to no avail. Sources say both sides are adamant about their stances.
When the party's standing committee meeting began on June 24, Dahal had demanded Oli's resignation from the positions of party chair and prime minister, accusing him of failure. Oli, however, has been refusing to give up even one position, leading the party to the months-long stalemate. Following the dispute, the standing committee meeting has been repeatedly postponed without discussing any item of the set agenda.
In addition to the dispute over resignation, the leaders now have different opinions about resuming the halted standing committee meeting. Oli wants to postpone the meeting for now and seek a solution through the secretariat whereas Dahal is pressing him to resume the meeting as soon as possible.
Sources say the leaders have agreed to meet again on Tuesday afternoon.