Nepal Mountaineering Association recently celebrated its 47th anniversary. The association since its formation in 1973 has been involved in the promotion of mountain tourism in the country. It also gives out permits to climbers who come to Nepal to climb various mountains. It has established a Mountaineering Training School in Manang where it provides theoretical and practical courses to new mountaineers. Along with that, it also provides memberships to mountaineers who have climbed 8,000-metre peaks and agencies who carry out expeditions on Nepali mountains. The association has also been carrying out rescues in the mountains that they provide permits to. Apart from that, it has also been actively protecting and cleaning the mountains.
On the occasion of International Mountaineering Day, Onlinekhabar caught up with the president of the NMA, Santa Bir Lama, to talk about his tenure as president, how Covid-19 affected mountain tourism in Nepal and what Nepal can do to ensure that there is a mountaineering season in 2021.
Excerpts:
Your term as the president of the NMA is ending soon. What have you achieved in the past three years?
I feel this has been a productive tenure. Firstly, we moved to a new building. Another achievement I would like to talk about is the work we did at the International Mountain Museum in Pokhara where we have constructed a few structures and a mountain garden to immortalise all the great Nepali and foreign climbers.
Apart from that, I have tried to fulfil all the promises I made when I took office. For example, I have made it easier for a climber to get a membership if they have climbed an 8,000-metre peak. There was a lot of nepotism when distributing membership, but I stopped that practice and made it fair for everyone. Lastly, I have been working with the government to establish a basket fund that can be used to clean mountains and to help the families of the deceased mountaineers.
How badly has Covid-19 affected mountaineering in Nepal?
It has been bad. Worse than in 2014 and 2015, I would say. None of us had faced such a disaster in our life. No one would have expected that this would have gone on for this long. Everyone had hoped that 2020 would have been better than 2019, but with Covid-19 spreading in the West like wildfire, it broke the backbone of not just the mountaineering industry but also the entire tourism industry.
We were lucky that some expeditions took place at Manaslu, Island Peak and Ama Dablam. Some friends also went climbing virgin peaks to see if they are possible for promotion. But, apart from that, nothing much happened. We had hoped the government would have helped, but sadly, nothing came from them.
How would you say the preparations have been for the future?
I think Nepal's mountains are safe for tourists. When I talk to people involved in trekking and mountaineering, everyone has been saying that they have been taking measures and that they want to ensure safety for tourists coming into the country. Sanitisation is being taken quite seriously even in areas like Solukhumbu.
Nepali companies have said that they will put the climbing guides in two-week isolation before sending them to the expedition. They know how important it is to spread the message that Nepal is safe. Moreover, people who will come to Nepal will definitely be cautious. With the vaccine now being given in the West, it is likely that people will take them before leaving their respective countries.
What have agencies been telling you? What should be done to make mountaineering safe?
Everyone is looking forward to the next season. They have been saying that we are capable of pulling it off and have asked the government to open the country for tourism because it is an integral part of our economy. The government has also been telling us how they will slowly start giving on-arrival visa. That is why people are hopeful for 2021.
But, for that to happen, the government must ensure that the vaccine arrives in Nepal before spring 2021. If we can do that, I am sure Nepal will have a good mountaineering season.
We have also made membership more accessible to agencies who take expeditions to mountains listed under the NMA. We have also made another amendment to statute whereby from now on, a person can only be the president of the association once. We want new brains in the industry to take things forwards. We want people to use technology and stop autocracy. Under my presidency, we have also given scholarships to over 60 students, most of whose parents died in the mountains. Lastly, I have also stopped taking allowances from the association to start precedence because I want this organisation to be clean.
You have also emphasised a lot about cleaning Nepali mountains. How has that been?
It has been going good. But, I feel it can get a lot better. The Sagarmatha Cleaning Campaign was started by the NMA, after which the government started to take interest. We are still actively pushing to clean more mountains. We also have been taking 'cleaning deposits' from climbers to ensure that they bring back 10 kgs waste back with them.
We have suggested the government make it non-refundable so that that fee can be used to clean other mountains. If we do that, the government and the NMA will no longer have to beg people for money, and it will also create jobs. The government has been positive about it.
There are demands that the government should stop making guides mandatory for smaller peaks. What do you think of this?
No. A guide is there for a reason. It is not just about a job being created but its also a matter of safety. I am sure people can climb a mountain without one, but having one will definitely help. It will also stop people dying on the mountains.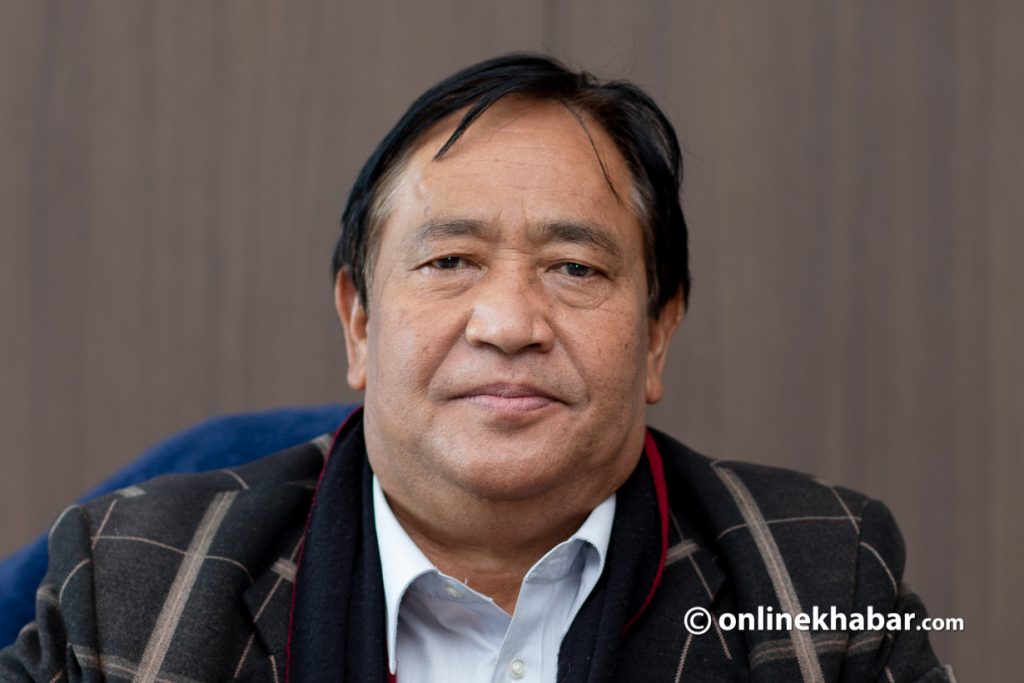 What about clearing corpses from the mountains?
It is not as easy as people make it out to be. We have been clearing bodies too. But, there are many bodies which have been left there because it is too dangerous to clear them. Whenever clearing is possible, people have been doing so. What stops us is funds. No one will want to go clear a body for free.
We have worked hard to clear bodies too. In 2018, I had to approach the Austrian consul to ask them for help to take down an Austrian climber's body from Lobuche East.
Has the government helped you any way? Anything they can do?
I do not think they have. The laws are archaic and need changing. I firmly believe that tourism and mountaineering in the country have thrived only because of the private sector. The industry has gone cold.
What I think the government can do is bring out clear rules and regulations so that incidents like on Ama Dablam last year does not repeat. We need to be proactive and make rules considering the future. The rules were written in 2002 and need an update because a lot has changed. We have been asking the government to change it, but there has not been much support from them on this. We need to enforce quality tourism.
What happens to the funds generated from distributing climbing permits?
Currently, most of it goes to the national treasury. Some percentage does go to rural municipalities where the mountains are via the district. As of now, 55 per cent of the fund goes to the government. The rest is given to the rural municipalities and the provincial governments, but it is not clear how these funds are used.
I have been asking the government to set aside 10 per cent and set up a welfare fund for mountaineers because when they get old, they cannot climb mountains and that means no source of income. Doing that can set nice precedence and encourage these climbers to work hard.
Do you think Nepal should start promoting alpine-style climbing (climbing without ropes)? Many climbers from the West want a new challenge. Can we use some mountains for that?
It can be done. We know that Nepal has the mountains for these alpinists. But, what we need to think about before doing so is the jobs that we might lose due to this. That is not it, the risk of getting lost on the mountains and dying is also there. We want our mountains to be safe for people. I understand that a lot of adventurers want to climb new mountains and new route like they did back in the 70s, but for now, we feel that Nepal is not ready for alpine-style climbing.