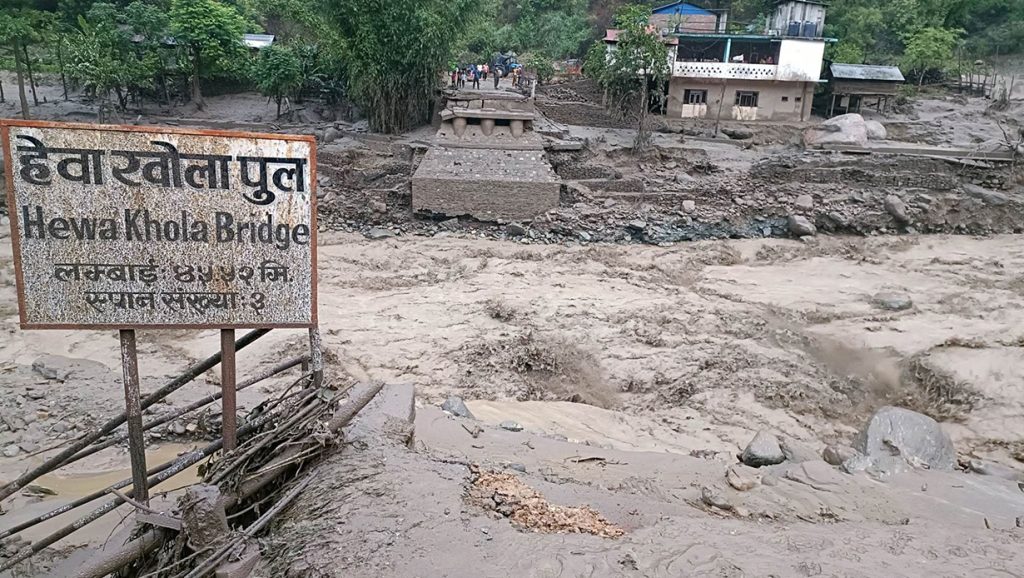 Kathmandu, June 18
The hills of eastern Nepal have been severely affected as the monsoon season arrives, causing disruptions to the local settlements.
Flooding caused by Saturday's rainfall has resulted in the disappearance of 25 individuals in the region.
Government agency officials have stated that while the flood has caused significant physical and human damage, the full extent of the situation is still being assessed and detailed information is yet to be available.
A flood in Hewa Khola of Sankhuwasabha resulted in the disappearance of 16 individuals.
According to DSP Birendra Godar of District Police Office Sankhuwasabha, 16 out of the 19 individuals who were employed at the under-construction hydroelectric project in the Hewa Khola, situated in Chainpur municipality-4 went missing. Three were rescued and have been taken to a nearby hospital for treatment, he said.
Similarly, Rishi Ram Kandel, spokesperson of Koshi Province Police Office, Biratnagar, informed a dead body was found in Panchkhapan municipality-5 of Sankhuwasabha.
5 missing in Panchthar, Mechi highway obstructed
The Hewa Khola flood on Saturday night also washed away several bridges in Phidim of Panchthar where five more people were reported missing.
DSP Hari Khatiwada of District Police Office Panchthar, said several individuals are missing in the aftermath of the flood in the Hewa Khola. A child, buried in a landslide was rescued, he said.
The recent flood in the Hewa Khola has resulted in the destruction of five bridges in the district. Among the affected bridges is the Hewa Khola bridge, which connected Phidim municipality-4 and Hilihang rural municipality-7 of Panchthar District along the Mechi Highway. DSP Khatiwada stated that the washing away of the bridge has caused a complete blockage of the Mechi Highway.
4 missing in Taplejung landslide
Four people, including three members of the same family, have gone missing after being buried in a landslide in Taplejung.
Yadav Budhathoki's wife Bhagimaya, daughter-in-law Sandhya and grandson Prajwal of Sidingwa rural municipality-6 are missing after being buried in a landslide. According to the police, Ganesh Tamang from the rural municipality is also missing.
Search and rescue operations are ongoing, said DSP Rajan Limbu of Taplejung Police.
He said landslides occurred in various parts of the district and that the exact details of damages and those missing are still being calculated.
Over a million people will be affected by monsoon-related disasters, says the National Disaster Risk Reduction and Management Authority (NDRRMA).