Some ends are new beginnings. After two years of presence in Nepal, the Asia Art Archive (AAA) is moving out of Nepal, after handing over Mobile Library Nepal to Tribhuvan University.
With the handover, the AAA programme manager and head of learning and participation, Susanna Chung, hopes it will further encourage local educational institutions and students to spend more time on deliberation, research and capacity building.
Mobile Library is the project started by Chung in AAA Hong Kong in 2010 on the occasion of its 10-year anniversary. "I was working as a librarian in Hong Kong when we conceptualised the project. AAA is a big archive and we wanted to take the books to countries where the access was not as easy."
The mobile library project first went to Vietnam. The idea was to counter the ongoing censorship in the country and increase access to books regarding contemporary art reading materials. "We partnered with the local organisation–Sàn Art–and collected some 800 books," she shares.
The project then went to Sri Lanka, Myanmar and then Nepal for its fourth edition. It is also the project's longest edition which ran for more than two years. In Nepal, AAA collaborated with Siddhartha Arts Foundation to give continuation to their bid to promote art literature in Nepal.
But, it is over now, yet it is not the end.
The need to be in Nepal
Whenever people talk about art literature, the resources are always less. Nepal has fewer resources and access as well.
Sangeeta Thapa of Siddhartha Arts Foundation had already noticed the gap as a stakeholder working in the Nepali art sector. During her trip to Hongkong, Thapa got to know about AAA's project and then inquired about the organisation's archive of Nepal. However, she found nothing and that encouraged her to ask the organisation to make efforts to conduct research and collect books on Nepali art history and contemporary art, despite its progress.
Seeing the gap, Thapa insisted the AAA group come to Nepal and collect books that cover the local art fraternity and benefit them. "In 2019, we conducted an extensive survey in art colleges/universities and among the artists so that we could get a list and curate a special collection of books."
Chung says the AAA team also realised the need to be here and approached collaborators that showed common interest to share knowledge and educate people. "The countries we have focused on have common traits like a lack of reading habits, art education and a lack of infrastructures. These countries also had more western influence but in need of more local perspective, in its art history and contemporary art practices."
According to the Mobile Library Nepal organisers, this library already contains around 600 books, exhibition catalogues, periodicals, and monographs including works of popular Nepali art writers like Madan Chitrakar, Yam Prasad Sharma, Ram Dayal Rakesh, Mukesh Malla, Laya Mainali, and Ramesh Khanal. The team says because Nepal did not have many locally written books, it took a bit more time.
The impactful journey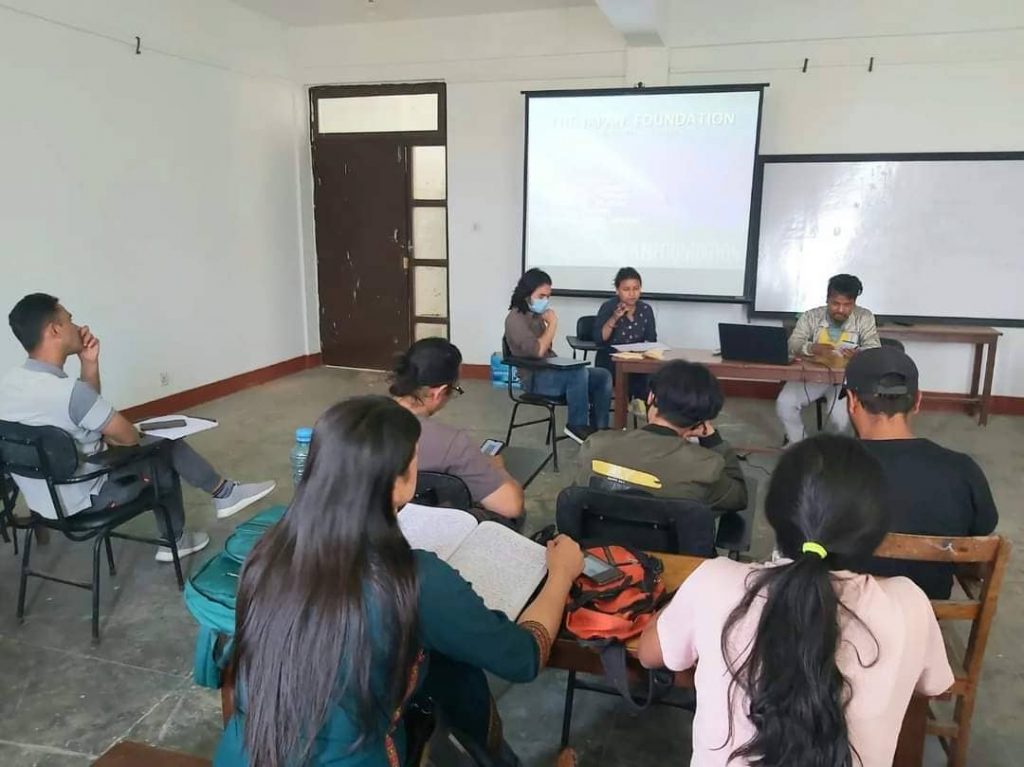 Throughout the project, Mobile Library also conducted a range of online and on-site educational discourses and programmes including reading circles, archive-building workshops, outreach programmes, teacher-training programmes, and pop-up exhibitions.
"The idea of the project was to make the library more accessible. The bookshelves are designed in such a way that they can be boxed and moved around. They are more static in nature, yet we wanted to take them to more places and reach more students and people. So, we acquired that in two years," Samira Bose, a programme coordinator at AAA, shares.
More than the access, she shares that the Mobile Library project has been able to culminate more bonds with local artists too. "Yet, we could not reach Janakpur as we intended, due to Covid restrictions."
"We have focused our programmes on training and capacity building that ultimately guides the teachers to explore more. Our programmes also extended with fellowships, in which we trained seven art enthusiasts here who can become our future ambassadors and work for our cause."
"The team is digitising the bibliography for six more months."
Future in Nepal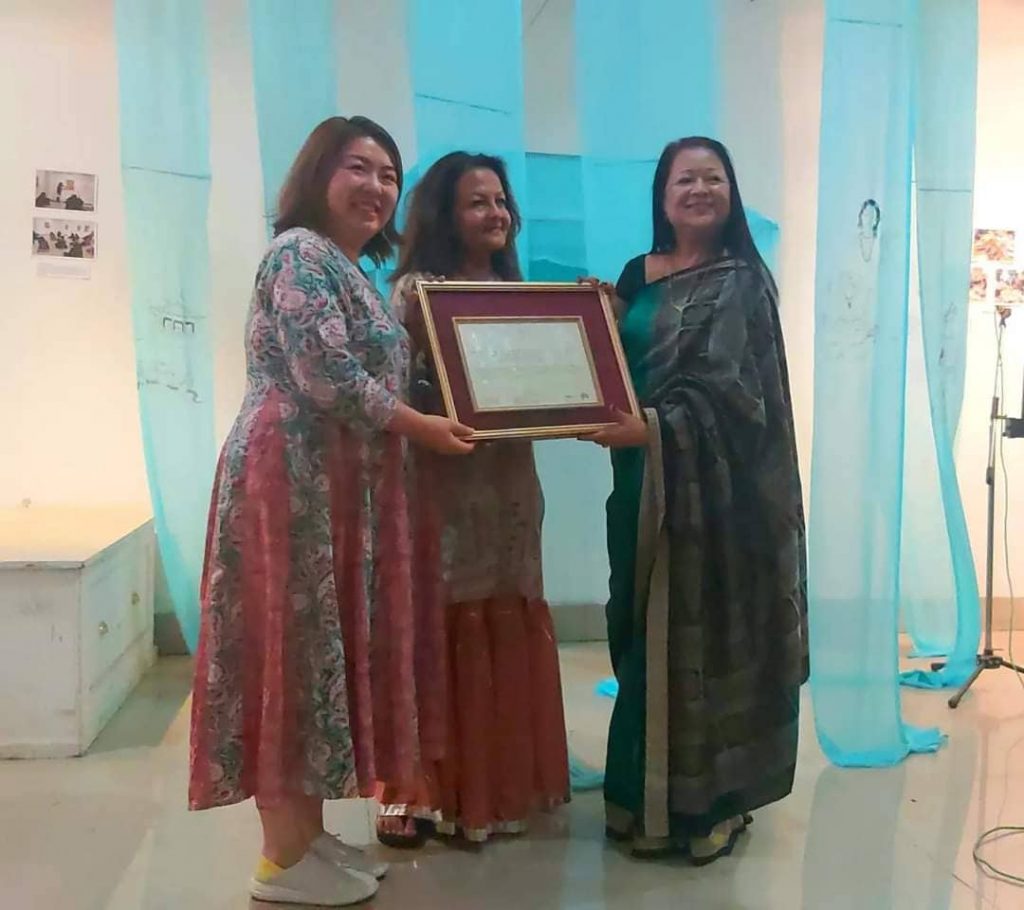 The Mobile Library Nepal project had started in the first week of February 2021 and concluded after two years in an official handover programme held on the premises of the Department of Fine Arts, in Tribhuvan University, Balkhu, recently.
Associate Professor Sangita Pradhan, the head of the Central Department of Fine Arts at the university, says she is very happy that the mobile library has reached TU. "When I came to know about the project, I insisted to the team that it has to be kept at the TU, given its large number of students and a separate department as well as all possible future artists to benefit from the rich resources."
She adds, "We do not have enough books for our students. If we have to buy the books we have to get them from India, while our budget does not support the purchase of the books that we want in our library. But, the Mobile Library Nepal has researched and collected so many resourceful books that will no doubt support the academic growth of our students."
Pradhan, also a singer, expresses she has more plans to promote Nepali art, and especially music, as it has long been sidelined. "Seeing the research and collection, I have requested the AAA team to help us in collecting more books on Nepali music genre too. And, I am hopeful about that too."
After the handover, Pradhan will be ensuring the safekeeping of the books. She also welcomes students from outside the TU too to come and explore for their own academic growth. "Anyone can drop by and get the reference for their growth, academically or skill-wise."
Chung says the overseas team together with the Nepal team will continue to expand the library so that they can help students of all disciplines here. "Like in Sri Lanka, we hope the project thrives here too. The key is to have a custodian who takes charge and continues the project themes, like an ongoing mission."