The preliminary results of the local elections have shown how the influence of major political leaders like KP Sharma Oli, Sher Bahadur Dueba, Subas Chandra Nembang, and Bishnu Paudel is weakening in their own municipalities.
The candidates who were considered close to them are not doing that well in the local election results. Some are trailing massively while some have already lost leaving both the candidates and the top leaders of the country with eggs on their faces.
The weakened influence
Take Chandra Bahadur Deuba for example. A close aide of Prime Minister Sher Bahadur Deuba, Chandra Bahadur lost to Naresh Bhandari of Nepali Congress-BP by 129 votes in Dadeldhura's Ganyapadhura rural municipality ward number 1. This is PM Deuba's hometown.
Bhandari, who wanted to contest the local election, joined Nepali Congress-BP after Nepali Congress did not give him a ticket. Bhandari won with 673 votes, shocking everyone. But, in other areas of Dadeldhura, Nepali Congress did do well.
In Ilam's Ilam municipality-1, the home of UML's vice-chair Subas Nembang, a UML candidate Ambika Gautam lost to a Nepali Congress candidate Gayatri Ram Basnet by 51 votes. The UML is losing in the mayoral race of the local elections too. Its candidate Dhiren Kumar Chemjong is currently losing to Kedar Thapa of Nepali Congress by almost 1,000 votes. The UML is also likely to lose the deputy mayor seat to the Nepali congress there as Bishnu Kumari Limbu is leading UML's Sita Devi Rijal by over 1,000 votes.
Last local elections, things were different as the UML defected to Nepali Congress for both the mayor and deputy mayor posts.
UML's sorrows
The UML is having a horror local election and that can be seen by how it is performing in its stronghold areas. In its chairman KP Sharma Oli's hometown of Damak, the UML's mayoral candidate Gita Adhikari is lagging behind Rastriya Prajatantra Party's Ram Thapa. It is unlikely that the tally will change.
In Butwal sub-metropolitan city, the home of Bishnu Paudel, UML's vice-chair, UML is not doing great. Nepali Congress' Khel Raj Pandey is leading the mayoral race by over 3,000 votes. The UML is not doing any good when it comes to local units too as it is trailing in many areas.
Things got bad to worse for UML leaders when Laxmi Pati Paudel, the husband of former Minister for Land and Management Padma Kumari Aryal, did not even win a ward membership in Syangja's Waling municipality-1. Nepali Congress candidate Sambhav Aryal beat Paudel by 467 votes.  
The UML is also struggling to win in the municipality of Gokul Baskota, a former minister and a member of UML's politburo. The CPN-Unified Socialist, a group that split from the UML, is leading with a large difference in Kavrepalanchok's Mandendeupur municipality.  Tok Bahadur Tamang of Unified Socialist is leading UML's Bidur Prasad Sapkota. But, the difference is narrow.
The UML did win ward number 1 in Mandendeupur municipality, but it was a very close call. Shiva Prasad  Dhakal of the UML beat Nepali Congress' Buddhiman Tamang by just four votes. But, in ward 2, the party's Narayan Shahi lost to Nepali Congress' Raj Kumar Malla. 
The JSPN's case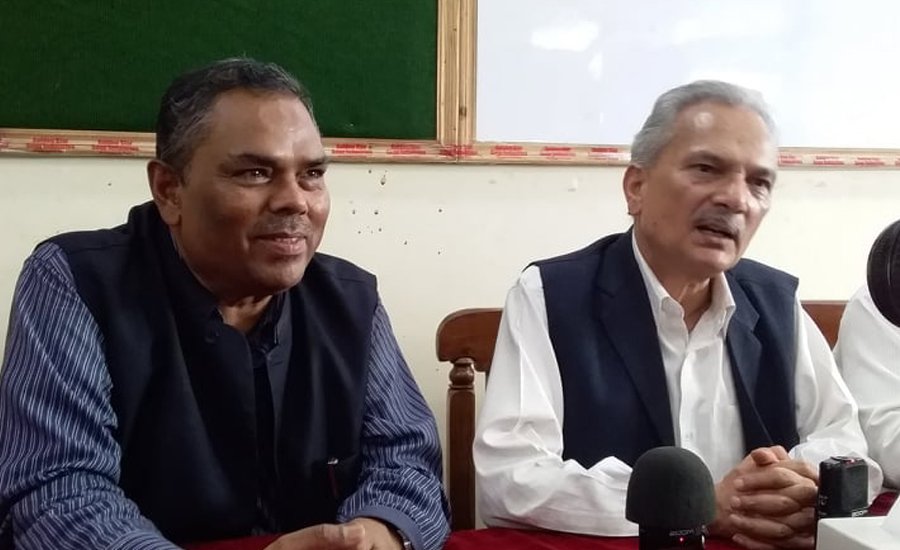 Almost all the municipalities of top leaders are going through similar situations during the local elections this time. The candidate of Janata Samajbadi Party Nepal, in Gorkha's Palungtar, the home municipality of the former prime minister Baburam Bhattarai, is in the second position. 
The Maoist candidate Biwash Chintan is leading in Palungtar municipality. Prem Bahadur Gurung of the JSPN and  Dipak Babu Kandel of Nepali Congress are following Chintan with few vote differences.
Likewise, Biratnagar metropolitan city of Morang is a place where JSPN Chairman Upendra Yadav is registered on a voter list. His son Amrendra Yadav is vying for the post of deputy mayor, representing the five-party coalition. But, his opponent Shilpa Karki of the UML is leading with more than double the number of votes.
The home municipality of Mahantha Thakur, the major leader of Loktantrik Samajbadi Party Nepal, is also in the same situation. The Maoist leader is leading at Balara municipality of Sarlahi while Thakur's party Loktantrik Samajbadi Party has just stood as a competitor.
Rama Shankar Prasad Kushawale of the Maoist Centre is leading here while Abhaya Kumar Singh of LSPN is in the second position and Kaushal Kumar Singh of the Nepali Congress is behind him with few vote differences.
For the deputy mayor as well, the candidate of the CPN Maoist, Koshila Devi is leading. Ragini Devi of the LSPN is behind her in the local election vote count.  
---
This story was translated from the original Nepali version and edited for clarity and length.