Priyanka Pradhan was a newlywed when the first lockdown was announced in Nepal in March 2020 to control the Covid-19 pandemic. The lockdown, and the pandemic itself, became a curse for so many businesses and people; yet they became a turning point for the 29-year-old.
Pradhan in collaboration with Sayuj L Shrestha, her brother-in-law and co-founder of Kharayo online store, started its sister company, Kharayo Bakes, turning her passion into a business in September 2020.
In early 2020, Shrestha, who has been running Kharayo Venture from Australia, had come to Nepal for his brother, Bibek Lal Shrestha and Pradhan's wedding. However, he got stuck here due to the lockdown. Pradhan says that Shrestha noticed her interest in baking and saw it as a potential business. It is when they started Kharayo Bakes.
Childhood dream come true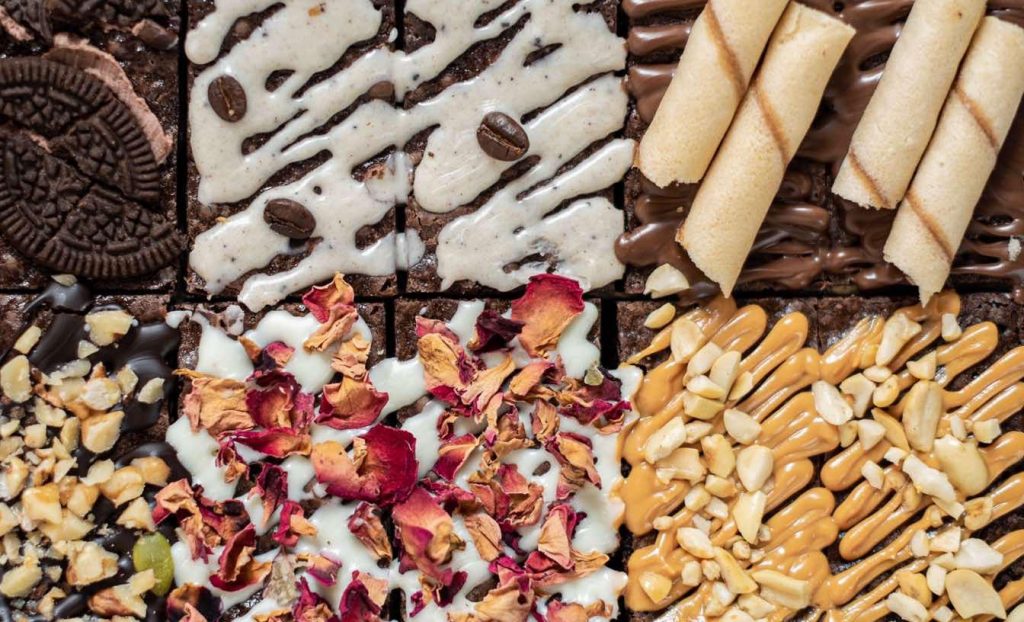 "Nonetheless, my interest in baking started when I was very young. I used to watch cooking and baking shows with my mum," she shares, "I was 14 when we had our first microwave at home. I tried baking a cake, but it didn't turn out as expected, so I kept trying and learning from the mistakes."
In the process, it became her new hobby. She says she started baking for gatherings and events, for her family, friends, and even office. Opening a bakery was her ultimate dream in her early 20s.
But, catching her dream was not that easy. She opens up, "I wanted to pursue my studies in baking and cooking both, but I had to join BBA in banking and insurance initially. Culinary art at that time wasn't given such priority, therefore I couldn't convince my parents."
Even though she was working in a renowned company and earning well, there was a part of her that still wanted to follow her passion. "For this, I even started baking in a friend's cafe after office, but it was difficult to manage time and make balance," Pradhan says, "And, finally during the lockdown, as I was sitting idle, I resumed my passion and turned into a business, thanks to my supportive husband and family."
Initiation of Kharayo Bakes
Shrestha, on his part, adds, "I had the marketing and business knowledge; she knew how to bake; it was a productive combination to survive in the business industry."
Kharayo Bakes took around six months for the execution that involved deciding the main product, initial investment, general business research, packaging, and delivery.
"We chose gourmet brownie as our main product because it was unique. There is competition among various cake stores in Kathmandu, so we needed to stand out in the crowd," Pradhan recalls, "We were sceptical about the product, but our friends and family who tasted the brownies encouraged us."
They started selling the products on the occasion of Kushe Aunsi, celebrated as Father's Day in Nepal, in 2020, and their families, friends, extended families and near ones were the buyers.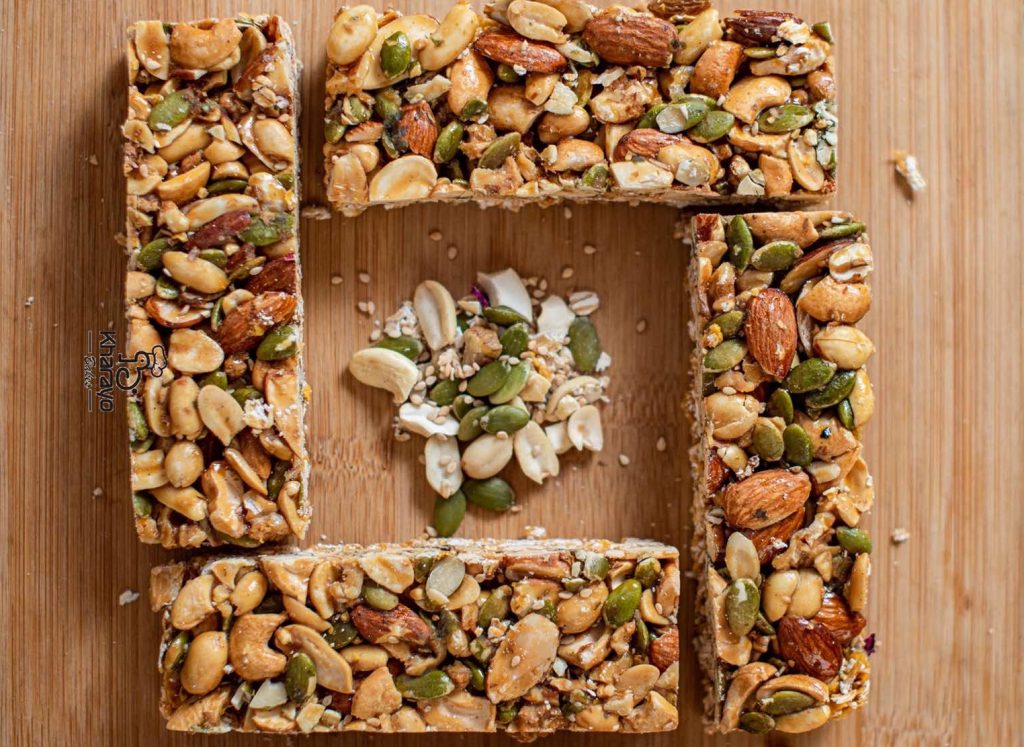 Besides brownies, Kharayo Bakes also offers energy bars, truffles, chocolate slabs, and choco balls. Its products come in two boxes: one full box that costs Rs 1,350 and one half costing Rs 750. Customers can order from its Instagram and Facebook pages.
A full box from Kharayo Bakes consists of brownies with six toppings of your choice including coffee fudge and coffee beans, nutty nuts, oh oh oreo, coconut lamington, white chocolate and rose, peanut butter, caramel and sesame, twisted and little hearts. One can also get eggless brownies.
Growing bigger
These days, Pradhan remembers those evenings when all of them used to sit at the dining table, brainstorm and discuss turning their dream of opening a bakery into reality. She says, "Money initially seemed to be a challenge. Therefore, we started Kharayo Bakes with a small investment, using a hand mixer and oven."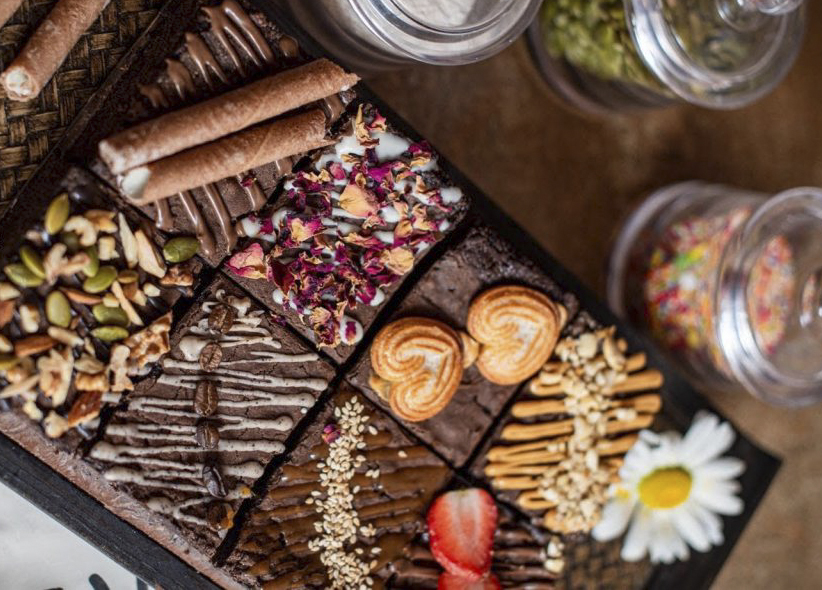 Due to the lockdown, they even could not find a proper place for the business. Therefore, they built a kitchen in their home itself.
"After deciding the main product, the next step was making and tasting brownies and to maintain consistency. We baked till late night and tasted it for several days until we got the exact ingredients," states Pradhan.
Packaging was another priority, she says. Pradhan wanted to give "a touch of Nepali cultural heritage" to her product and make it eye-pleasing. "We designed the packaging accordingly. As we started during the lockdown, Sayuj's partner Lasata launched a delivery platform, Kharayo Delivery. Therefore, we had no problem delivering the orders to the customers."
Pradhan used to make every product on her own initiative. However, with the increasing number of orders from customers, she says she hired help.
Kharayo Bakes is now a year old and has a team of 15 members. Pradhan and Shrestha are happy as Shrestha named their venture 'kharayo' (meaning rabbits), wishing its growth would be as quick as a rabbit's move.
"During difficult times, we earned people's blessing and immense love which encouraged us to grow even bigger," Pradhan says, "We now wish to start Kharayo Bakes' own outlet in the future and try introducing better products."