Arati Shakya, a doctor in Kathmandu, enrolled her twin fourth-graders, Shreyas and Shreyank, in a recent young entrepreneurs' workshop.
She is happy to let the kids learn about issues as big as cost management and business planning. In this fast-paced world, knowledge is not enough; they have to be savvier about how to navigate through the world, think out of the box and adapt with time, she says.
"I did not have much idea about entrepreneurship as I am from a science background, but that is an important skill for children today. And I wish we had something like this in our childhood, that let us grow and have a business sense," she adds.
Sajan Sakya, a hotelier by profession, also enrolled his 11-year-old daughter Sarea into the programme for similar reasons. "I wanted her to learn about entrepreneurship and, in the future, if she wants to get into the family business or do anything on her. Also, she has been home-schooled, and this was a good opportunity for her to socialise and get more experience."
The young entrepreneurs' workshop is a 12 weeks long programme conducted and facilitated by Grooming Tales, an initiative working to groom children in life skills with hands-on approaches. The 12-week session costs Rs 12,000 per head.
On Saturday [February 25], the first batch of four young entrepreneurs completed their workshop and the parents, as well as the organisers, are more than happy to see how the children have bloomed and become more creative and confident.
Grooming the kids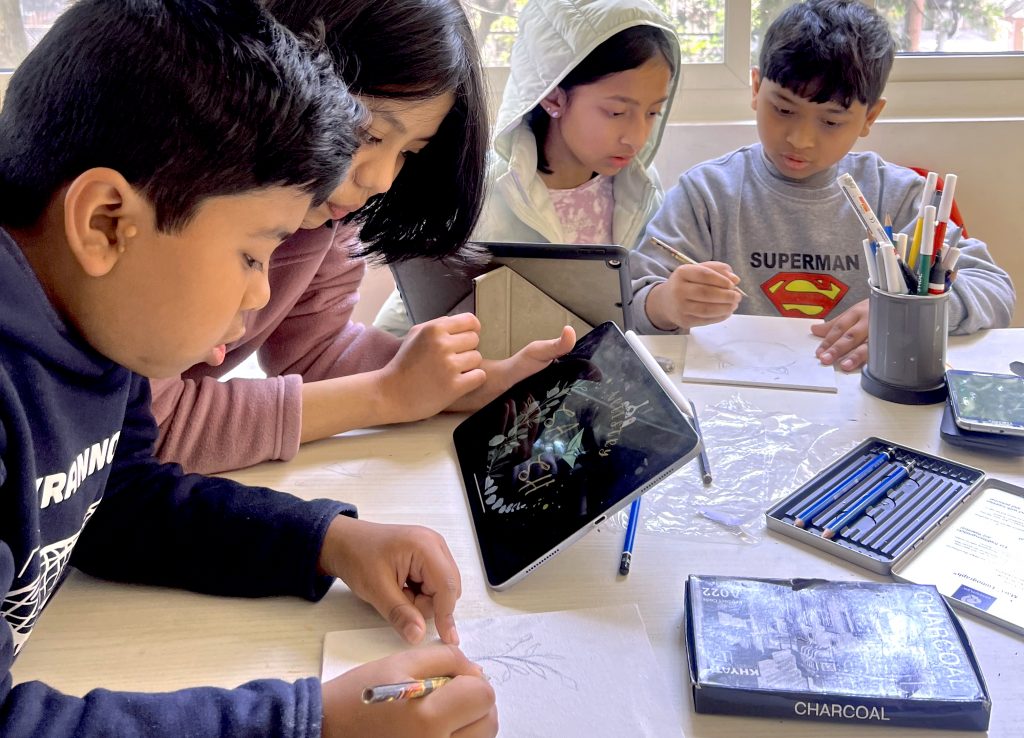 According to co-founder of Grooming Tales, Mridula Saria, the whole course targeted to young entrepreneurs is divided into two levels. Each level will have 12 sessions, so at the end of each session, they will create something of their own and sell them at a fair.
The four young entrepreneurs have completed phase one. "In phase one of the young entrepreneurs' workshop, we gave kids the idea of what it means to create your own business, from choosing what service or products to work on and make a logo, how to use colours, how to do branding and digital marketing, how to identify customers and how to price as well as sell the products."
Participant Sarea Sakya shares she started the workshop by learning about entrepreneurship, and some terms and their meanings. "And, then we did some art and crafts as well. It was a mix of everything and pretty fun."
For this session, the four aspiring entrepreneurs created products like handmade bookmarks, handmade cards, scrunchies, bracelets, decorated pots and paintings.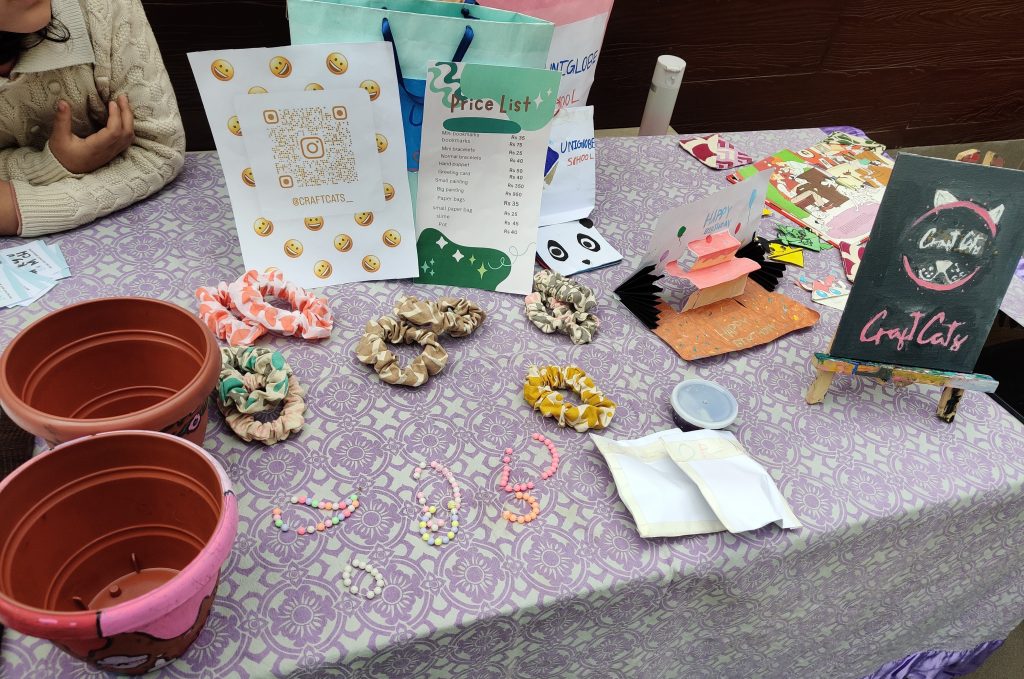 Since it was the first batch of the young entrepreneurs' workshop, even the organisers were not sure what the children would take away from it. "When I saw them in the sixth or seventh class, I really did not think that they would end up learning so much. Since it was the first batch, I was thinking that even if they learn or take away 10 or 20 per cent of it, I would be happy," the co-founder says.
But, after the end of level 1 of the young entrepreneurs camp, the co-founder shares she is really happy to see the progress the children have made as well. "They were asking me if they could hire someone, to help them in the stall. So we can see the change for sure."
Talking about the progress, mentor Pritisha Bhattarai says, "In the creation phase, the kids were feeling underconfident that the market has so many products already and no one will buy their products and did not want to move with them. But we built the trust in their products and, as the weeks went by, they brought the ideas and shaped them."
"Seeing the parents interact and be impressed by the students is a win for us," adds Saria.
Now, the four aspiring young entrepreneurs will now join level two and finesse their entrepreneurial skills. Saria adds, "At the end of level two, I want them to be able to pitch their ideas and start getting sponsorships. With their experience, in planning and sales, they are confident about their products, so we will push them a bit further, and then grow it, make it better, and iterate it."
The right beginning
The first phase focused on giving children the concepts of entrepreneurship, product costing and profit or planning a business is where even the grown-ups struggle. But Sarea Sakya says it was so fun that she always looked forward to coming to the workshop.
Shreyas and Shreyank also share the same enthusiasm throughout, says Arati. Sajan Sakya, Sarea's father, adds that such programmes help kids learn skills that are not included in their school curriculum.
Clarifying further, Saria says, "It is natural to think if the children can grasp the concept well or not. It seems very hard when we say it, and everybody might believe that too. But that's where we come into the picture and simplify the concept, with fun and games, so that kids do not find it vague or hard."
And, this is the same approach Grooming Tales adopts in other workshops it organises on various topics including emotional management workshops. Its oldest course is public speaking, which it has been running for seven years now. Saria also provides teacher training and parent counselling workshops, personally.
Talking about their focus regarding the workshops, co-founder Saria says, "It is important that the parents see value in it. Enrolling into these workshops is a commitment parents make too, monetarily and time-wise, as it is a separate activity from their school."
But why start the course in the first place?
Starting from the bottom
Mridula Saria was previously a software engineer and even used to teach IT management in college. She used to work for an education magazine and from there she got interested in education.
"When I was teaching those college students, I found it very difficult because they already had so many notions that were difficult to change. And that's when I felt that I needed to start from scratch. So I went to teaching kids and started with lessons on how to code and programming blocks with the Codemasters workshop. And it was a success."
Then, the parents came to her requesting to do other courses, like public speaking, and personality development. And she started building on it with book clubs and creative writing workshops. "But we did not want to make it boring so we turned the concepts into a game or an activity."
"So I studied a lot myself. Apart from what to teach, I also learned a lot about how the brain develops, like at what age, what to focus on, how they progress, and how the children perceive learning. That is how we started Grooming Tales."
In the initial years, parents used to call and complain that the child learned nothing as they would say that they only played games. "It seemed like we were not doing anything so we struggled to gain their trust," she says, "But at the end of the session, some three to six months later, they would see the strong base we created and those parents started trusting our process."
Then, those parents started enrolling their kids on other programmes as well. And with word-of-mouth alone, Growing Tales grew its network, without promotion.
In retrospect, Saria says, "We saw a very slow growth. We have been running for seven years now, but we did not want to do it any other way and give justice to the course and the students. But now we have started doing digital marketing for our workshops and are getting good responses.