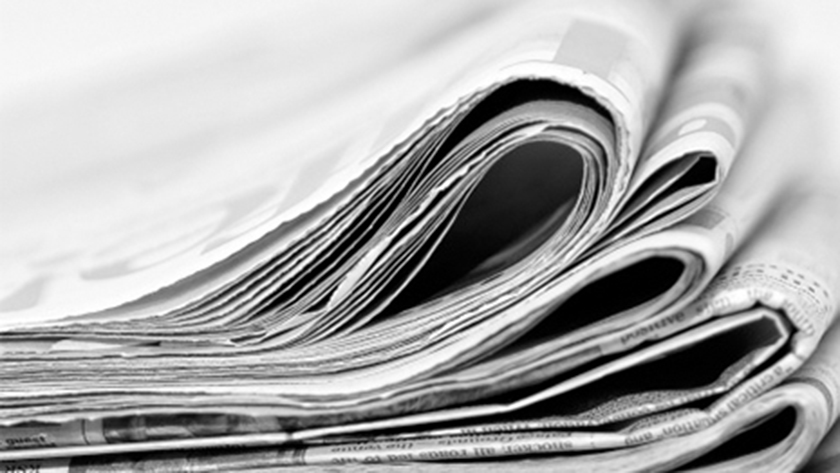 Broadsheet dailies (both in Nepali and English) published in Kathmandu on Monday, April 4, 2016, have given space to a variety of issues on their front page. While a few newspapers have a story on Nepali Congress leader Ramchandra Paudel's decision to file his candidacy for parliamentary party leader, others have chosen issues ranging from the government's poor record in capital expenditure to the slow pace of post-quake reconstruction. Some papers have also given space to discussion at joint meeting of three parliamentary committees to ease land procurement rules for projects of national pride. The arrest of a prime suspect in the murder of an Italian national two decades ago has also secured considerable space.
Paudel Vs Deuba 
Nepal Samacharpatra, Naya Patrika and The Himalayan Times have given space to the story on their respective front pages. Nepal Samacharpatra has, however, made it the paper's lead story, giving it four columns. The story ("Deuba and Paudel fighting again") says that although the contest for party leadership (during the recently concluded 13th national convention) was three-sided contest, this time the contest for parliamentary party leader will be between Deuba and Paudel only. Naya Patrika has a two-column story with the same title. It reports that Paudel decided to contest after meeting his supporters on Sunday. The Himalayan Times has given the story similar space as that of Naya Patrika, but it has given the story just a single column. The report says that Paudel decided to contest after Deuba rejected a 'party unity' proposal that would see Paudel lead the parliamentary party and Deuba the entire party. "We formally proposed that he (Deuba) should (sic) support Paudel as PP leader. Paudel himself met Deuba for the same. As Deuba did not react to our proposal, we have decided to field Paudel as PP leader," the report quotes Congress leader Dilendra Prasad Badu as saying.
Post-quake reconstruction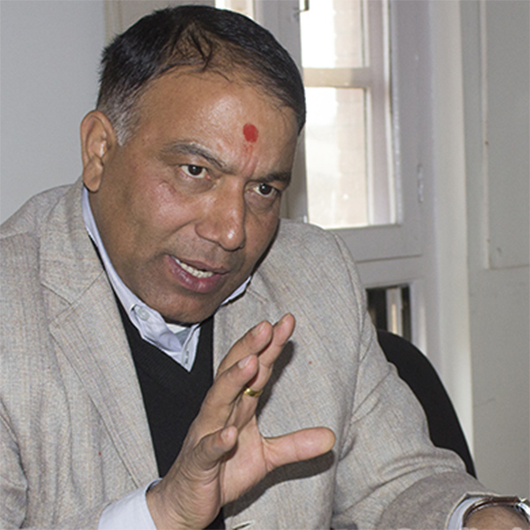 Annapurna Post and Naya Patrika have given prominent space to reports on post-quake reconstruction. In its four-column story with a screaming double-decker headline, the newspaper says the Reconstruction Authority itself has admitted that people rendered homeless by the quake will not get a home even during the rainy season. The report says that Reconstruction Authority CEO Sushil Gyawali told a House Committee on Sunday that the authority has prepared a five-year reconstruction plan that will be implemented in phases. But it won't be able to build new houses by the time the monsoon starts. Naya Patrika's lead story is a package that looks at government's inability to spend money from different points of view. It says, "The government has only been able to spend 15 per cent of its capital budget so far. But this is the same government that claims to make the reconstruction campaign successful. The package also includes an interview with Finance Minister Bishnu Paudel, who says it would be too early to judge his tenure in office. "The post-budget period would be the right time to evaluate my performance," the minister has been quoted as saying. Republica reports that MPs have directed the Reconstruction Authority to hire its own staff if government officials are reluctant to work for it.
Land procurement issue
Nepal Republic Media's broadsheets Nagarik and Republica have given prominent space to parliamentary committees' joint meeting's recommendation to relax some legal provisions to facilitate development projects. According to Republica, if the decision is approved, "Project developers can either provide land in compensation or pay the minimum price of forest land set by the government and the cost of developing the replacement forest. This is a part of the policy of keeping the total forested area in the country intact."
Arrest of prime suspect in Italian national's murder 20 years ago
The arrest of a prime suspect, Tashi Gurung, in the murder of an Italian tourist two decades ago has made it to the front pages of the The Himalayan Times, Nagarik, Naya Patrika and Nepal Samacharpatra. According to reports, Gurung had stabbed David Carraro (21) to death on October 30, 1995 over a row at a pub in Kathmandu. Eight other suspects are, however, at large.
West Indies' win against England
The Himalayan Times has a four-column photo showing two West Indies batsmen celebrating their ICC T20 World Cup final win against England. State-run newspaper Gorkhapatra has also given anchor space to the news.