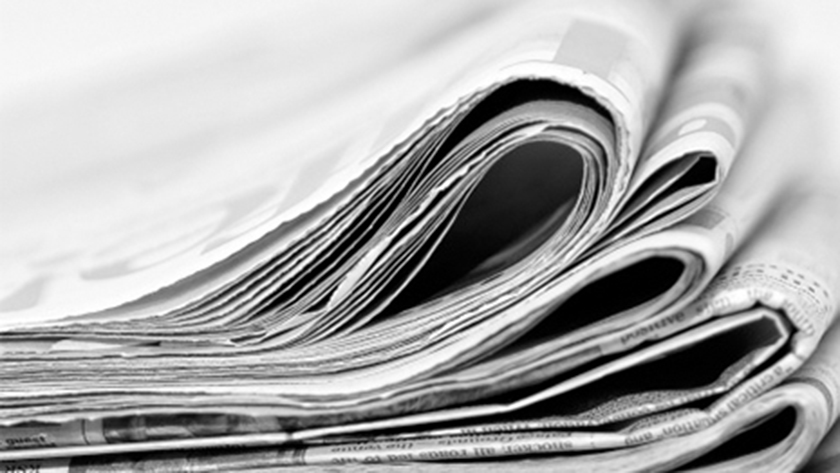 Almost all broadsheet dailies (both in Nepali and English) published in Kathmandu on Friday, April 8, 2016, have a photo from the Ghode Jatra celebrations in Kathmandu on their front pages. The major political parties' disagreement over parliamentary regulations, UML's ongoing Politburo meeting, and Nepal Congress Parliamentary Party's executive committee election (slated for Friday) have also received considerable attention.
Important
Parties fail to finalise parliamentary regulations
The Himalayan Times has a six-column follow-up story on its front page.  The report says the Parliamentary Regulations Drafting Committee failed to finalise the House's regultaions, as the Nepali Congress sought postponement of voting for at least two days. Quoting NC Chief Whip Chin Kaji Shrestha, the report says NC lawmakers were busy with their parliamentary party's election. Committee member Ram Narayan Bidari of UCPN-Maoist said the committee can now convene only after April 19. In the absence of the regulations, 11 newly nominated Supreme Court justices have not been able to take their oath of office as Parliament needs to conduct a hearing before their formal appointment.
State-run Gorkhapatra, Annapurna Post, and Naya Patrika have also given space to the story on their front pages. Naya Patrika, however, has chosen to focus more on the appointment of judges. It says the Constitutional Council is convening today, two days after the main opposition, Nepali Congress, elected its leader in Parliament. The report says the Council is likely to appoint Sushila Karki as Chief Justice. If appointed to the post, Karki will become the 25th Chief Justice and the first woman to take charge of the judiciary.
Nepali Congress PP election
Rajdhani, Naya Patrika and Gorkhapatra each have a report on what can be expected during today's election of Nepali Congress Parliamentary Party's executive committee.
Naya Patrika reports 42 candidates have filed their nomination for 42 positions up for grabs. Gorkhapatra reports that Rajiv Bikram Shah has been elected unopposed from the 'backward' region quota.
UML Politburo meeting
Gorkhapatra, Naya Patrika and Nepal Samacharpatra have reports on the ongoing Politburo meeting of the ruling party. In its 'semi-anchor' story, Naya Patrika reports on how members of the KP Oli camp responded to allegations from members of the rival faction. Eight leaders, who took part in discussions on Oil's political report, accused "those raising the issue of factionalism" as the ones, who were actually responsible for it. Gorkhapatra  says once the discussion is over, Oli will revise his report before presenting it to the central committee.
S Jayshanjkar's remarks on Nepal
The Himalayan Times has a single column story on remarks coming from Indian Foreign Secretary S Jaishankar about recent developments in Indo-Nepal ties. The report quotes the Indian bureaucrat from the excerpts of his speech at a programme organised by the Carnegie Endowment for International Peace in New Delhi on Wednesday. Jaishankar admitted that challenges persisted in India's relations with Nepal, blaming Nepal's domestic politics for the same, the report says.
'Suspicious transaction reports doubles'
Republica and Nagarik have given space, on their front pages, to stories on how the number of suspicious transaction reports (STRs) that Nepal Rastra Bank (NRB) receives from various financial institutions has been rising sharply in recent years. Citing official figures, the Republica report says, "The Financial Information Unit (FIU) – Nepal, which is under NRB, received a total of 517 suspicious transaction reports in the last fiscal year, 2014-15, or nearly double the number received four years ago."
Ignored 
Second murder case against Bal Krishna Dhungel
Republica's lead story for the day is a report on the Janakpur Appellate Court's order to the Police and the Office of the Attorney in Ramechhap to complete investigations into a complaint against UCPN-Maoist leader Bal Krishna Dhungel for the alleged murder of Ganesh Shrestha, and file a charge-sheet within four months. This is the second murder case in which Dhungel has been named.
The report say, "In 2011, the then Baburam Bhattarai government forwarded Dhungel's name to the President's Office for clemency. But Sabitri, the sister of Ganesh and Ujjan, moved the SC seeking annulment of the government's decision. In January this year, the SC ruled that Dhungel cannot be pardoned, reiterating its previous order issued in 2010 to jail him.
 

Interesting 
Senior citizens unaware of allowance
Republica's anchor story is on the lack of awareness among senior citizens living in Kathmandu about Kathmandu Metropolitan City's scheme to provide an annual allowance of Rs 10,000 to people, who are more than 82 years old. The report says, "As per KMC's record, only 356 elderly persons above 82 have registered their names with the office to receive the additional allowance in the current fiscal year."
4G coming to Nepal
Abhiyan's lead story for the day is on Nepal Telecom Authority's decision to allow 4G services to be introduced in Nepal within July-August this year.