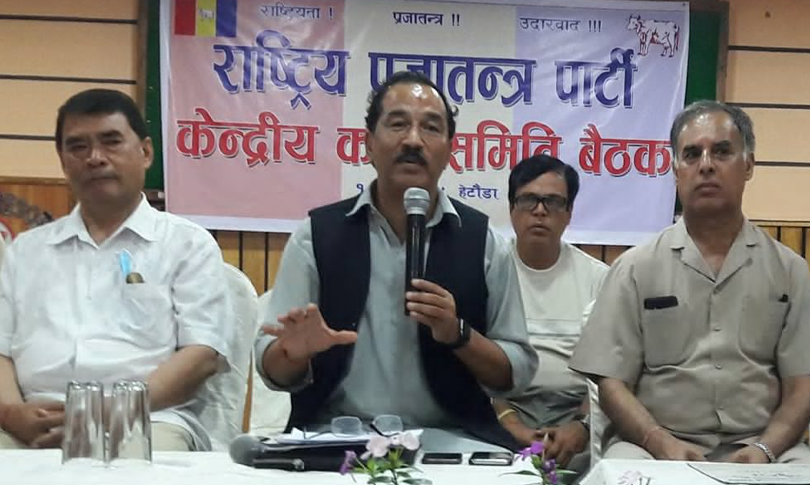 Kathmandu, August 22
The Kamal Thapa-led Rastriya Prajatantra Party on Tuesday has decided to take action against 18 lawmakers who have supported Pashupati Shamsher Rana in his bid to split the party and form Rastriya Prajatantra Party-Democratic.
The party decided to take action claiming the lawmakers violated the party whip to vote against the constitution amendment bill in Parliament on Monday.
The RPP earlier had 37 lawmakers. However, only 19 were present at the House meeting yesterday. Other 18 lawmakers, who have extended support to Rana, remained absent.
RPP Chief Whip Kunti Kumari Shahi informed a meeting of the party's office bearers as well as lawmakers that Deepak Bohora, Bikram Pandey, Sunil Thapa, Biraj Bista, Resham Lama, Bikram Thapa, Saindra Bantawa, Kamala Sharma, Bhanu Mahara, Ram Kumar Subba, Babita Moktan, Sita Luintel, Rajya Laxmi Shrestha, Laxmi Thapa Paswan, Saroj Sharma, Anandi Panta, Istiyak Ahammad Khan and Gita Singh were absent yesterday.
As the Election Commission is yet to recognise the new party under Rana's leadership, the RPP has decided to take action.
Meanwhile, the party also decided to seek a legal remedy against a writ petition filed by Rana seeking the recognition of his party.
The writ is currently sub-judice at the Supreme Court and the court has issued an interim order yesterday, directing the Election Commission not to implement its decision of seeking verification of signatures submitted by Rana.