Of course, technology has not become advanced enough to download food. However, it is also equally true that one cannot stop drooling after seeing captivating food pictures and videos. Foodies in Nepal who use Instagram know it well.
Many foodies in Nepal have been "food-blogging" on Instagram and other social media for the past several years. With the mushrooming number of restaurants and eateries, it always becomes difficult for food lovers to make their choice. In such a case, you can always rely on these famous food pages on Instagram by famous foodies in Nepal:
1. Mr. Foodie Nepal (mr.foodie_nepal)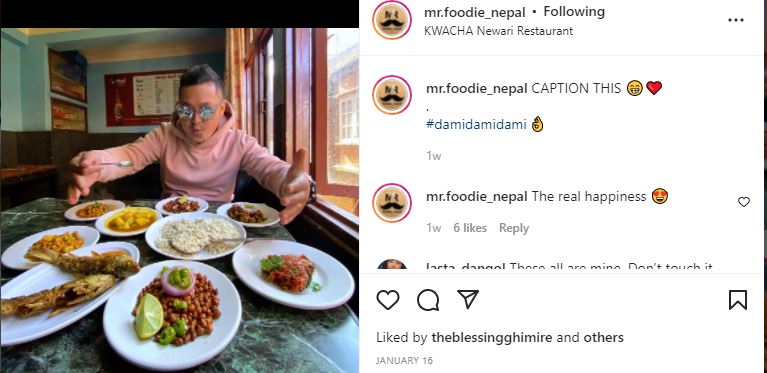 Mr.foodie_nepal is run by a 29-year-old food enthusiast. He, who considers himself a big-time foodie, impulsively started this page in 2016. His food blogging journey specifically started after a bad food experience from one of the 'appealing appearing' restaurants as he believes people deserve the truth. Since then, there has been no full stop as he has been popular among foodies in Nepal.
He explores numerous restaurants and eateries in Nepal, eats food, takes photographs, records videos, and writes reviews. His Instagram page has 243,000 followers.
2. Nepal.food (@nepal.food)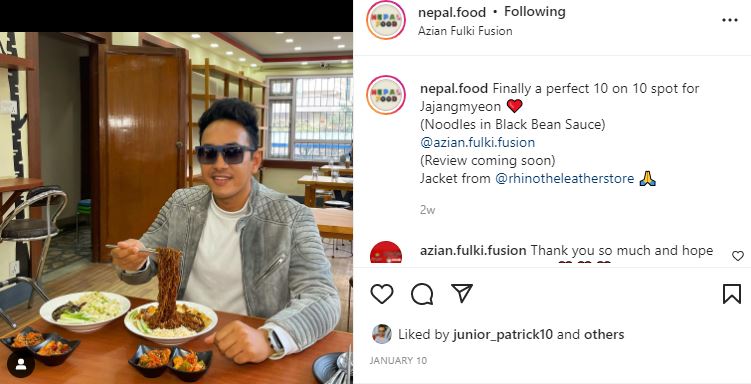 Siddhartha Ghimire is the man behind this page (@nepal.food), which is one of the most famous food v/blogging pages popular among foodies in Nepal. Ghimire initially started with Sidharth.Food in 2015 as a personal food diary. And, when the page grabbed the attention of more and more people, he switched to @nepal.food. Ghimire considers his father, who is a chef by profession, as his major influence on the culinary world.
Following his passions for exploring new restaurants, taking photos, rating food and writing reviews, he has come a long way in his food blogging journey. Now, he has about 278,000 followers on his Instagram page. Ghimire posts comprehensive reviews, recipes and a lot more relating to the culinary world.
3. Foodnommics (@foodnommics)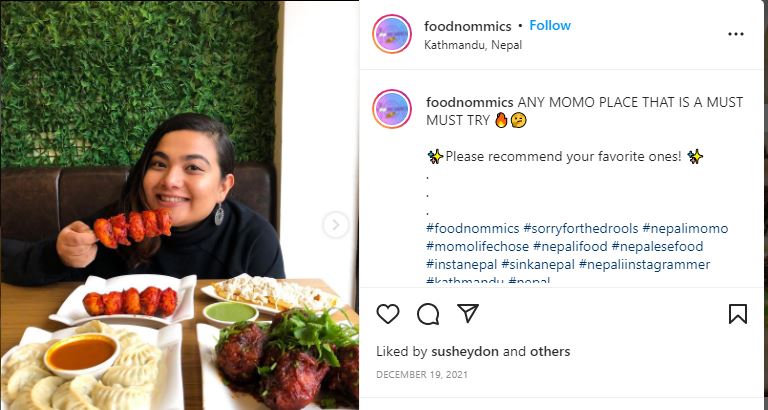 Foodnommics is one of the growing food pages that have appealed to several foodies in Nepal. Inspired by her love for food and photography (food), Aleesa started this page in August 2016. Since then, there has been no looking back as this page has drawn over 86k followers. Initially, she just used to post delicious-looking food pictures. But, as their attention grew, she started reviewing the food's taste, quality and restaurant service of food.
4. Love Eat Repeat (@love.eat.repeatt)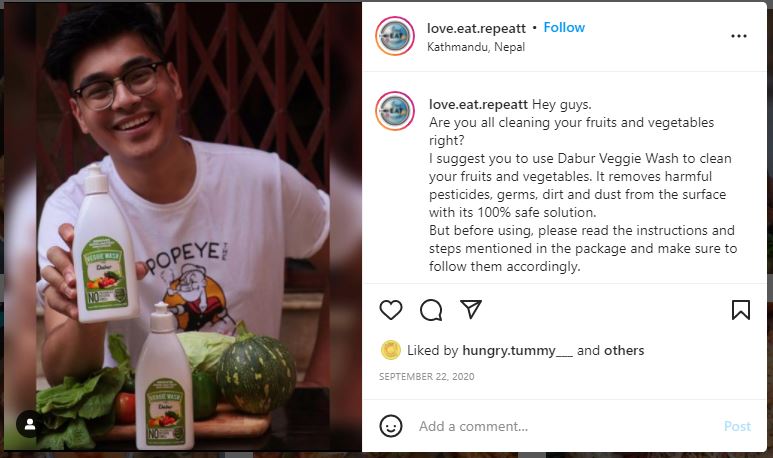 Shubam Parajuli, an aspiring photographer and all-time foodie, and his friend Sweksha Bhandhari handle the page @love.eat.repeatt. Parajuli created this page for foodies in Nepal, following his passion for food photography. This page has over 167k followers on Instagram and is praised for its reviews of food and restaurants and drooling pictures of food.
5. Hungry Tummy (hungry.tummy)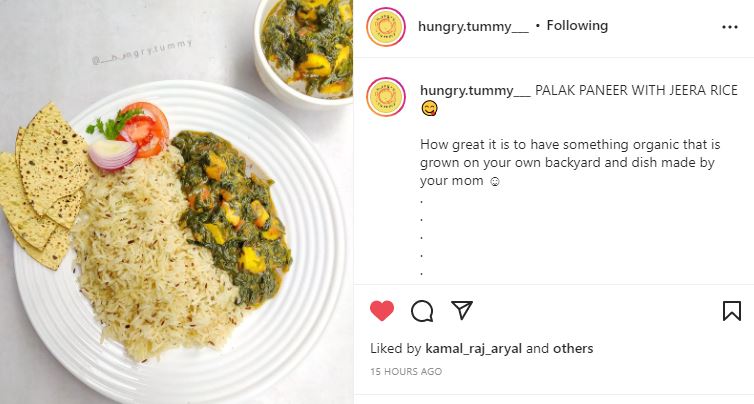 Hungry Tummy is run by food blogger and home cook Ismita Rawat. Rawat started food v/blogging on Instagram in 2020 when boredom hit really hard during the first lockdown and her passion for cooking was on high. Following her passion for food, she made several dishes and posted their pictures on the page, dedicating them to foodies in Nepal.
Later on, because of her work, she could not continue posting homemade food, and then she decided to post pictures of food that she eats outside at restaurants with her review. Along with this, she still cooks in her spare time and posts captivating pictures of home-cooked food.
6. My Darling Food (mydarlingfood)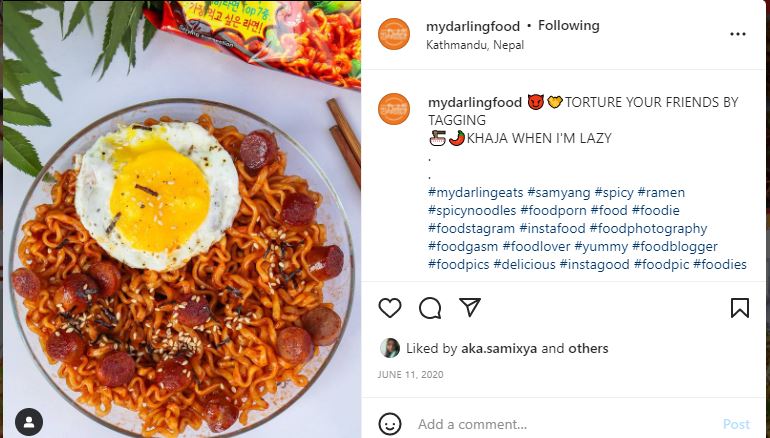 My Darling Food officially started reviewing food and posting on Instagram in 2016. It was actually when her personal Instagram account was inundated by photos of food and the constant queries about food she had to deal with. Through her v/blog, she, an avid food lover, takes you around the restaurants and eateries in Nepal and also her kitchen.
Not only will you find eateries to visit nearby and satisfy your cravings, but she also shares easy recipes one can make with the ingredients readily available in their kitchen. She has garnered over 86k followers on Instagram.
7. Foodie Sisters Nepal (@foodiesistersnepal)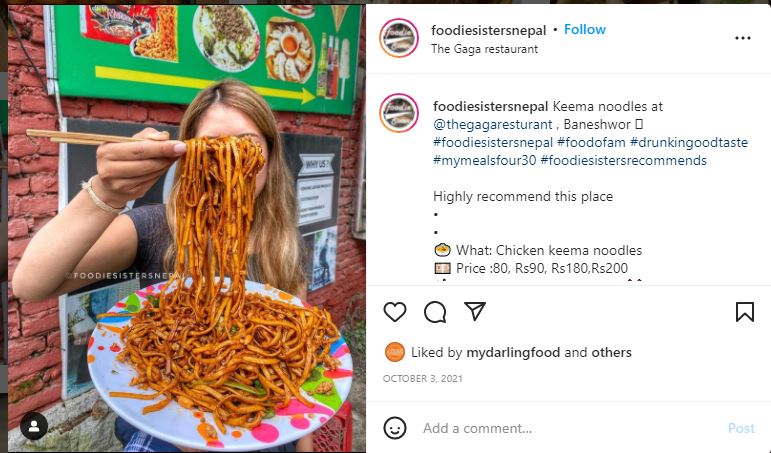 Another famous food page of Nepal, run by two sisters Mena and Priyanka, is @foodiesistersnepal. When the sisters faced trouble finding perfect food places to kill their hunger, they decided to create this medium to connect numerous food lovers and explore varieties of new tastes. It started back in 2016.
After their blog got discontinued in  2018, they again started from scratch. Today, there are over 27k followers relying on their food and restaurant reviews and recommendations on their Instagram page.