Sweet shops in Kathmandu never became few and far between. Yet, when one goes on looking for healthy alternatives to sweets, the options are scarce.
But, recently, two men–Rajiv Joshi and Nirajan Upadhyaya–have opened an enterprise named Bliss Balls, which makes and sells four varieties of handmade round diet balls made up of dried fruits and nuts. Because the balls are made without refined sugar, the company claims they are healthy.
The television trigger
Upadhyaya and Joshi have been friends for almost 17 years since their first meeting at the Patan Multiple Campus. Upadhyaya has been running a travel agency for the past seven years with a long experience in journalism also whereas Joshi is the publisher of a travel magazine, named Image Nepal. However, how they ventured into the business of these tiny balls has an interesting story.
As the lockdown imposed to control the Covid-19 pandemic hit both of their businesses, they thought of "doing something different from what we have been doing all our lives", says Joshi.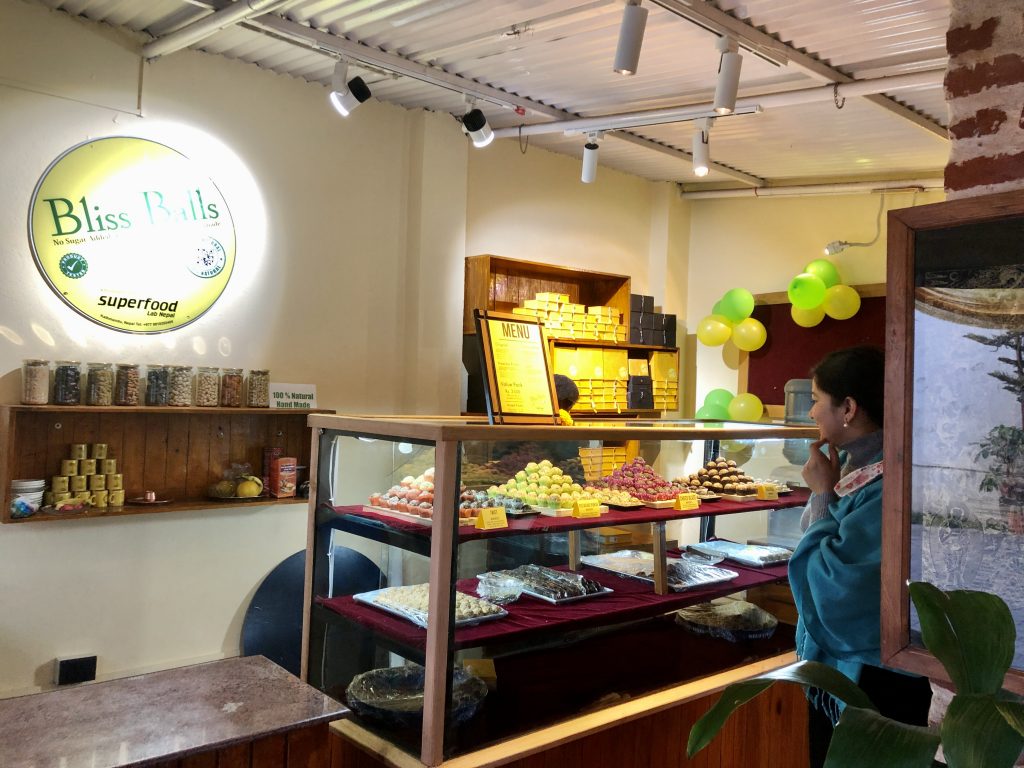 Both the friends, as food enthusiasts, decided to work on business relating to food. They were constantly discussing many ideas, but failing to make any conclusion.
Meanwhile, one night, Joshi happened to watch a Canadian TV programme called Food Factory, in which he saw a round-shaped food item looking like laddu made from various dry nuts. He learned they were called bliss balls or protein balls in the western countries including the USA, recalls Joshi.
"As we were discussing business ideas, I saw potential in these balls. Therefore, I immediately called Upadhyaya and shared the idea. He was impressed too," says Joshi.
The other day, Joshi made some bliss balls and asked Upadhyaya to try them. It was in August 2020.
Tasting and testing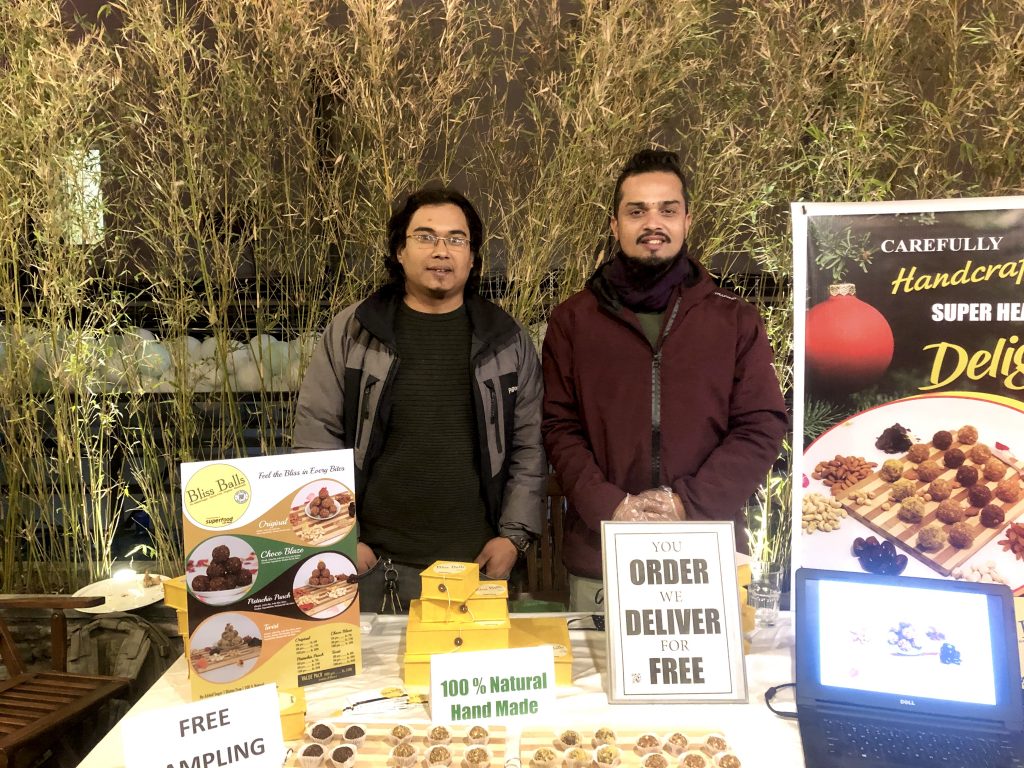 Then, the duo began to study the nuts and dried fruits, and their nutritional values. "We took some ingredients as a base and started playing on it. We tried to balance the proportion of every ingredient in order to ensure taste as well as health," says Upadhyaya.
"A certain amount of nutrients is medically recommended for leading a healthy life. As per this recommendation, we started experimenting using six to 13 nuts and dried fruits," adds Joshi, "Such balls are made by mixing protein dust, muesli, oats and nuts abroad, however, we tried to give it our own flavours."
They say that they initially bought a kilogram of every dried fruit and nut and began experimenting. The two friends spent about six months studying and testing. They say they had turned the kitchen of one of their house into a confectionery laboratory.
"We used to give it to our family, relatives and friends to try and ask for feedback such as if they liked it, what they didn't like in it. Accordingly, we improved the products," says Joshi, "We worked on our products ourselves until we were confident enough that it was tasty as well as healthy. We used ingredients measuring each gram."
After achieving that, the duo began selling bliss balls creating Facebook and Instagram pages. Bliss Balls, as an enterprise, was officially launched in January 2021 with an aim to provide taste along with health.
Escalating sales
As per Upadhyaya, a 25-gram bliss ball contains 125 to 135 calories. Their enterprise makes them available in four flavours: bliss balls original, choco blaze, pistachio punch and twist, with prices ranging from Rs 690 to Rs 890 per 200 grams (Rs 3,090 to Rs 3,690 per kg). 
Joshi says that the response from customers is satisfactory both on products and price.
The duo claim bliss balls can be eaten by people of all ages, from children to the elderly. They also argue they started Bliss Balls as people realised the significance of healthy and immunity-boosting food during the Covid-19 crisis. Hence, they think the pandemic also helped them grow their market.
"In the beginning, we two and sometimes our family members themselves were involved in making, packaging and delivering the bliss balls," says Upadhyay, "As the sales went up, we hired some staff to help in making bliss balls and outsourced packaging and delivery services."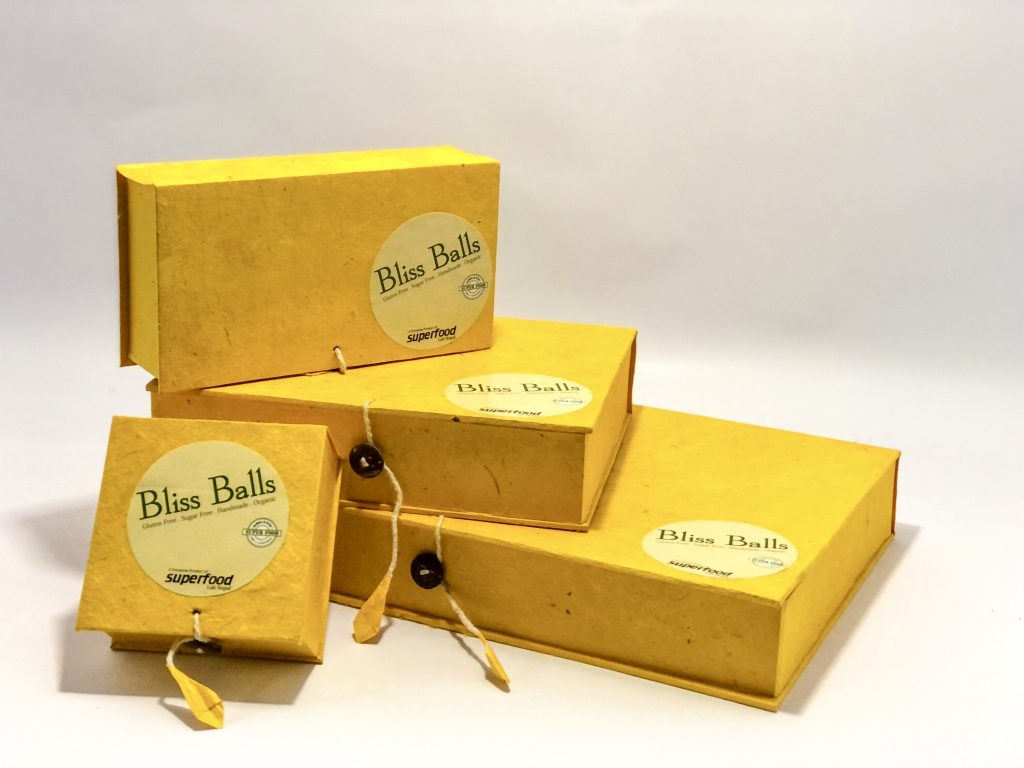 Until recently, they were selling online only, but now have opened an outlet in Naxal of Kathmandu "as the customers were asking if they could visit the store, taste and buy them."
The duo source the raw materials, mainly nuts and dried fruits from the local market. "But, we think it is difficult to get the quality raw materials in the local market. If we can't find the good quality nuts and dried fruits, it will impact the consistency of the taste and health benefits of our products."
In the near future, they want to extend their product range including natural tea, and other confectionery items.