Kathmandu, November 21
Nepal's 14-member team for the upcoming ICC Men's Cricket World Cup League 2 series against Namibia and Scotland in Windhoek has been announced.
The series will take place in Windhoek in Namibia from December 1 to December 8.
The team led by captain Rohit Paudel includes newcomer Nandan Yadav, who will hope to make his debut for the national team. Yadav has represented Nepal in different age groups over the years.
While Yadav has been called up to fill the void of an all-rounder, players like Bhim Sarki, Adil Alam and Kamal Singh Airee have been left out of the team even though the three were part of the Ssixer ODI Series against the UAE held in Kathmandu earlier this month. The trio did not play a single match.
Out of the 16 players who played in the series against the UAE, 13 remain in the team. When asked why the three were dropped, coach Manoj Prabhakar said players like Alam were more appropriate for T20 cricket.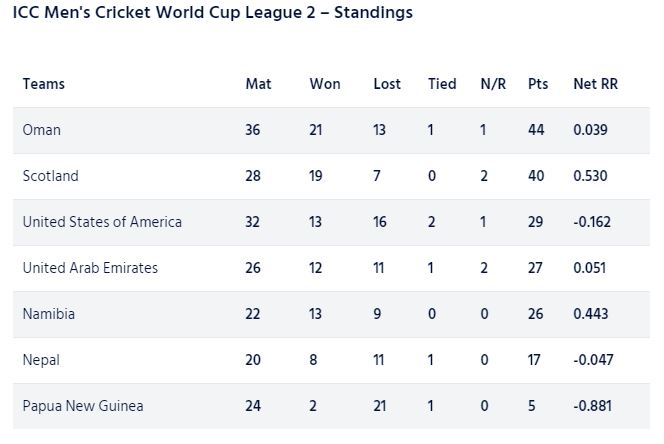 All-rounder Harishankar Shah, who made his debut in the UAE series, also continues in the team as new coach Manoj Prabhakar emphasises the need for more all-rounders.
The Nepali team under the captaincy of Paudel includes Aasif Sheikh, Arjun Saud, Gyanendra Malla, Dipendra Singh Airee, Aarif Sheikh, Kushal Bhurtel, Gulshan Jha, Nandan Yadav, Lalit Rajbanshi, Karan KC, Sompal Kami, Harishankar Shah and Sagar Dhakal.
Nepal will play their first match against the home team, Namibia, on December 2. Similarly, they will play against Scotland on December 4, Namibia on December 7 and Scotland on December 8.
Nepal are currently sixth in the ICC Men's Cricket World Cup League 2 table with 17 points from 20 games. The top three will directly get entry into the Global World Cup qualifiers. To finish in the top three, Nepal have to win all its remaining games.