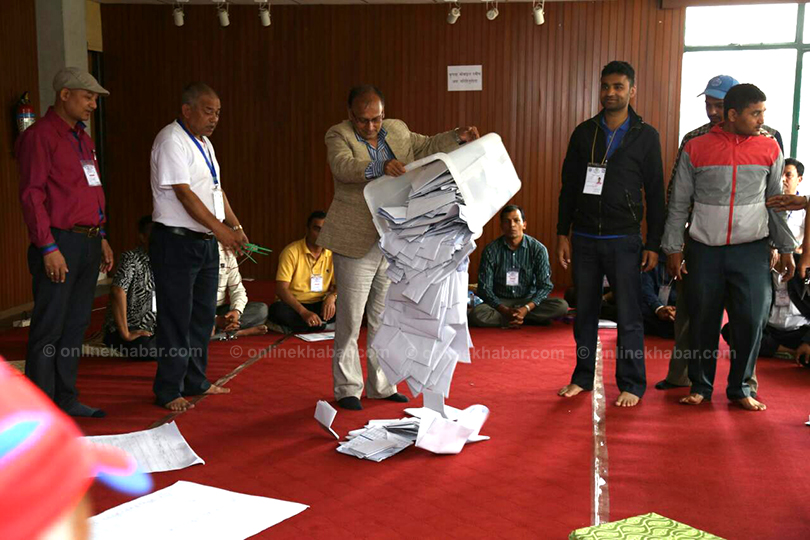 Kathmandu, May 17
Of 283 local bodies that held voting on Sunday, final results of 51 local units have been published as of 1 pm Wednesday.
Among the places where the counting have been over, the main opposition CPN-UML has won 21 local bodies followed by 16 of Nepali Congress.
The CPN-Maoist Centre registered victory in 12 places whereas two independent candidates have also made the berth.
Counting is underway in other places.
CPN-UML
Mahankal Rural Municipality, Lalitpur
Devghat Rural Municipality, Tanahun
Gosainkunda Rural Municipality, Rasuwa
Madi Rural Municipality, Kaski
Dhorchaur Rural Municipality, Salyan
Narayan Municipality, Dailekh
Rupa Rural Municipality, Kaski
Phedikhola Rural Municipality, Syangja
Harinas Rural Municipality, Syangja
Tila Rural Municipality, Jumla
Mahashila Rural Municipality, Parvat
Adanchuli Rural Municipality, Humla
Bhairavi Rural Municipality, Dailekh
Bheri Municipality, Jajarkot
She-Phoksundo Rural Municipality, Dolpa
Thuli Bheri Municipality, Dolpa
Kaike Rural Municipality, Dolpa
Shivalaya Rural Municipality, Jajarkot
Chame Rural Municipality, Manang
Nesyang Rural Municipality, Manang
Gharpajhong Rural Municipality, Manang
Nepali Congress
Kushe Rural Municipality, Jajarkot
Bungdikali Rural Municipalilty, Nawalparasi
Tamankhola Rural Municipality, Baglung
Nasong Rural Municipality, Manang
Narphu Rural Municipality, Manang
Barhagaun Muktikshetra Rural Municipality, Mustang
Thasang Rural Municipality, Mustang
Lomanthang Rural Municipality, Mustang
Dungeshwor Rural Municipality, Dailekh
Patarashi Rural Municipality, Jumla
Golanjor Rural Municipality, Sindhuli
Binayi Triveni Rural Municipality, Nawalparasi
Triveni Rural Municipality, Salyan
Chumnubri Rural Municipality, Gorkha
Madhya Nepal Municipality, Lamjung
Uttar Gaya Rural Municipality, Rasuwa
CPN-Maoist Centre
Mudkechula Rural Municipality, Dolpa
Jagadulla Rural Municipality, Dolpa
Guthchaur Rural Municipality, Jumla
Hima Rural Municipality, Jumla
Sanni Triveni Rural Municipality, Kalikot
Sani Bheri Rural Municipality, Rukum
Tajakot Rural Municipality, Humla
Marin Rural Municipality, Sindhuli
Bandipur Rural Municipality, Tanahun
Musikot Municipality, Rukum
Darma Rural Municipality, Salyan
Konjyosom Rural Municipality, Lalitpur
Independent
Raju Bista – Dalome Rural Municipality, Mustang
Temba Gurung – Dolpo Buddha Rural Municipality, Dolpa