Suraj Raj Pandey met Ahmed Fahim when he was at a Nepal-Bangladesh youth exchange programme in 2017. Fahim's family had been in the textile business for about a century as it owned the Delta Composite Knitting Ind Ltd.
While in Bangladesh, Fahim invited Pandey to visit his factory. Until then, he says, he knew nothing about the knitting and textile industry and also did not have any interest in it.
But, that meeting changed everything as it led Pandey to come up with a smart-casual apparel brand, Fibro, in the Nepali market, which has now emerged as a promising youth-led enterprise of the country.
Turning problems into opportunities
Visiting the factory, Pandey found there were about 8,000 workers working in one shift and the factory operated in three shifts. "Out of curiosity, I asked him if he supplied his products to Nepal as well," Pandey recalls, "He answered yes and also asked me if I wanted to get involved."
His question triggered a realisation in Pandey that Nepal had everything such as manufacturing capacity, skilled human resources and market, but only lacked local brands that the majority of the public could afford.
He thought fashion should be for everyone and everyone had the right to feel good and look good on their budget. But, that was not possible in Nepal.
"Then, I questioned myself: why don't we start an apparel brand for Nepal?"
That is how the brand 'Fibro' was conceived in order to democratise the way Nepal understands the fashion and apparel industry. Pandey initially invested Rs 10,000 to launch the company in November 2018 as a pet project and formalised it in February 2019.
"Initially, we started with three founders. However, as of now, we are two founders: me and Oskar Shrestha based in Pokhara, who handles social media and graphics," says Pandey.
Fibro hit the market first with 40 pieces of their winter fur jacket in signature black, with the USP of it being waterproof, dustproof and water-resistant. "We sell about 600-700 units per year," he says.
Demoralisation and remoralisation
As soon as the business started, Pandey realised it was easier said than done, and doing a business was not smooth.
The first problem was the market. He sold his products mostly to his friends and families initially. However, that list was short, making the sales drop to zero for about two months.
"Still, we were not able to cross that periphery of friends, families and fools(the three Fs of a marketing strategy). We were having hard times to reach the new customers," says Pandey, "I was totally demoralised."
Meanwhile, one day while walking around New Road, Pandey found a random person wearing Fibro. "That moment motivated me to keep going."
This was not the only hurdle that this startup had to go through. "We also find it hard to challenge the mentality of the Nepalis. They think, without experience, it is Nepali hence is super expensive and the quality must be cheap. They used to compare us with other online shops," speaks Pandey.
Then, they started encouraging people to visit their workplace in Kamalpokhari of Kathmandu, touch, feel, wear the product and buy it only if they like.
Gradually, the company was growing. But, the bigger challenges were yet to come.
Like many other companies, the Covid-19 pandemic hit their business as well. Pandey says, "Right after the lockdown, our sales were down by about 90 per cent. We are gradually recovering the losses."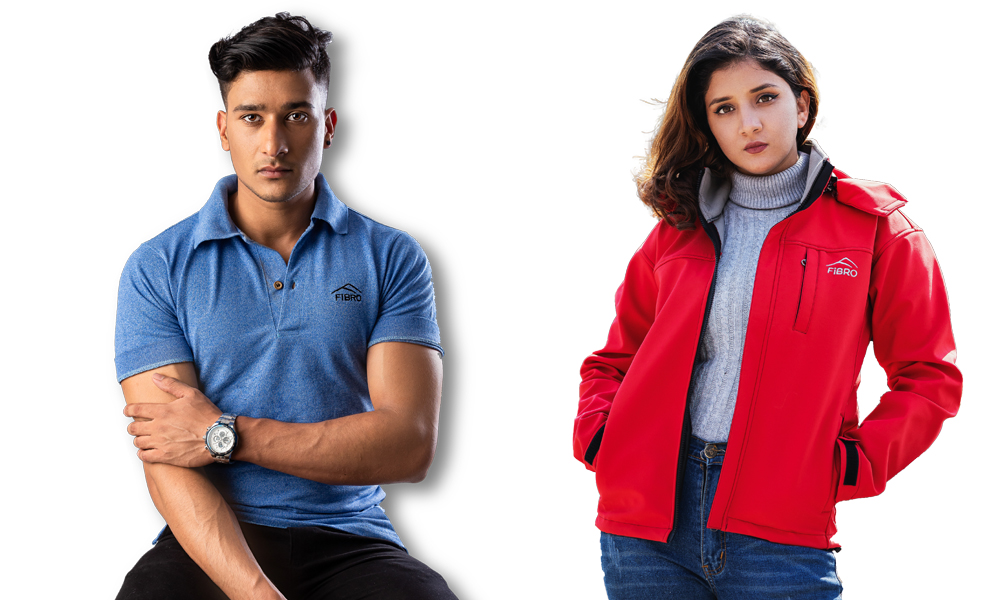 Still, the sales are low, there is a shortage of raw materials and a lot of other problems. Due to that, the production has not completed on time and the cost of production has increased."
Higher hopes
Nonetheless, the lockdown indirectly did something amazing to this brand. Pandey shares, "After the lockdown, during Dashain, when a lot of companies were shutting down, a lot of our loyal customers supported us by buying our products even though they did not have the need."
For example, Prarthana Saakha, the founding managing director of Helmets Nepal, who is also one of the loyal customers of the Fibro shares, "Fibro's is the first jacket that goes with every outfit and can be used in every occasion. I'm truly thankful."
This kind of support and love from the customers made Pandey realise, "This is no more my brand, but our brand."
As of now, Fibro is doing the sales of Rs 15,000- Rs 17,000 every day on average. Pandey also claims about one million people know this brand.
However, this brand aims much higher. Pandey says, "We are seven to ten team members. We are still not a (big) brand; we are a small brand targeting a small customer base of about 40,000. But, we definitely want to go beyond this."
Further, the Covid-19 crisis and many problems existing in Nepal's apparel industry have inspired this brand to be self-sustainable. It has started producing quality products at low costs, using locally available raw materials.
Likewise, they are also opening their own production house in the next two weeks.
Further, Pandey adds, "We are also looking forward to starting our five verticals: Fibro Corporate to manufacture apparels for corporate houses, Fibro Box as a kind of a gifting service, Fibro Go as physical stores in five cities, Fibro Custom to customise the apparels as per the customers' demands and Fibro Premium for exclusive designs."
"Ultimately, we aim to develop this brand as the national brand."