She walked in with stylish sunglasses, a black t-shirt with prints that read "For the one who fell in love with hip-hop," and earthy shades of baggy pants. We had been waiting for her for about ten minutes at her studio in Dallu, Kathmandu. She greeted us and took us to her studio room. She was none other than Smriti Bishwakarma alias Dmriti, a 21-year-old rapper who is growing more popular day by day.
The conversation kicks off. It begins with her first official song Female Rapper, in which she has appealed to the people to not label her as a female rapper but to call her the best rapper. The snippet of the lyrics goes —Ain't your "Female Rapper"/ Call me the best rapper / Don't need your label / For me to get bigger.
The current Nepali rap scene has very few women rap artists, and among them, Dmriti, a native of Jhapa, is most probably the only one who has been getting a notable hype in the scene. However, she does not like to be labelled as a "female rapper".
Smashing stereotypes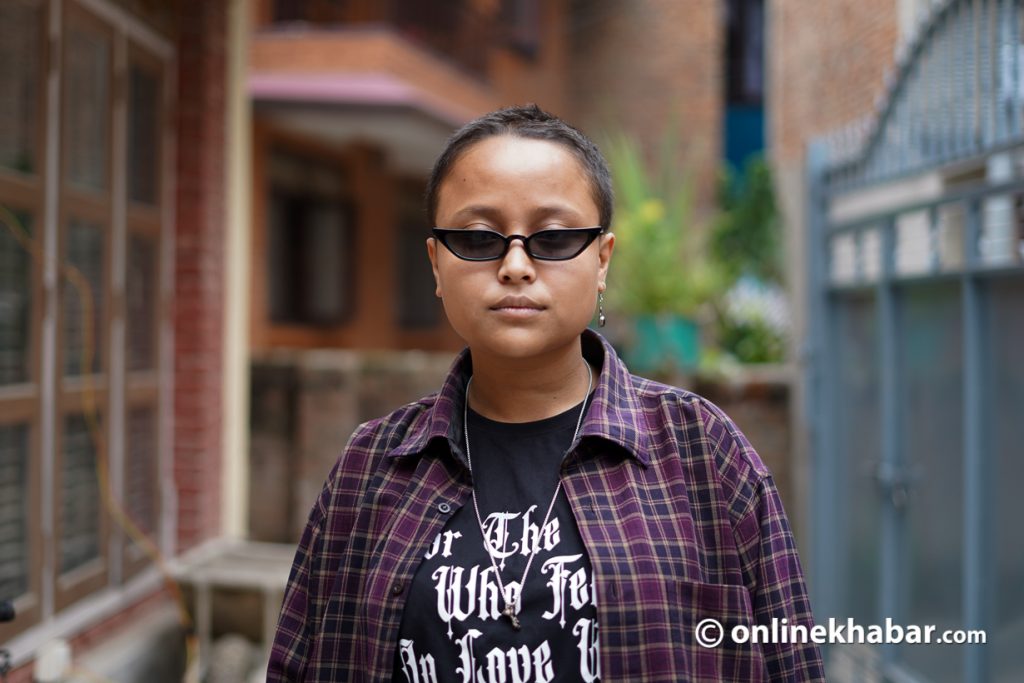 A couple of years ago, in one of the shows, a host called her into a stage announcing "One and only female artist". Later, when she asked the host if it was necessary to call her on the stage by mentioning her gender. The host replied, "That's something that would draw the audience's attention. Otherwise, they will not care about you." That response by the host made her sad and disappointed.
"I want to be identified for my work and skills rather than for my gender," says Dmriti.
She has found a bunch of people who repeatedly and unnecessarily mention her gender while announcing her name. According to her, they do it just to create a buzz among the audience.
"There is nothing to do with my gender in the music."
Because the number of female emcees is low in the country, the hosts of the shows prefer to announce her name by mentioning her gender, repeatedly and unwantedly. The organisers of the show also say that they do so to promote women's empowerment. But Dmriti wonders how many women would get empowered in such a way.
But, she says to get women empowered, society needs to do exactly the opposite and even more. "Girls still do not have the environment in the society that would enable them to pursue a thing they wish for."
Yet, Dmriti turns out to be lucky in this case. She says, "Growing up, I had freedom for my choice; my parents are very cool and supportive; they have always supported me for my choices."
Creating unimagined hype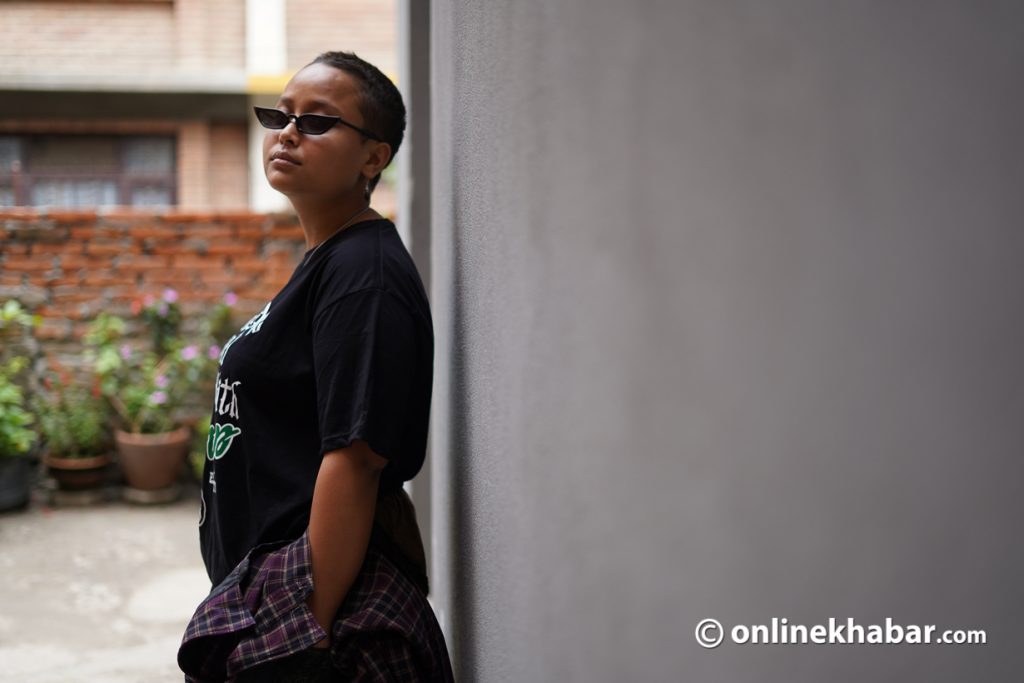 However, Dmriti shares that what it takes to be a female rap artist was not that easy.
"As a female artist, you get told a lot. People say, 'You will easily get fame due to your gender'. I used to get them a lot," says Dmriti.
In her initial days, when she recorded a song on a mobile phone and uploaded it on the internet, one of the popular artists surprisingly shared it. Later, her friend told her that the artist shared the music because she (Dmriti) was a woman. "Such an experience really questions our identity."
But, Dmriti has a message for all those aspiring emcees. She says, "Be real. Rap whatever you want to. Study more about the people in the industry. Know what you are standing for because that's very important."
Whatsoever, the emcee has earned so much popularity in a short span. From winning one of the finest rap reality shows to performing in a number of venues, she has achieved everything that somebody would ever dare to dream of in their twenties.
So far, her first official music video, Female Rapper, has garnered nearly 310,000 views whereas her latest music video, Hide and Seek, released three weeks ago, has already marked nearly 170,000 views on YouTube.
Dmriti never imagined that she would get such fame due to her music. Actually, she never thought of becoming a rapper. But, after completing her 10th grade, she randomly got interested in it.
Back then, her playlist was occupied with the songs like Sathi by Yamma Buddha; Tyo Din and Maile Hasna Sikey by MC Flo, Beautiful by Eminem and others. Hence, she found an inspiration to continue hip-hop.
"The more I learnt about hip-hop, the more I learnt about music. I realised the power to influence people as an artist. Alongside, doing music is also fun."
Right now, Dmriti is very happy to be a part of the Nepali hip-hop family, popularly known as Nephop.
The recent inspiration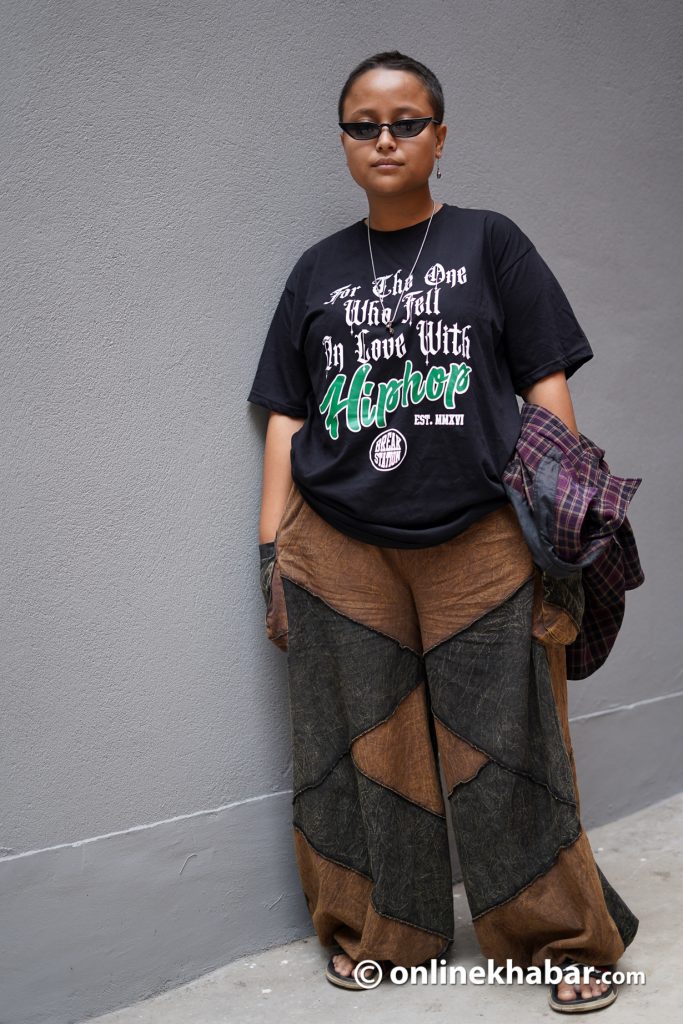 Recently, she has found a new inspiration to continue the music. A week back, when she went to a programme to perform, she met some women, double her age, including some mothers and poets. They identified Dmitri as their inspiration. "That moment made me feel moved," she says.
This has made Dmitri write more responsibly in the coming days. The artist, who believes rap is a platform to bring changes in society, is coming up with a lot of new songs very soon. Afterwards, she will be hibernating for some months to prepare for the new projects.
"I will be going to Jhapa to work on my new creations. I want to change the pace; running at a similar pace can impede growth."
Going with the same inspiration, besides music, Dmitri also wants to be active in some social campaigns. She wants to see Nepal as an untouchability-free nation.
"The ill-practice has created a mess all around the country," says Dmriti, adding, "There are certain things I don't want to write about but instead would prefer to take action against, and untouchability is one of those."