On March 2, 2021, a fire gutted 58 houses in Meringden rural municipality in the Taplejung district of northeastern Nepal. The fire that started due to a short circuit at the house of Bhola Poudel at 9 am spread all over the neighbourhood. Even though the district's only fire engine was sent to the scene from its headquarters Phungling, by the time it arrived, the fire had done significant damage.
"It took the fire engine an hour to arrive. By then, the damage had been done," says Ganesh Limbu, the chair of the rural municipality. "What could one fire engine do anyway?"
Limbu says as the locals knew that it would take time for the fire engine to arrive, they used excavators and bulldozers to destroy a few houses to make sure that the fire did not spread. But, even that effort was too late as half of the settlement had been gutted by fire.
A similar incident was reported at Phungling Bazar on May 2, 2020, when a fire broke out destroying 37 houses. Police Inspector Mohan Prasad Pokharel says nothing could be done to save these houses as one fire engine was not enough there.
"We had to call a fire truck from Panchthar to douse the fire. It took the vehicle three hours to get there."
According to the District Police Office, Taplejung, the district has seen 114 fire incidents in the past four years destroying 204 houses. In all these cases, the reason why the fire could not be doused quickly was the lack of fire engines. Moreover, other districts of the country are also reeling under the same condition.
Same problem everywhere, every year
On December 2, 2018, a fire killed an entire family of 4 at Shivasatakshi municipality in Jhapa. As soon as locals saw the fire, they called for a fire engine from Damak. But, it took the fire engine too long to get to the site. Locals feel that had the municipality itself had fire engines, human lives could have been saved.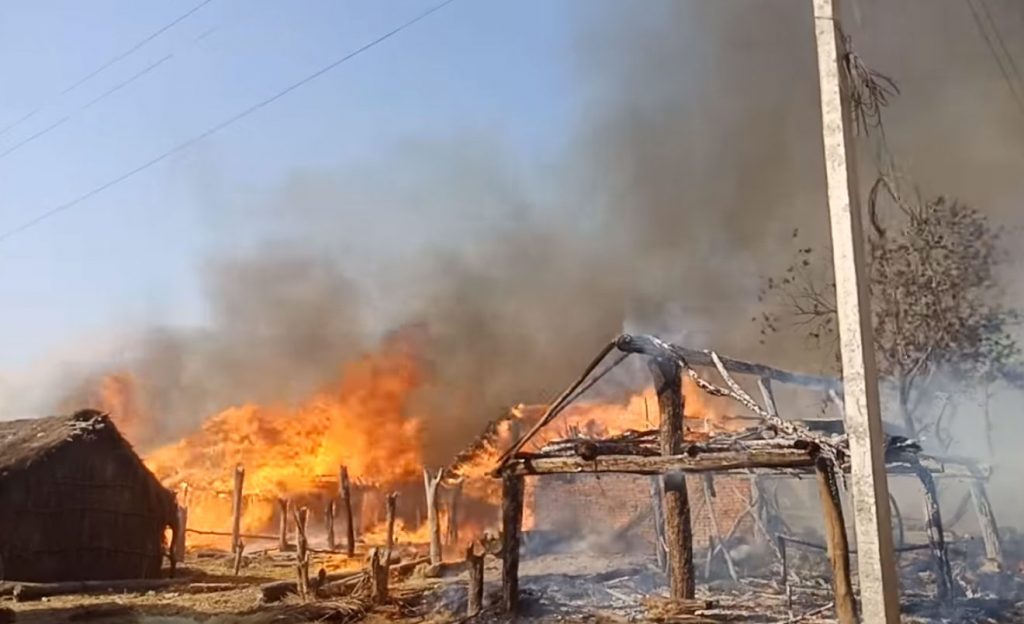 Later that month, on December 28, another fire broke out in Mechi Nagar municipality in the district where 22 houses were destroyed. Locals say that the houses could have been saved had the fire engine arrived on time.
Not all local governments in Jhapa have fire engines. People often call on gods if a fire breaks out in areas like Jhapa and Kachankawal rural municipalities as they believe that the fire engine will surely not arrive there on time.
Jhapa rural municipality's ward 6 member Motikhar Pokharel says that if a fire breaks out in the area, a fire engine has to be called from either Damak or Birtamod. "By the time it gets here, a house which has caught fire will be reduced to ashes."
In November 2019, a fire broke out at Big Bar in Itahari. Locals called the fire station at Damak and asked it to send a fire engine. But, another engine from Dharan arrived faster than the one from Damak. By the time it had come to the scene, property worth Rs 40 million had been destroyed.
Incidents like these are not limited to Province 1 alone. On January 9, 2019, a bus in Jaleswar of Mahottari caught on fire. As soon as the bus caught on fire, its driver, Dhirendra Singh, called the police asking them to send help.
But, the fire engine, which was only a kilometre away could not reach the site on time. The reason: the fire engine was dysfunctional and needed repair. There were three fire engines present in the district: at Bardibas, Jaleshwor and Gaushala. But, none of them was operational.
Lack of fire engines has also been a problem in Pokhariya municipality in Parsa. Bashista Narayan Barnawal's house caught fire on January 9, 2019. But as Pokhariya did not have a fire engine, they had to call one from Birgunj. But, like all cases above, the fire engine was late to arrive on the scene as Barnawal faced a loss of property worth Rs 1.5 million.
In Manang district, there have been four fire incidents in the past year alone. Out of the five, four were wildfires in the forest areas while one was at a monastery in Dharapani.
According to the district's Chief District Officer Bishnu Lamichhane, none of the local governments in Manang has a fire engine.
He says, "If there was a fire engine, I'm sure it would help a lot."
DSP Subas Khadka says that the fire at the monastery was doused by locals, the army and police by throwing mud.
On April 4, 2021, around 120 houses in Narainpur rural municipality in Banke were gutted by a fire. The rural municipality chair Istiyak Ahmed Sah says that even though the local government had bought a fire engine, it was not enough to douse the fire.
"One is not enough to douse fires in these thatched houses," he says. "We called for help, but by the time the fire engines arrived it was too late."
Remote areas of far-western Nepal have also had similar problems. On December 18, 2018, in Khalanga in Darchula, a garment shop owned by Padam Badal caught fire. As it was impossible for a fire engine to reach the shop on time, locals along with the police started to bring in water from the Mahakali river to douse the fire. It took them 90 minutes to do so.
Inspector Bhaskar Chand from the District Police Office says even though there is a fire engine in Mahakali municipality, due to the geography of the area, it is impossible for it to reach anywhere on time.
"We rarely use fire engines in the area. The only time we use it is when there are fires along the highway," says Chand.
A furniture factory in Dhangadhi of Kailali was gutted to ashes on March 6, 2021. The owner of Alok Multi Concerns says that had the fire engines reached there on time, his factory would not have suffered so much.
He says that even though Godawari municipality in Kailali and Punarwas Municipality in Kanchanpur had sent fire engines, the one from Dhangadhi did not arrive. The mayor of Dhangadhi, Nirpa Bahadur Oad, after listening to his grievances, had said that he would ask officials to investigate why fire engines did not reach the area on time.
Over 50 people die in fires every year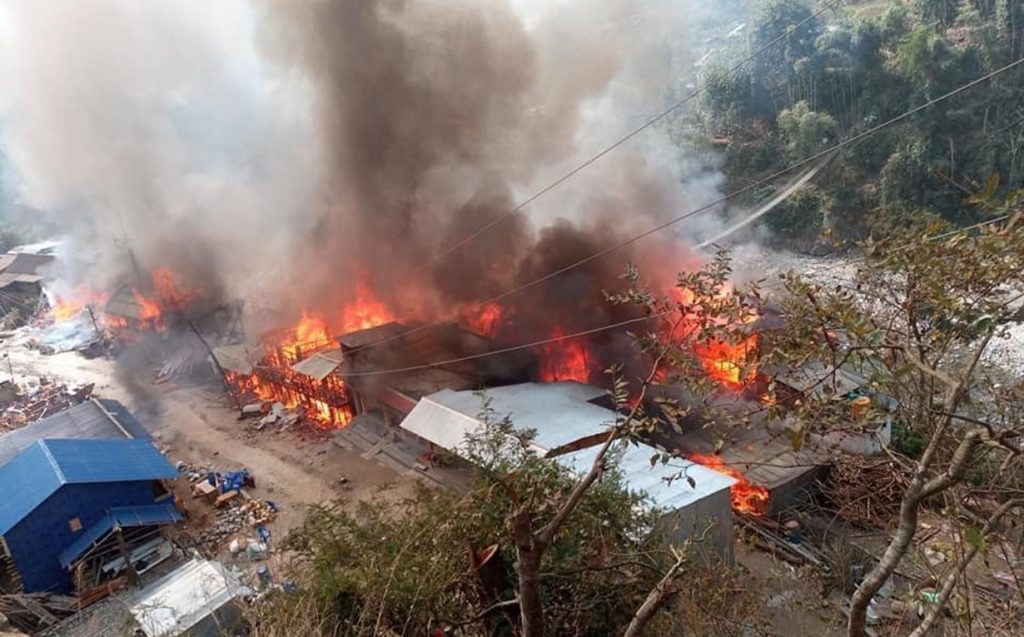 The incidents above show that no part of the country is safe from fire incidents.
Basanta Kunwar, the Nepal Police central spokesperson, says the police have recorded 5,064 incidents of fire in the past three years. These incidents killed 158 people, injuring 871 others.
The fire events in the past three years resulted in the damage of 2,505 houses and the loss of material property worth Rs 8.5 billion.
Ill-equipped local units
The Ministry of Federal Affairs and General Administration says only six metropolitan cities and 11 sub-metropolitan cities among 73 municipalities have fire engines. Other 203 municipalities do not have fire engines.
Among the metropolitan cities, there are four fire engines in Kathmandu and Biratnagar each, three in Lalitpur, Pokhara and Birgunj each, and two in Bharatpur. Likewise, each of 11 sub-metropolitan cities has at least two fire engines. Nonetheless, not all of these engines are functional.
Of 460 rural municipalities, only one–Narainapur of Banke–has a fire engine, informs the ministry's Environment and Disaster Management Section's Rishi Raj Acharya.
Some of the local governments that do not have fire engines have made efforts to buy a few, but they have failed due to budget crisis or high maintenance costs and other reasons.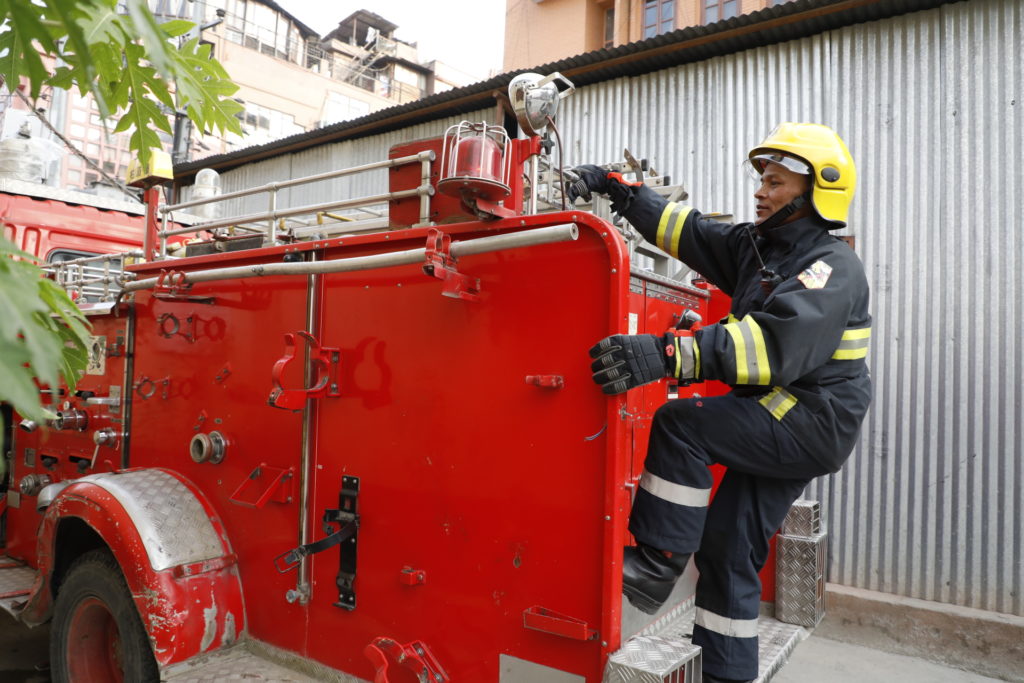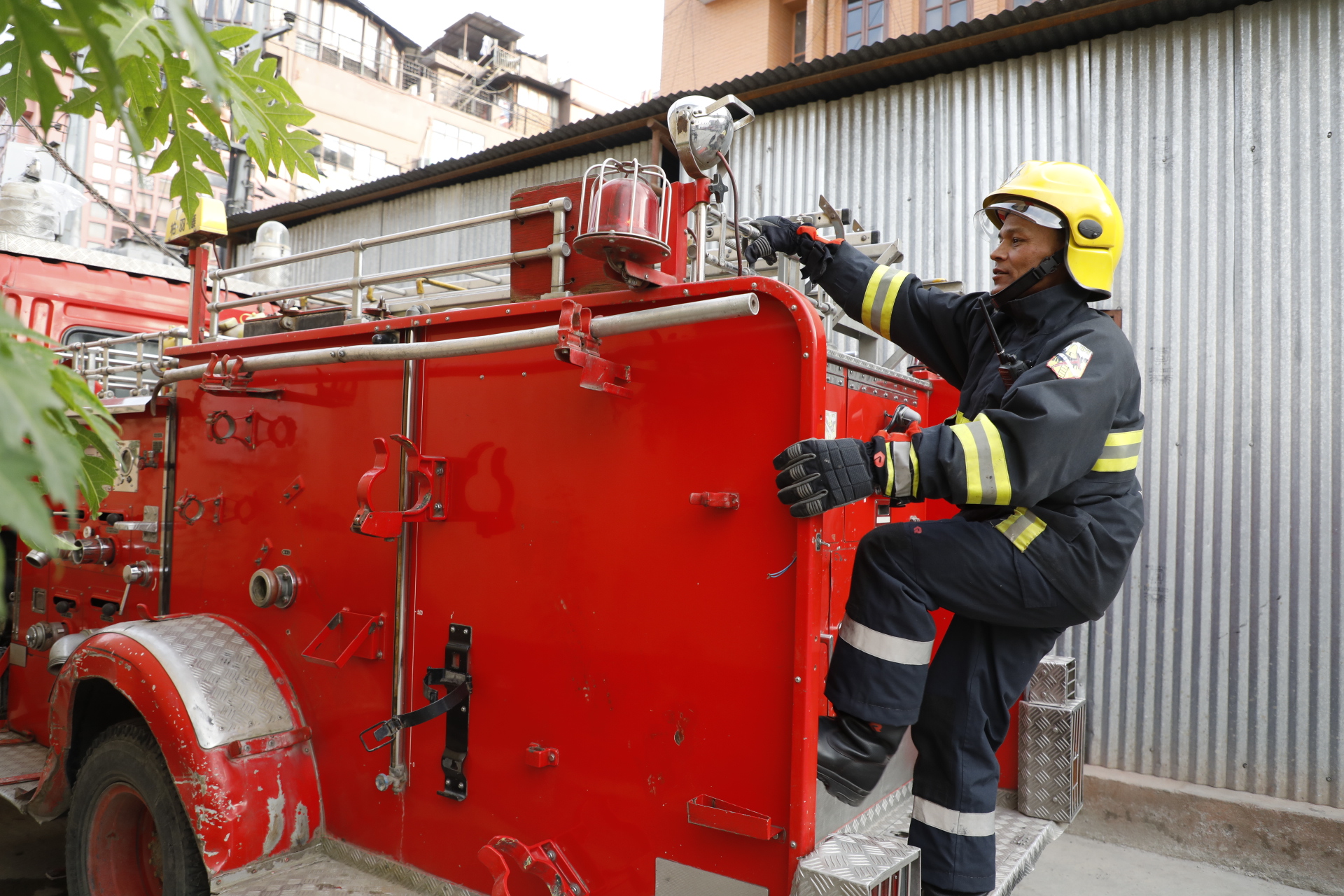 The numbers of local units that have fire engines in each province are as follows:
Province 1: 20
Province 2: 9
Bagmati: 11
Gandaki: 9
Lumbini: 10
Karnali: 5
Sudurpaschim: 9
As per the ministry's assessment, the provinces immediately need to add fire engines in the following numbers:
Province 1: 26
Province 2: 22
Bagmati: 12
Gandaki: 8
Lumbini: 12
Karnali: 8
Sudurspachim: 8
Total: 96
The country's Terai region is the most prone to five incidents, but 21 districts of the region have only 20 fire engines, and they need 52 more immediately, according to the ministry.
The next vulnerable place is the Kathmandu valley due to its high population density and a high number of fuel stations among others. However, most of the fire engines that the city has are nonoperational due to different reasons.
"We don't have staff to operate it," Chandragiri Mayor Ghanashyam Giri says, "We are preparing to lease it to the Kathmandu metropolitan city for one year."
Rajan Dahal, a staffer at the National Disaster Risk Reduction and Management Authority, says the valley immediately needs modern fire engines. He claims if the engines are functional, they can be crucial in controlling fire incidents in the valley, adding, on average, 95 per cent of fire incidents were doused by the engines in the past.
However, the authority's Chief Executive Officer Anil Pokharel says fire engines are not the best option available. He says operating these engines at the local level is difficult due to the country's geographical condition and high operational costs.
Hence, the country should prioritise preventive measures and other alternatives for fire control except for the fire engines, according to him. For example, "you can prepare 10 water pumps at the cost of a fire truck," he suggests, "Bringing water from nearby wells and ponds can be more economical than the fire engines."
But, Kishor Bhattarai, the chief of the Judda Barun Yantra (Fire Brigade), Kathmandu, does not agree. For him, there is not an alternative to fire engines in controlling household fires in urban areas currently.
"Other options might put off the fire, but they cannot minimise the loss."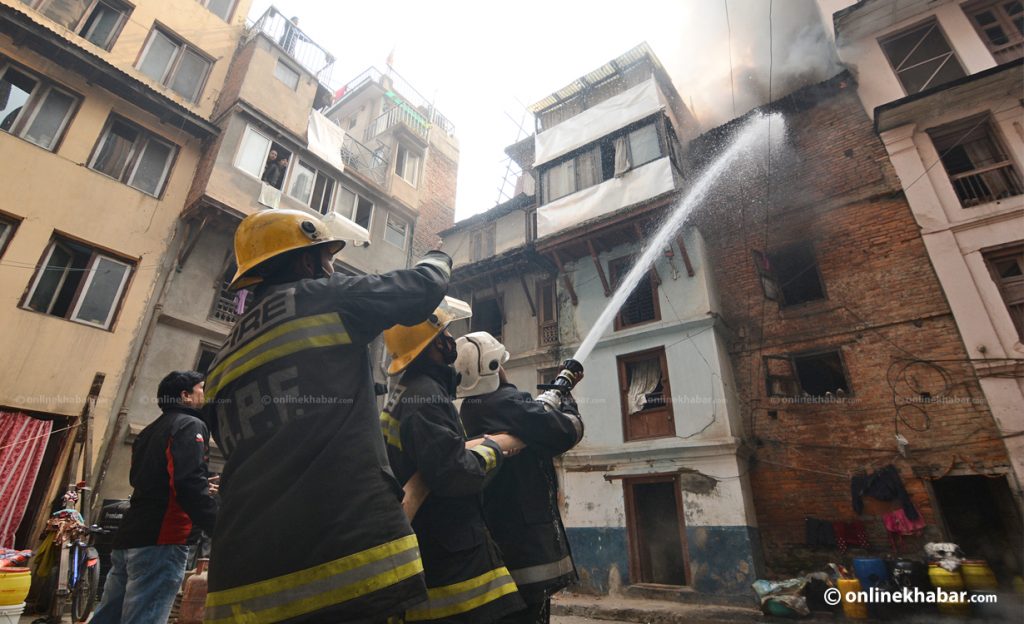 Existing fire engines are not ready
The house of Urmila Devi Das in Biratnagar metropolitan city-4 of Morang caught fire on January 6, 2019. Locals immediately informed the city office of the incident, and the office sent two fire engines there.
But, as soon as the vehicles reached the incident site, the firefighters found one of the two engines was kaput. Locals turned infuriated and chanted slogans against the city government.
"Yes, the victims are tense and they have complaints with us when we cannot reach on time," Jit Bahadur Budhathoki, who drives a fire engine for the Lamahi municipality in the Dang district, says, recalling a similar incident that he encountered in November 2016, "But, we do not make any delay intentionally except when the machine has a problem." He informs tyres and tanks are two major parts that frequently turn nonoperational in a fire engine.
The Inaruwa municipality in Sunsari has a fire engine but it could not work when a cloth store caught fire in the city in June 2020. It had already been six months since the engine was nonoperational.
Pokhara also encountered a similar incident in June 2014.
Biggest trouble: Unplanned cities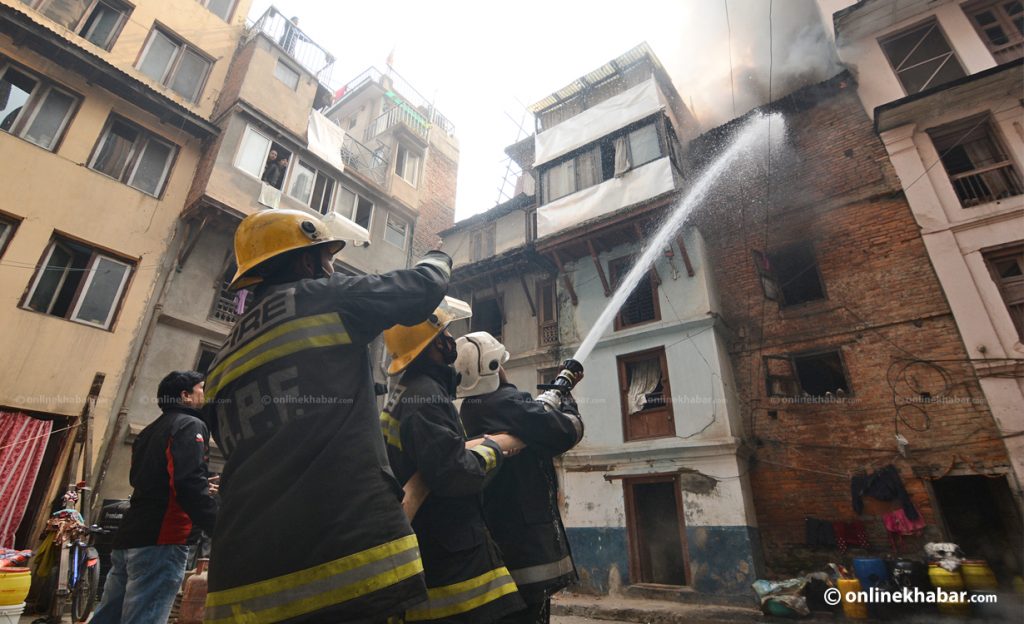 Although firefighter Budhathoki also complains of the lack of support from the locals, the biggest trouble for stakeholders working in the fire control sector has been unplanned cities.
"In many situations, the fire engine cannot reach the incident site, hence making it impossible to control the fire," the Disaster Risk Reduction and Management Authority's CEO Anil Pokharel says. Likewise, the fire engines cannot help when upper storeys of tall buildings catch fire, according to him.
Existing fire engines in Kathmandu have tools to go up to the 10th storey only. "It means these engines are not effective for tall buildings," former AIG Thule Rai, who holds considerable experience in disaster management, says, adding the country's fire response capacity is really miserable in comparison to the risks it has.
Meanwhile, some stakeholders have demanded separate mechanisms for fire response in the country. Kathmandu Fire Brigade Chief Kishor Bhattarai says separate mechanisms for fire control are in practice internationally so that it can keep all human resources and equipment updated.
Rai agrees, "If the equipment meant to serve people fail to work, another option should be sought."
Local govts' reluctance
Meanwhile, some local governments have been found unwilling to buy fire engines even when they have money.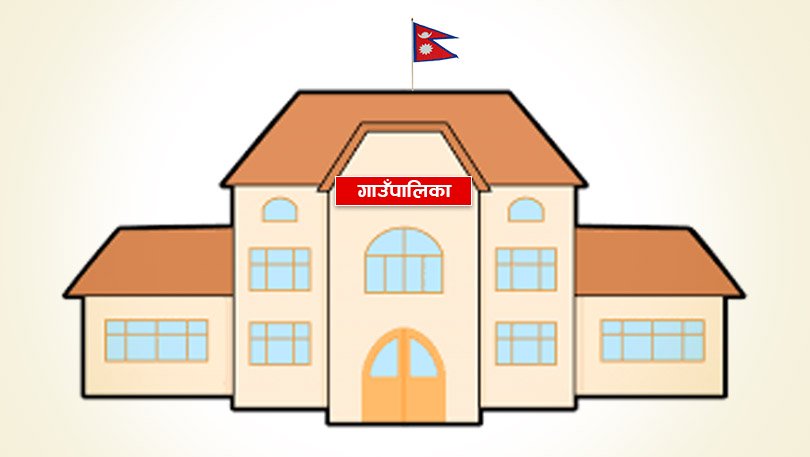 It has already been six years since the central government allocated Rs 6 million each to a local government to buy fire engines. However, only 28 local units purchased the engines that year. Realising the reluctance, the government then stopped releasing this fund.
The Shivasatakshi municipality in Jhapa announced it would buy a fire engine in its annual development plan for the fiscal year 2020/21 and allocated Rs 8 million. However, now into the ninth month of the fiscal year, the city government has already transferred the amount to other sectors.
Mayor Chandra Kumar Sherpa says, "We didn't move ahead as a foreign agency assured us of a fire engine as a grant." However, a staffer there reveals the city government withdrew after considering various challenges in its operation.
An administrative officer in a municipality in Morang says a fire engine costs at least Rs 7 million. It requires at least three staffers in all shifts. "It means you need at least six workers for two shifts, each of whom gets paid at least Rs 15,000 every month. You need to allocate a separate fund for the engine's maintenance."
Everything okay for excavators
Whereas the local government officials say the operation of fire engines is fraught with so many problems, they have shown their interest in the operation of excavators and bulldozers. For example, Buddhashanti rural municipality in Jhapa has recently bought its own excavator.
The number of heavy equipment vehicles is increasing across the country of late. The Department of Transport Management says there are 38,291 units of heavy equipment in the country currently.
"Excavators also glitch. They also need operators. But, there are several of them," Rajan Dahal, an employee of the National Disaster Risk Reduction and Management Authority says, "The reluctance to buy fire engines is incomprehensible."