Rabindra Maharjan from Bhainsepati has a government document which states that he constructed a hospital in Chandrapur municipality-8 in Rautahat. The document, which is on the letterhead of the Buddhist Philosophy Promotion and Monastery Development Committee under the Ministry of Culture, states that the hospital was completed on September 24, 2016, at an investment of little over Rs 433 million.
But, according to the municipality, no hospital has been constructed in the area in the past eight years.
"If such a major project had been carried out in my ward, I would have known about it, wouldn't I," questions Govinda Prasad Dulal, the ward chairman. "Those documents must be fake because the only health facility we have here are two small health posts."
After the information leaked, the Central Investigation Bureau (CIB) of Nepal Police launched a covert investigation and arrested Maharjan, one of the owners of Valley Construction, on March 17. The CIB since then is on the lookout for the company's other partners Bhairaja Shrestha, Ramita Maharjan, Gyanesh Maharjan and Geet Kumari Niraula.
According to a CIB investigator, Rabindra had been using the document while applying for various government tenders. The investigators say he had also made a fake document in which he claimed that his company had constructed a building for the Local Development Training Academy.
This is just a representative case surfaced over recent years. Investigation officials with the police and the Commission for the Investigation of Abuse of Authority say cases related to fake documents are on the rise and it is jeopardising the country's image at the international level.
Fake document 'factories'
"The documents with Rabindra Maharjan had a signature from the academy's executive director Bishnu Sapkota. We also received a letter which stated the building, which cost Rs 186.18 million, was handed over to the academy on December 20," says an investigator who added that they found a laptop on March 17 which had numerous fake documents.
The laptop, according to the investigator, had a signed and stamped digital copy of a letterhead from the Department of Roads and an unsigned 'To whom it may concern' letter from the Buddhist Philosophy Promotion and Monastery Development Committee.
The Buddhist Philosophy Promotion and Monastery Development Committee members whose signs are on the letter say it was fabricated.
Durga Kumari Gurung, whose signature is in one of these documents, says that Valley Construction has not made a single building during her time at the office. Gurung resigned from her position on December 15, 2020.
"I worked in administration and my main role was looking after human resources. I didn't recommend anything, my signatures have been forged," says Gurung, who had called on the police to take swift action against Rabindra and others involved in forging the documents.
The CIB says that Rabindra, showing fake documents, had applied for projects to construct buildings for Bheri Hospital, Godavari Municipality and a view tower in Jhapa. He had also used the fake documents and filed an application to construct the PM's, governors' and chief ministers' residence.
After that, the CIB asked the District Government Attorney Office to file a forgery case against Rabindra. The court released Rabindra on a bail of Rs 50,000.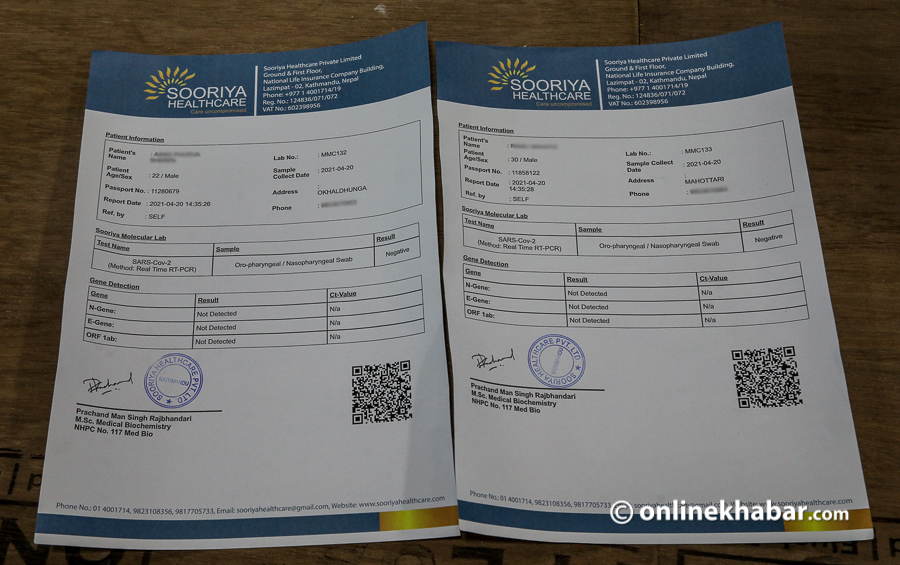 Nepal Police's Crime Investigation Office in Kathmandu arrested Madhu Silwal, Arun Khadka and Kamal Babu Puri on June 28 after finding them driving a car that had not paid customs tax. The arrest was unprecedented as this office of Nepal Police rarely arrested people for such crimes.
During the investigation, the office then came across Rewati Raman Poudel from Morang and it made things interesting. After arresting Poudel, the police raided his apartment in Shantinagar where they found 191 stamps of various government offices. Out of those stamps was one from the police office in Bajalu of Kathmandu.
The investigation office chief SSP Chandra Kuber Khapung says Poduel was initially asserted on the charges of making fake vehicle registration book. But when they raided his apartment, they realised that it was a factory of fake documents.
"He had fake education certificates along with fake driving licences. It was quite shocking," says Khapung.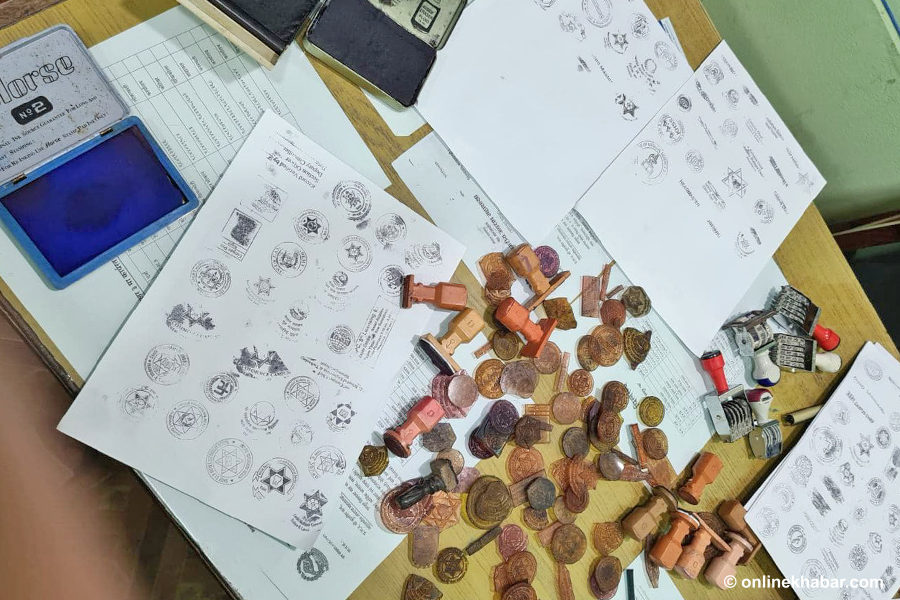 During the investigation, Poudel told the police he had been doing this for the past decade and had made over 6,000 fake documents so far. He claimed that he had even forged documents for police officers.
"When we asked him to prepare of a list of fake documents, we realised that it was better to make a list of the documents he didn't prepare," says Khapung. "He's even forged signatures of government officials who were in office during that time."
Police say Poudel had given an exam to be a non-gazetted government official. But he failed, after which he started issuing fake documents to people who were desperate. Police have been trying to find out for whom he made the documents, but they are yet to find concrete details of the people Poudel has helped over the past decade.
When Poudel was arrested, he was wearing an ID card that stated he was a health worker. But according to the police, Poudel has never worked in the health sector as he admitted to making fake ID cards for people to help them move around during the nationwide lockdown.
Police, after investigation, has found out that Poudel made a lot of fake documents for Tribhuvan University. "All he asked people was the year they wanted on the educational documents," says Khupung, who adds police have also confiscated a hologram from him.
He has been handed over to Metropolitan Police Range, Kathmandu as further investigation is underway.
Fake citizenship, land registration certificates and driving licence
According to SSP Ashok Singh, forgery has been tied to most of their recent cases including the racism case against activist Jwala Sangraula. When police raided Shangraula's house, they found documents that they sent to the local government for verification. Upon verifying, they found that the documents were fake.
The documents they had were issued by the Village Development Committee (VDC) in 2017. But, all VDCs had been replaced by rural municipalities by 2016.
"After that, we were suspicious and wrote to their local rural municipality, who told us that the documents were fake," says Chand.
Sangraula's husband Himal Upadhyaya had even forged his relationship certificate.
"Everyone seems to want to take a shortcut to everything. That is why these forgery cases are on the rise," says Singh.
According to a former director of the CIB, Hemanta Malla, cases regarding fake citizenship, land ownership certificates and driving licences are on the rise.
The ward chair of Rajpur Rural Municipality -7 of Dang, Bhim Bahadur Khadka, and three others were arrested on July 4 after they found to have made a fake citizenship certificate. Along with Khadka, Bhim Bahadur Kami and his daughter Sushila BK were also arrested. But on July 5, all three were released on general date. The fake citizenship has been scrapped.
In March, the Saptari District Court issued a verdict in a forgery case against Gangadhar Yadav, Kamal Dev Yadav, Gulab Devi Yadav, Mamata Devi Yadav and Vivekananda. They had been charged with forging land ownership certificates.
In December 2020, police in Jhapa had arrested a government official and three others after finding that they had misused government software and issued a fake citizenship.
People have also been forging documents to acquire allocated budget to the local government. According to the spokesperson of Commission for the Investigation of Abuse of Authority (CIAA), Narayan Prasad Risal, Bijay Kant Jha, the secretary of then Amalekhgunj VDC, was arrested on June 13 after he was found to have handed out money for a local project without forming a user group.
"We found that he paid people Rs 134,000 extra for the construction of culverts, canals and drainage," says Risal. "He has also not submitted bills worth up to Rs 157,000 which he claims was used for the construction of toilets and a training centre for women. We're booking him on corruption charges."
There have also been cases in which people have sold land without the owner of the land knowing that their land has been sold. Last year, the Metropolitan Police Range in Kathmandu arrested nine people on this charge. Those arrested had sold 0.15 acre (20 anna) land in Thankot belonging to Mina Khadka to a third person by making Khadka's fake citizenship and ownership certificates.
"Mina Khadka is currently in Belgium. Laxmi Gharti's photo was used in the citizenship certificate to sell the land belonging to Khadka," says the range's spokesperson, Ramesh Kumar Basnet.
There are also multiple cases of fake driving licences being bought by people throughout the country as officials working at the transport office have been found to be helping those in the trade.
Ashish Giri from Bhaktapur was caught selling fake driving licence by the police on November 29, 2020. Police claim that he must have colluded with officials from the license office. But they have not found any evidence yet as the police say Giri charged between Rs 30,000 to Rs 125,000 for a licence. Giri, according to the police, had sold 38 fake licences.
Fake educational documents galore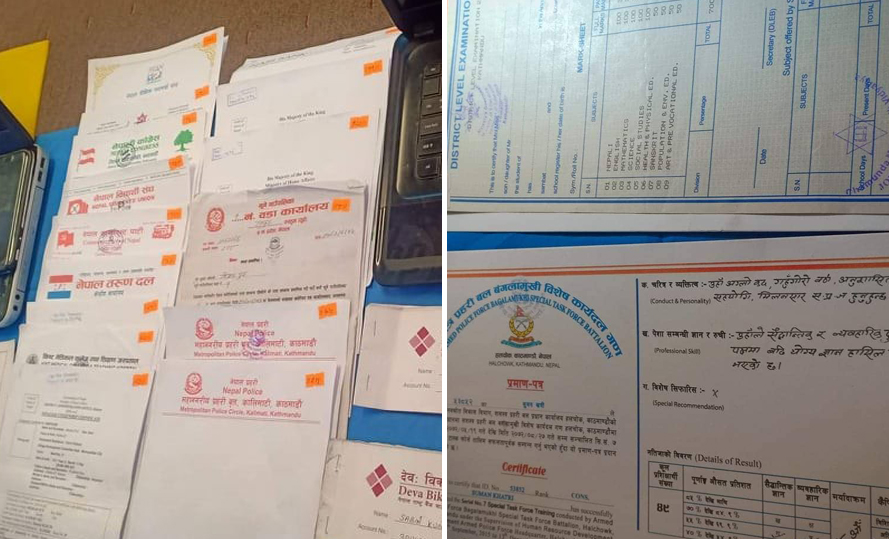 The CIAA has increased its investigation regarding fake educational documents from 2003 onwards. Since then, this category tops the list of cases investigated by the CIAA every year.
According to data provided by the CIAA, a total of 429 such cases were registered at the authority between 2003 and 2008. The trend has continued as the past four years, there have been 277 fraud cases regarding educational documents registered at the authority with 85 cases being registered in 2020 alone.
"This year due to lockdown, the number of cases have come down," says Risal.
He says a case only moves forward after the CIAA visits the said school or college. "We've even been to India to investigate."
Risal says many non-gazetted government officers and police were found to have forged fake educational certificates to land jobs. An official at the CIAA says even Nepal Army personnel were found to have forged their educational documents.
"But, they aren't under our jurisdiction so we can do nothing," he says.
A high-ranking army official agrees that this is a phenomenon in the Nepal Army as former generals' educational documents were 'shady'.
Cases on the rise since 1964
The rise in the number of such cases is directly proportional to employment opportunities, according to data. After the Land Reform Act was passed in 1964, the government needed non-gazetted officers.
"People who had completed their SLC (the 10th-grade exams) were eligble to apply," says former home secretary Khem Raj Regmi. "People even went as high as up to the position of chief district officers on that basis."
Those who had not passed their tenth standard then started to go to India and get certificates that proved they had completed their secondary education. This increased significantly after the Panchyat-era (pre-1990) administration implemented a new educational programme.
"Even people who wanted to become teachers started to show fake certificates to get jobs," says Regmi, who is also associated with Transparency International, an international anti-corruption group.
He says that as more government positions opened, more people started to forge educational documents to land these jobs.
"These documents have been used to land jobs in major government positions and even in the police and army," he says.
"We've seen a lot of fake documents even when we'd set a requirement that anyone who'd passed the eighth standard could apply," says former AIG Rajendra Singh Bhandari. "As eight-standard certificates were handed out by the school itself, it was too easy for people to do this. According to our estimation, 90 percent of the educational documents of police staffers are fake."
When it comes to government officials, the CIB investigation says that many of them made fake documents from places like Gorakhpur and Banaras in India.
"Now as people have started to look at certificates made in India, this trend has stopped as they are making them in Nepal itself. We've been told that even these certificates are scrutinised now that a lot of fake certificates have made the rounds in the country," says Khapung.
Regmi says seniors and colleagues of police officers know if they have a fake educational documents but refrain from saying anything for the fear of being called a snitch.
"Only time they open their mouths is when the person is up for promotion before them or when they are jealous of their colleague's success. They file a complaint at the CIAA, after which action is taken against the perpetrators," says Regmi.
Neglected crime
Despite the knowledge that these things happen, authorities have been turning a blind eye to it even though it is tarnishing the reputation of country. The courts in the country have also not looked like interested to take action against the culprits. In most cases, people are easily released on bail.
"Had this affected someone personally, things would have been different. Because it hampers the country and organisations, the society hardly talks about this or takes it seriously," says Bhandari. "The society thinks as these documents are used to get away from the country, it should be allowed to happen."
However, experts say this should be treated as a major crime as it affects the entire country. Bhandari says that it is due to this reason why many countries ask for a no-objectin letter from Nepali students. Without this, a student cannot file in their visa application.
"How will people from the west believe in someone from Nepal when one of its parliamentarians is accused of selling passports," questions Bhandari. "It's due to these reasons why our passport is so weak."
Educationist Bidya Nath Koirala says the integrity of Nepal's educational institutions is being questioned due to this.
"A signature of a professor is respected a lot around the world. It's never doubted. But, these fake documents not only affect the professors, it also affects the entire educational institution," says Koirala.
He says that Nepali educational institutions might be blacklisted in the same manner its aircraft have been in Europe due to these forged educational documents.
"It's hard to regain a level of trust that's lost," says Koirala.
Singh, on the other hand, says that it is about time Nepali government changed the way it kept the documents as he called for more safety protocol to keep the documents safe and away from the hands of fraud.
"Like the internet had safety threads, we also need to keep unique indentities to these governmental documents. They also need to be changed and amended regularly so that these frauds can't forge them anymore. We have to be a step ahead of them," says Singh.