I've never quite understood what prompts locals of a place not too far from Kathmandu to inform visitors, almost as though it were a selling point, that Kathmandu (or its lights) is visible from a certain vantage point in their village, especially when the visitor has come to escape Kathmandu.
At night in such places, I like to walk along a dirt road with fireflies teeming in the bushes like electric lights or gaze at the starry skies, not try and locate landmarks of Kathmandu.
At least that is something locals of Dhulikhel won't tell you–not that you would take note even if someone did.
It's a unique combination of modernisation and medieval culture, like a town frozen in the midst of a metamorphosis. There are concrete houses and large resorts, but there are also old Newar houses with carved wooden struts and tiled roofs. There is a major highway adjacent to the town.
In town, there are old doorways leading to small courtyards with stupas and shrines. On a road bristling with painted signboards for hotels and resorts, there is a stairway descending into the dank depths of an ancient stone spigot. The idea seems to be that there is always a door, a trail or a flight of stairs that can take you away from the commotion of a town built beside a highway.
Dhulikhel's mercantile past is all but forgotten now; it's much easier to imagine it as a corollary to the building of the Kodari Highway that links Kathmandu to the border town of Tatopani. But Dhulikhel came about because it lay on the old trade route from Kathmandu to Lhasa. Besides history books, that aspect of the town's past lives on in old timers, most of whom frequent the old square, smoking and chatting on temple steps.

(Above) The trail to the Kali temple in Dhulikhel is a beautiful place to take in the landscape and indulge in the self-congratulatory act of gauging one's progress up the hill. All photos: Author. (Opener) The region still has the hugely successful commodity that is the Himalayan panorama even though the old trade route from Kathmandu to Lhasa is long gone; Photo: Ritesh Man Tamrakar/Flickr.
The square is a citadel for a way of life, even an era. It's surrounded by–but hasn't yet surrendered to–concrete houses four or five stories high. Some of the talk there is quite sensational. "You are too young to remember this, but Tibet was once part of Nepal," an old man told me one day at the square. His tone was not the uncertain one of a person propagating hearsay; he spoke with the complete faith of a man passing on a story told by a grandparent.
I could picture the old man seated in the same square on a sunny winter morning and his grandfather, just back from the long trip to Lhasa, regaling the kids with phantasmal tales about Tibet. I didn't tell the old man he was wrong. Even the historical fallacy was tinged with nostalgia: who other than that man would believe such a tale?
But even if the trade route is long gone, there is still the hugely successful commodity that is the Himalayan panorama. Resorts and hotels, all selling a room or a balcony with mountain views, are the big business in Dhulikhel. And it's a lovely thing to be in a room that throbs with the buzzing of cicadas from the forest outside at night and has a window that frames snowy pinnacles in the morning.

(Clockwise) The town of Dhulikhel then (right) and now (left); Photo: Wikimedia Commons. Elderly people, the holders of oral histories, congregate in places like the town square; Photo: Sukanto Debnath/Flickr. The valley of Dhulikhel; Photo: Wikimedia Commons.
The proliferation of resorts might worry those who seek to escape Kathmandu. But there is still enough of the countryside that hasn't been claimed by the town or resorts. The trail to the Kali Temple is testimony to this. The stairway that climbs up to it is a path into the wilderness. The flagstone stairway is the only man-made structure there for a while. Bird songs, colorful insects, and a lush forest engulf anyone who goes up the steps.
The next man-made structure will give you pause. It's a statue of the Buddha. Sitting squat in a patch is the fifty-foot image of the man who encouraged each person to find the clearing in the metaphorical forest. It's a beautiful place to take in the landscape – milky fog roiling in slow motion in the valley below, wavy hills stretching end to end – and indulge in the self-congratulatory act of gauging one's progress up the hill.
Higher still and thus offering an even better view is the Kali Temple. The shrine has lost some of its original charm because of the concrete structure that now houses it. But concrete is in the minority here, a speck in a sea of earth and trees. As far as the eye can see there are hills, some still carpeted from base to summit with trees, others terraced, some scarred. It is that typical scene in Nepal's hills of nature, and man's mark on it. And above it all, soaring like beings too pure to be violated, the Himalayas. But, most importantly, Kathmandu is nowhere in sight.
---
Checklist
Getting There

Dhulikhel is 30 kilometers from Kathmandu. You can take any of the several buses plying the route from the Old Bus Park in Kathmandu.
While in Dhulikhel

Old Town Square
Arriving here is to go back in time. Temples and shrines fill this centuries old courtyard, Hari Siddhi and the Vishnu Temple being the most notable. Elderly people, holders of oral histories, congregate here. They need little encouragement to unravel their yarns of fantastic tales, some of which will need to be taken with more than a pinch of salt. A short walk uphill from the western end of this square will bring you to the Bhagwati Shiva Temple.
Shiva Temple
This inconspicuous little Shiva temple, known as Gaukhureshwor Mahadev, is tucked in a ravine some two kilometers southeast of the old town center.
The Giant Buddha
The huge Buddha statue is located a quarter of the way up to the Kali Temple, in a place called Shanti Ban. The trail begins from the small park east on the road from the town center. More than twenty peaks are visible from here, including Langtang Lirung (7,234 m), Ganesh Himal (7,406 m), Dorje Lakpa (6,966 m), Gauri Shankar (7146 m) and Melungtse (7181 m).
Where to eat

The "Café Behind the House" (name translated from Nepali) is the place to get your fix of Newar cuisine. Also try the local yogurt while in Dhulikhel. Several of the tea shops keep a stock.
Where to Stay

If it is seclusion and sweeping mountain views you are in Dhulikhel for, then the Dhulikhel Village Resort is hard to beat. If you are on a small budget, the Langtang View Resort is a good choice.
Beyond Dhulikhel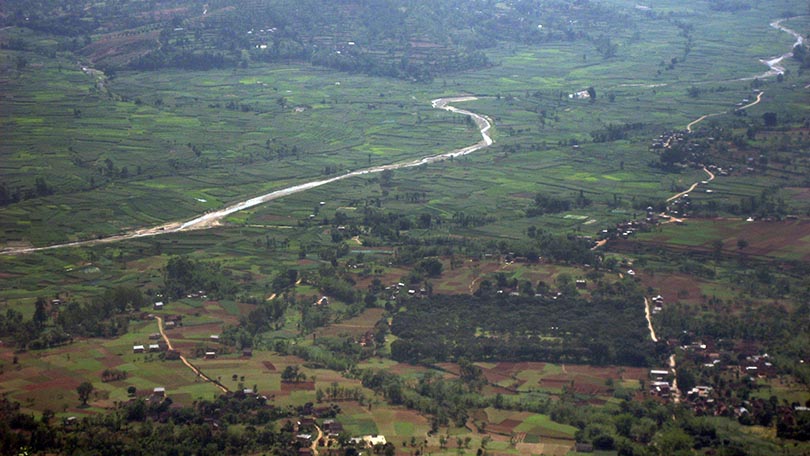 Panchkhal Valley as seen from Palanchok Bhagawati; Photo: Ananta Bhadra Lamichhane/Flickr
There is a place to go to from Dhulikhel in almost every direction. And these places are all interconnected by roads, so you can always visit them on your way back to Kathmandu. A good choice for a side trip is Namo Buddha. Besides its sacredness, this Buddhist pilgrimage site has the added attraction of being surrounded by some of the most picturesque landscape.
If you are into hiking, you might want to try the walk down from Namo Buddha to the medieval Newar town of Panauti.
If you want to visit the Palanchowk Bhagwati head east on the Araniko Highway towards Panchkhal. The famous shrine is 22 km from Dhulikhel.
There is also the option of a long walk (you can also drive or cycle there) from Dhulikhel to the village of Patlekhet. This place is worth visiting not merely for its rustic appeal but for its wonderful organic farms. Notable among these are Everything Organic Nursery and Hasera Farm. Many of the farms here also have homestay facilities.
***
More short trips around Kathamndu
Here's how you can escape Kathmandu, without leaving it!
Mountain Retreat in Namo Buddha
The rustic utopia that is Dandagaon
At Pharping, among myths and miracles