After all 29 wards of Lalitpur have reported dengue over the past few weeks, the metropolitan city government recently declared the area red zones and launched a special campaign to control it.
While the disease was more common only in Lalitpur until last month, dozens of cases have been reported in Kathmandu also by now. It means the Kathmandu valley is plagued by the dengue outbreak now.
According to the data from the Epidemiology and Disease Control Division (EDCD), dengue-infected people have been found in 61 districts this year. From mid-January to July end, more than 1,100 people have been infected with dengue. However, no one has died so far.
Dengue in Nepal is not new as it has been classified as a national concern. Every year, a share of the national budget is allocated to run campaigns across the country. Yet, it has remained a problem and it seems that every year the infection rate is increasing. Why is that? What does it take to control this outbreak?
Few facts to know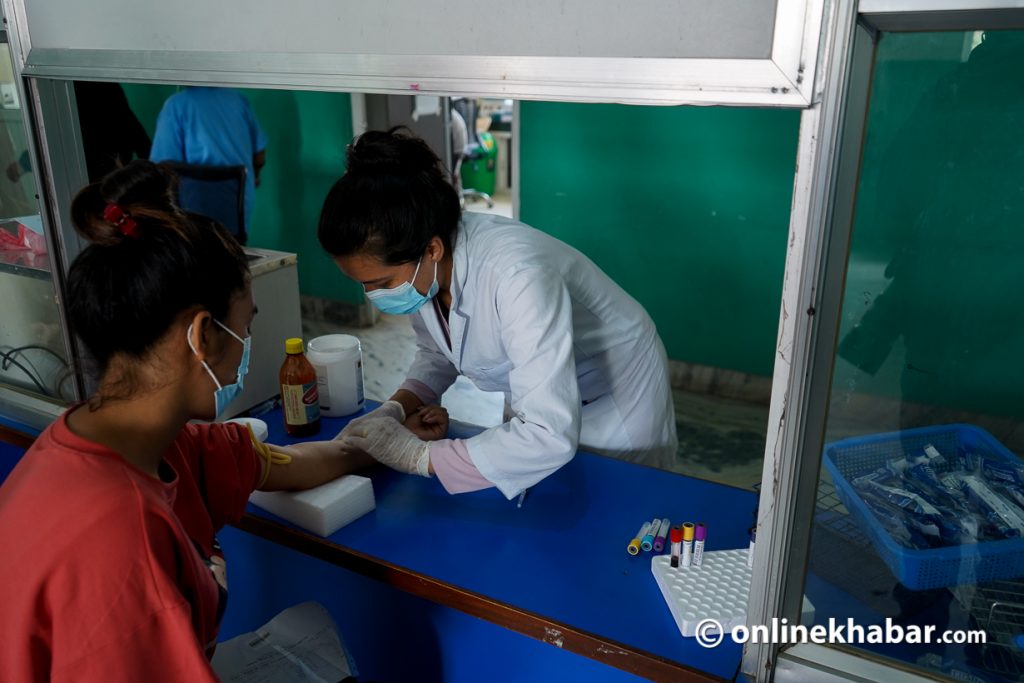 It spreads from the bite of an infected Aedes species (Ae. aegypti or Ae. albopictus) mosquito.
There are four types: DENV-1, DENV-2, DENV-3 and DENV-4.
Its incubation period is three to 10 days and it can progress from an infected person showing only a few symptoms like fever, nausea, digestive problems and fatigue to it progressing into more serious.
There are no medicines. Infected people are treated for the symptoms they show with oral medicines to blood transfusion.
People can recover from dengue. Given they have the right medical attention, the mortality rate drops to two per cent from 50 per cent, even in the most severe cases.
It can be detected clinically with a blood test, rapid diagnosis test, ELISA and culture.
An infected mosquito lays infected eggs 500-1,000 in its lifetime of around 30 days. It has a coverage area of 200 metres.
It has been reported over 100 countries with over 40 per cent world population are at risk.
Looking at trends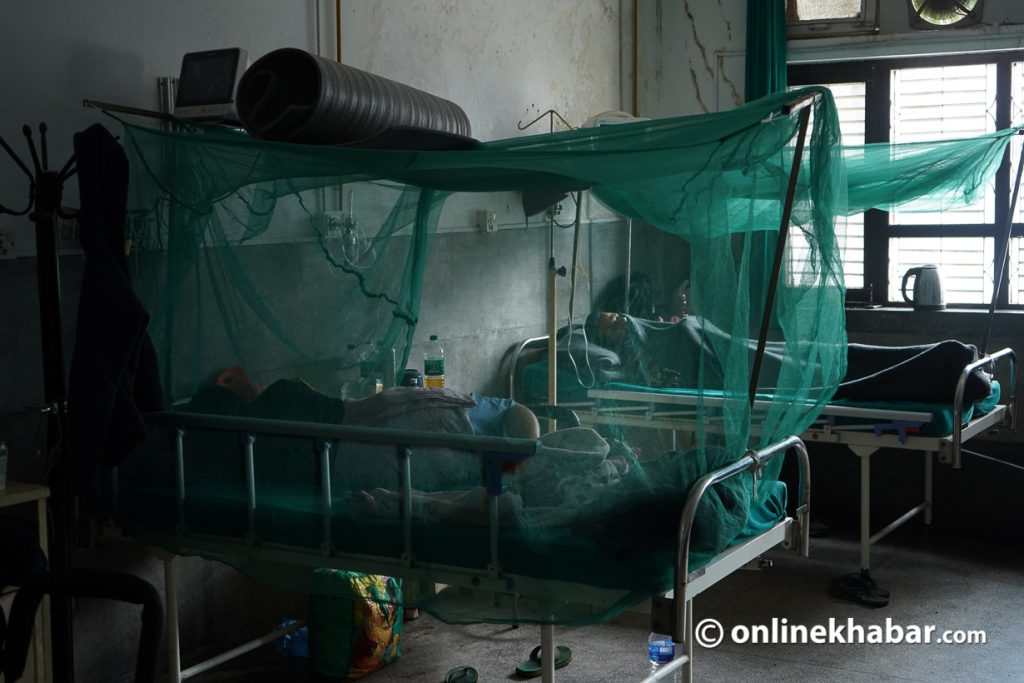 Dengue in Nepal has been reported in all climatic and weather situations. The cases have been reported mostly from areas where there is hot weather or near factories where water can be collected and remains stagnant, which is a perfect breeding ground for dengue-carrying mosquitoes.
With an exception of around two years during the Covid situation when Nepal saw a drop in cases, the rate of dengue in Nepal occurs and fluctuates every couple of years. Among them, in recent years, Makawanpur, Chitwan and Dhading have reported more cases.
Nepal first saw dengue in 2004 in a foreigner, then two years later, Terai regions reported the cases. In 2010, with over 900 cases and five deaths, it turned into an epidemic. In 2016, 2017, 2018 and 2019 too, dengue was classified as an epidemic affecting over 60 districts.
Lalitpur metropolitan city's Public Health Inspector Dilli Sher KC says the cases reported in the valley have been imported cases or about people who have a domestic travel history. "The earliest cases reported in Lalitpur were from students who had travelled here from Dhading and Chitwan."
According to Purusotam Raj Shedain, the chief of the Kavrepalanchok District Health Office, "In the last three years, he says that tyres–or the water collected in the hollow part of the tyres–were growing to be the breeding grounds. And, that is true everywhere, be it in hotspots like Hetaunda and Chitwan or the mountainous regions. We see the same in the city areas but also in rural areas as well as in industry level, agricultural level and household level where tyres are used in the gardens or rooftops."
Another small yet growing problem at the household level or even hotels is the water collected in the plates used under the pots and the decorative items, he adds.
Then the team went hunting for mosquito-breeding areas in search and destroy campaigns. They conducted blood tests on people who have a history of fever and have similar symptoms. "Search and destroy has been the most effective technique not just in Nepal but other countries too," says Shedain.
"Campaigns against dengue in Nepal began in 2010 with chemicals, but that was not effective. So, the campaigns further adopted search-and-destroy or intervention methods. In Lalitpur, we orient the teams to make sure that when the larvae are detected, they have to make sure to destroy them. And then only, we move on to the next house," KC says.
Though campaigns have been running for over a decade now, it has not been eliminated. So can dengue in Nepal ever be eliminated?
Shedain replies, "The aim was to eradicate dengue in Nepal at first, but it was not possible. Now, we are focusing on elimination by identifying breeding grounds and awareness."
KC says the budget has also affected the elimination and eradication of dengue in Nepal. "The budget for the programme is not enough. Whatever budget is available gets spent on the stipends for the team on the ground. So, the team has covered only a limited number of wards this year too."
Shedain agrees that a chunk of the budget goes into buying the rapid response kits, but he says, the budget amount also does not hamper the awareness programme. "The budget is not enough as needed on the ground, but it can be done too as the local government has a budget on other titles too, which can be redirected as needed. The local government can promptly react to the problem as needed and divert the budget."
What can be done in the off-season?
Since mosquitoes breed and grow in the summer season and they do not like the winter, dengue cases also drop down. Dengue in Nepal has been kept a national priority to be eliminated. However, to see any work in the off-season is rare. But, maybe that is the way Nepal can get better control of the epidemic, according to the experts.
"Awareness about dengue in Nepal is the most important aspect, for sure, and we need to do it off-season too. But, it is not that easy," shares KC. "Campaigning off-season is difficult because people do not take it seriously. The same methods are also not effective either."
"Apart from that, it is also important to know that awareness alone cannot solve it; people also need to be proactive and work together with the local health organisations and local clubs. All the stakeholders need to put in their continuous effort if we aim to eliminate dengue in Nepal," says Shedain.
But, he says, if campaigning is to be done, it is better to start from schools. "We have to start by educating students and teachers if we want to reach door-to-door and change human behaviour down the line. And, we are trying the same in Kavre."
Apart from that, he says Nepal also needs to increase investment in research about dengue in Nepal even in the off-season.
Shedain also expresses, "We need more studies on behavioural change and around the risk factors if we want to curb dengue in Nepal. We can also invest in genetic research and contribute to clinical studies. If we can, we have to divert the focus onto the forest areas where settlements have expanded and other vectors need to be explored too while continuing the follow the preventive measures."
Preventive measures
Since there are no medicines for dengue yet, what you can do is adopt some preventive measures against dengue in Nepal. So here are some things you can do:
Take note of clean and collected water. Search for larvae and destroy any water body where your mosquito eggs are festering.
Keep the water containers such as tanks, drums, buckets etc properly covered to prevent mosquitoes from entering.
Regularly clean spaces where water can collect and become a breeding ground.
Use mosquito repellent incense or liquid or ointment to prevent mosquito bites.
As this mosquito bites during the day, wear clothes with full sleeves or clothes that cover your body.
Sleep under a net, even during the day.