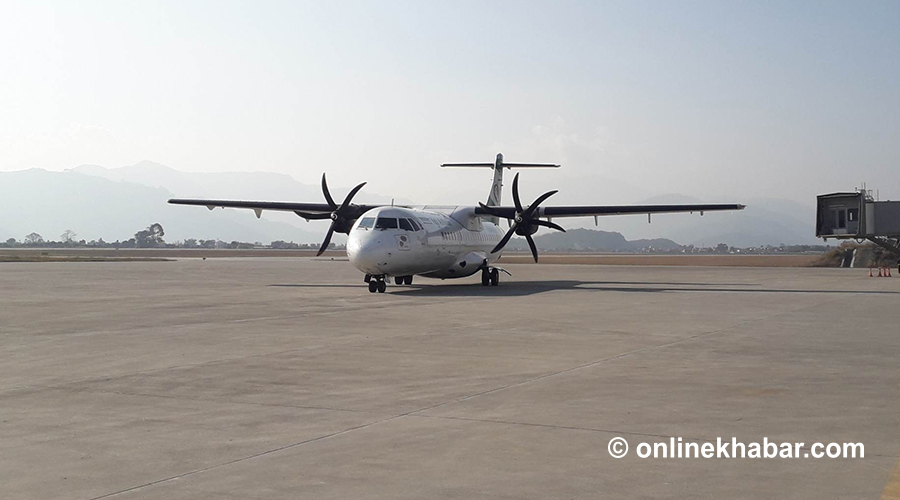 Pokhara, December 22
A demo flight has been conducted at Pokhara's new airport.
A domestic aircraft has landed for the first time at Pokhara Regional International Airport.
The Civil Aviation Authority of Nepal has planned to start commercial flights at the new airport on January 1, 2023.
Yeti Air and Buddha Air aircraft flew from Pokhara's old airport to its new one on Thursday.
Pilot Pramod Paudel, who flew to the new airport, commented that the airport is excellent.
"This will make domestic flights safer," he said.
Separate structures have been made for domestic and international flights at the airport. This airport has the first air bridge in Nepal. Passengers of international flights can now get in and out of aircraft from the airbridge.
All flights, excluding, flights to Jomsom, helicopters and ultralights will be operated through this airport from January 1. Aerothai Company had conducted calibration flights at Pokhara's new international airport.
While domestic flights are likely to start from January 1, CAAN or the government doesn't know when the international flights will start at the new airport.
CAAN says decisions on international fights will be made after it receives the full report of the calibration flight. At present, the work of cutting Rithepani Hill is ongoing to make it easy for larger aircraft.