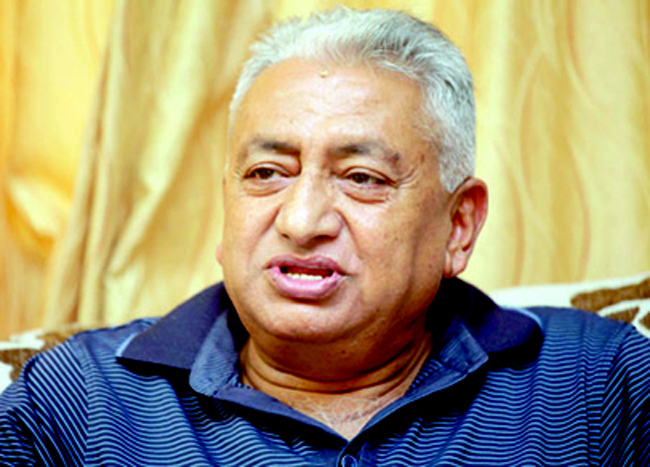 Kathmandu, September 6
The CPN-UML has registered a note of dissent in the Parliament against the Prachanda government to recommend Dip Kumar Upadhyaya as the ambassador of Nepal to India.
Bhanubhakta Dhakal, chief whip of the main opposition, pointed at the meeting of the Parliamentary Hearing Special Committee on Tuesday that then CPN-UML-led government, which comprised CPN-Maoist Centre and other parties, had recalled then Ambassador Upadhyaya from India. Now, the government under Prachanda, Centre's chair, has recommended Upadhyaya as Nepal's envoy to India, Dhakal noted, pointing that this move will harm the country.
Dhakal said: An ambassador is a representative of a country. This is also immoral on the part of Prachanda, this is a step that will do the country no good.
The government recommended Nepal's ambassadors to India and China just when a single bench of the Supreme Court had issued an order directing all concerned to initiate the process of ambassadors' appointment, Dhakal pointed, adding: This was illegal and against the spirit of the Constitution.
The court had made way for ambassadors' appointment only after the government recommended ambassadors.
The Prachanda government has recommended Upadhyaya as ambassador to India and Lila Mani Poudel as ambassador to China.
See also: Recalled envoy Upadhyaya challenges govt to prove charges against him
India doesn't intend to reduce petroleum supply to Nepal: Ambassador Upadhyaya
Increase in Chinese influence not in Nepal's interest: Professor Lok Raj Baral
Decisions to cancel Nepal President's India visit, recall Ambassador from New Delhi inappropriate: UCPN-Maoist
'Our man' in New Delhi gets KP Oli government's official letter recalling him