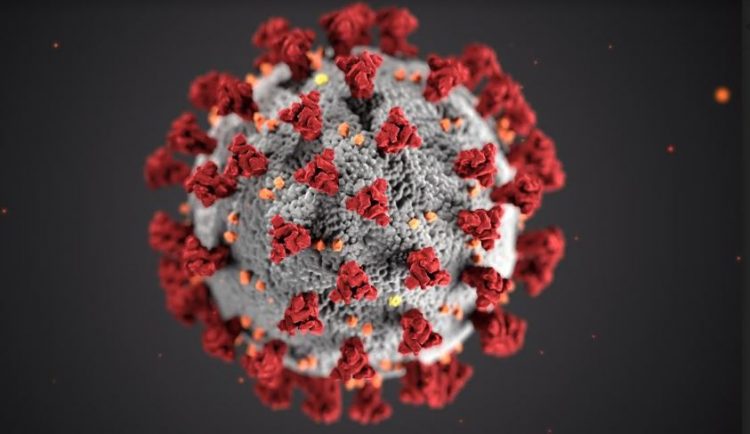 Had we ever thought that a tiny virus would challenge the entire world?
First of all, deep, heartfelt condolences to all the lives lost due to Covid-19 and a salute to all, working in the frontlines to provide essential services during these lockdown days. As the pandemic has spread across almost all the countries of the world, there is no option left with the respective governments to control the spread, except the lockdown.
But, let's focus on nature around us for a while. While humans are feeling suffocated staying at homes for a long time, nature is breathing more easily than in the previous years. No traffic on roads, no factories running, no pollution on beaches and rivers, seas and oceans, no forests being used for trekking, no mountaineering. What else does our nature require to make a grand comeback? Isn't it like the rebirth of nature? After decades of continuous pressure on Mother Earth, the human footprint has suddenly been reduced.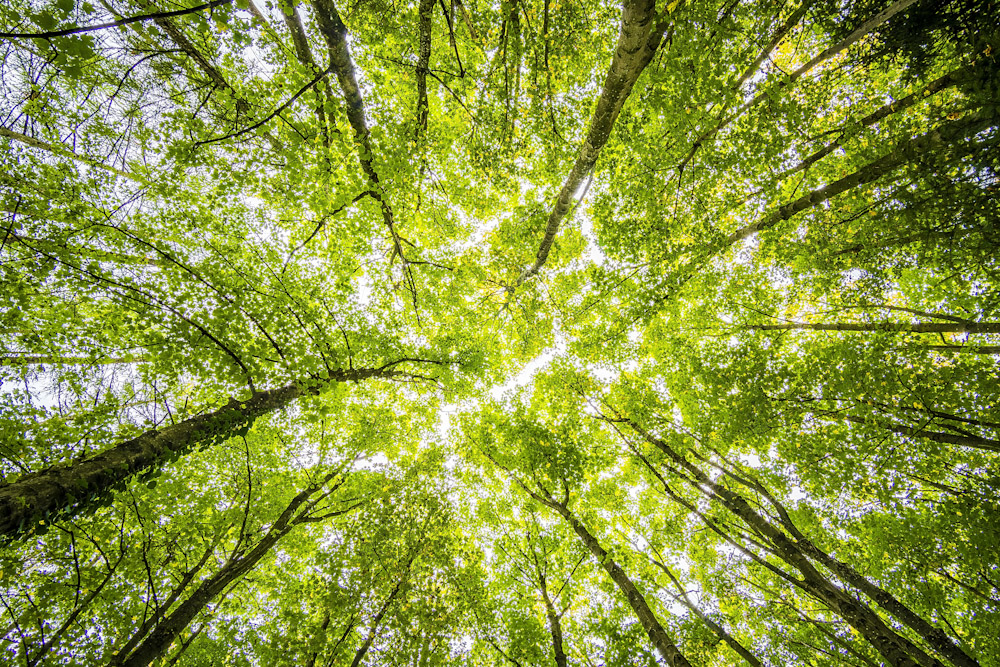 NASA and other space agencies have been releasing new satellite images and data revealing the reduction in air pollution, reduction of nitrogen dioxide (NO2), and carbon dioxide (CO2), carbon monoxide (CO), particulate matter (PM2.5) in different places across the world during the lockdown. The ozone hole is showing the signs of recovery by itself.
The World Health Organisation (WHO) has listed air pollution among the global public health crises due to which seven million people die each year. More than 80% of people living in urban areas are exposed to low-quality air that exceeds the safe limits. The condition is worse in low-income countries, where 98% of cities fail to meet the WHO's air quality standards.
China
China has experienced a huge reduction in PM2.5 nitrate levels in the atmosphere. Nitrates can penetrate deep into the lungs and enter the bloodstream, leading to heart disease, strokes, or cancer. The Copernicus Atmosphere Monitoring Service (CAMS) study shows the decrease of fine particulate matter – one of the most important air pollutants – in February 2020 compared to the previous three years. Satellite observations along with detailed computer models of the atmosphere indicate a reduction of around 20-30% in surface particulate matter over large parts of China.
The United States

NASA shared satellite views of the typical nitrogen dioxide (NO2) concentration in March 2020, in which the result clearly revealed recent NO2 levels are down by 30% in major metropolitan areas including Washington DC, New York City, Philadelphia and Boston as compared to average March data of 2015 to 2019.
Also, NASA provided satellite estimates of NO2 levels in different cities of California [shown in the picture below] which show there has been a dramatic decrease in NO2 levels after the lockdown.
Europe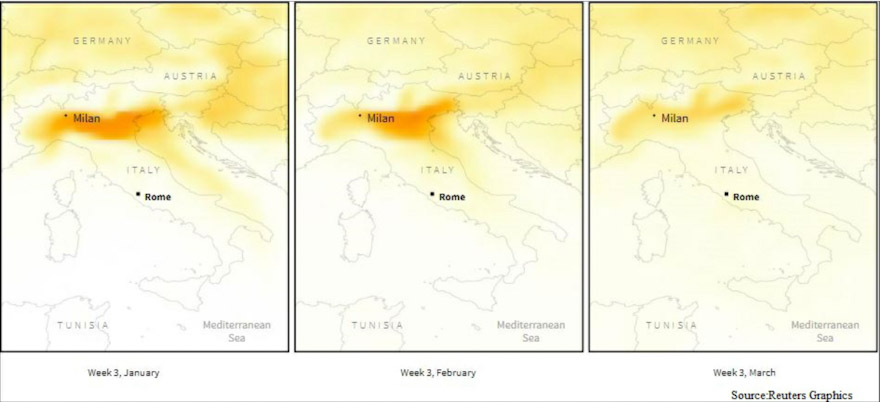 The Copernicus Sentinel-5P satellite, from the European Union Copernicus Programme, provides data on NO2 concentration levels from March 13 until April 13. Comparing these data with March-April averaged concentrations of 2019 shows that Madrid, Milan, and Rome saw a decrease in NO2 levels by around 45% while Paris saw a dramatic drop of 54% mainly due to the strict quarantine measures implemented across Europe. Air pollution has greatly reduced in Italy as shown below; we can easily see reduced air pollution from January to March 2020.
South Korea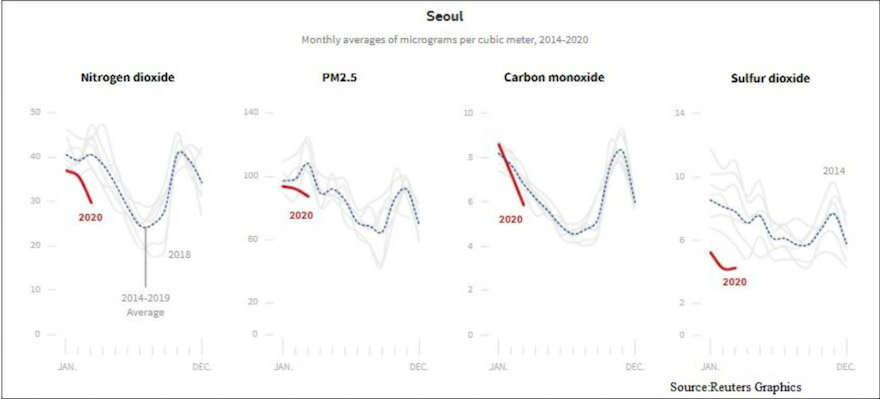 In Seoul of South Korea, the levels of major air polluting gases like NO2, CO, PM2.5, and SO2 have been greatly reduced in early 2020 as compared to previous years.
India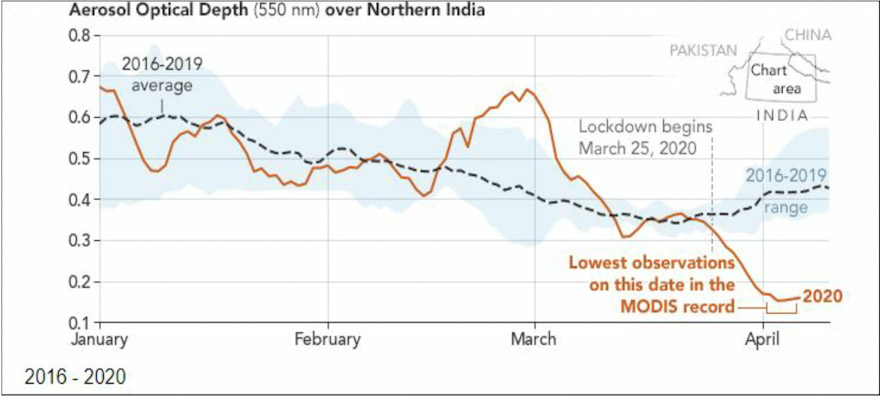 The data retrieved by NASA's Moderate Resolution Imaging Spectroradiometer (MODIS) shows that aerosol level is at the 20-year low in Northern India after the Covid-19 lockdown. Aerosols are tiny airborne particles that reduce visibility and can cause lung and heart damage in humans. NASA recently measured Aerosol Optical Depth (AOD) in Northern India (including New Delhi), and compared average AOD of March 31 to April 5 of 2016-2019; results showed a very different scenario than the previous years.
Nepal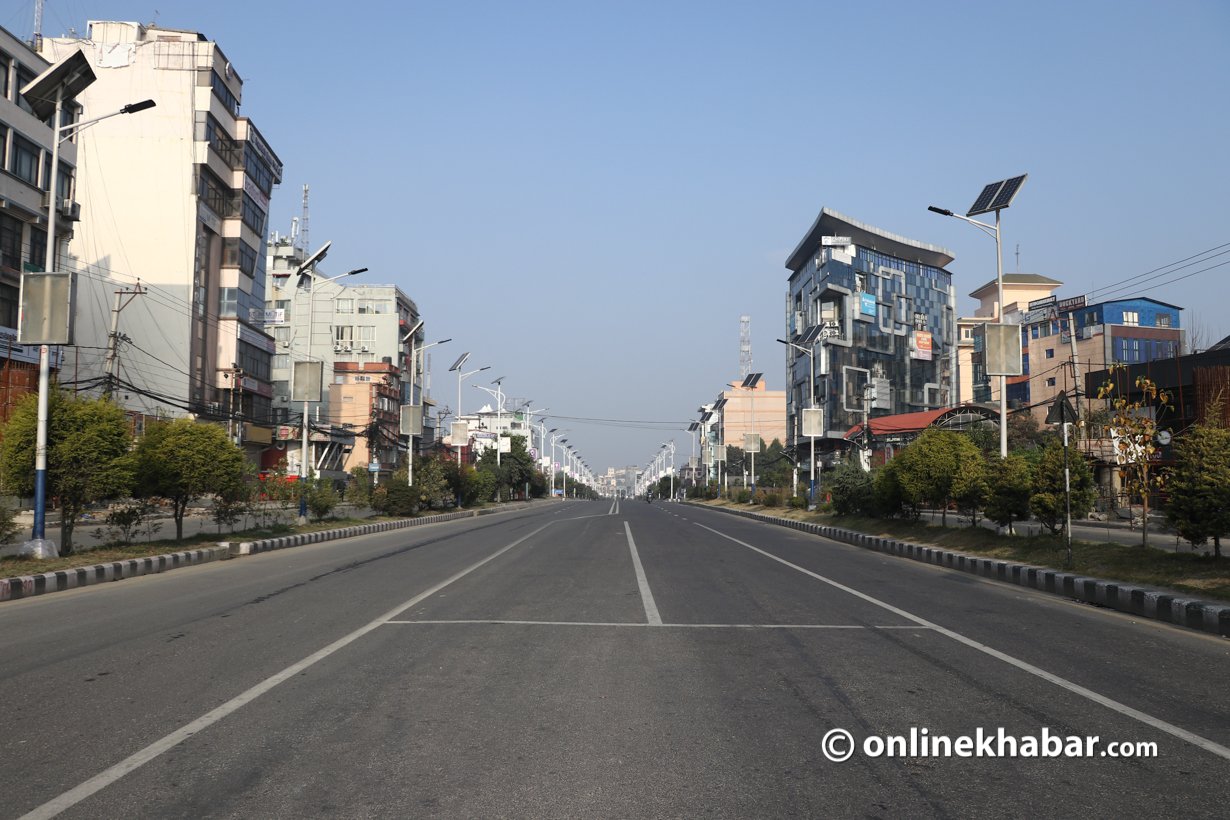 Kathmandu, apparently, is filled with beauty, clean roads, green belts, and spring blossoms. Our mountains are shining brightly and our forests and wildlife are enjoying a human-free environment.
***
The reports have shown improvement, but a detailed study is still recommended to know whether the change in NO2, CO2, CO, PM2.5 levels are permanent.
Since we are home, the wildlife is enjoying their freedom more than ever. Coyotes, mostly timid to traffic, have been spotted on the Golden Gate Bridge of San Francisco. Wild boars are dwelling boldly in Barcelona and Bergamo of Italy. The video of Nepal's one-horned rhinoceros taking a walk on streets already has a million views on social media. And, birds are chanting their melodies beautifully and fascinating every creature of the Earth.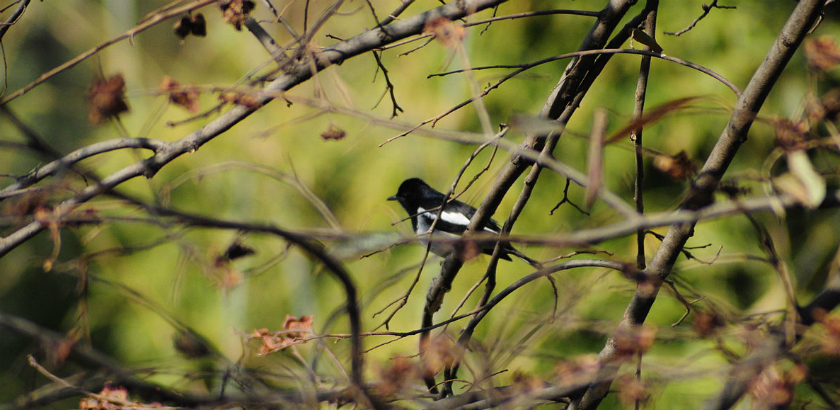 This pandemic has taught us many lessons: lesson of humanity, lessons of maintaining good health, emotions, lesson that no wealth, no power, no status is greater than health. The greatest lesson of all is that there is no human existence without nature.
We have realised the Earth does not belong only to humans. Nature has equal love and admiration for its every creature. And, every living being shares equal rights over resources of the Earth.
Almost all the data of pollution, destruction, and emissions today clearly indicate that they are the result of the overuse of resources and violation of the rights of other creatures by humans in order to build their "sophisticated" world. This pandemic has proved that there is no need for any third world war for the destruction.
***
The nature is rejuvenating, but there is also a fear: "What if…?"
The world is and will be facing a massive economic crisis. With that, poverty and illegal activities may rise due to unemployment. The economic crisis will result in an increase in poaching, illegal mining, and logging in the coming days.
After the coronavirus outbreak, China has banned the trade of wild animals as food, but not for medicinal use. This is, in fact, a great step by China. But there are still some loopholes where poachers can be active, for example, to poach the animals to sell them for medicinal use.
Not a single sector is left unaffected by this pandemic, so it is the demand of time that we prepare ourselves to face and overcome this silent but strong battle. Agriculturists, medical personnel, conservationists, industrialists, economists, and every human being should take effective actions to maintain human existence in this world. So what is the next step after lockdown is over?
Parajuli is an MSc Forestry graduate from Agriculture and Forestry University, Hetaunda.