Kathmandu, March 30
The Constitutional Council was scheduled to hold a meeting on Tuesday, but it could not, because of the Nepali Congress. The scheduled meeting was to take a call on appointment of new chief justice.
As per the practice, a retiring chief justice should stay on leave a month before retirement, but Kalyan Shrestha has his hands full because there's a shortage of justices to settle ever-piling cases.
On Tuesday, the CC was scheduled to recommend senior justice Sushila Karki for the post of acting chief justice. But the scheduled meeting could not take place as the main opposition Nepali Congress has not yet selected its parliamentary party leader. 
The Judicial Council has already sent a proposal to the CC, recommending Sushila Karki for the post of chief justice.
The CC has to approve the proposal and send it to the President.
The incumbent CJ, Shrestha, is taking mandatory retirement in about a fortnight. If CJ Shrestha goes on leave right away, Karki will become acting chief justice. Karki's tenure as CJ is to be short-lived for sure: She will take mandatory retirement (on age grounds) in around seven months.
As per a constitutional provision, the CC has Prime Minister as Chair and Chief Justice, Speaker, Chair of the National Assembly, Deputy Speaker and leader of the main opposition's parliamentary party as members. The NC is electing its parliamentary party leader this week itself. After this election, the CC will select the next chief justice.
In the meantime, incumbent CJ Shrestha is busy settling cases. Chief Justice Bishwonath Upadhyay had taken leave a month before retirement. CJ Ram Kumar Shrestha had not taken leave a month before retirement, but had stopped handling cases.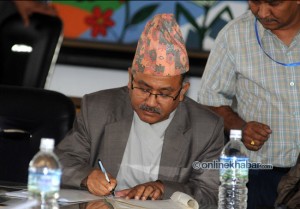 Another Chief Justice, Surendra Prasad Singh, had continued to settle cases instead of taking a leave a month before mandatory retirement.
There's no such rule that bars a chief justice from handling cases a month before retirement. Generally, though, CJs stop dealing with cases as retirement approaches, to avoid controversies, according to law experts.
Chief Justice Shrestha cannot take leave because the CC meeting has not taken place. On the other hand, there's a huge backlong of cases due to a crunch of justices. On Wednesday alone, a division bench of CJ Kalyan Shrestha and Jagadish Prasad Sharma Poudel got a new workload — 50 more cases.