Every day at 6 am, Chanda Nepal leaves her home in Chabahil, Kathmandu. Travelling on two public vehicles, she reaches Patandhoka, ready for her shift.
She is one of the four operators of a smart public toilet recently established there. However, she is quite different from her co-workers: she cannot speak and hear.
She opens the doors and checks all the booths and sits down, waiting for customers. She gives tokens to customers who come to use the toilets, guide them, keeps the toilets clean and goes back to her family, after finishing her shift at 1 pm.
"I have a four-year-old son, and I go back to him to get his homework done, to feed him and then take care of the house, my husband and in-laws," says Nepal via her interpreter, adding her new job has given her new-found self-confidence. "I can't speak and hear, yet I am capable of working, just like you," signs Chanda Nepal.
Starting November 24, Nepal has been working at the Patandhoka-based recently inaugurated public toilet, one among AEROSAN's chain of smart public toilets in the Kathmandu valley. It is not the first time that people belonging to this category of disability have been employed in the service sector as the Bakery Cafe has set an example in the country. Yet, Chanda Nepal, her employers and other stakeholders expect her appointment to bring about some changes in societal perception.
When 'disability' turns to be an ability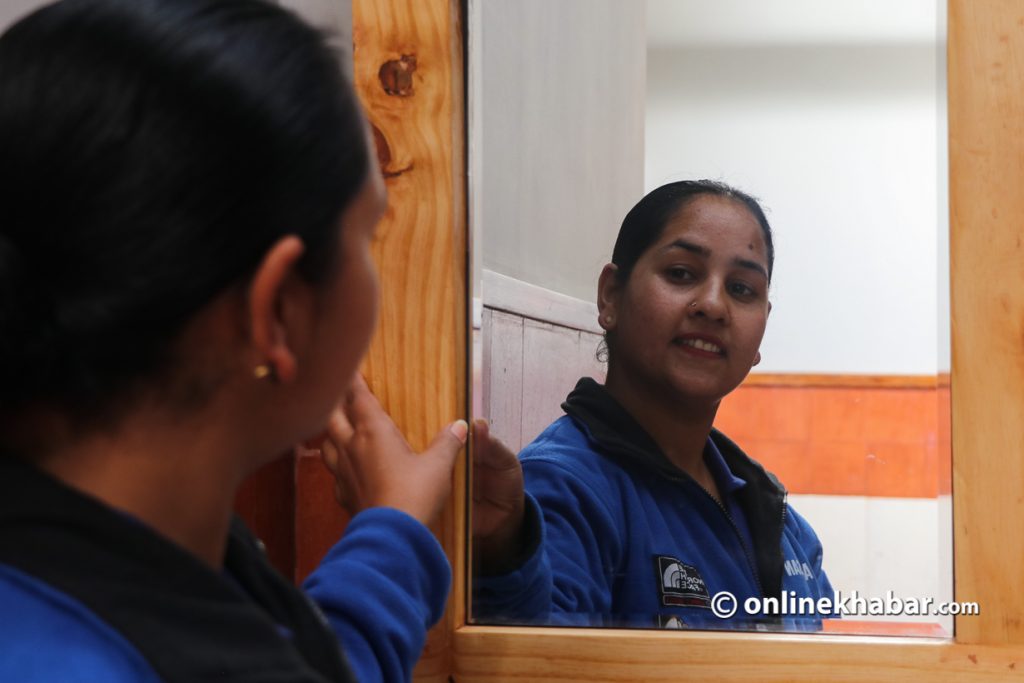 Life was a struggle for Chanda Nepal, and she faced many troubles because of her being unable to speak and hear. But, Nepal shares she does not think it was because of her physical disabilities. "The life is as hard for me as it is for others," Nepal says to the media during an interview earlier this week via her interpreter, Akriti Neupane.
Born in Khotang, the 32-year-old Nepal faced some difficulties growing up as she struggled with the two important aspects of communication, hearing and speaking. Khotang did not have any special school for children like Nepal, so she moved to Biratnagar and enrolled in a school there. She passed her final school exams there, but life went by in a haze even after that. "I don't remember much about my past," signs Nepal.
Some nine years ago, she then came to Kathmandu and not long after, she got married and had a kid too,
Here in Kathmandu, Chanda Nepal got in touch with the National Association of the Deaf and Hard of Hearing (NADH) and was looking for a job on her own. But, given her condition, she did not succeed.
That was when she got to know via the federation that someone was looking for a person, a woman from the hearing-disabled community, to work at a smart toilet. "I had heard about the toilet, and when the opportunity knocked, it felt good to grab it. And I am happy and proud to be here," Neupane interprets for Nepal, who landed herself a job because of who she was.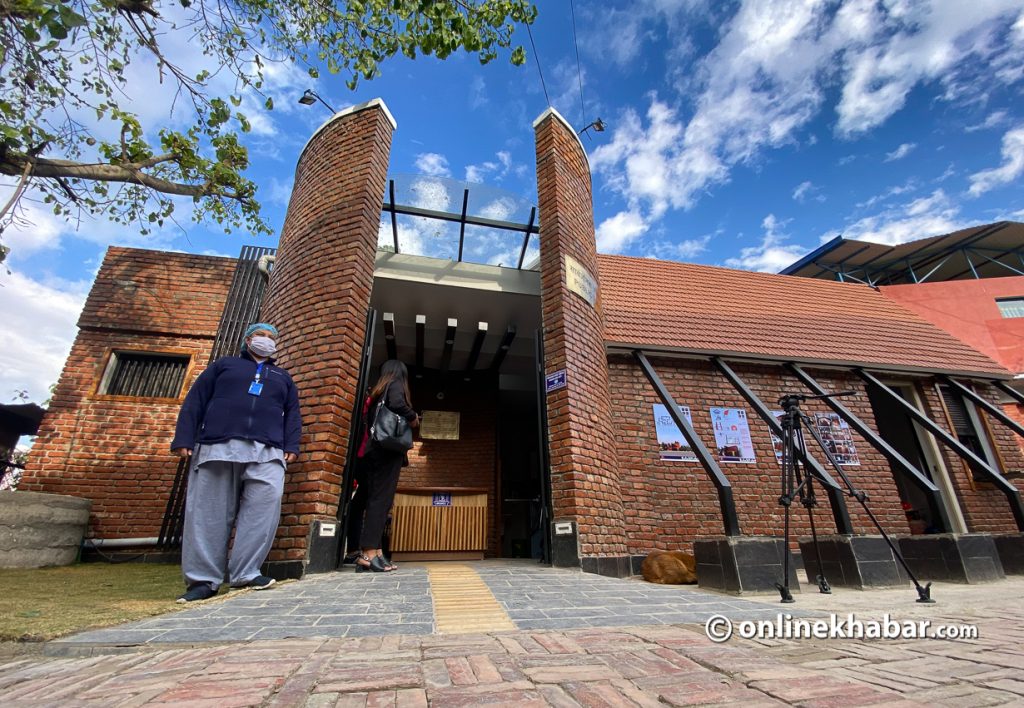 "I went with Chanda to Swayambhu-based smart toilet first to meet Prakash [Amatya] sir and understood what the job was about and she was eager to work from there itself," explains Neupane.
Triggering a bigger social change
But, why appoint someone who is physically challenged, even amid the speculations?
AEROSAN country representative Prakash Amatya clarifies, "In Nepal, the inclusivity and quota system has been a regular debate. Whereas we have also always prioritised inclusiveness and focused on making toilets gender-friendly and disabled-friendly. But, those priorities are focused on user perspectives and not employees and with Chanda Nepal, we aim to change that."
He adds, "Before the Covid-19 lockdown, we attempted the same in our Swayambhu-based toilet first and she was training with us there, but due to the unprecedented events, she could not continue with us. This time, we have attempted again and succeeded in getting a women representative from the differently-abled community showing how the workforce can be as inclusive as our toilets."
"Furthermore, we are hoping that seeing and interacting with her in this public space can normalise how we see the community or their ability to work efficiently as us. We want to send a message where we also want to normalise them working in a toilet, which has always been a topic of disgust in our society," he says.
Struggle for existence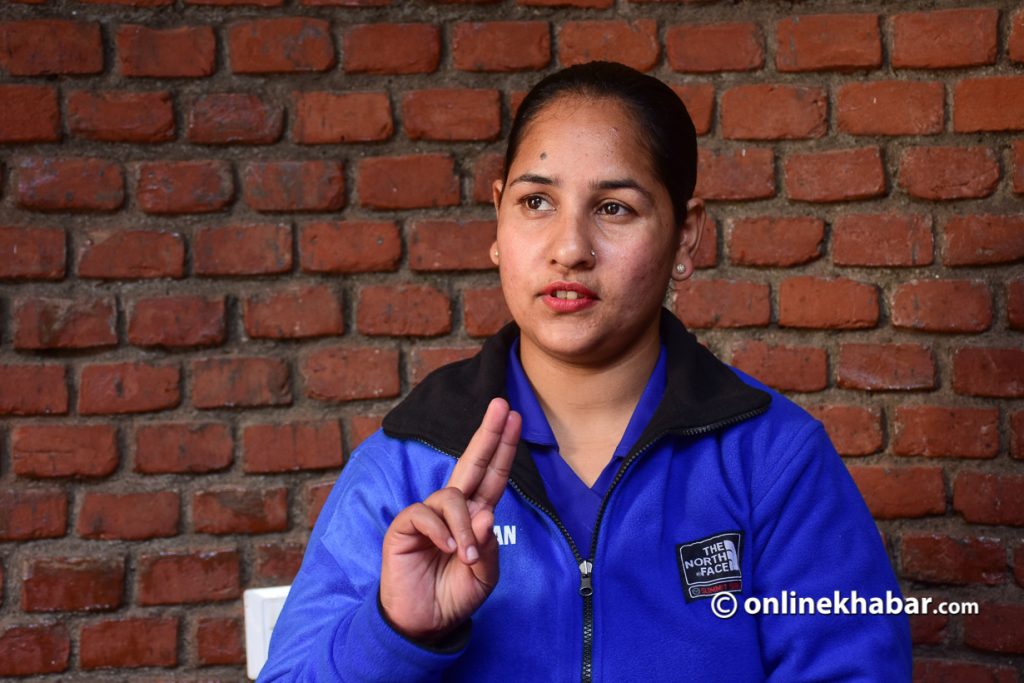 It has not even been a month since Chanda Nepal started working in the toilet. In this short period, she has already learned the operational ways within the toilets. And, her colleagues are also happy working with Nepal.
"It is not difficult but rather a different way to work. It is the first time for us to work with someone who is different and communicating with her gets difficult sometimes," her colleague Sarina Deula says, "When we have to ask her something, we use signs/ gestures [not particularly standard American Sign Language signs]. If we need to communicate longer, we do it in writing."
Likewise, Suma Deula adds, "There is an equal treatment from the employers, for us and Chanda, and we feel respected working here," they add.
But, communication has not been easy for Nepal. "She needs a translator everywhere. She cannot communicate like us, so I try to be with her as much as possible," her interpreter Neupane says, "However, I work full time in the federation and it is difficult for me to be present physically. But, whenever she needs me, she video-calls me and I translate what she wants to say to the other person and vice versa."
"Apart from basic greetings and replies, she is also not confident in typing–for chatting or texting via mobile phones-–and this creates a problem for communication. Apart from that, travelling every day in public vehicles has been a bit hard for her," she briefs for Nepal.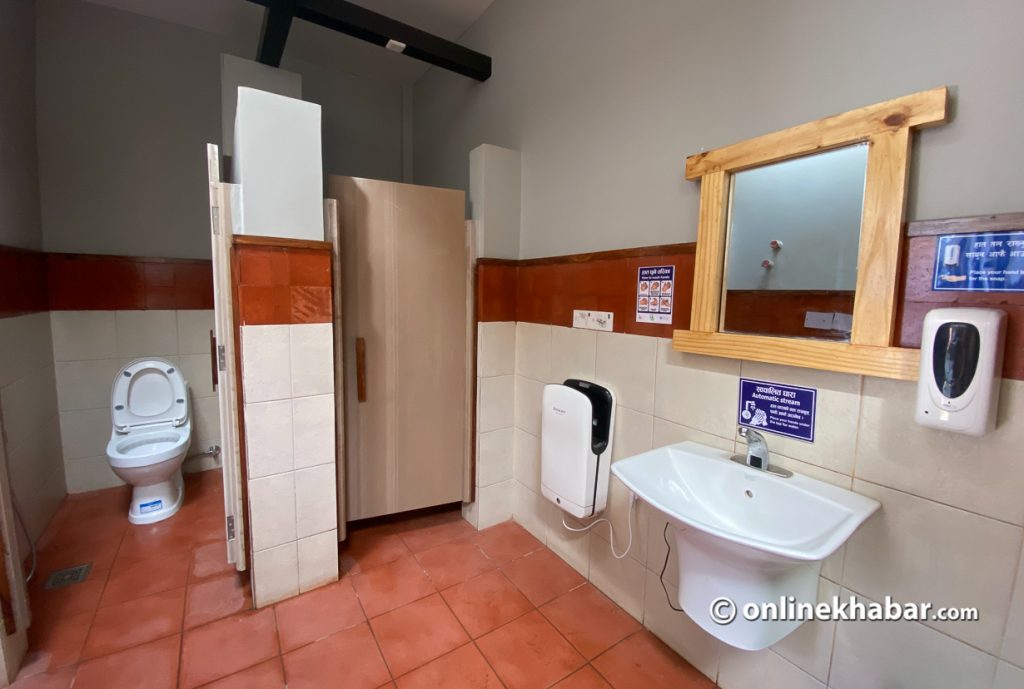 Colleagues who know her show patience and find her cheerful, but it is not the same with others. "There was once a time when a customer had come to use the toilet. He took the token and went ahead but got confused about where to put the token. He asked Chanda how to use it," Pabita Deula, another colleague, shares, "But, she was facing the other way and could not see the customer was confused. He called again, but she did not respond, so he tapped on her shoulders and it startled her."
Therefore, the colleagues have made a sign that reads "I cannot hear and I cannot talk" for everybody's convenience so that customers can respond accordingly.
But, it is not all difficult. It is fun to work because she has taught her colleagues so much. "I have a relative who cannot hear, but I do not communicate with her much or learn (Nepali) sign language, but I have learned some signs to communicate with Chanda now, for basics and things related to work," shares Suma Deula.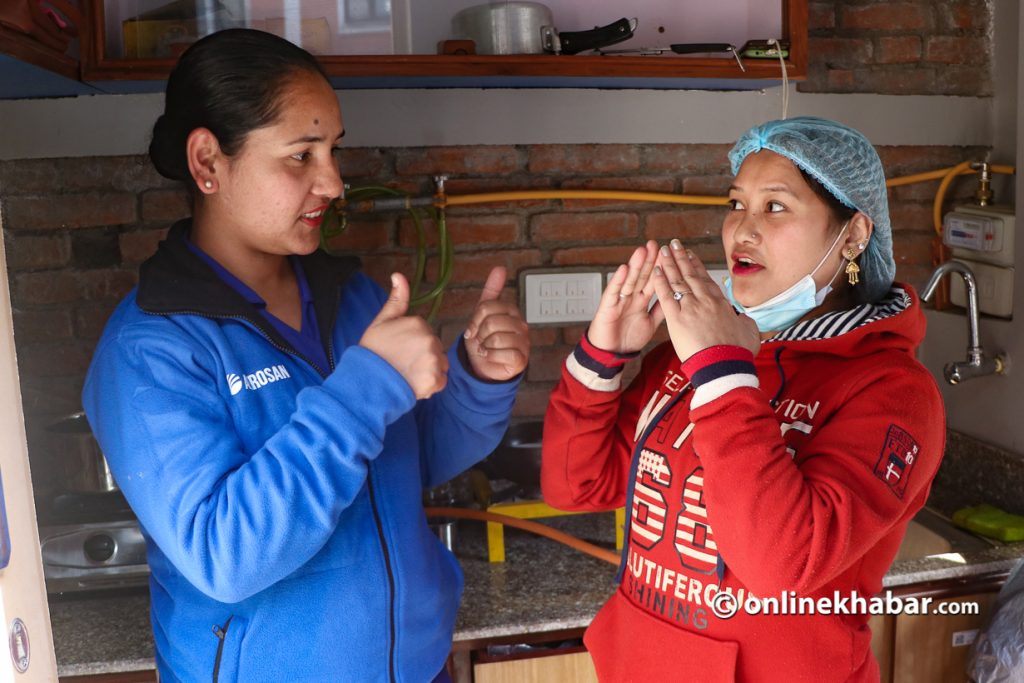 Likewise, Pabita Deula explains, "We normally ask for water or tea like this [gesturing a fist with the thumb towards her mouth], but she explained to us that for her, in the NSL [standard Nepali sign language], it is water. So then she taught us how to correctly sign. We are slowly learning other things too to know how to talk to her."
Pabita Deula adds it has been a new learning experience for her and she looks forward to learning more, "It is not just useful to talk to her but, at any point in time if we come across anyone who is differently-abled, we can communicate and help them if needed."