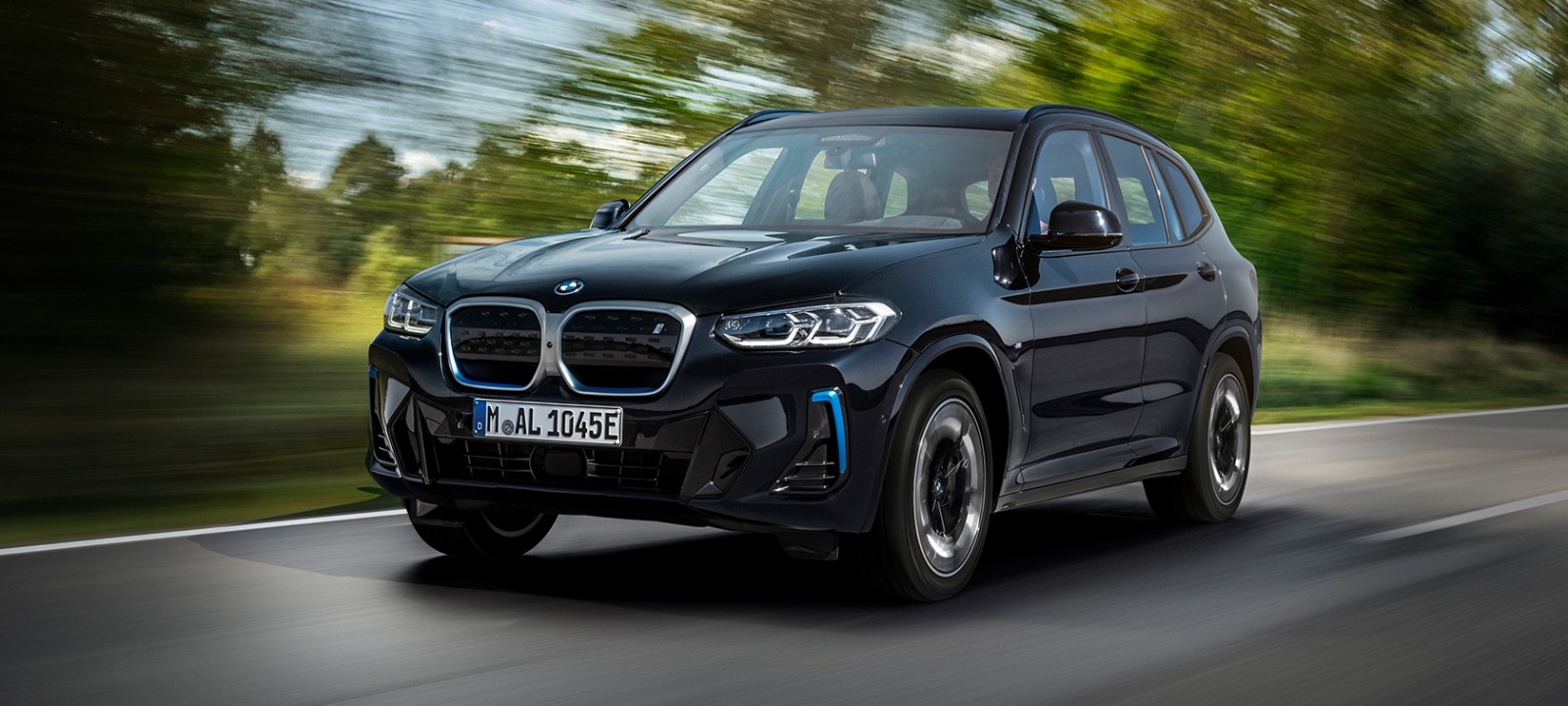 The German automotive company, BMW has officially launched the BMW iX3 in Nepal. BMW launched its first-ever all-electric vehicle in Nepal, making it the brand's debut in the country's electric vehicle market. The iX3 was first launched in November 2020.
The electric car is not called an SUV (Sports Utility Vehicle) but an SAV (Sports Activity Vehicle). SAVs are a type of SUV that are designed to offer the performance and handling of a sports car, while still providing the utility and space of an SUV.
The iX3 serves as the electric variant of the popular X3 model, which is frequently spotted on Nepali roads. This new addition to the Nepali market gets its position as the best electric car available in Nepal.
Now, let's explore the differences and capabilities that the electric version of the X3 offers.
Dimensions
Length: 4734 mm (15 ft 6 in)
Width: 1891 mm (6 ft 2 in)
Height: 1668 mm (5 ft 5 in)
Wheelbase
2864 mm (9 ft 5.2 in)
Ground clearance
179 mm (7.1 in)
Turning circle
11.8 m (38 ft 9 in)
Unladen weight EU
2,255kg
Boot space
510 litres
1500 litres(when backseat are folded down)
Maximum power
210 kW (286hp)
Maaximum torque
400 Nm
Top speed
180 km/h
Acceleration
0–100 km/h: 6.8 seconds
Range
up to 461km
Capacity of lithium-ion battery
80kWh
Charging
DC charging time in minutes, e.g. at DC fast charging station (charging power 150 kW; 10% – 80%)
32 min
AC charging time in hours, e.g. with Flexible Fast Charger / Wallbox (charging power 11 kW, 0% – 100%)
7.5 h
Energy consumption
18.9-18.5 kWh/100 km
Tyre
Tyre dimensions front
245/50 R19 105 W XL
Tyre dimensions rear
245/50 R19 105 W XL
Wheel
20-inch aerodynamic light alloy wheels
Price
Rs 22,996,000
Design
Exterior
The BMW iX3 captivates you from the moment you see its impressive front. The almost completely closed BMW i kidney grille, combined with the L-shaped arrangement of air inlets in BMW i Blue underscores its all-electric nature. The flat Adaptive LED headlights add up to the BMW look giving the front design with that BMW aggression.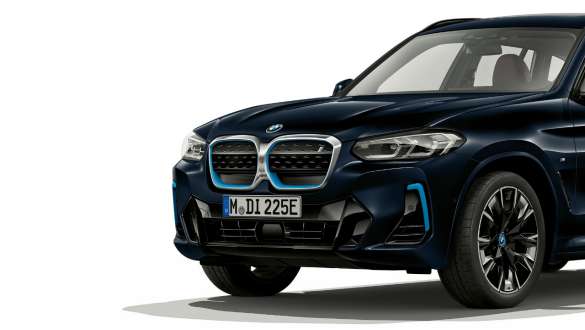 The side view reveals generously proportioned contours, confidently showcasing the striking 20″ M Aerodynamic 890 M style wheels in Jet Black with aluminium accents. The Air Breather in the BMW M design, positioned on the wing behind the front wheel, optimizes airflow and adds to its athletic appeal.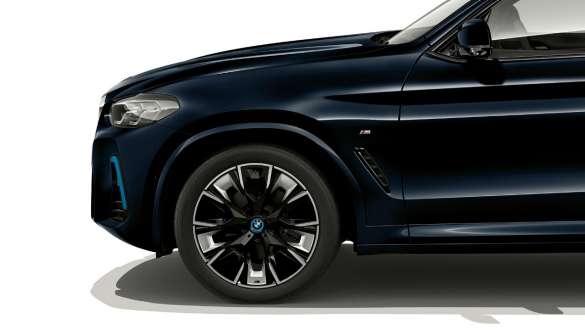 The BMW iX3 SAV showcases a distinctive rear design, featuring the combination of the vertical Air Breather, new LED rear lights with three-dimensional cover glass, pincer graphics, and horizontal indicators, resulting in a unique and captivating appearance. Unlike the traditional BMW X3, the iX3 forgoes exhaust pipes and replaces them with elegant blue diffusers, symbolizing its electric nature and emphasizing its commitment to emission-free driving.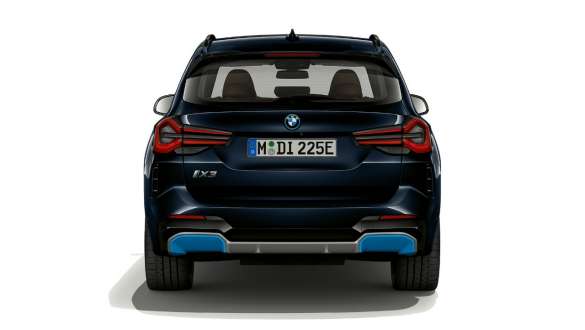 Interior
Inside the iX3's cockpit, and the users are greeted with the BMW Live Cockpit Professional – a 12.3″ fully digital instrument display paired with a 12.3″ touch-capable Control Display. Blue BMW i accents, like the start/stop button, constantly remind us of its emission-free drive system.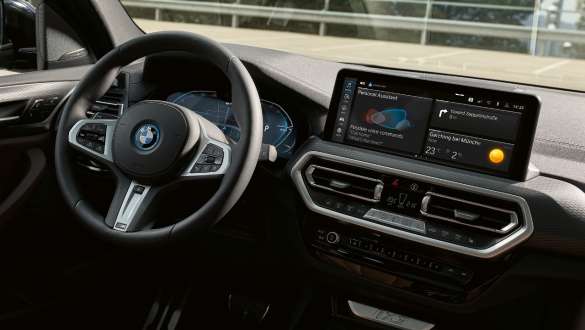 The panoramic glass roof of the BMW iX3 is a large, one-piece roof that opens and closes completely automatically at the push of a button or with the vehicle key. It provides a friendly, light-flooded atmosphere in the vehicle interior and offers plenty of fresh air. The roof is equipped with slide and lift functions, as well as a roller sunblind and wind deflector.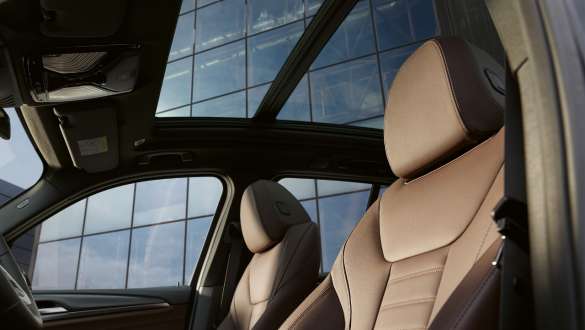 It comes standard with sports seats in perforated fine-grain Sensatec. These seats are designed to provide a high level of comfort and support, even during long drives. The perforated design helps to keep the seats cool in the summer, while the Sensatec material is soft and luxurious.
The sports seats also feature a 3-spoke M leather steering wheel with Multifunction and M emblem. This steering wheel is designed to provide a sporty and engaging driving experience. The aluminium Rhombicle Dark interior trim strips add a touch of luxury and sportiness to the cabin.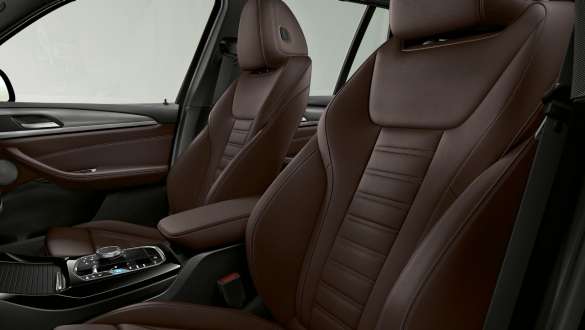 Performance
The BMW iX3 is powered by an electric motor delivering a maximum power of 210 kW (286hp) and a torque of 400 Nm and accelerates from 0 to 100 km/h in just 6.8 seconds. It has a top speed of 180 km/h. The iX3 has an exceptional range of up to 461 km, thanks to its 80 kWh lithium-ion battery capacity.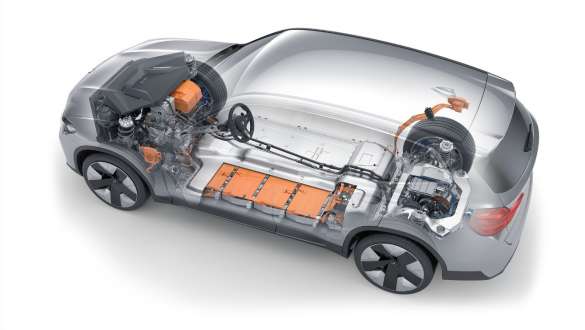 Charging the iX3 is quick and convenient, with a DC fast charging station enabling a 10 per cent to 80 per cent charge in just 32 minutes, while a Flexible Fast Charger or Wallbox achieves a full charge in approximately 7.5 hours. Furthermore, it has an estimated energy consumption of 18.9-18.5 kWh per 100 km.
The BMW iX3 has 20-inch aerodynamic light alloy wheels, complemented by 245/50 R19 105 W XL tires. The SAV is equipped with adaptive suspension, allowing you to tailor the damper characteristics to suit the driving style and preferences. The COMFORT setting enhances driving comfort, while the SPORT program offers more athletic damper settings, delivering a balance of comfort and dynamic performance.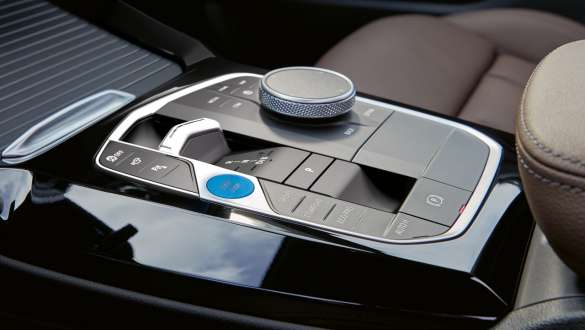 The highly integrated drive unit combines the electric motor, transmission, and power electronics in a lightweight aluminium housing, optimizing space and weight. The direct and spontaneous implementation of acceleration requests ensures the typical BMW driving pleasure, delivering an exhilarating experience on the road.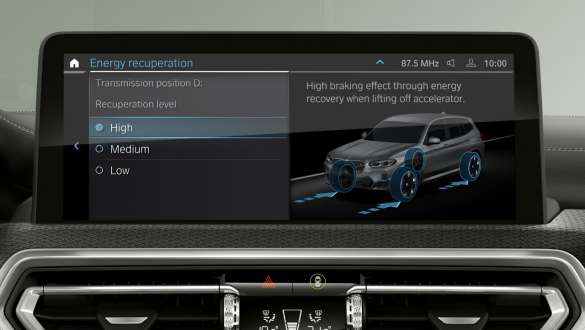 Additionally, it features a recuperation system that converts the kinetic energy generated during deceleration and braking into electricity, contributing to an increased range. The adjustable recuperation levels offer greater individualization and comfort, enhancing the overall driving experience.
Safety and technology
The BMW iX3 SAV comes packed with innovative technology, including the BMW Intelligent Personal Assistant. This intelligent feature allows you to interact with your vehicle using natural commands, controlling numerous functions and providing helpful information about your BMW.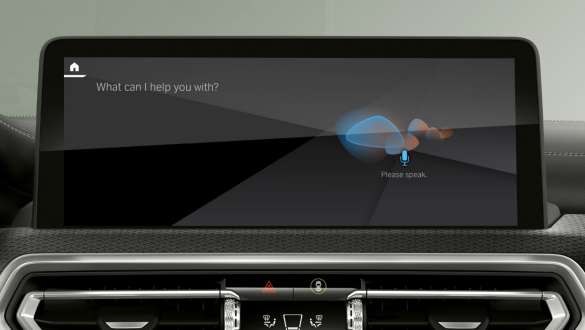 The Connected Charging digital services are a suite of features that help BMW iX3 owners find and use public charging stations more easily. These services provide real-time information about public charging stations, including their location, availability, and type of connector. They can also be used to navigate to public charging stations and reserve them in advance. It also provides an overview of relevant vehicle data, such as the battery level, the remaining range, and the estimated time to charge.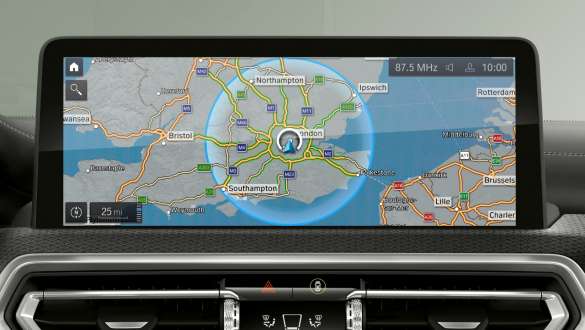 The Driving Assistant Professional offers a comprehensive suite of advanced driver assistance features to enhance safety and comfort while driving the BMW iX3. The system includes the Steering and Lane Control Assistant with extended functions, which helps keep the vehicle centred in its lane and can even perform automatic lane changes when necessary, such as passing slower-moving vehicles on the highway. The Emergency Stop Assistant is capable of bringing the iX3 to a stop if the driver becomes unresponsive, applying the brakes automatically in critical situations.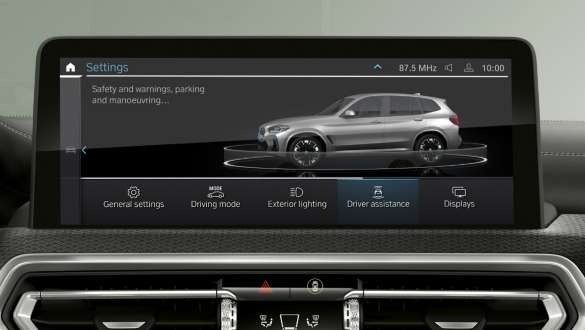 The Parking Assistant provides a set of helpful features to simplify parking the BMW iX3. It includes the Rear View camera, which offers a clear view behind the vehicle, making parking in tight spaces more manageable. The Active Park Distance Control adds audible and visual warnings to prevent collisions with obstacles while parking. Additionally, the Parking Assistant can autonomously parallel or perpendicularly park the car. The Reversing Assistant helps to reverse the vehicle out of parking spaces effortlessly.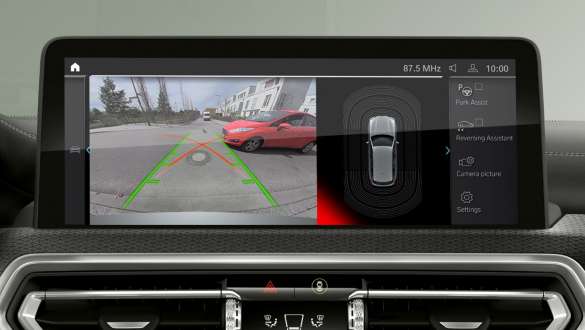 Active Navigation is an extended function of the Steering and Lane Guidance Assistant, designed to facilitate navigation route-following. It offers the Active Lane Change feature, suggesting lane changes to follow the navigation route efficiently. When encountering traffic congestion, the Active Cruise Control with Stop&Go maintains a safe distance from the vehicle in front, even in stop-and-go traffic situations. It automatically applies the brakes and resumes cruising speed when the traffic starts moving again.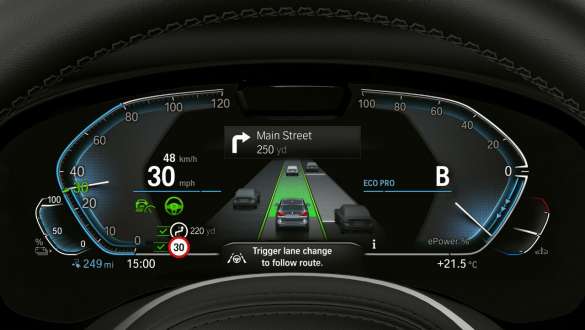 Features
The features of the BMW iX3 are listed below:
Distinctive BMW i kidney grille with blue accents
Flat Adaptive LED headlights
20″ M Aerodynamic 890 alloy wheels
12.3″ digital instrument display and Control Display
Panorama glass roof
Sport seats
M leather steering wheel
Top speed of 180 km/h
Acceleration from 0 to 100 km/h in 6.8 seconds
Range of up to 461 km
80 kWh lithium-ion battery capacity
Regenerative braking system
BMW Intelligent Personal Assistant
Rear View camera
The price of the BMW iX3 in Nepal is Rs 22,996,000.