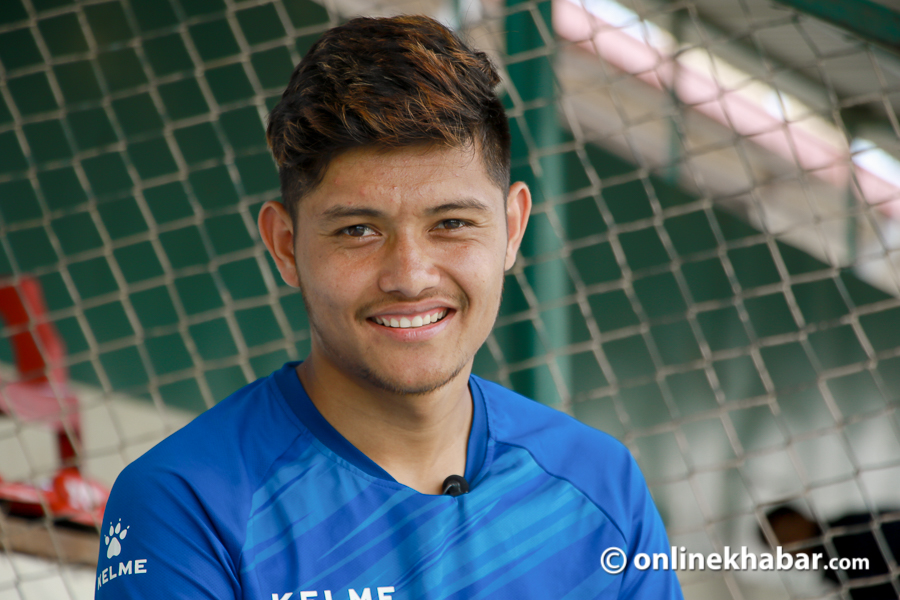 In his short footballing career, Bimal Gharti Magar has been through a lot of highs and lows. From making his debut at the age of 15 to losing his sister, it hasn't been an easy ride for Magar, who for the most part of his young career has had to live with the tag of Nepal's golden boy.
Now 21, Magar says that he has put his past behind him, and he has a lot more to give and has set his hopes on winning at least one SAFF Championship.
Magar says he would never have become a footballer if not for his father who himself was a massive Basanta Thapa fan. He says his father always brought him football-related stuff urged him to play like Thapa. However, his father died in a bike accident before Magar got selected in the national team.
To fulfill his father's dreams, Magar took part in U-12 trial in Butwal. However, he was not selected.
"I didn't give up and I was eventually called up after one player withdrew himself from the team. That was quite fortunate after which I was enrolled in the ANFA academy in Butwal."
After two years in the academy, Magar then made it to Nepal's U-14 team and came to Kathmandu and was coached by Bal Gopal Maharjan. Magar shares that Maharjan played an important part in his career. He shares that Maharjan helped shaped him and adds that he owes a lot to the coach who made them work very hard.
"Most of the players that are in the current national team were coached by him at the age level. That kind of training is quite rare now. I feel lucky to have worked under him during age level as young kids now don't get the same training we got while we were their age."
After rising through the ranks, he made his national team debut at only 15, making him one of the youngest players to play for Nepal. Playing against Bangladesh before the 2013 SAFF Championships, he made his debut. He shares that his family was ecstatic when he made it to the national team. But he also agrees that he was under pressure due to which he could not perform at his best in his debut.
"I was under pressure as I did not know if I would be selected in the team for the SAFF Championship. But gladly I was and well the rest is history," he laughs.
After sitting out on his first match, Magar got his chance against Pakistan; 1-0 down, and not knowing where a goal was coming from, Nepal's coach threw Magar in the deep end. "That is a moment I will never forget. My first goal. The elation after the goal. The relief. It was amazing. I keep remembering it and I get goosebumps. In my first match, I was able to stop my team from losing. In an instant, I became a national hero. What else would a young boy who dreamt of scoring at Dasrath Rangashala want?" he adds.
But Nepal could not win the title. However, for Magar, his footballing career was up and running.
He also fondly remembers the 2015 U-19 SAFF Championships.
"That was quite a tournament, no? We were quite good. And beating India at home on penalties was just the icing on the cake. It was an amazing moment. The fans drove us forward and I won my first title that too as captain. I'll never forget that day."
Magar's first senior title came in 2016 when Nepal's team won the Bangabandhu Cup. This achievement was memorable for Magar; he feels that the team was quite weak then. Sagar Thapa along with others had been embroiled in the match-fixing scandal and the team was in turmoil.
"When we left for Bangladesh after a disappointing SAFF Championship in India, our main aim was to play good football. We didn't have a competitive team and our coach back then Maharjan knew that. He wanted us to go there and express ourselves."
With no expectation, the team started the tournament well finishing as group runners-up and reached the final by thrashing the Maldives in the semi-final and eventually winning the competition beating Baharain's U-23 team in the final.
But since then, Magar's career started to take a downward spiral.
In 2016, while Magar was in Belgium on trial with Anderlecht, he received news that broke him. He found out that his sister Manisha Gharti Magar was found dead at their home in Nawalparasi.
That broke him.
"Whenever I remember my sister, I go to another world. Such incidents change you as a person. It makes you think about life. She was there one day and she was gone the other. What was even harder was to control my mother. She was devastated. Having lost her husband relatively early in life, this was shattering for her especially."
Watching his mother go through the incident is the hardest thing Magar says he has done. He says that he even considered leaving football, but after four months out of the game, he decided to make a comeback.
"I went to play in the Solidarity Cup. We won it. But I wasn't as happy as others. My sister kept coming on my mind. After all, I was her big brother and I wasn't there to protect her."
Whenever Magar won any title, there used to be a homecoming party for him in his village. However, that year, he said he didn't want one. "The incident has left a mark on me. Even though I have made a comeback in football, my game isn't the same."
Magar, who recently returned from the Maldives, is getting ready for the World Cup qualifiers. He is being put through his paces by recently appointed coach Johan Kalin. Magar believes that the qualifier is going to be a tough test for the team but he says that his aim, for now, is just to win the SAFF Championship.
"The World Cup is a long shot. For us to qualify for the World Cup a lot needs to change in the country. For now, all I want is to win the SAFF Championship and become Nepal's leading scorer. Rest is just a bonus."