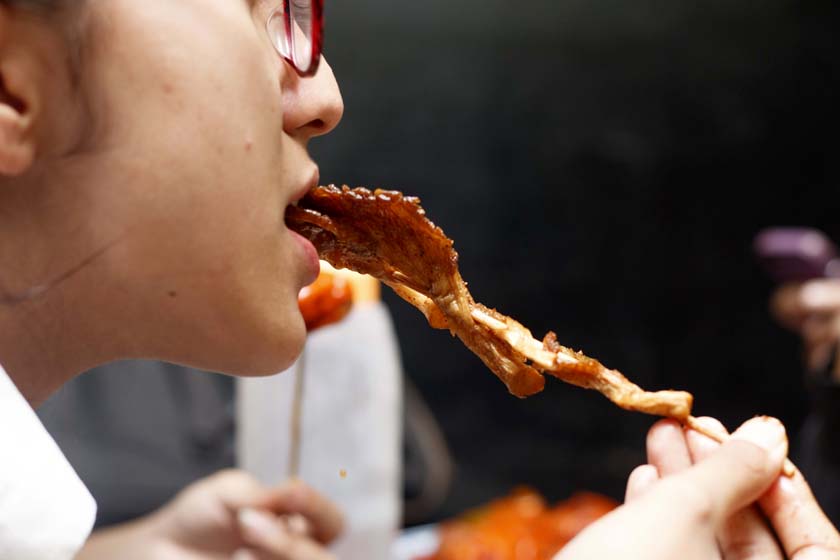 Kathmandu is a paradise for foodies as you get every cuisine imaginable here. But like any major city in the world, the soul of the city is its street food.
Thanks to people from all cultures, religions and ethnicity settling down in the valley, the street food in Kathmandu has a lot of variety and flavours. These street foods come from the Himalayas in the north to the Terai in the south as they will take you on a gastronomical tour of the country.
These street foods can be found in busy areas in the city Basantapur, Patan, Baneshwor, Bouddha and Naxal.
Here is a list of street food in Kathmandu that you must try when you are in the city.
1. Laphing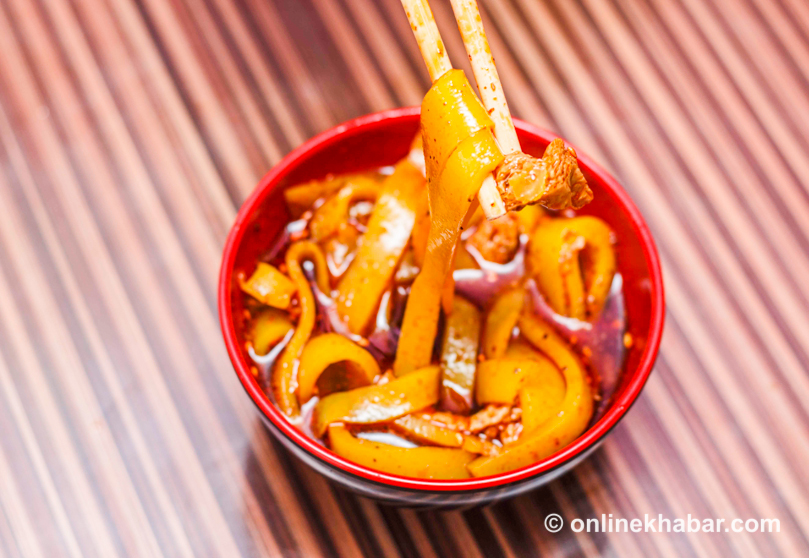 Laphing is a Tibetan street food that is very popular in Nepal. Often served cold usually with a spicy sauce made from garlic, Sichuan pepper, vinegar, and chilli oil, laphing has taken over the city, especially amongst young girls. So if you are fond of spicy food, you should definitely give it a try.
2. Momo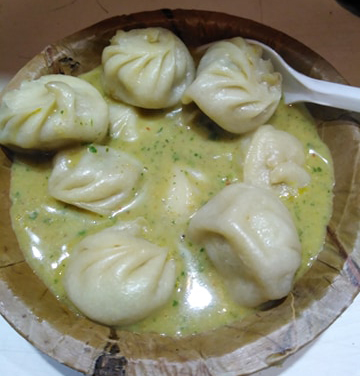 Momo is a Nepali staple. It is as common in the country as dal bhat. Served in different varieties, momo are similar to Chinese dumplings but are rich in taste and flavour which will make you want to eat one plate of it every day. Here is a list of the places where you can find the best momos in Kathmandu.
3. Sekuwa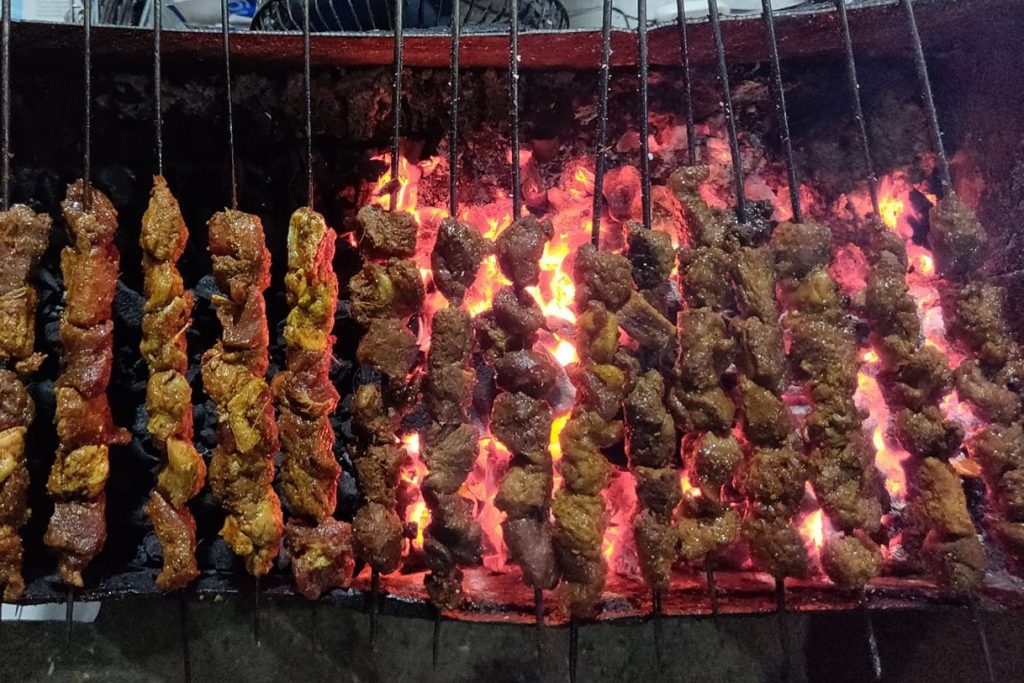 Sekuwa is a popular street food in Kathmandu. It is made by grilling marinated meat, usually, chicken or buffalo over a charcoal fire. The dish is full of flavour thanks to the meat being marinated in a mixture of spices, including cumin, coriander, garlic, ginger, and chilli powder, along with mustard oil. The dish is juicy and tender and not too spicy so it is a dish for everybody.
4. Chhoila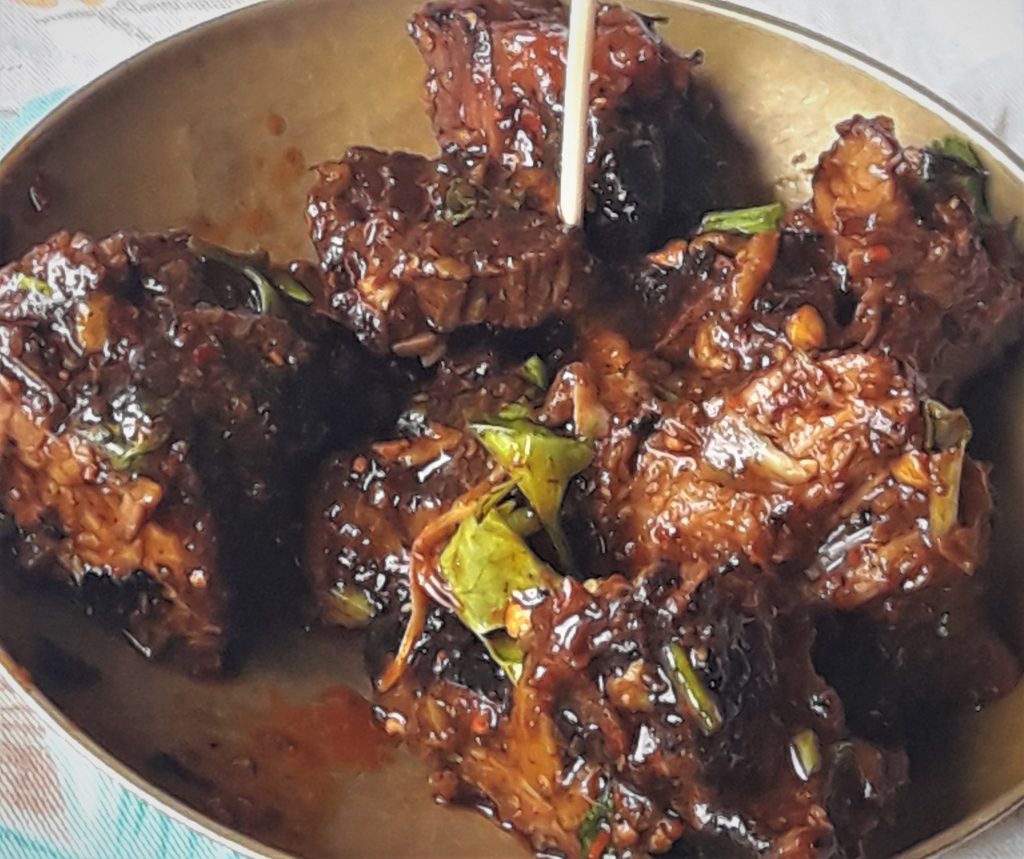 This street food in Kathmandu has a strong cultural link with the Newa people, natives of the city. Chhoila is spicy, tangy, and aromatic. The meat is marinated, grilled then cut into small pieces and then marinated again with spices making it one of the most flavoursome street food in Kathmandu and major cities in Nepal. The dish can be quite spicy, so it is not recommended for those who cannot handle spicy food.
5. Chatamari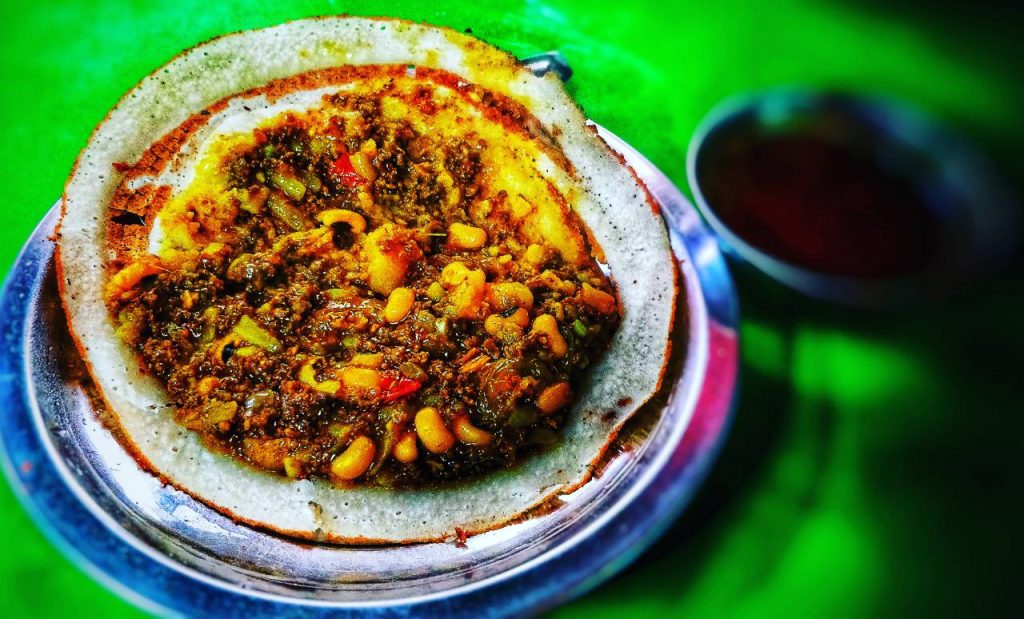 This street food is basically a crunchy pizza that comes in both vegetarian and non-vegetarian options. Chatamari is usually crispy on the outside and slightly chewy on the inside, with a savoury flavour and a slightly spicy kick from the spices used in the rice flour batter. For those who want to try something new, this is a must-try.
6. Lakhamari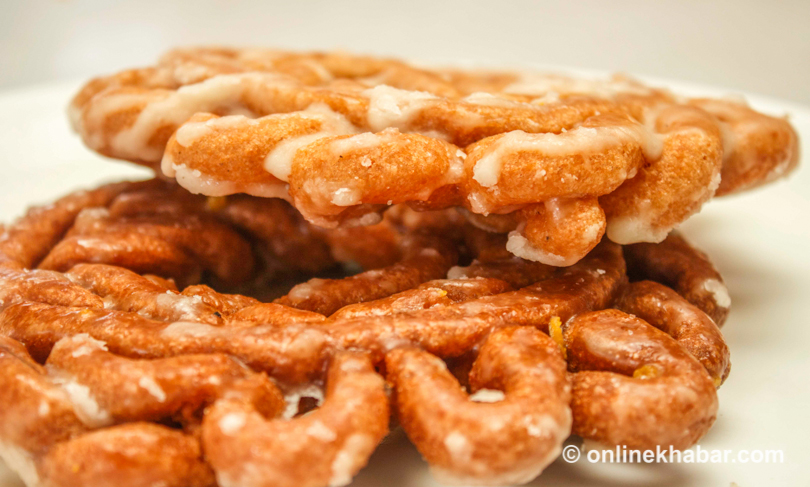 Lakhamari is a popular snack and street food in Kathmandu. It can both be crunchy and soft depending on where you get it from. This sweet Newa dish made from rice flour is a must-try if you are a sweet tooth.
7. Jeri-swari
Jeri is Nepal's answer to jalebi. It is crunchy, sweet and delicious. Swari is a deep-fried flatbread that pairs perfectly with jeri. These are usually eaten for breakfast so if you want to try them please head out early. But, as street food in Kathmandu, this is available at a few selected places.
8. Gwaramari
Gwaramaris are basically Nepali dough balls. They are deep-fried snacks that pair well with your morning tea. It is crunchy on the outside and soft on the inside. It is an interesting dish.
9. Bhakka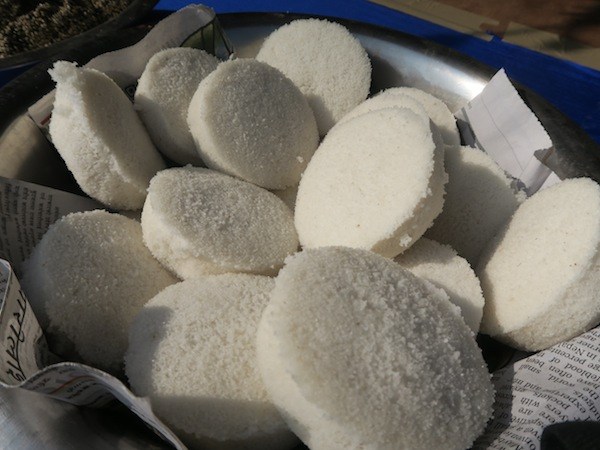 Originally from eastern Nepal, this is one of the healthiest street food in Kathmandu and elsewhere. Bhakka is basically a steamed rice cake that is found in the streets of Kathmandu during the winter. It is soft and fluffy and goes well with tomato pickles.
10. Sel roti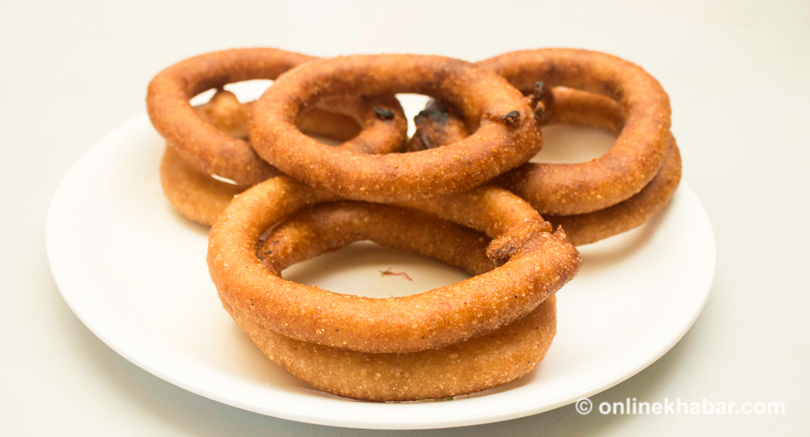 Sel roti is another Nepali staple. It is usually cooked during festivals and is made from rice flour. It looks like a thin-shaped doughnut but the taste is anything but. Some of these can be sweet but as street food in Kathmandu, they can be eaten with a bowl of local potato curry or with tea.
11. Malpuwa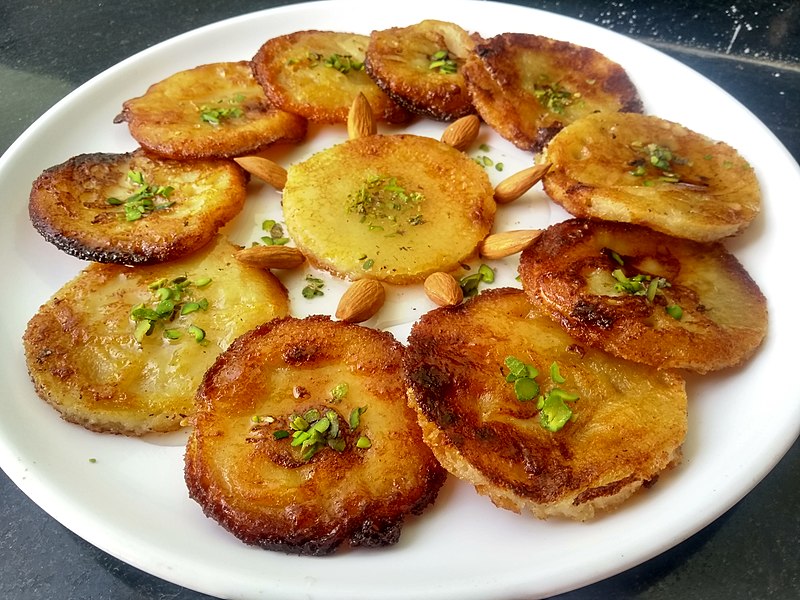 Malpuwa is similar to sel roti but has more flavour as a lot of spices are added to the batter. It is round and flat in size.
This, like sel roti, is available throughout the day.
12. Panipuri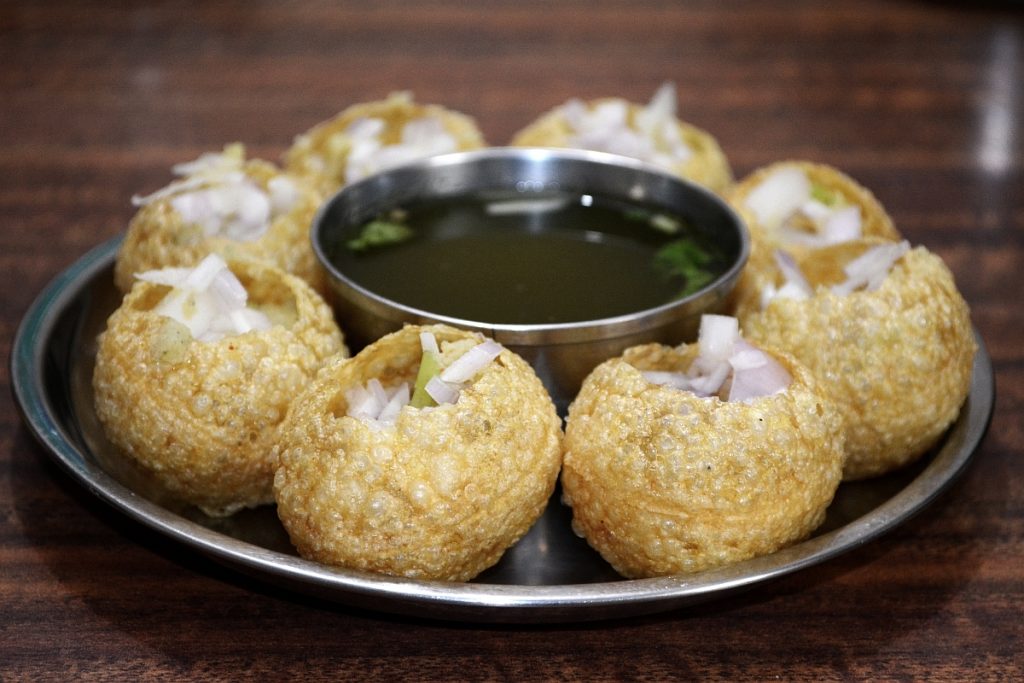 Panipuri is probably the most popular street food in Kathmandu and Nepal. It can be found everywhere and is enjoyed by both men and women. The combination of onion, chickpeas, potato and coriander along with the sour water will mean there will be an explosion of flavour in your mouth.
13. Chatpate
Chatpate follows panipuri as the most popular and staple street food in Kathmandu. Made with puffed rice, this is a version of chaat made with instant noodles, chickpeas, fresh coriander, tomato, cucumber, onion, potato, peas, lemon juice, fresh chilli, and spices. If you cannot handle your spices, please ask them to go easy on the chillies.
14. Pakauda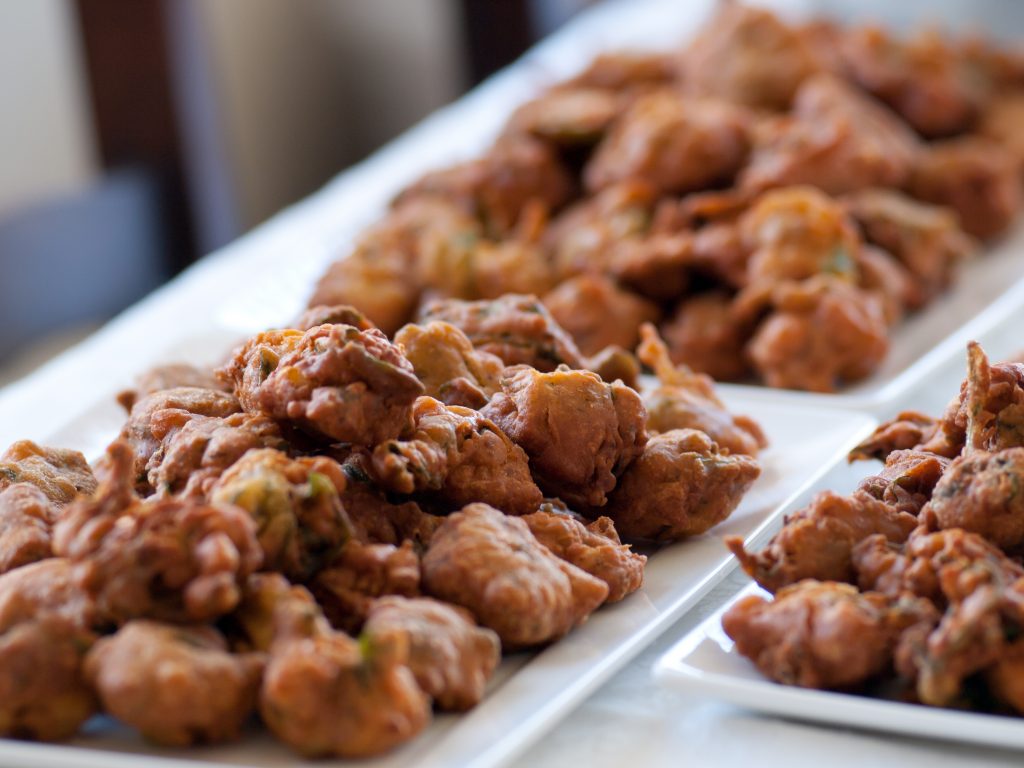 Pakauda has been a staple street food in Kathmandu for years. It is similar to onion bhajis that are famous in the West, but it is a bit different due to the seasonings and spices. These are especially tasty during a rainy day with a cup of tea.
15. Shaphaley
This is another popular Tibetan dish in Kathmandu that is loved by people from all walks of life. Shaphaley is a traditional Tibetan meat-filled pastry that consists of dough that is filled with ground or minced meat (usually chicken or buffalo meat), onions, and various spices, and then either pan-fried or deep-fried until crispy on the outside. It can be a great meal for dinner or lunch.