Craving for mouth-watering and spicy Newa cuisine is a big part of living in Kathmandu. The food of the people from the Newa community of Kathmandu valley is loved and enjoyed by all, and the craze for delicious Newa cuisines are increasing. One of them is chhoila. Among the many dishes, places that serve tasty chhoila in Kathmandu alone can attract many food lovers.
Chhoila is meat that is mixed with spices. The meat used can be either boiled/pressure cooked or roasted/grilled. In the latter, the meat is roasted on fire that turns it black and has an extra smoky flavour to it. Hence, and it is called haku (that is, black) chhoila. 
Already drooling? Here are some places where you can go and get a taste of authentic yet varieties of chhoila in Kathmandu, among other Newa cuisines.
1. Honacha, Patan
In the heart of Patan Durbar Square is a haven for food lovers. If you have been to the square, you probably remember this quaint, old restaurant located just behind the super-famous Krishna temple.
Honacha is a family business of the typical Newa Byanjankar family which has been growing since past decades. This restaurant may not look eye-pleasing from the external view, but it is the place where you can get fresh and authentic chhoila in Kathmandu valley. Other popular Newa food items such as kachila, sapu mhicha, wo and bara make this a place-to-be in the valley.
Honacha has a different way of serving chhoila. You can get chhoila separately or with its spicy jhol, but having a side plate of beaten rice (chiura) balances out the hot and spicy taste, especially for those who cannot digest spicy food. The authentic taste makes you want to try it again and again.
2. Sasa: Twa, Kirtipur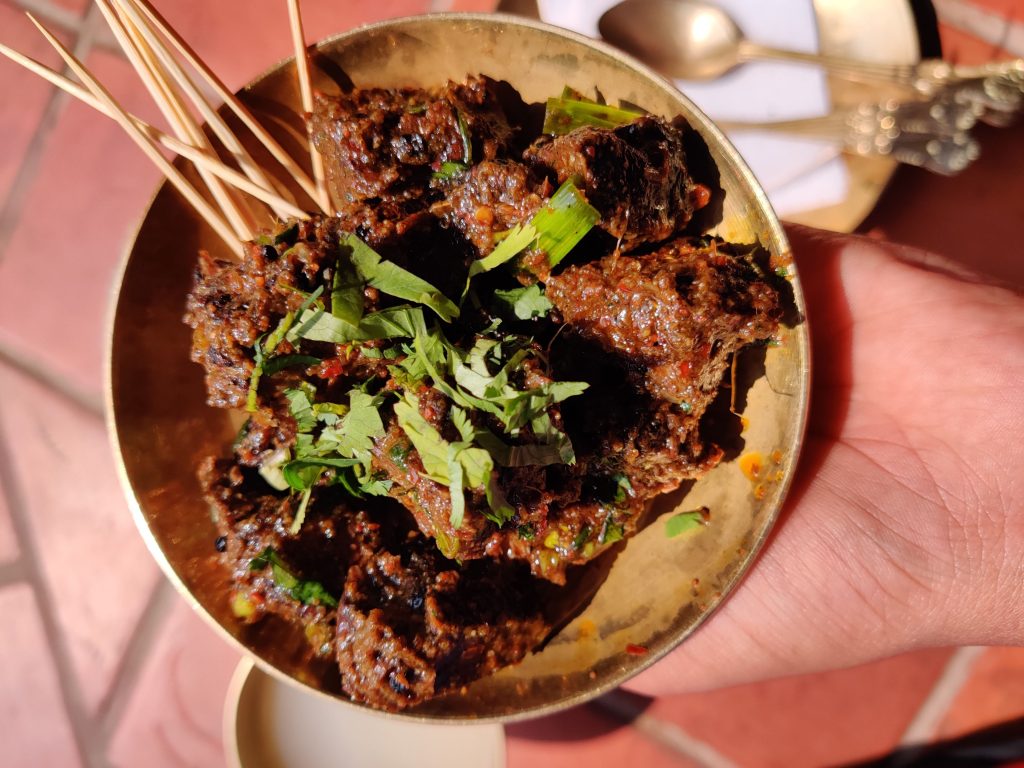 Sasa: Twa is the newest addition to SASA: D' Newa Restaurant. Even though this is one of the newly opened Newa restaurants, its craze in the Kathmandu valley, has soared very high. Many people come from very far places to Kirtipur just to pay a visit to Sasa: Twa. Other than the food, you can also get the traditional, authentic ambience to enjoy your food. The restaurant has recreated Newa household setting and architecture.
Food items in Sasa: Twa are made by local mothers of Kirtipur, so they retain that authentic homemade taste. They have delicious Newa foods options like chhoila, bara, sapu mhicha, Newa khaja set, chhyang, aaila. In chhoila, you can get two varieties: buff chhoila and chicken chhoila. But, as Sasa: Twa is crowded, one may need to wait for some time for their food.
3. Lahana, Kirtipur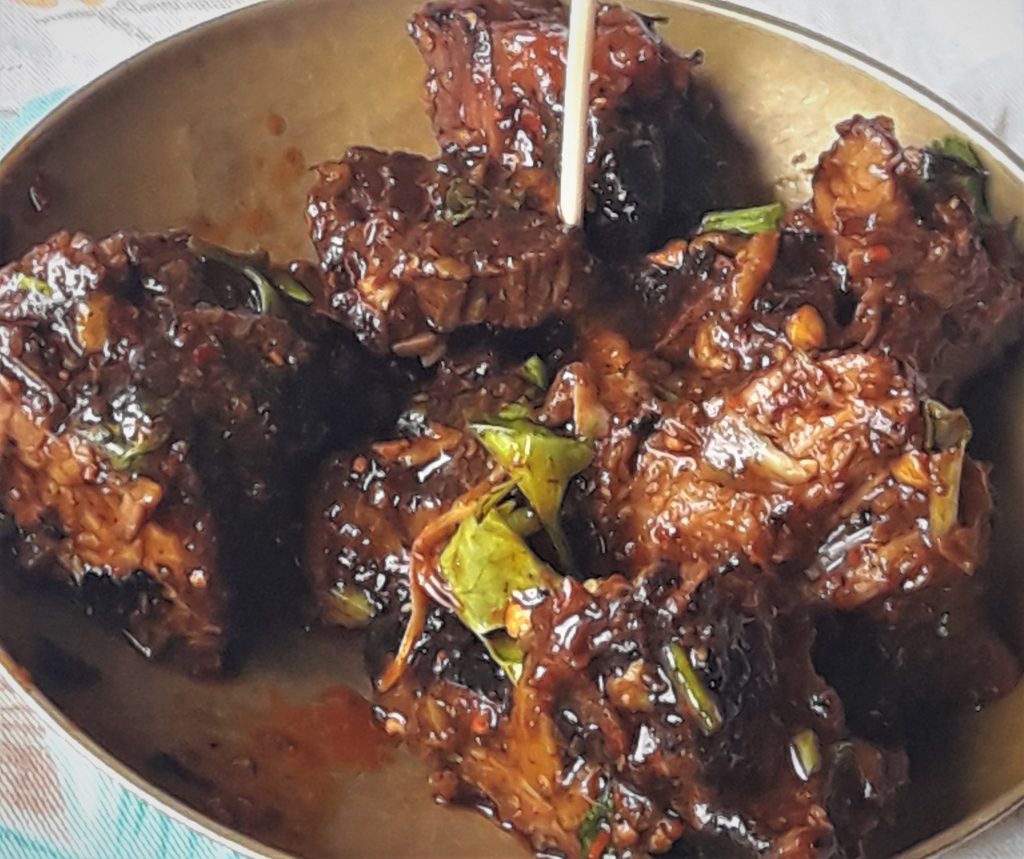 If you want to taste authentic chhoila in Kathmandu, there is another option for you in Kirtipur; Newa Lahana. Located on the western side of the Kirtipur town, it provides a variety of typical Newa food items. Lahana has been operating for more than 10 years now and gives the authentic Newa experience, in a traditional Newa setting. You can even watch the mothers cook.
Here, one can enjoy chhoila in samaybaji or Newa khaja set or separately. It also has haku chhoila that can pamper your tastebuds. Though people tend to find it hot and spicy, the taste keeps bringing people back to try the delicious chhoila, again and again. Other than that, one can enjoy the delicious yomari, chatamari, wo, and their varities along with the beautiful scenery of the hills.
4. The Chhoila Specialist, Kamalbinayak
For every chhoila lover in Kathmandu valley, The Chhoila Specialist in Kamalbinayak, Bhaktapur, is something not to miss. Restaurant owners, Jeet Gopal and his wife, have 24 years of history and experience running this joint.
Here, chhoila is served fresh, straight out from the fire. It is then mixed with household spices including salt, cayenne pepper, ginger, garlic and mustard oil. The chhoila here is delicious, spicy and juicy and there is the same goodness in the taste of meat, in every bite. Even though it has limited food items such as chhoila, bhutan, sekuwa, aalu, etc, they can be enjoyed separately or with beaten rice and chhyang (local beer).
5. Chhoila Station, Siddhapokhari
Tired of just trying buff or chicken chhoila options? Chhoila Station has different options for you: if you want, you can eat traditional haku chhoila, or try hasko chhoila (made from duck meat).
Everyone knows and loves buff momo, chicken momo, but if you are not a chhoila fanatic, then you can try chhoila momo. Chhoila Station has made this special item for the likes of you. Other than this, delicious dishes such as pork, fish and chips, chicken tandoori and many more.
And while eating these varieties, one can even enjoy the beautiful scenario of Siddhapokhari from the rooftop.
6. Harisidhhi Newa Shulee, Harisiddhi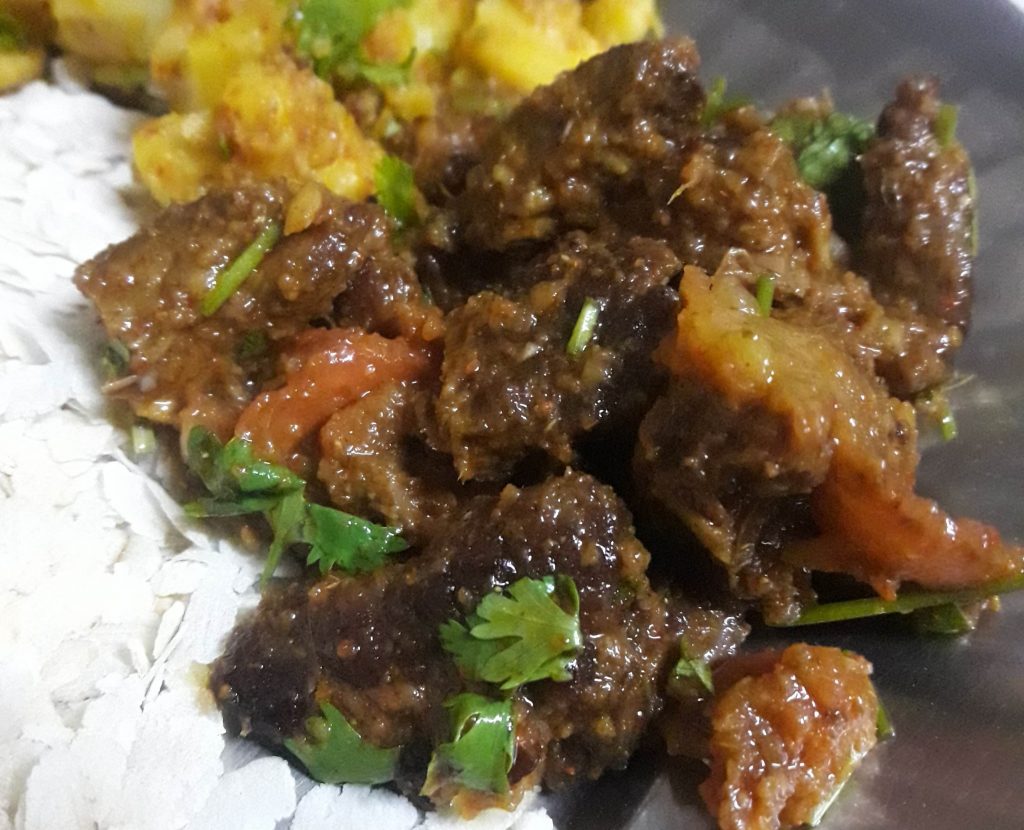 The Newa Shulee from Harisiddhi is another option for you to try chhoila in Kathmandu valley. The place is famous for its Newa khaja set that serves 13 food items along with beaten rice. The other 12 mouth-watering food dishes are haku chhoila, haasko chhoila, kachila, dyaku-la, aalu achar, sukuti, badam, bhatmas-sadeko, buff chilli and aalu tama. Also, one can get chhyang (Newa rice beer) along with it.
Eating chhoila separately is an option here, but at the same time, for someone who cannot handle too much spice, khaja set is a better option to balance the taste. But, the set will feel too much alone, so visit the place with your friends and share with your companions.
7. Mah Kwah Cha Garden, Kirtipur
Mah Kwah Cha Garden literally means monkey garden. In this forest-like garden/ resort that lies at Dev Dhoka of Kirtipur, one can enjoy all typical Newa food items like wo, sapu mhicha, tisya, among others. It is also one of the rather famous place for you to enjoy eating chhoila in Kathmandu. You can enjoy the food in different settings too that keeps you close to nature and traditional Newa setting.
The combination of hot and spicy haku chhoila and chhyang while enjoying nature along with the beautiful view from the Mah Kwah Cha Garden is too good to be true. As the garden is nearby other landmarks like the Kirtipur bridge as well, you can take a stroll nearby to see the absorb nature.