German architect Wolfgang Korn recently visited Nepal to relive his memories. However, in his recent conversation with Onlinekhabar, the man intimately connected to Kathmandu culture says he could not do so as a lot has changed. In particular, he says there are big changes in the food culture here.
How?
Here he shares his interesting memories regarding food culture. Please keep in mind that he talked a lot about hashish as it was legal then.
The restaurants
During my first visit in 1968, there were no cafés or restaurants in the Kathmandu valley. At that time, most Nepalis preferred eating at home as restaurants were not an established part of the food culture.
When I was working in Bhaktapur on the project, I survived eating jeri swari and tea from a mari pasa (traditional sweet store) at Itachhe Tole for a few years. For an outsider, it was difficult to get affordable eateries at that time.
Of course, there were other five-star hotels, but they were not convenient for me.
Then, with the entry of foreigners through organisations like the UN, and the arrival of hippies, Kathmandu's food culture began to witness a change. A few small eateries began to flourish in the valley. These eateries had curtains and if the curtains were closed, it meant that it was occupied. Maybe people at that time did not want to be seen what they were eating.
Jochhen, also known as Freak Street, was the junction for these hippies and Thamel was not in existence. Only after hotelier Karn Sakya established his hotel and restaurant in Thamel, it eventually became a popular destination for hippies and tourists alike. He established small rooms and restaurants; others followed him and hence the area was developed into a tourist destination. Then, the food culture here began to be influenced by foreign tastes.
The hashish habit
Hashish was legal at that time and it was growing everywhere and anywhere. If you talk about cafes and restaurants targeted at tourists, hashish was an inevitable part of Kathmandu's food culture.
In my case, I am not that fond of smoking. I cannot smoke, but I did try a hashish cookie at a dancing party I was invited to. I later realised it was more dangerous to eat it as a cookie than to smoke as you do not know how much you consume and what will be the aftereffect. Its effect was shown in me the next day when I was so high riding my bicycle and it was like as if I was flying.
I was surprised how the local Newa boys in Kathmandu were not into hashish. After the arrival of the hippie trend, they learned to sell them, but I did not know one Newa boy being addicted to it.
Eating with locals
When I was working for the Hanuman Dokha project, I resided at Dhoka Tole. I roamed around the locality whenever I was free. I would sit near a bhajan toli (a group of devotees). After their rituals and bhajan ended, they would share their food with everyone present there, even if it was a piece of mula (raddish), and they would share it all. I simply liked the food culture and I would go there to understand the local culture more.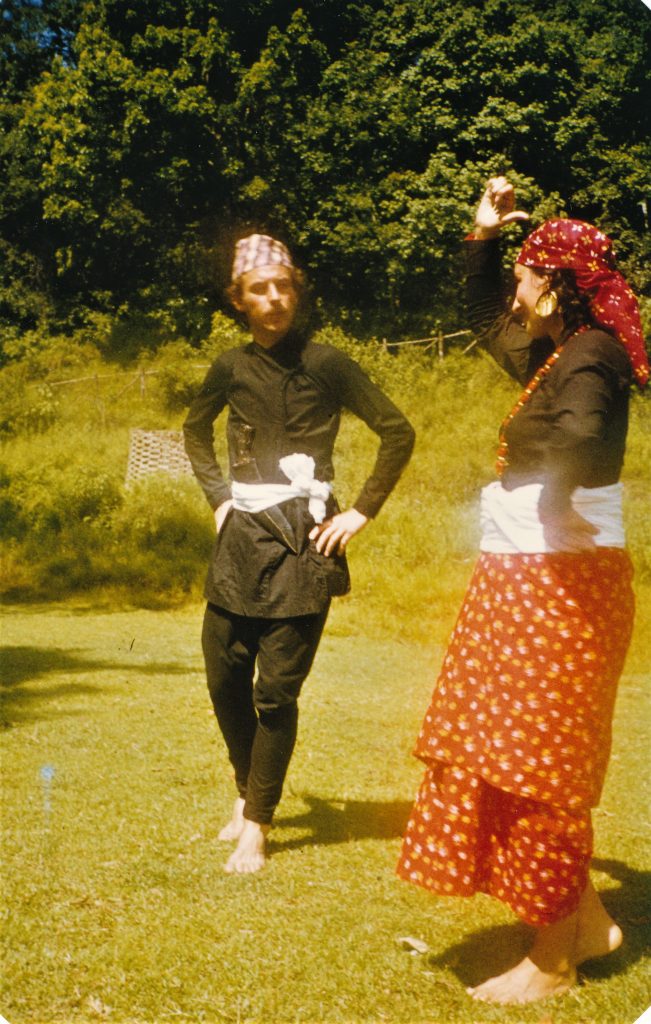 One of my Newa colleagues invited me to his wedding party at 5 pm. I was there at 5 pm and I was the first guest. I was taken inside his room, where they served me aila (alcohol) and boiled anda (egg). During the bhoj (feast), I already had six eggs and I was already full. Then, I was taken to the area of the party. They kept a big lantern in front of me; I think everyone wanted to see a stupid foreigner eat Newa bhoj.
It was my first time eating baji (beaten rice) on a leaf plate by hand. But, I did not know how to eat juju dhau and saag (spinach) by hand. As I wanted to keep my fingers clean, I used just the tips of my fingers and ate. However, the food kept coming once I finished, and somehow I managed to eat. I did not know how to say no. I reached my place at 10 pm that day.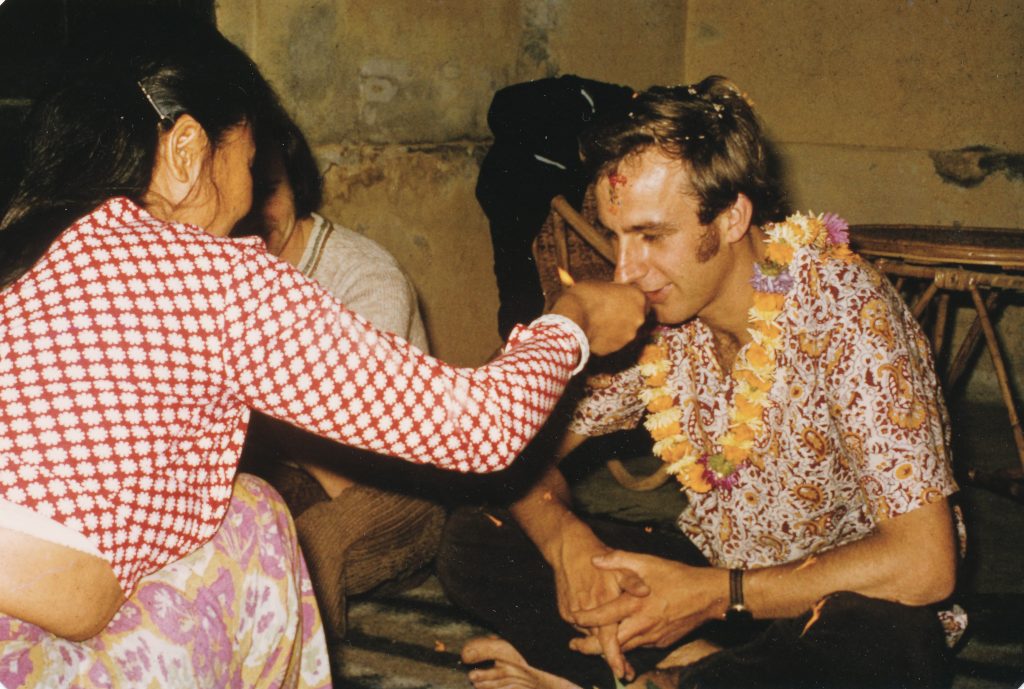 The only thing that I did not like about the Kathmandu food culture was gelatin meat, takhala. I did not like the feel of it. This spicy stuff made me feel sick.
Later, I learned to sit near a window or door and I used to throw it at the dogs. It took me four years to properly avoid unwanted food and not hurt the host's feelings by saying the food I did not like was prohibited for Christians. Saying so was easy for me as nobody further questioned me and they were unknown about Christianity. It was totally nonsense but it was helpful for me.
I did not have problems with the food culture here anymore afterwards.