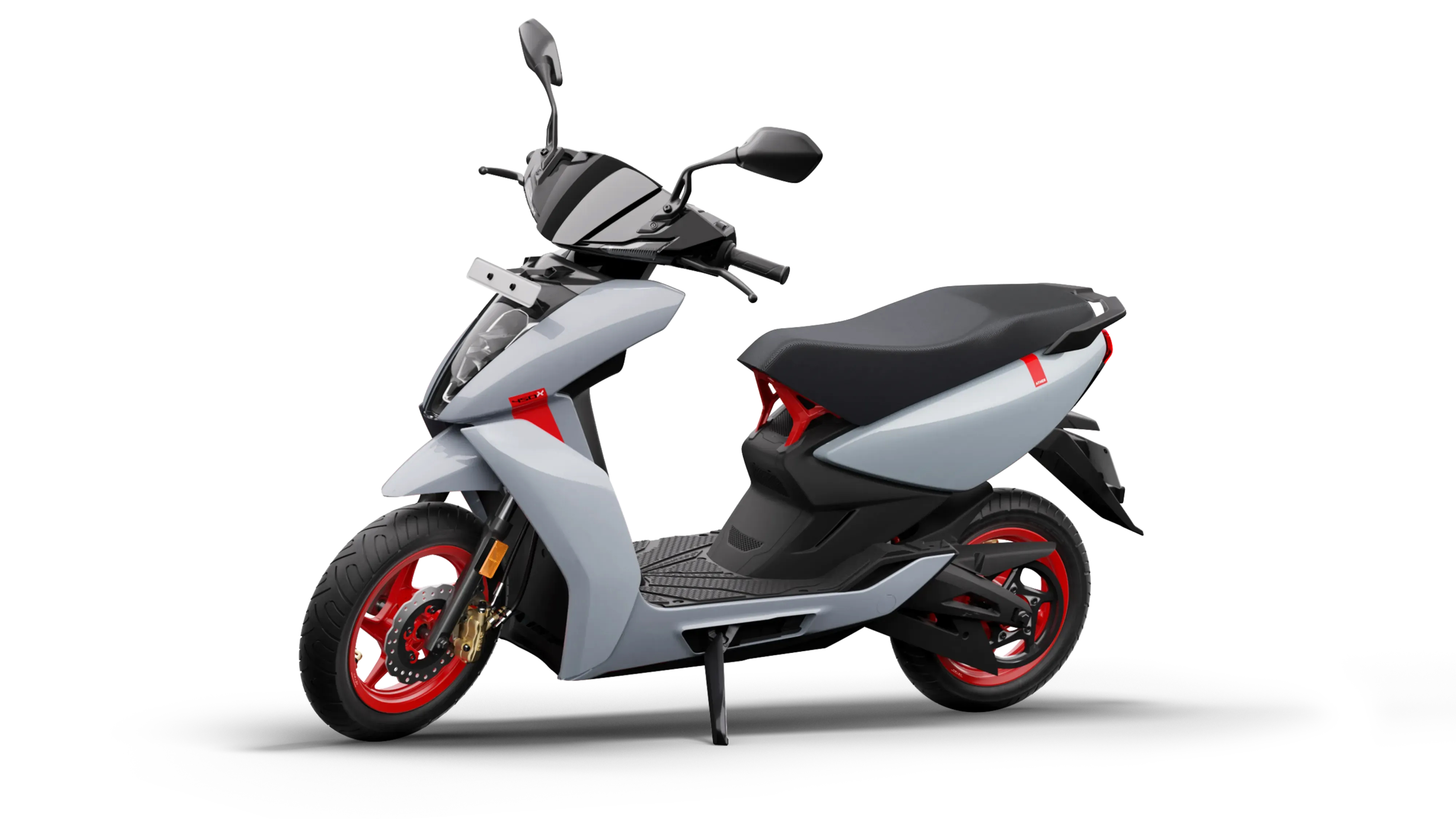 The Indian electric two-wheeler company Ather is soon entering the Nepal market with its premium electric scooter, the Ather 450X in Nepal.
Founded in 2013, Ather Energy introduced its inaugural electric scooter in 2018. This electric scooter has garnered widespread acclaim in India for its premium features. Ather competes in India with the popular OLA S1 Pro, another renowned electric scooter brand.
Vaidya Energy is the official distributor of Ather in Nepal. With the introduction of the Ather 450X in Nepal, it will be a tough competitor to other brands in the same price range like the Zeeho Ae8, TVS iQube S, Super Soco CPx and NIU NQi GT.
With Ather's debut in Nepal featuring the 450X model, we can anticipate the introduction of the recently launched, slightly more budget-friendly option, the Ather 450S, in the near future. The 450X offers two battery options, namely 3.7 kWh and 2.9 kWh.
Let us explore what the premium electric scooter delivers in terms of specs.
Specifications of Ather 450X
Dimensions
1,891mm x 739mm x 1,114mm
Wheelbase
 1,296 mm
Seat height
780 mm
Ground clearance
170 mm
Kerb weight
3.3kWh: 111.6 kg
2.9kWh: 108 kg
Boot space
22 litres
Motor type
Permanent Magnet Synchronous Motor
Peak power
3.3 kWh: 6.4 kW
2.9 kWh: 6.4 kW
Max torque
26 Nm
IP rating
IP67
Battery type
Lithium Ion
Battery capacity
3.3 kWh
2.9 KWh
Rated voltage
51.5 V
Charging (Normal home charging)
2.9 kWh:
0-80%: 6 hr 36 min
0-100%: 8 hr 36 min

3.3 kWh:
0-80%: 4 hr 30 min
0-100%: 5 hr 45 min
Range
3.3 kWh: 150 km
2.9 kWh: 111 km
Transmission type
Belt drive
Brake type
Front: Hydraulically actuated triple-piston calliper disc
Rear: Hydraulically actuated single-piston calliper disc
Brake size
Front: 20 cm
Rear: 19cm
Suspension
Both
Front: Telescopic forks
Rear: Symmetrically mounted progressive mono-shock
Tyre size
Both
Front: 90/90-12 tubeless tyres
Rear: 100/80-12 tubeless tyres
Wheel type
Alloy wheels
Instrument cluster
17.7 cm (7") TFT touchscreen
Top speed
90 km/hr
Acceleration
0-40 km/h: 3.3 seconds
Colour
Salt Green
True Red
Lunar Grey
Price (expected)
2.9 kWh: Rs 400,000
3.3 kWh: Rs 460,000
Design and Build
The Ather 450X has a sleek and aerodynamic design, with a sharp and modern triangular shape in the front. The headlight makes the scooter stand out in the crowd with a modern and triangular shape. The headlight is LED with proper lighting in dark conditions. The LED turn indicators are on the head of the scooter which also have LED DRLs connected to the indicators.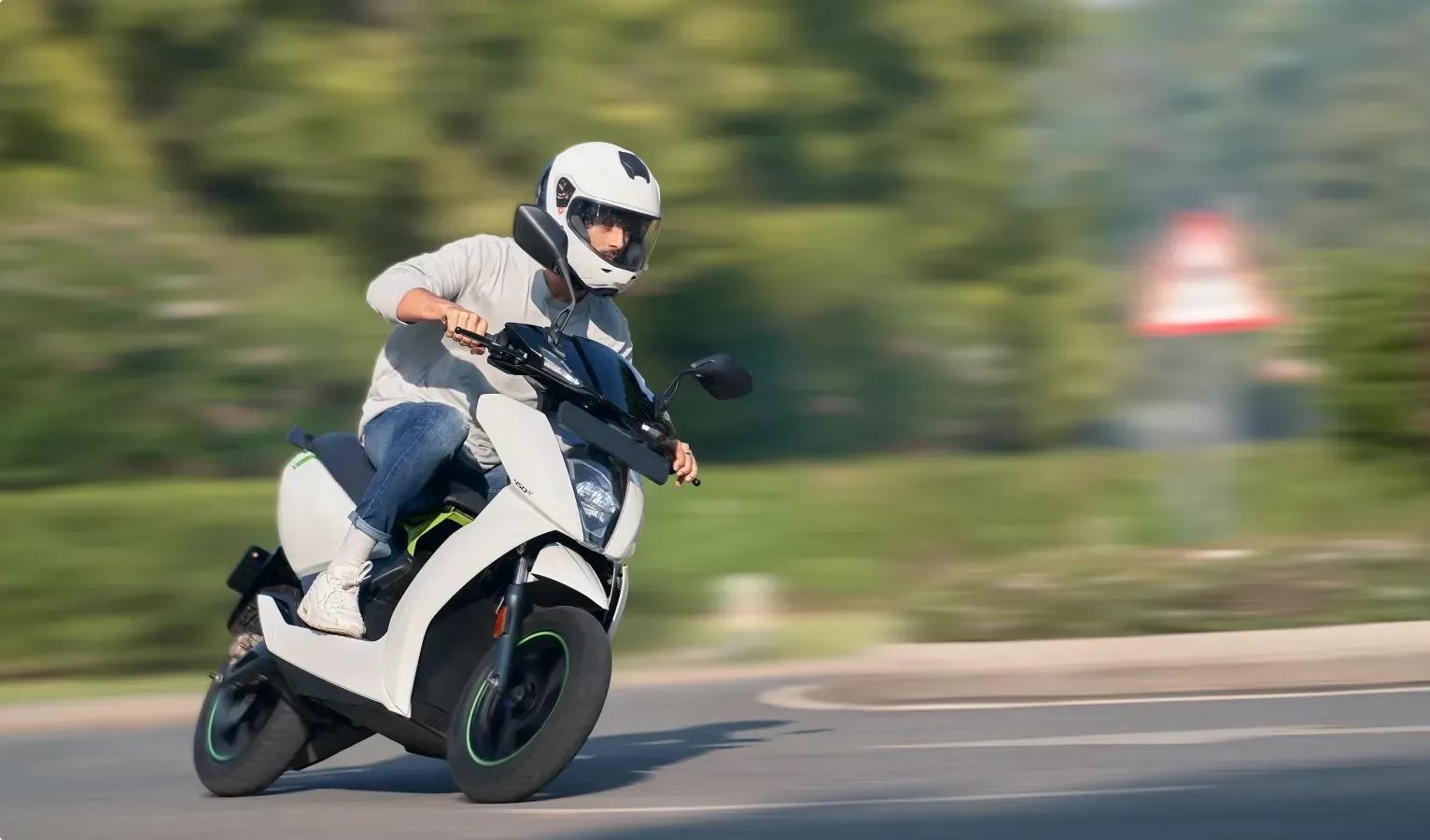 The side of the electric scooter has a minimal design with the seats lifted a bit than other scooters. We can also see the frame just below the rider's part of the seat which gives a raw and elegant design perspective. The side stand has a rectangular shape which is clean and slips down in the side panel. The seat is relatively wide making two people sit quite comfortably. The front frunk is also spacious and has an anchor to hold things.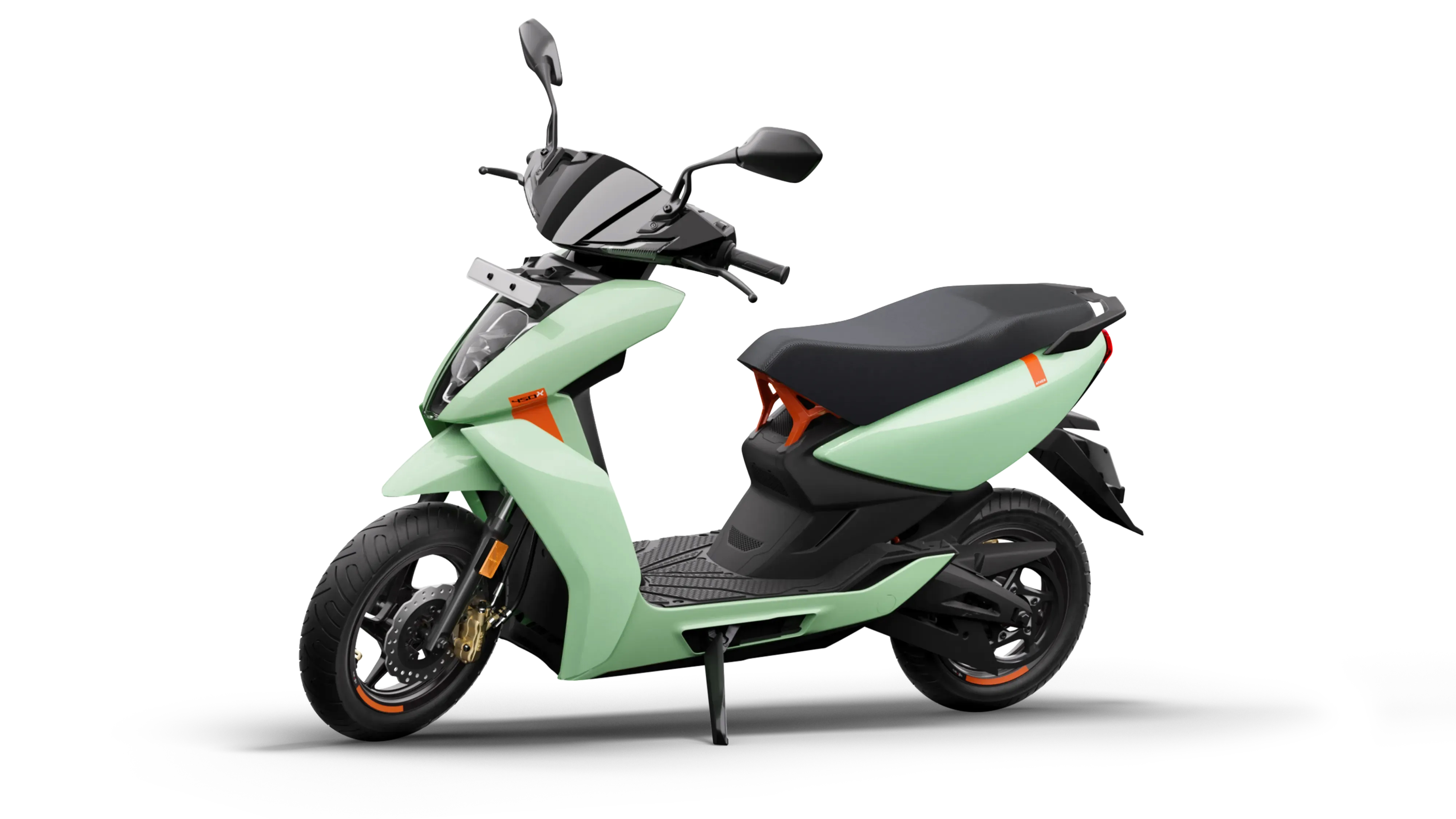 The rear taillight of the Ather 450X is also LED and is integrated into the body of the scooter itself. The taillight has an "n" shape which also has the rear LED indicators at the tip flowing inside the body. The grab handles are also edgy with a proper finish. The boot space is 22 litres which is quite good in comparison to other electric scooters.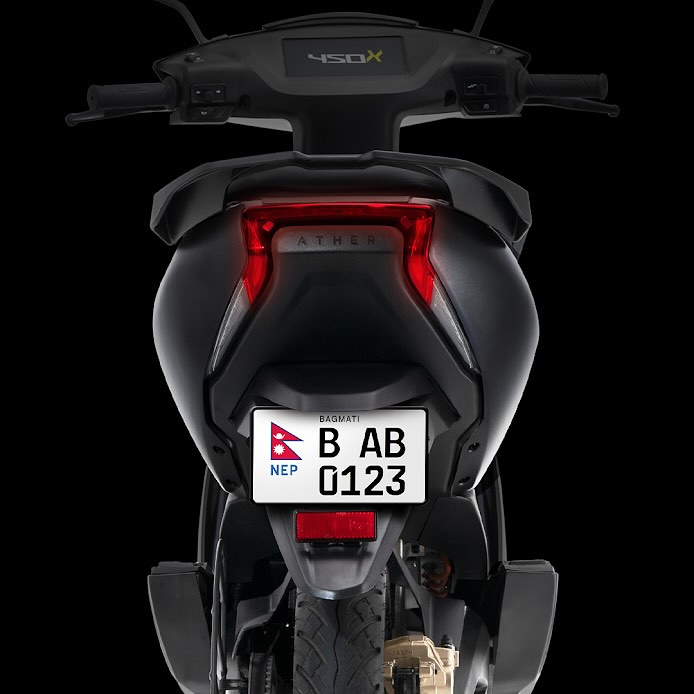 The instrument cluster of the Ather 450X is a smartphone attached to an electric scooter. It features a 7-inch TFT touchscreen with capacitive touch support and an 800 x 480-pixel resolution. It has a brightness of 800 Nits and a 5:3 aspect ratio.
It also has an IP65 water and dust resistance rating protecting the display. The dashboard is smart and has a Snapdragon 212 Quadcore 1.3GHz processor with 16 GB of storage, and 2 GB of RAM, running on the Android Open Source OS (AOSP). It can save documents making paperwork easy to carry.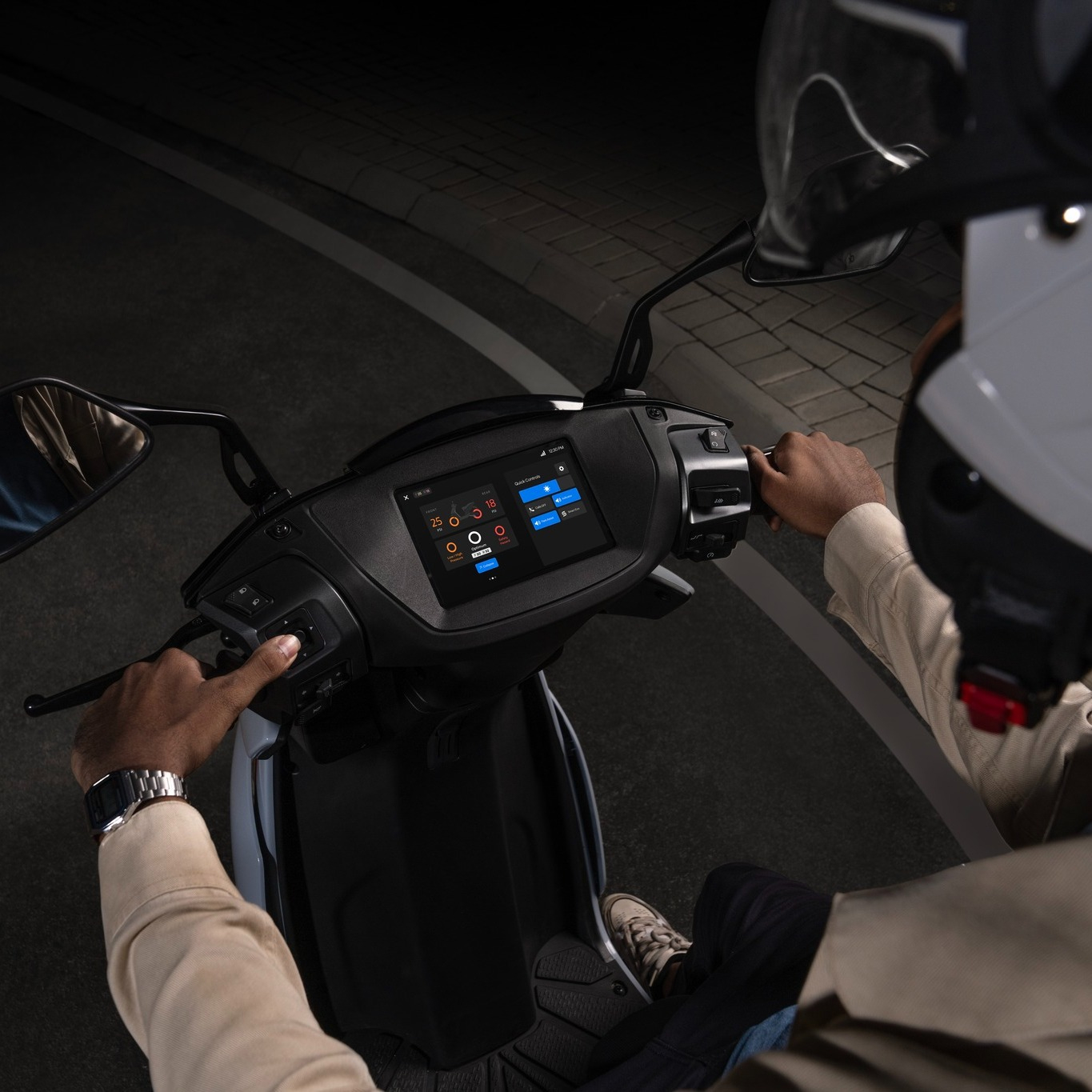 The touchscreen display is responsive and has a lot of features. It shows the normal readings like most electric scooters such as speed, modes, battery, range and time. Other than that it is a complete smartphone with features.
You can connect your smartphone to the scooter via Bluetooth and then use the display to play and pause music, change tracks, and answer and reject calls. It also comes with built-in Google Maps navigation for easy navigation. The settings of the display can also be changed such as brightness, updating the scooter's software and your riding preference.
The build of the Ather 450X does not compromise the build quality either. It features a precision-machined hybrid chassis made from a combination of aluminium and steel, offering a sturdy and well-balanced frame for enhanced durability and performance.
Performance
The Ather 450X is available in two battery options; 3.3kWh and 2.9kWh. Both use a Permanent Magnet Synchronous Motor that delivers a peak power of 6.4 kW and a max torque of 26 Nm. Both the battery options are lithium-ion battery which operates at a rated voltage of 51.5 V. When it comes to charging, in normal home charging conditions, the 2.9 kWh variant takes approximately 6 hours and 36 minutes to reach 80 per cent, and the 3.3 kWh version requiring just 4 hours and 30 minutes.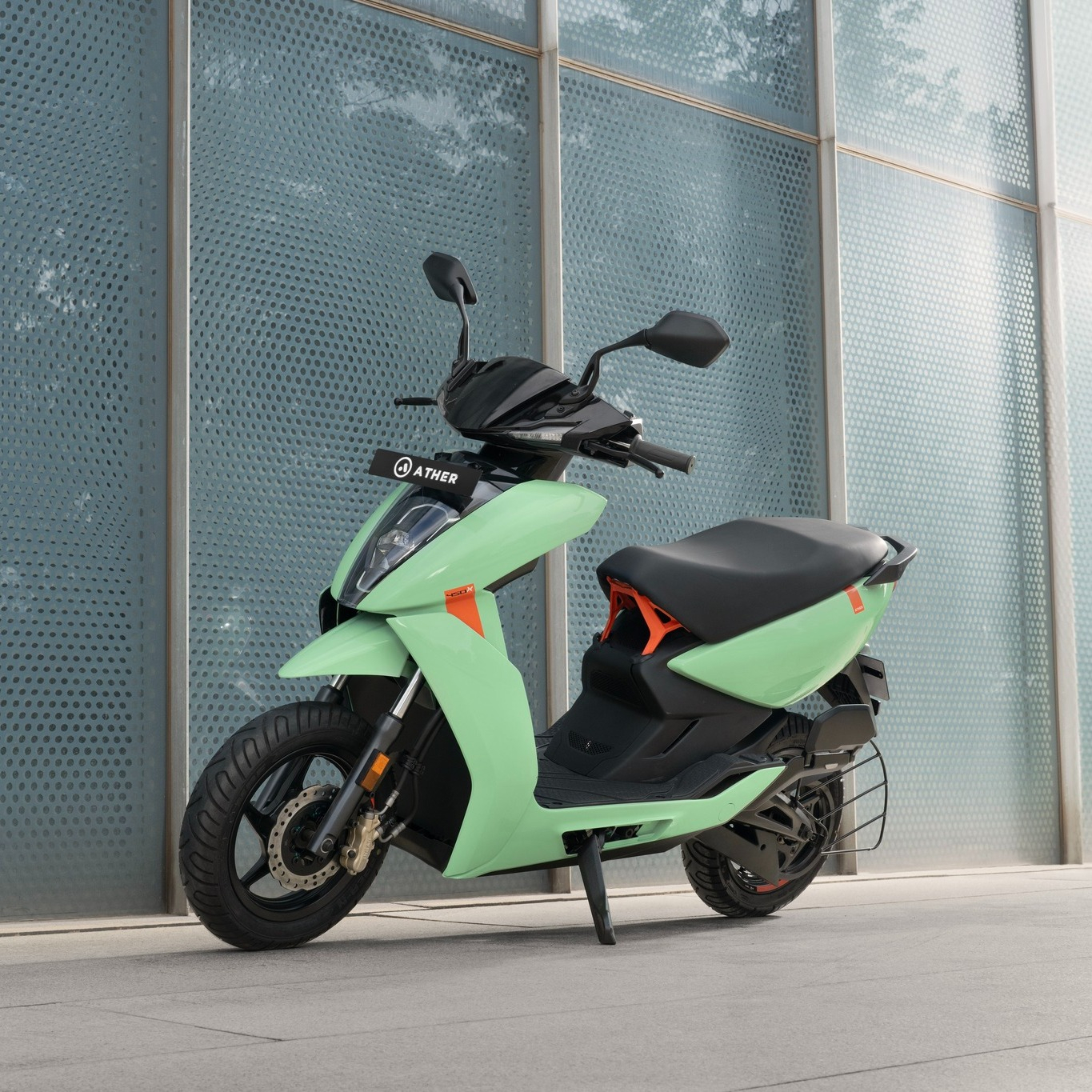 These batteries power the Ather 450X to a range of 150 km for the 3.3 kWh variant and 111 km for the 2.9 kWh option. The transmission type is belt drive and has a transmission ratio of 7:8:1. The Ather 450X can reach a top speed of 90 km/hr which is pretty fast.
Tyres, Brakes and Suspension
The Ather 450X comes equipped with front and rear tubeless tires, which measure 90/90-12 for the front and 100/80-12 for the rear. Both the front and the rear are alloy wheels of 12-inch. The brakes are also good with a hydraulically actuated triple-piston calliper disc at the front and a hydraulically actuated single-piston calliper disc at the rear. The front brake measures 20 cm, while the rear is 19 cm.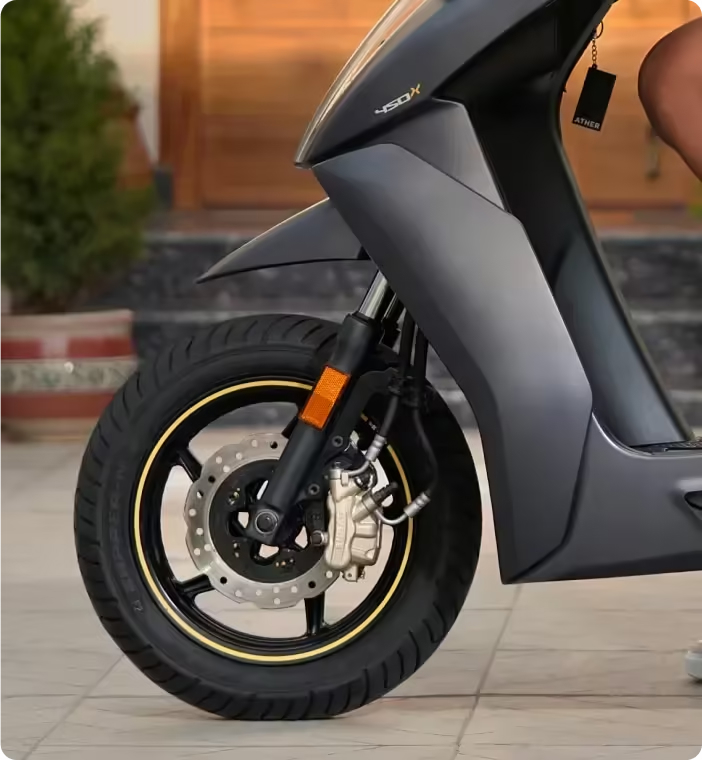 As for the suspension part, it has telescopic forks in the front suspension and a symmetrically mounted progressive mono-shock in the rear which delivers a smooth experience on roads.
Safety and Features
The Ather 450X is loaded with safety features such as park assist, auto hold, side stand sensors, guide-me-home light, auto indicator cut-off, and incognito mode which switches off location tracking, Emergency Stop Signal and fall safe. The safety features make the electric scooter more premium and also a bit ahead of other electric scooters.
Some features of the Ather 450X are as follows:
6.9 kW peak power
26 Nm torque
90 km/h top speed
111 km/150km range
2.9 kWh/3.7 kWh battery capacity
7-inch touchscreen display with Android Open Source Project (AOSP) operating system
Navigation with Google Maps
Riding modes (Warp, Sport, Ride, Eco)
Reverse mode
AutoHold
Side-stand sensor
Document storage
Incognito mode
Sidestep
LED headlights, taillights, and indicators
Parking assist
Telescopic front suspension
Symmetrically mounted progressive mono-shock rear suspension
Combined braking system with regenerative braking
Hydraulically actuated triple-piston calliper disc front brake
Hydraulically actuated single-piston calliper disc rear brake
12-inch alloy wheels
The Ather 450X is set to be available in three different colour options in Nepal; Salt Green, True Red and Lunar Grey.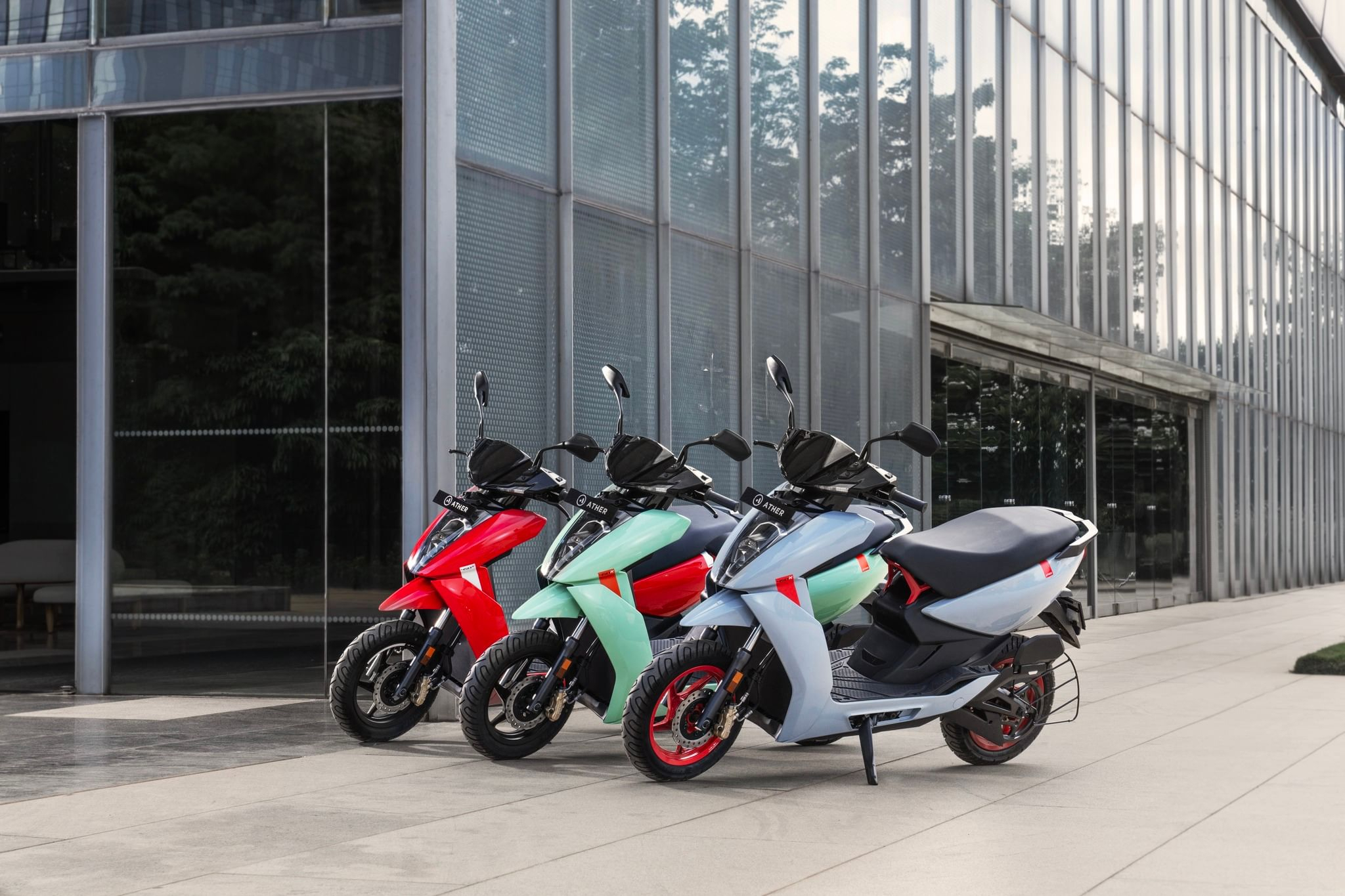 The expected price of the Ather 450X in Nepal for the 2.9 kWh battery option is Rs 400,000 and for the 3.3 kWh battery option is 460,000.