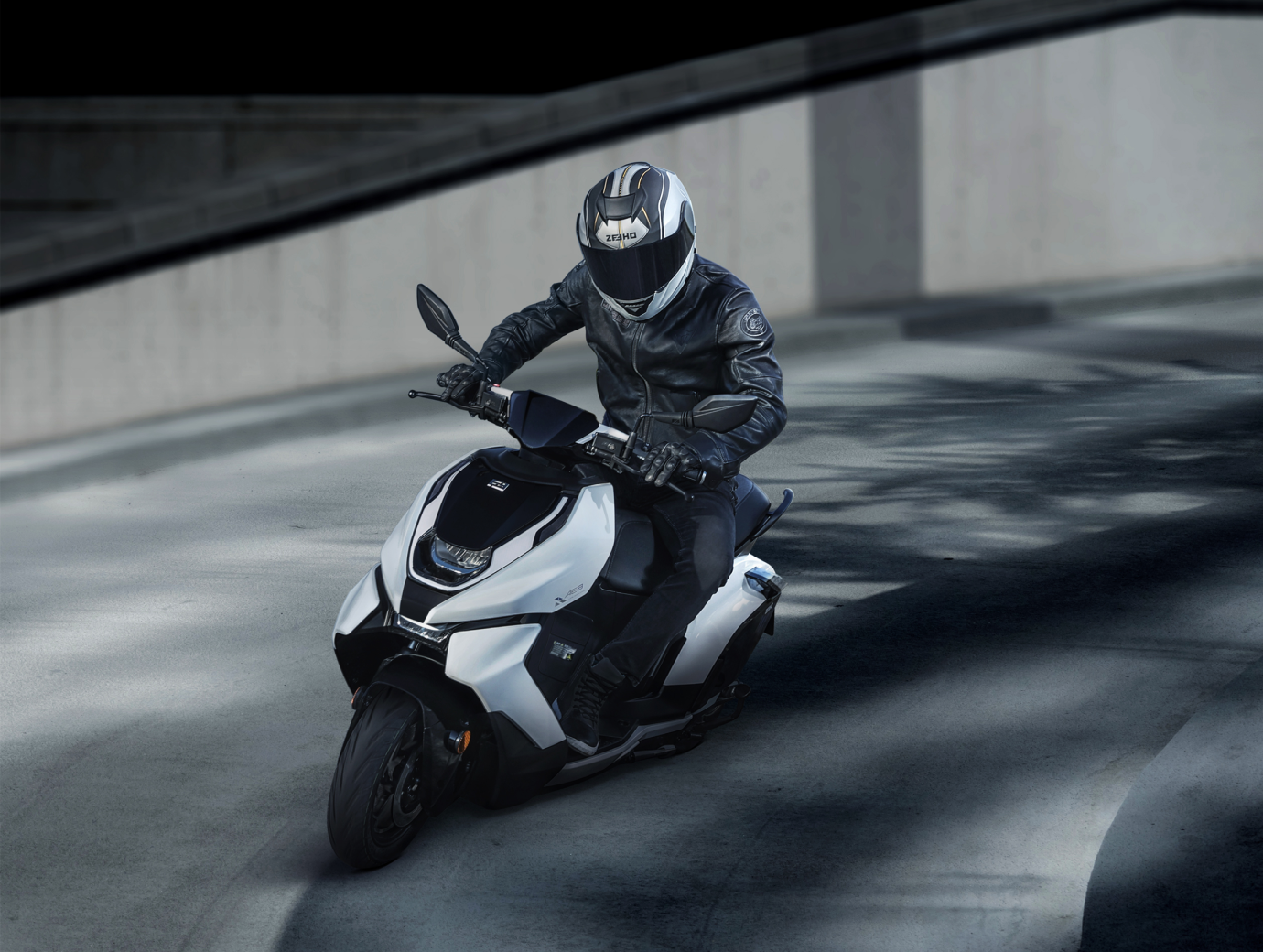 CFMoto, a leading brand all over the world, announced its electric sub-brand called Zeeho in 2020 and launched its first-ever electric scooter, the Zeeho Ae8 in 2022. The scooter is now available in Nepal, starting last week. It has a futuristic look with a remarkable performance. The Ae8 stands for Advanced Energy 8, and the name also matches its performance level.
It has already been loved in many places around the world and now it has gained the attention of many electric scooter enthusiasts in Nepal too.
Let's see what it offers.
Specifications
Dimensions
Length: 1900mm
Width: 735mm
Height: 1090mm
Wheel base: 1380mm
Motor type
Z-Core mid-drive motor
Motor
5 kW, Mid-mounted liquid cool
Max power
12.5kW
Max torque
218Nm
Top speed
>100km/h
Battery capacity
69V32Ah lithium dual battery
Charging time
4 hours
Tyre size
Front: 100/80-12 (CST)
Rear: 120/70-12 (CST)
Suspension
Front: Hydraulics
Rear: Preload adjustable
Colours
Pearl White | Meteorite Black
Price (official)
Rs 490,000
Design and build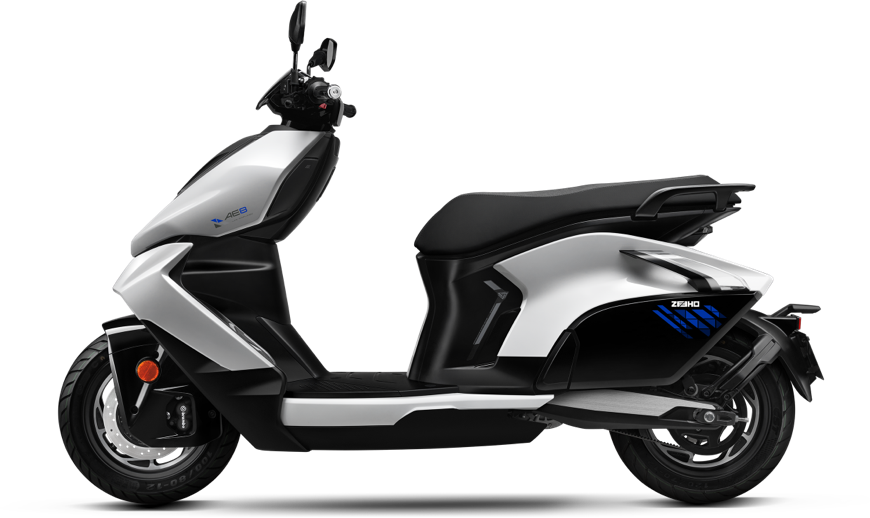 Its front face exudes a strong sense of combat mecha flair and mixes split V-shaped LED headlights with intimidating-appearing side wings. This unique design feature offers the electric scooter a dominating presence on the road and improves its visual appeal.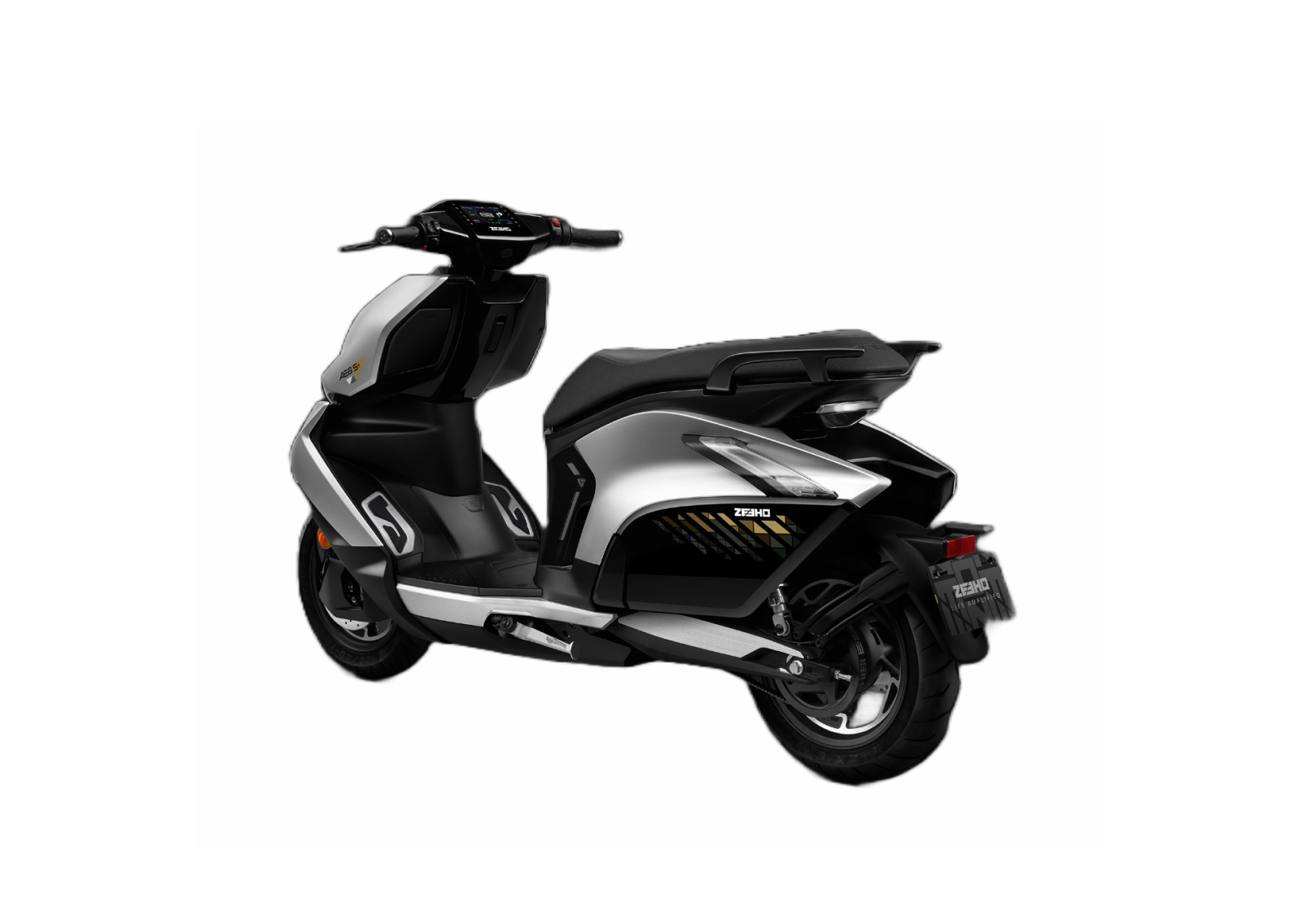 It embodies the functional form of a semi-crossbow design, adding to its overall power and stability, on top of its striking appearance. This unique body structure provides riders with a more stable and comfortable riding posture, ensuring an enjoyable riding experience.
In terms of lighting, the Zeeho Ae8 features split LED headlights that are equipped with an adaptive assist system, ensuring clear vision in all weather conditions so that riders can confidently navigate the road ahead.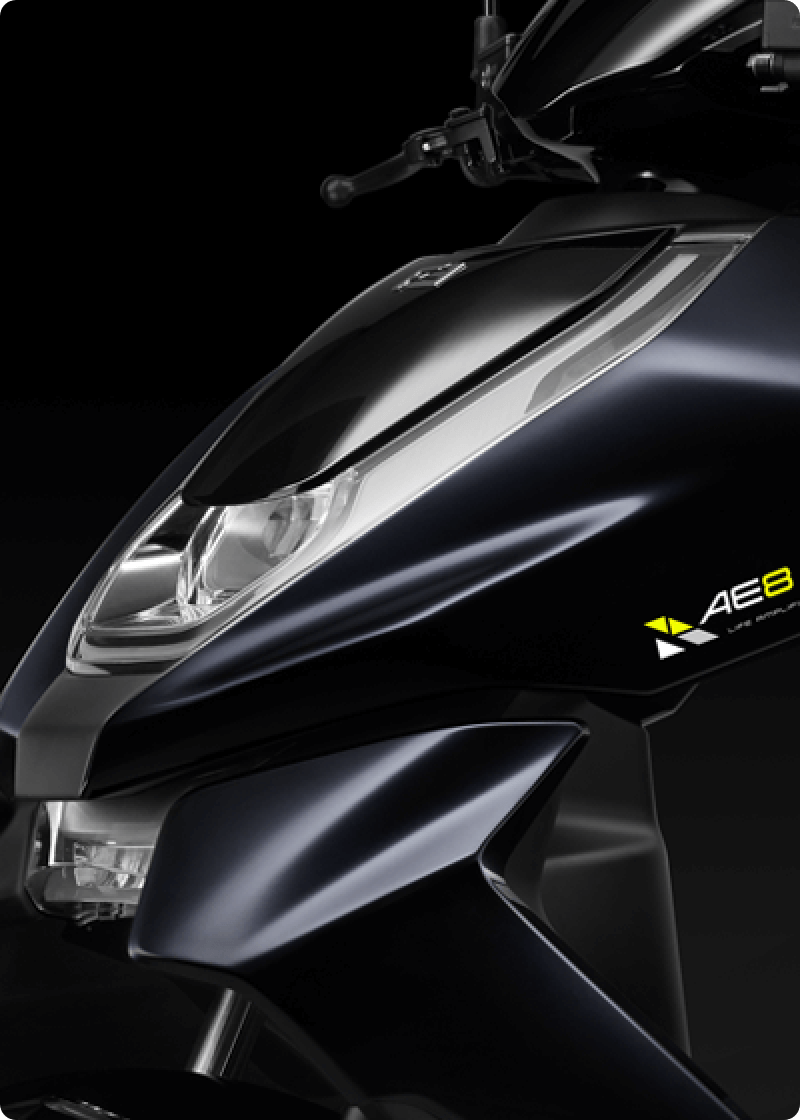 The back indicators on the Zeeho Ae8 draw inspiration from battleship wings, incorporating a three-dimensional hollow shape. The thick-walled light guide technology used in the design ensures an automotive-level signal effect, enhancing safety during rides and making the e-scooter more noticeable to other riders on the road.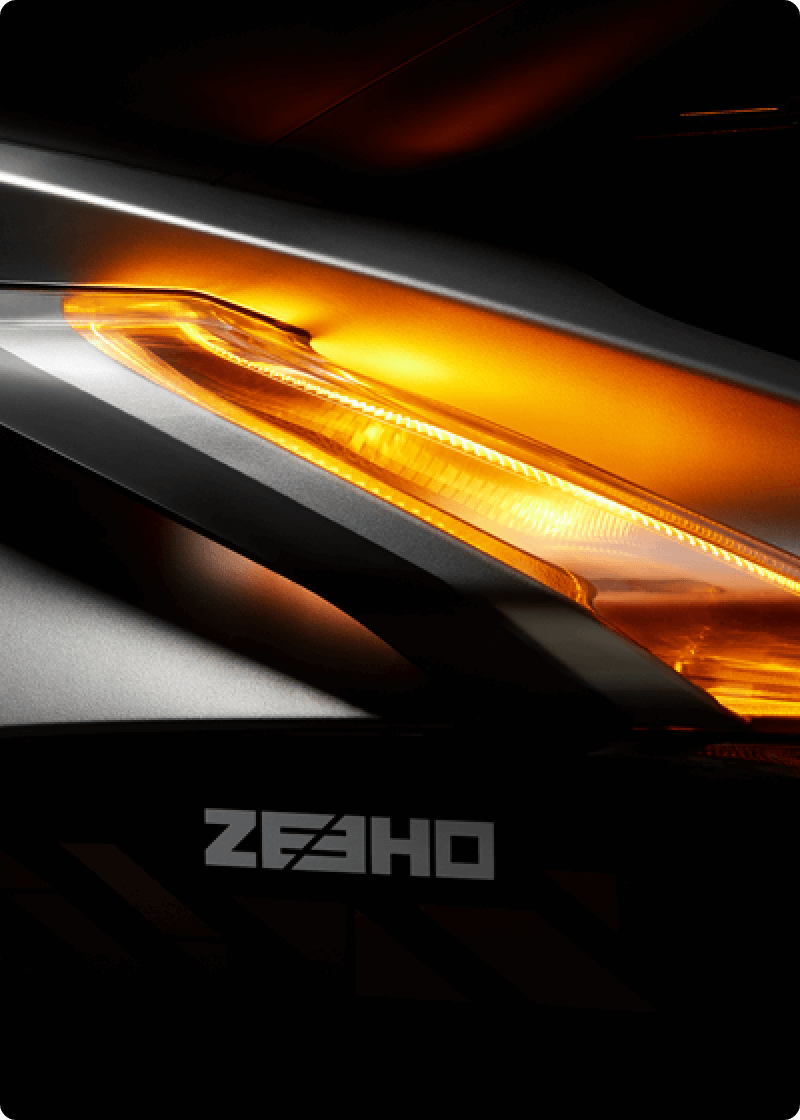 Additionally, it boasts integrated tail lights that provide synchronised lighting when one hits the brakes, further improving safety on the road.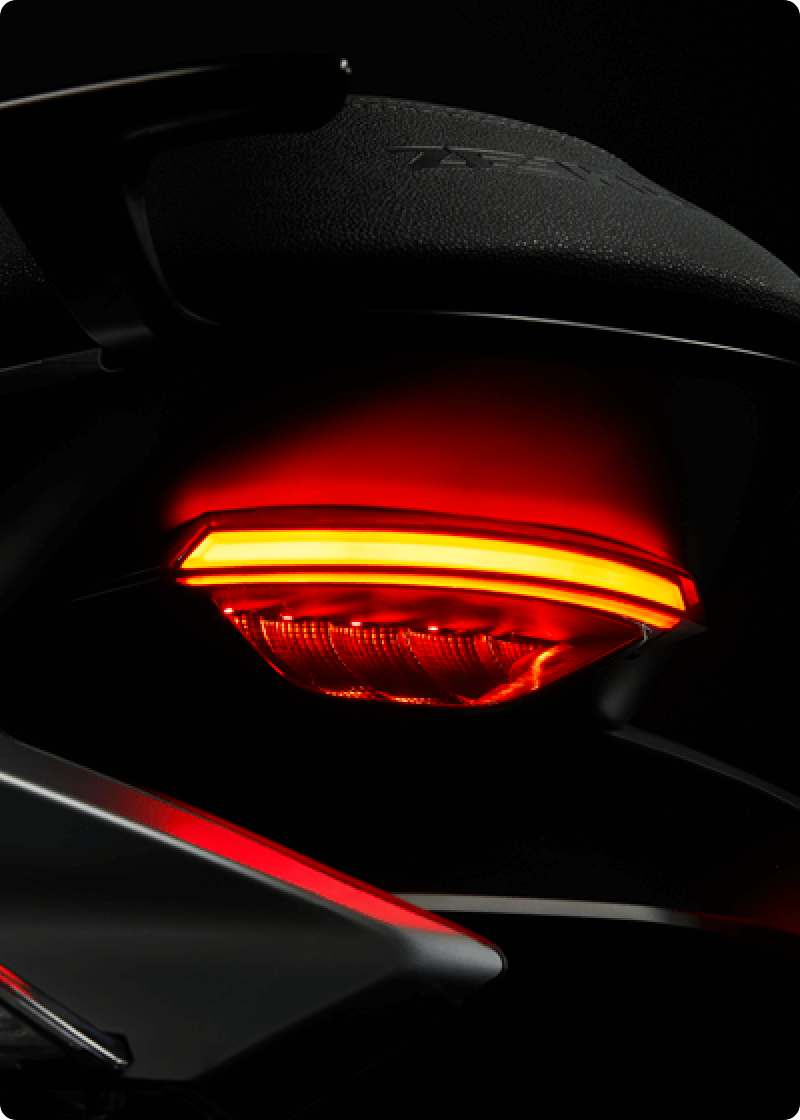 The Zeeho Ae8 has a sturdy and dense frame that contributes to its exceptional stability and durability. Crafted from a high-strength CMT steel alloy, the frame has undergone rigorous testing, including over 50 three-high-stress tests and a demanding 100,000 km endurance test. The rigorous testing attests that it can adapt swiftly to harsh environments.
With its custom-built high-strength steel frame, it has excellent shock absorption, optimal rigidity and a low centre of gravity, providing riders with a secure and balanced riding experience.
The Zeeho Ae8 also features an all-aluminium swingarm. Manufactured using advanced CNC processes, the swingarm not only boasts a lightweight design but also delivers impeccable craftsmanship. This contributes to reducing overall weight and improves the e-scooter's agility on the road.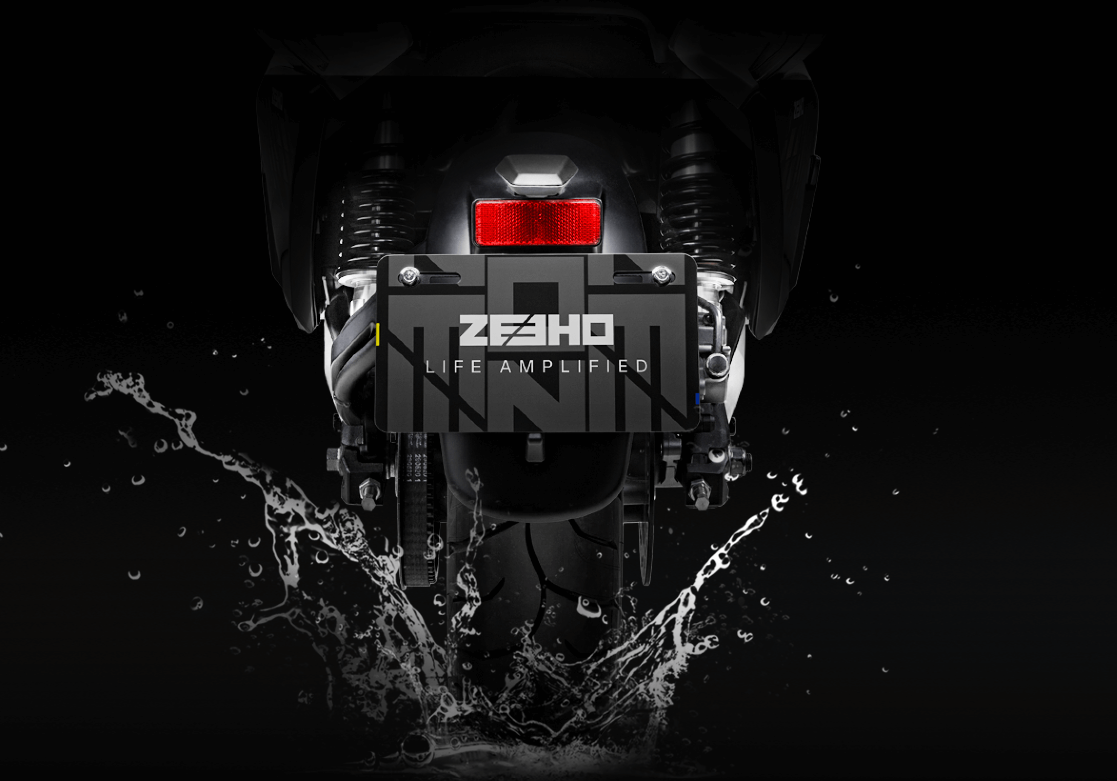 Additionally, it is engineered with automotive-grade weatherproofing measures. Crucial electrical components are equipped with weatherproof connectors, meeting IP67 standards for protection against water and dust infiltration. With a wading height of 300 mm, it is well-prepared to tackle rainy or dusty conditions, ensuring reliable performance even in adverse weather scenarios.
Performance
The CFMoto Zeeho Ae8 features a Z-Core mid-drive motor that provides impressive acceleration comparable to a 250cc petrol two-wheelers. Despite its powerful performance, the motor is lightweight and operates quietly, enhancing the overall riding experience. The motor's fast acceleration maximises the scooter's potential performance, delivering an exhilarating ride. With a maximum power output of 12.5kW and a wheel torque of 218Nm, the Ae8 offers excellent power and performance boasting an efficiency rating of 92 per cent.
To enhance its ride comfort and adaptability to different road conditions, the Zeeho Ae8 has an adjustable rear shock absorber. It offers five levels of adjustability, allowing riders to fine-tune the suspension according to the specific road and load conditions. It also has an adjustable rebound damping feature that even enables timely adjustments to the rebound speed, increasing its adaptability quotient.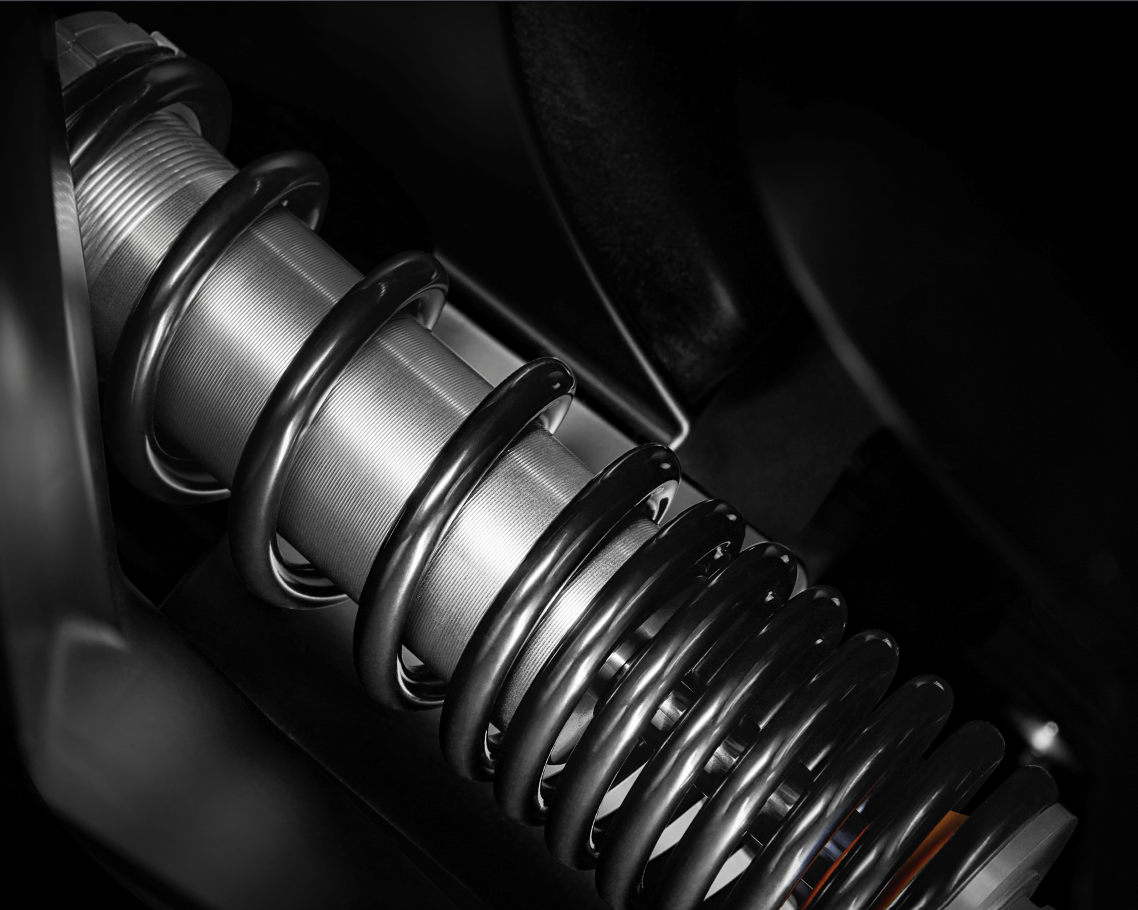 The Zeeho Ae8 has the Z-Charger, a 1900W super-fast charging system. With this charger, the electric scooter can be charged up to 80 per cent in just two hours, allowing for quick and convenient charging. The charging system also incorporates smart and safe charging technology, providing protection against over and under-voltage, fluctuations, short circuits, overheating, and reverse connection.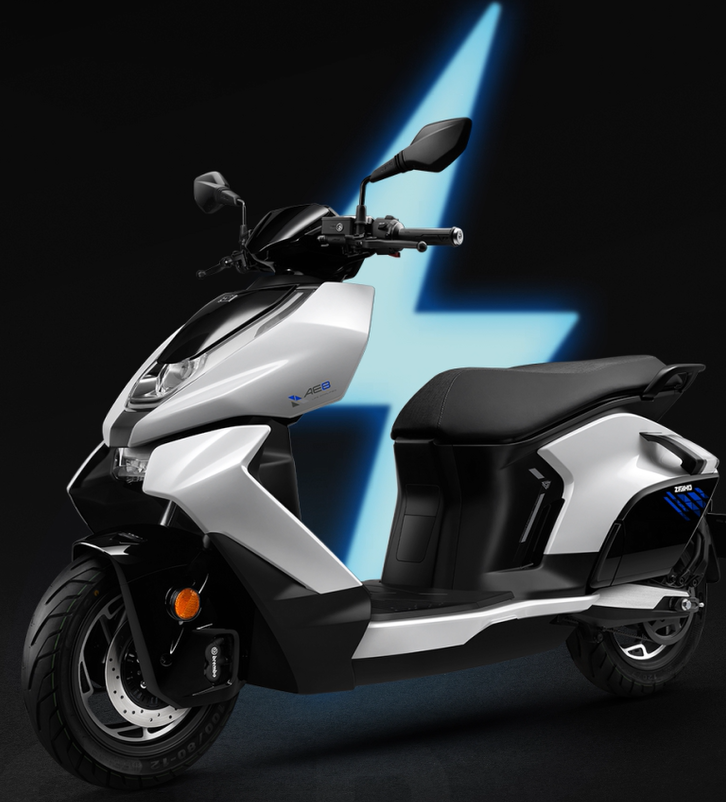 For exceptional braking performance, the Zeeho Ae8 has Brembo callipers and Bosch dual-channel ABS. This combination provides safe and solid braking capabilities with reliable stopping power when needed, adding to the riders' peace of mind.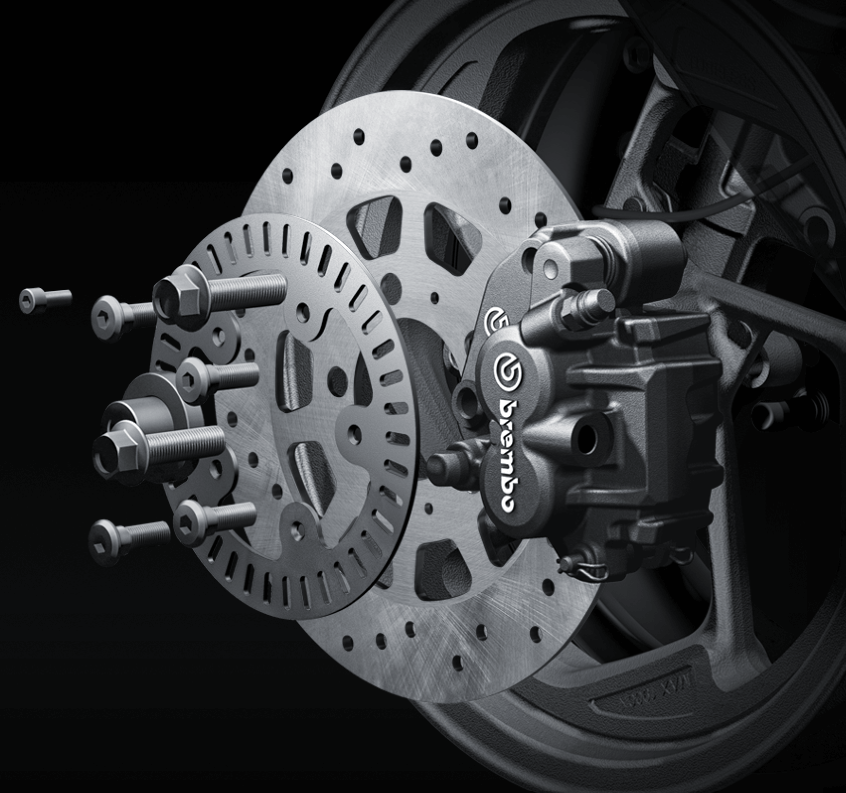 With a range of 140-160km, the Zeeho Ae8 is a power-packed two-wheeler with a high-performance battery pack consisting of 69V32Ah dual soft cells. These cells deliver reliable and consistent power, while Z Energy technology optimises their performance. The motorcycle features a real-time display of the estimated range and employs battery lifecycle management to maximise the performance and longevity of the battery cells. This ensures safer operation with electrical protection and OTA (Over-The-Air) functions for convenient updates.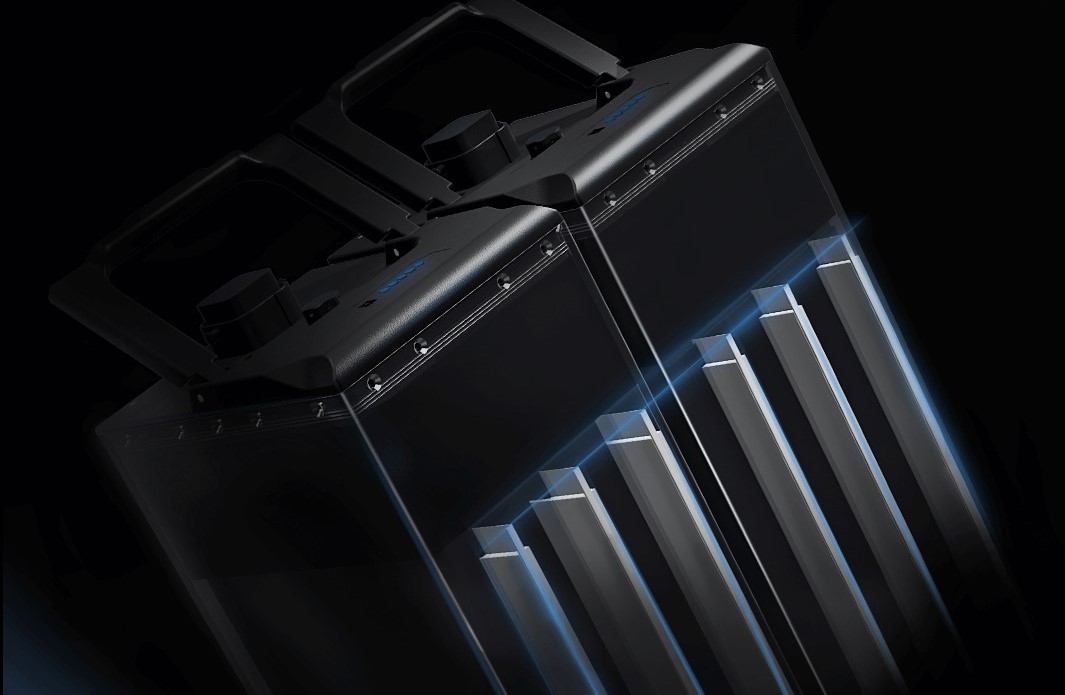 The Zeeho Ae8 has CST tires, providing optimal grip and stability. The front tire has a size of 100/80-12 and the rear tire has a size of 120/70-12.
Technology
One notable feature of the CFMoto Zeeho Ae8 is the OTA firmware upgrade capability, allowing for real-time updates to optimise its performance.
Apart from that, it offers convenient and effortless riding with its Easy Ride features. These include keyless proximity unlock, side-stand detection, seat detection, smart central lock, start-stop switch and push assistance. These smart features enhance human-to-vehicle interaction and provide a more intuitive and user-friendly experience.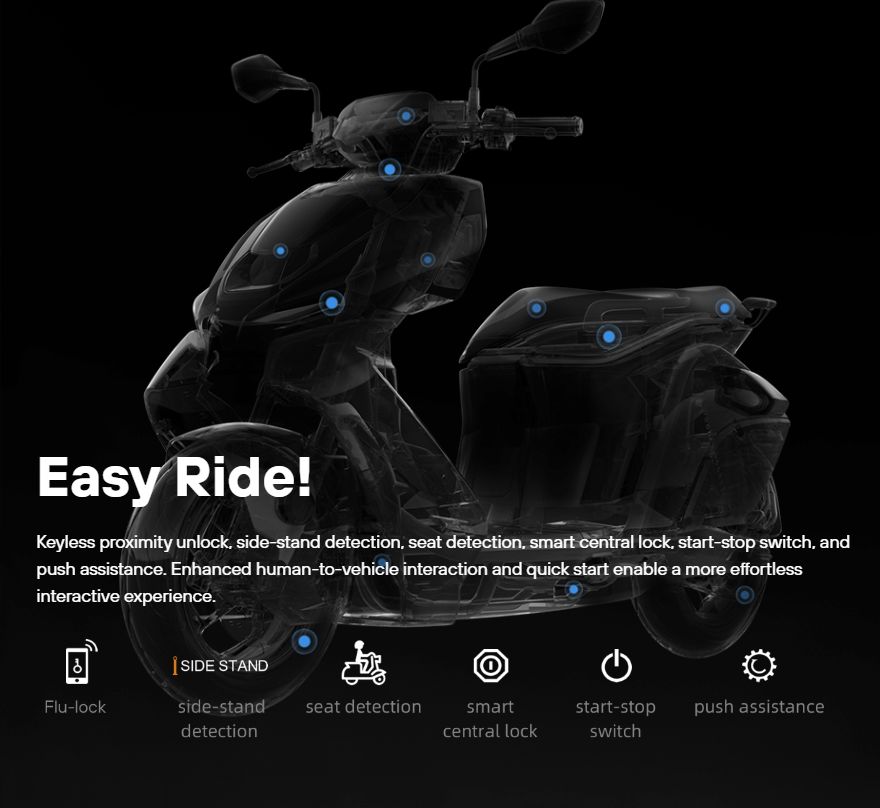 With its 5-inch LCD HMI (Human Machine Interface), it provides riders with all the essential riding information at a glance. It offers three riding modes: Eco, Street, and Sport, allowing riders to customise their riding experience based on their preferences and needs.
Safety and security are prioritised with the Zeeho Ae8's 360° anti-theft protection. The built-in GPS provides additional protection for the scooter. Additionally, the smart ride-assist features include cruise control, over-speeding alert, low voltage alert, coolant-water overheating alert, and emergency text alert, ensuring a safe and reliable riding experience.
The Zeeho Ae8 has a multifunctional positioning sensor that includes a six-axis gyroscope.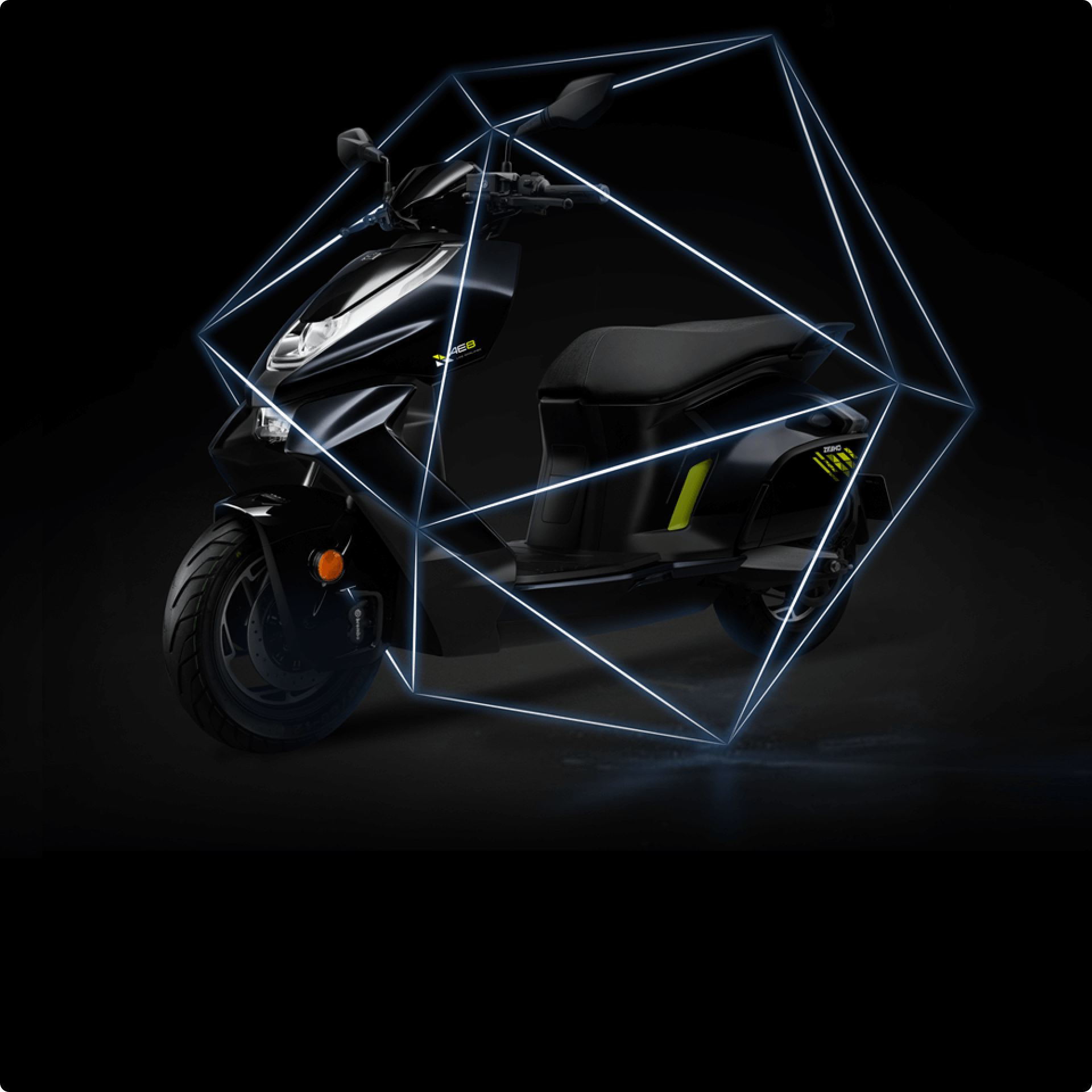 Real-time alarm systems, such as SOS accident detection technology, provide an additional layer of safety and protection. In the event of an accident, the scooter can detect it and send an alert for immediate assistance.
Features
The Zeeho Ae8 has some of the best features in the price range such as the following:
Stylish and futuristic design
LED headlights
Integrated tail lights
Sharp indicators
NFC card for keyless entry
Side-stand/cushion sensor
Smart lock
Adaptive light system
Easy ride
Smart ride-assist
Brembo brake callipers
5-step adjustable rear suspension
Range: 140-160kms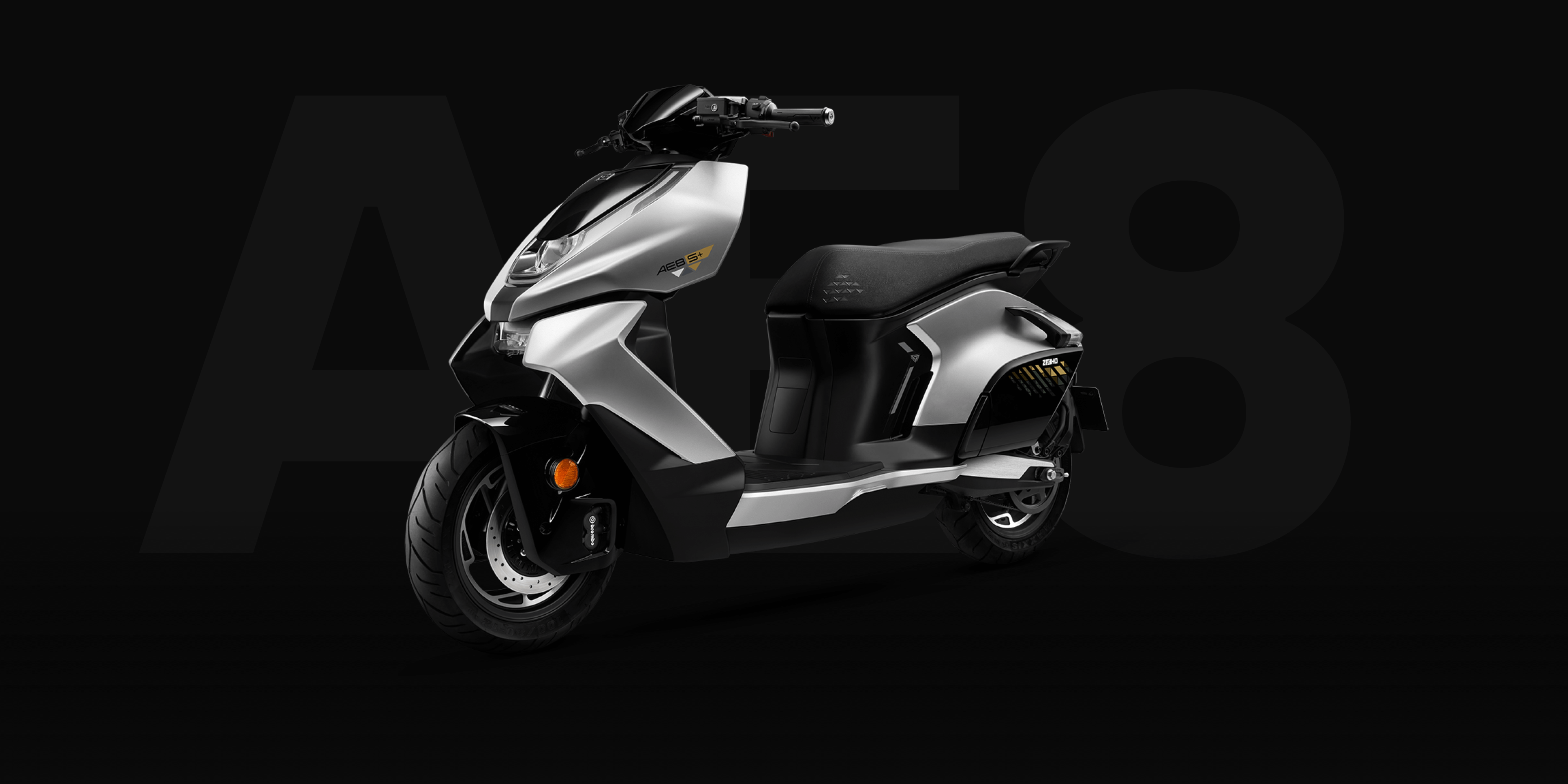 The Zeeho Ae8 is available in two colour options; Pearl White and Meteorite Black.
The price of the CFMoto Zeeho Ae8 in Nepal is Rs 490,000.