Can you imagine trekking to a remote destination in the rugged hills to an elevation of 14,157 feet (4,315 m), crossing a snow-laden pass en route at 16,043 ft (4,890 m)—and no kidding—on bare feet? I cannot—but some do.
I called an old friend, Shishir, to know, if he had set his sights on a trek shortly or done any recently. Despite several attempts, his cell phone answered 'switched-off.' I called another friend if he knew. My hunch came true. Indeed, he was away. Some two weeks later, I called again and finally got him.
It turned out he had gone to the far west to Bajhang to a highland called Surma Sarovar (4,315m). We fixed a day for a chat over tea. He gave me a brief rundown on his story and showed me a few photographs. Guess what! He had done another of his madcap escapade—on bare feet after Budhinanda Tal (read full story) trek in Bajura in 2018. The story completely bowled me over. I just could not wait to do the story.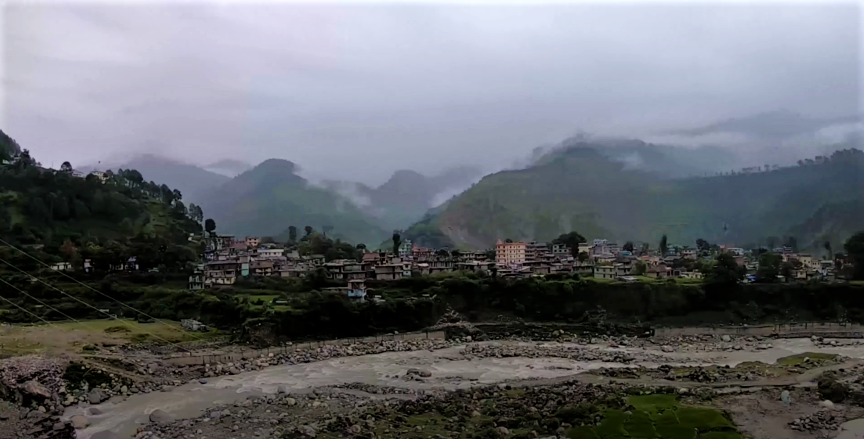 Shishir Raj Joshi
 Before going into the story, let's get to know Shishir Raj Joshi, aka 'Super Tramp,' whom I have known for five years. He is commonly accepted, among our circle of friends, as a man of fewer words and his little peculiarities. He either listens mostly or answers your questions in just nods, grunts, and smiles, leaving you, at times, a tad fidgety.
When it comes to trekking, we expect basic amenities like eateries on the route to feed us, teahouses to replenish, and at the end of a weary day, a warm cozy bed a lodge offers to sleep like a log. That for 30-year-old Shishir is of little account, first comes his quest for 'pukka' adventure.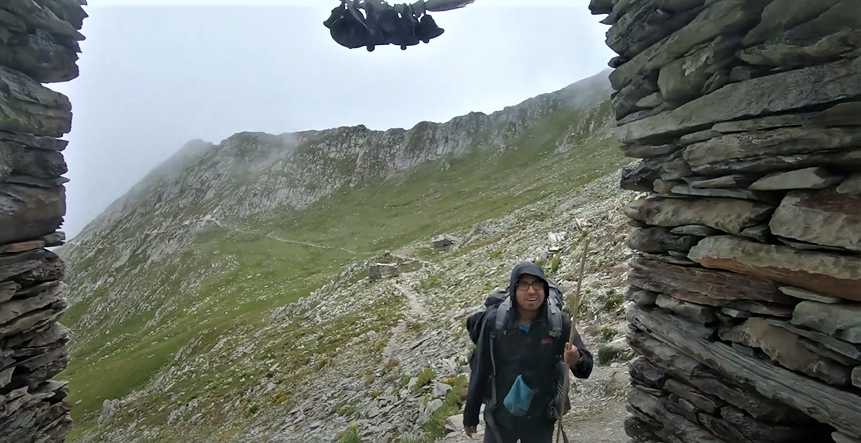 He is nuts about doing uncharted, untrodden, and untamed destinations, as isolated and wild as they can get, breaking away from established norms, rarely found in the books of conventional trekkers. Such wild wanderlusts include solo ventures into the bargain. And of all things, on bare feet! That's what sets Shishir Raj Joshi apart.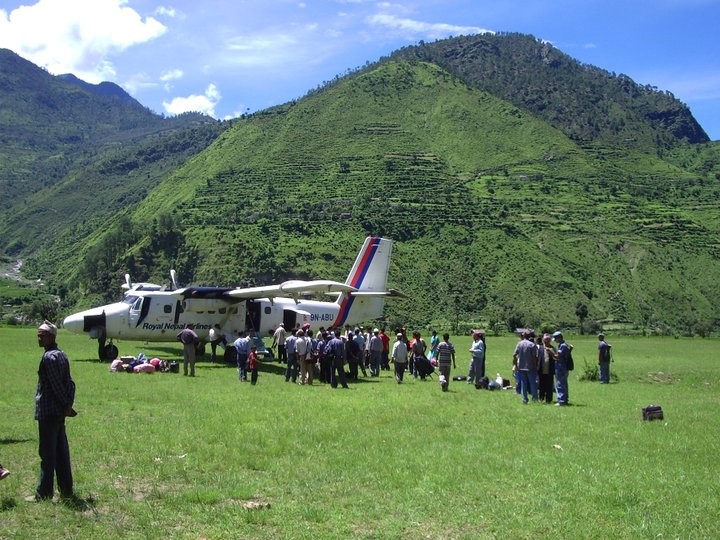 Destination Chainpur
After weeklong planning, the big day came and Shishir was all set to go. His gear included a sleeping bag and camping mat with a selected few personal effects. For the Surma journey, Shishir had to take a bus to Chainpur (not to confuse with east Chainpur, Sankhuwasabha), the district headquarters of Bajhang, a weary 36 hours ride from Kathmandu. The bus left as scheduled at 2 pm.
After a little over 12 hours, the bus arrived at Kohalpur (near Nepalgunj) in the wee hours the next day and headed due west to Attariya. Shishir was used to travelling by bus as all his treks preceded them. He knew well, in absence of hitches en route, buses arrived at their destinations as scheduled.
At 5:30 am, Shishir was rudely awakened by a sudden racket, as the bus stopped at the Attariya check post for a routine check. As it turned out, an altercation had broken out between the bus driver and a couple of policemen who had scrambled up the bus to carry out an inspection and found out most seats occupied rice-bags instead of commuters. And, that held the bus for close to three hours.
After Dipayal and Dandeldhura, the bus finally arrived at Chainpur, three hours behind schedule. The time was 11:30 at night. Shishir learned, to find a lodge, it took almost a half-hour walk into the town core from the bus stop. Chances were, most would be shuttered up at that hour.
Undecided and confused, he looked around to find someplace to shack up for the night. He found none. Desperate, he approached the helper boy from the bus and asked if he could spend the night on the bus he had come on since it was a long way to the town for a lodge.
Hard luck, the bus, he said, would not halt there for the night but leave for the garage. "But I've got a friend who has a shack not very far from here. It's nothing much, but if it's okay by you, I can take you there," he offered. It turned out the shack was a shabby little shelter boarded up with corrugated tin sheets. Beggars are no choosers, he said to himself and spent the night there with the boy.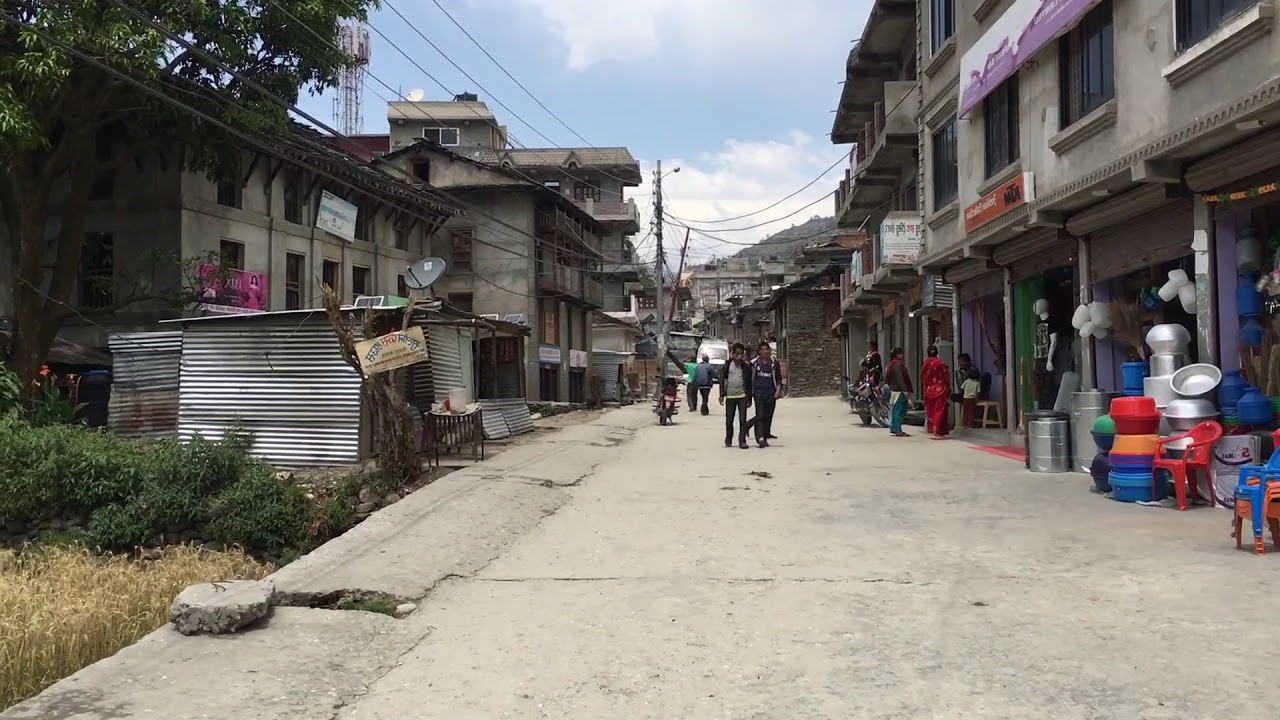 Chainpur, located at the confluence of Seti and Bauli Gaad rivers, a remote town in the far west, seemed to forge ahead to rapid urbanisation. Officially, it is called Jaya Prithvi, named after a past Bajhangi King. The dense town square appeared busy and bustling, as all manner of shops, scores of eateries, and as many guesthouses flanked the streets.
The Bajhang district, as it happens, is recalled for several notable things like the sacred pilgrimage of Khaptad Baba (also an awesome trekking destination),  Mount Saipal (7,619 m), part of the Great Himalayan Trail (GHT), ruins of olden forts and palaces of past kings, Bajhangi Rajas, the one of a kind local deuda song and dance that identifies far-west Nepal, production of handmade Nepali Lokta paper, yarchagumba, touted as the 'biological gold, or the 'Himalayan Viagra'—and Nepal's sensational ace swimmer— Gaurika Singh (she hails from Bajhangi Royalty).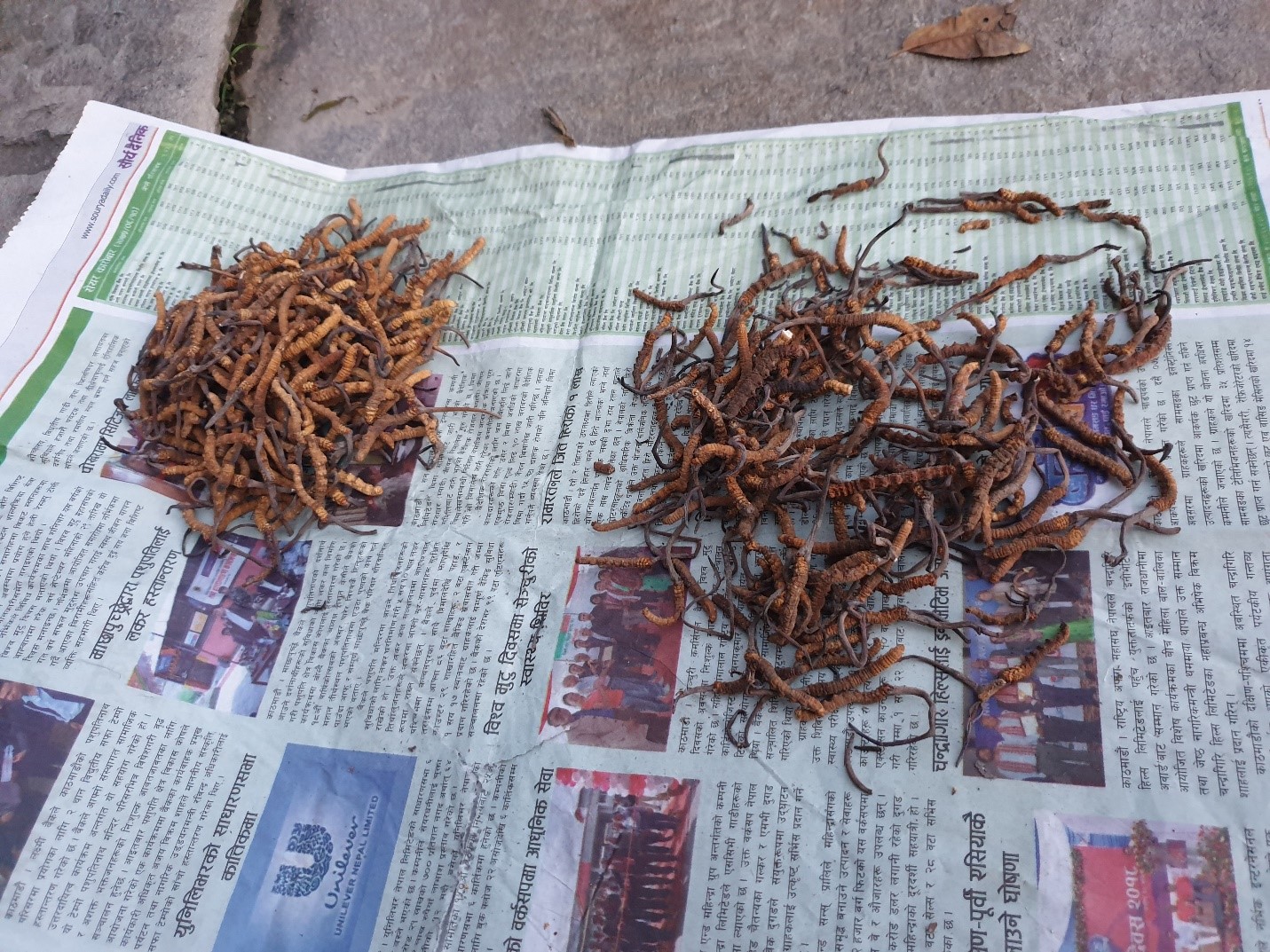 From Chainpur, Shishir had to catch a Bolero to Surma village as no buses shuttled on that route. While waiting for the jeep, he ran into two fellows, who were also going to Surma village. After a brief exchange of introductions and idle conversation, it turned out the duo, too, was headed for Surma Sarovar.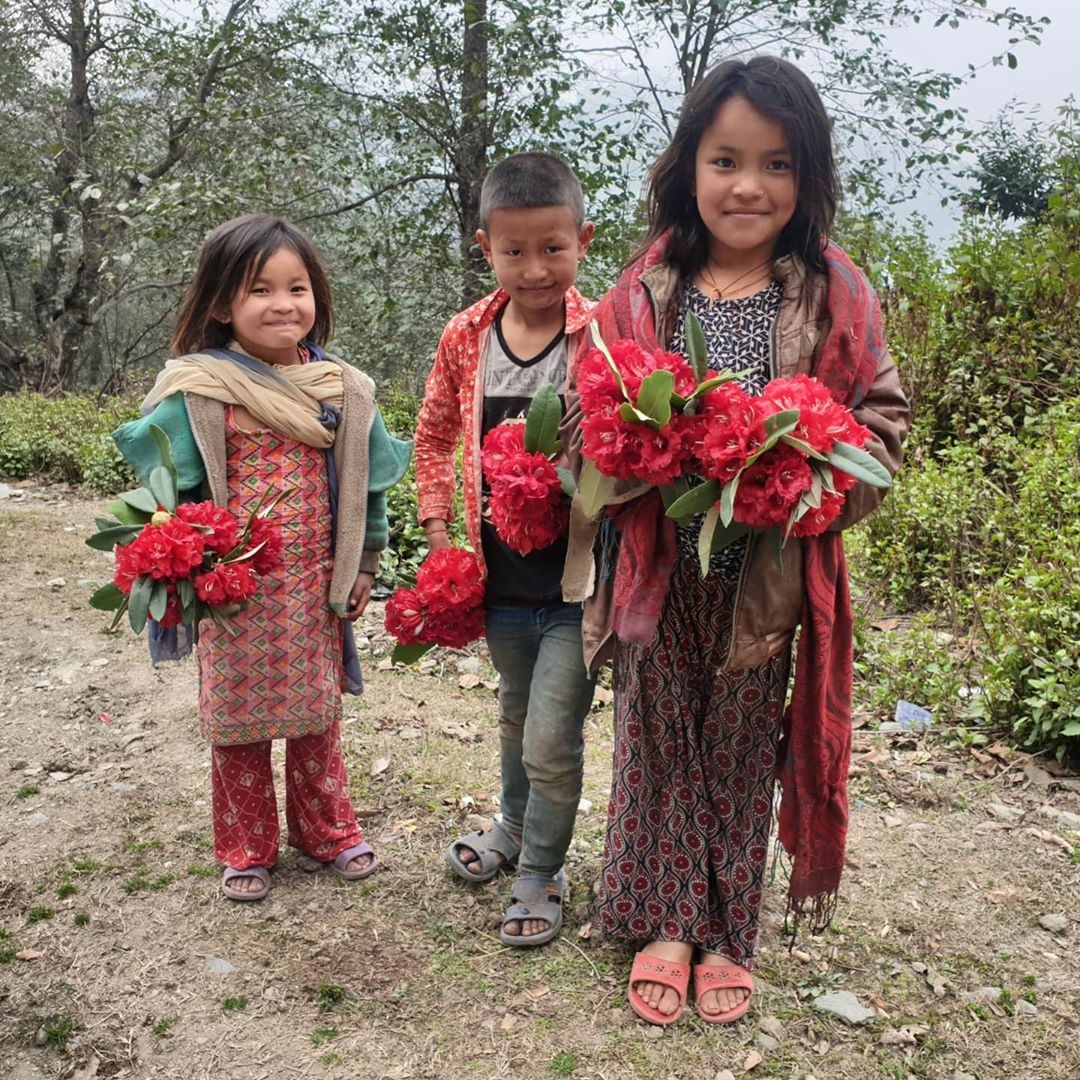 The guys happened to be cousins from Barda Ghat, Nawalparasi. The older guy, Bijay Adhikari, in his mid-thirties, a mechanical engineer, worked in Kathmandu. The younger, Amul Adhikari, only aged 21, was doing his Bachelor's in Kathmandu.
Surma village
The 22-23km on the Bolero to Surma village (2,390 m) on the rutted dirt track, despite a bumpy, bone-shaking ride, rewarded with sweeping views of Nepal's far-western country landscape with lush rice fields and hills dotted with greenery, blending well with idyllic pastoral settings.
Shishir had no idea his solo venture would end up teaming up with the two guys. It did following their arrival at Surma village.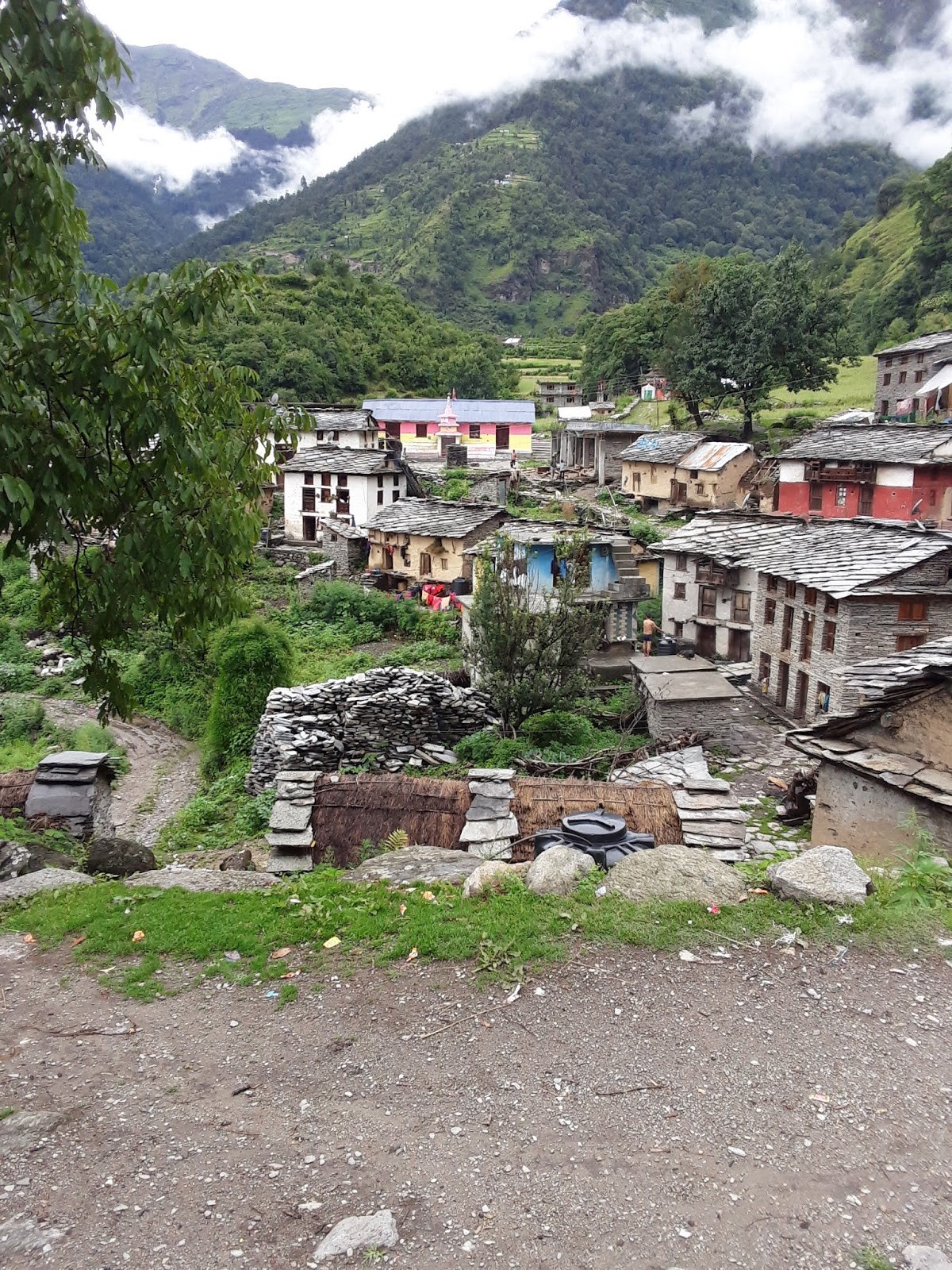 Surma village looked like a small close-knit cluster of houses built end to end with walls done in stones and rooftops clad with slates. The narrow alleys that wound along the bazaar area, too, were laid out with flagstones. It was nearly dark when they arrived. Shortly, they learned the village had no guesthouses. They managed to get a room in a vacant house to bunk down courtesy of Ward chief, Buddhiman Bohara.
Surma Birijat Mela
The next morning the trio took a flying tour of the village predominated by ethnic Dhamis or Jhankris (shamans by profession), Rokayas or Rokkas (Khas community), and Boharas (both Brahmin and Kshatriya) and got a surprise to see the place crawling with people—milling around bare-footed.
They learned the hubbub was preparatory to Surma Birijat Mela, celebrated every other year (coinciding with an even-number) for a week with the onset of Janai Purne (the festival of the sacred thread wound around by Brahmins and Kshatriyas celebrated all over Nepal on a full moon day occurring in Shrawan or July/Aug).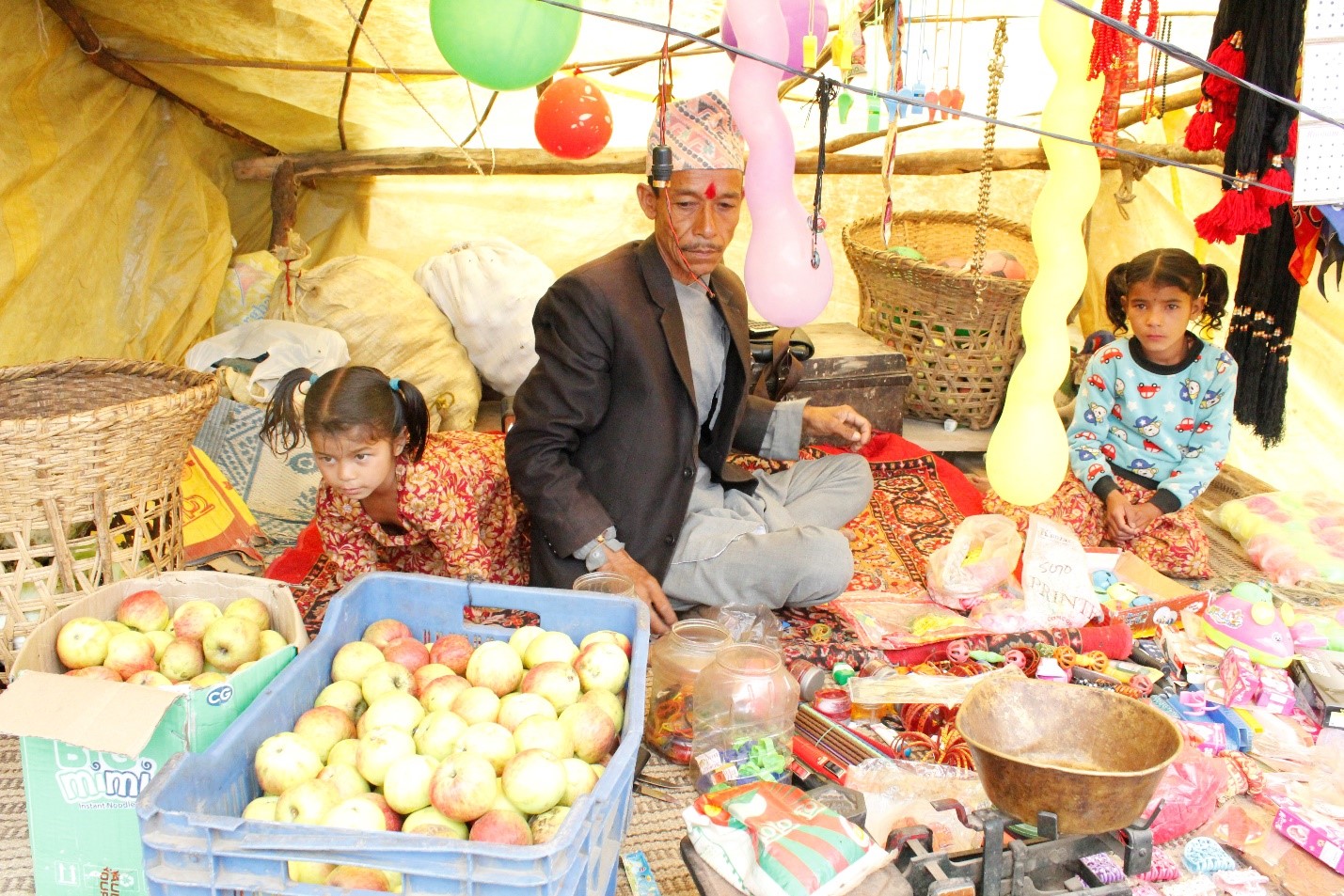 Temporary shelters and lean-tos lined the streets peddling fruits, sweets to sundries. They happened to talk with a sweetshop owner who had come as far away as Mathura, India, to set up shop for the festival.
Local tradition decreed every villager or visitors from nearby villages attending Mela (festival), shed off shoes a week before, and also stayed off meat, garlic, and onion. Amusingly, those travelling to the village took their shoes off the moment they boarded off the vehicle.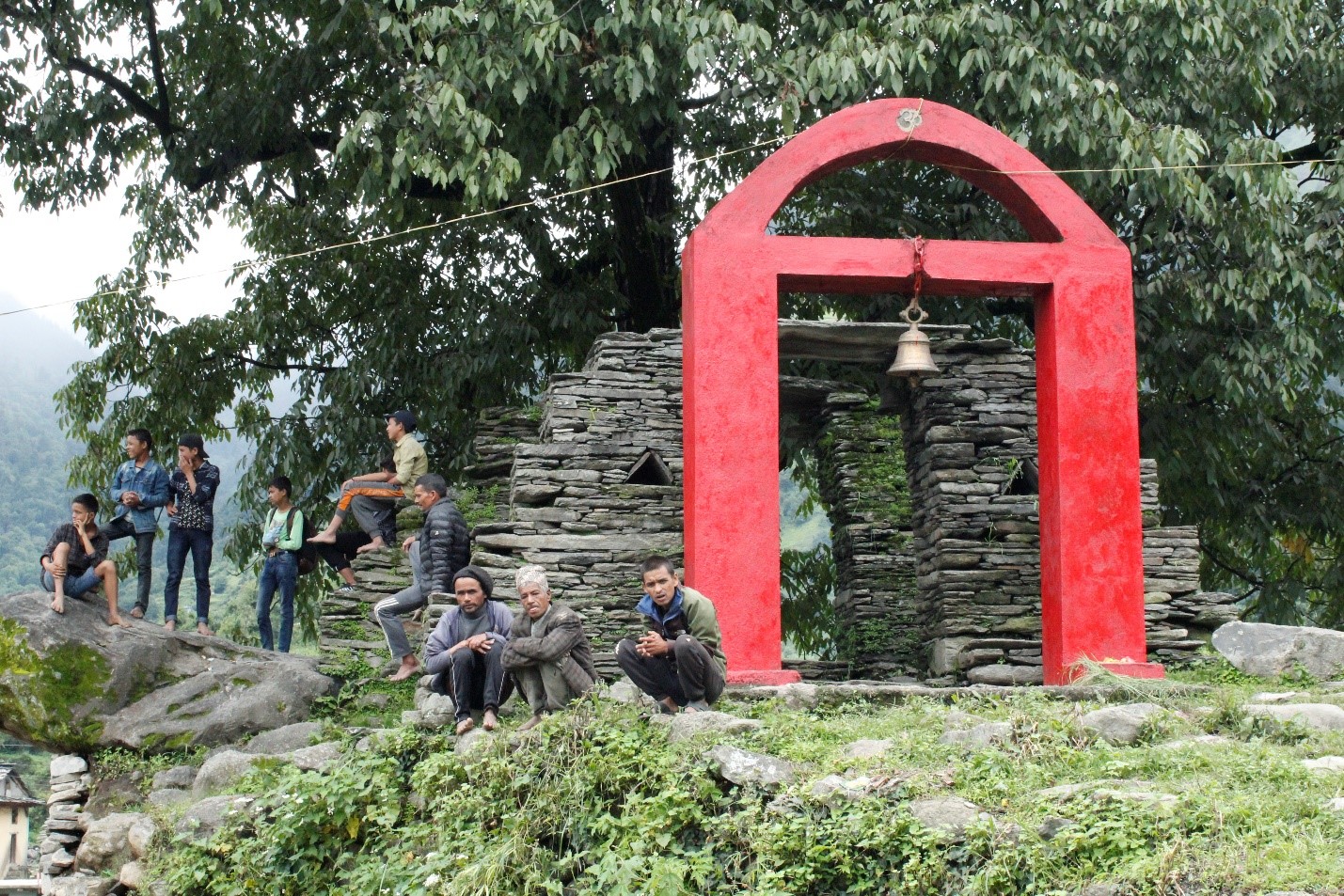 It turned out the rules applied to guests from Kathmandu too. They hurriedly took their shoes off and shoved them into their backpack before walking to the nearby Surma Devi temple, the most venerated shrine for the people of Chainpur and neighbouring districts.
Devi Surma, going by myth, is believed to be one among the 16 daughters of Goddess Bhagawati. The shrine premises was, in like manner, overflowing with devotees, with women outstripping the men.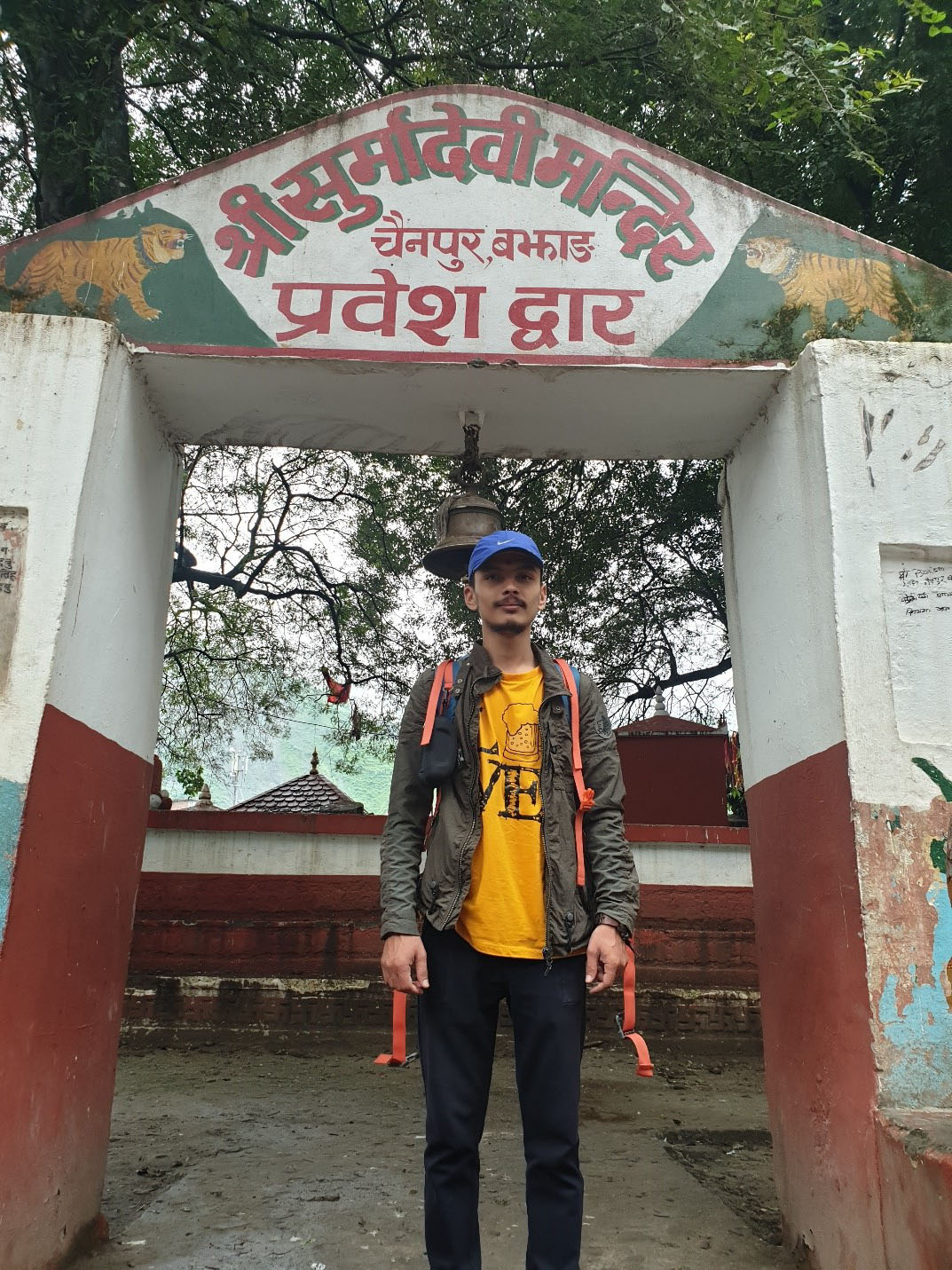 Shishir approached a local guy to dig out some info. "The women folks offer puja to Mai Surma Devi as a preliminary ritual for the Surma Sarovar journey. The pilgrimage only begins after this ritual is over."
What the fellow said next struck as strange. "Womenfolk are barred from joining the epic walk. The ancient tradition allows only males. Women offer puja and prepare Prasad (devotional offering of food) for those males who go to Surma Sarovar." That reminded Shishir of women denied entry to this day into Chisapani Gadi Fort built by Prithvi Narayan Shah in Makawanpur.
On the eve
Upon dusk, the puja ceremony seemed to commence in a furious festive frenzy at Surma Devi temple crammed with devotees amidst loud beat of dhimays (drums), snapping percussions, and the rising drone of chanting.  Most men flourished cane bamboos (nigalo in Nepali) locally called 'bire lauro' festooned with red cloth and wild grass on the tip. For the trio, it was an awesome sight and sound, near spine-tingling.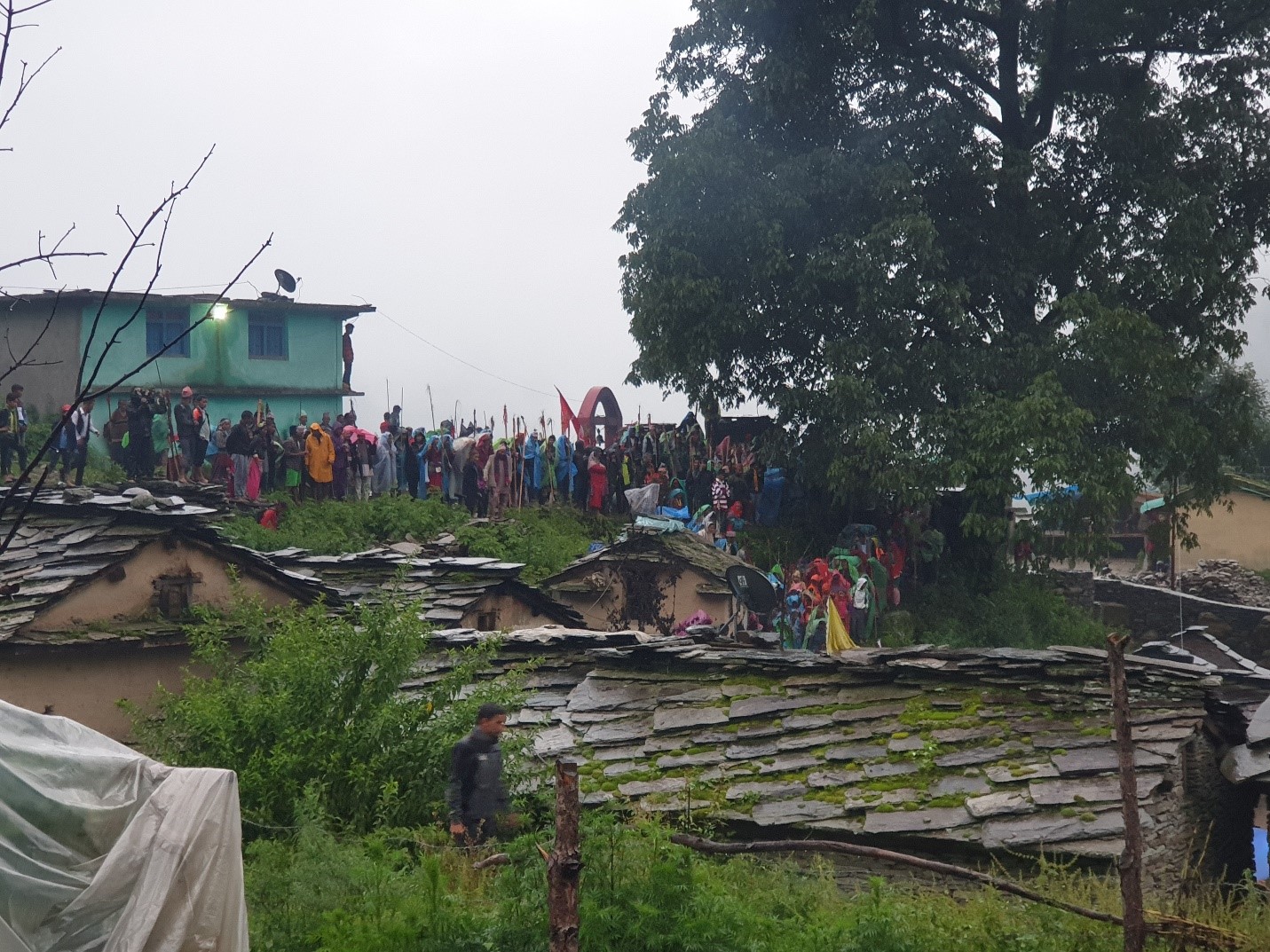 At sundown, men at the temple premises stewed milk in large iron karahis (black iron cauldron) to make khoya (evaporated milk solids) for the Prasad while women huddled up in groups chattering to each other.  The puja would continue all through the night and, so would cooking of Prasad for Ma Surma at Surma Sarovar.
Next, at midnight, menfolk broke into a rhythmic swaying, the Deuda dance, chorusing a local religious song.  At another corner, shamans gyrated to the tune of dhimay as others watched in awe the traditional healers in spiritual possession. Shishir, Bijay, and Amul had already waited one full day for the journey to Surma Sarovar to begin.
They learned, they could not proceed. None could until the puja ritual concluded, and the Mula, the main priest, took the first steps to signal the outset of the exodus to the holy pond of Surma Sarovar at sunset the next day. They retraced their steps back to retire for the night.
Images, except other sources mentioned in captions, by Shishir Raj Joshi & Bijay Adhikari