Losing 3-0 against Australia during the recent World and Asian Cup Qualifiers, Nepal's head coach Abdullah Al Mutairi made changes that shocked everyone. Playing against the 41st best team in the world, with a man down, he would have been forgiven if he had made defensive changes. But, to everyone's surprise, he brought on Anjan Bista as soon as Rohit Chand was sent off while he brought on Manish Dangi later in the half as Al Mutairi decided to attack. All this happened while the Australians kept on making changes that made their team stronger.
"They asked for our jersey in the end. That is the biggest sign of respect that any team could show us. My boys made me and the country proud that day," says Al Mutairi.
This attacking mentality was evident throughout the tournament as he made Nepal play in a manner that was not seen before. Long balls by the keeper were replaced by short intricate ground passes as players looked to find their teammates running in channels. Defensively, Nepal looked a lot better too as they did not spoil their shape as the players looked to play with a belief in their ability never seen before.
"That was possible with 12 days of work," says Al Mutairi. "Imagine what these guys can do if they spend more time training."
Now, his focus is all set on the upcoming SAFF Championship, in which he wants to make sure Nepal get their best results as both he and the team are working tirelessly to ensure that they at least reach the final as he wants to end his stint on a high.
Looking for change and challenge
"We've never reached the final. So reaching the final is the goal. If we win, that's great," says Al Mutairi, who adds there is no point putting unnecessary pressure on the team.
Al Mutairi was appointed Nepal's head coach on April 4, a few days after Nepal won the Three Nations Cup, defeating Bangladesh 2-1 in the final. Having met with All Nepal Football Association's president Karma Tsering Sherpa in Qatar in 2019 and 2020, he joined Nepal in 2021, replacing Swedish Johan Kalin.
"I liked the challenge," he said.
In his first press conference, he laid the benchmark as he told journalists Nepal would no longer play defensive football. He sounded assertive as he said that he would play attacking football with the philosophy that European teams like Barcelona play with.
"I'll play 4-3-3 and will pick players who fit in this system," he had said.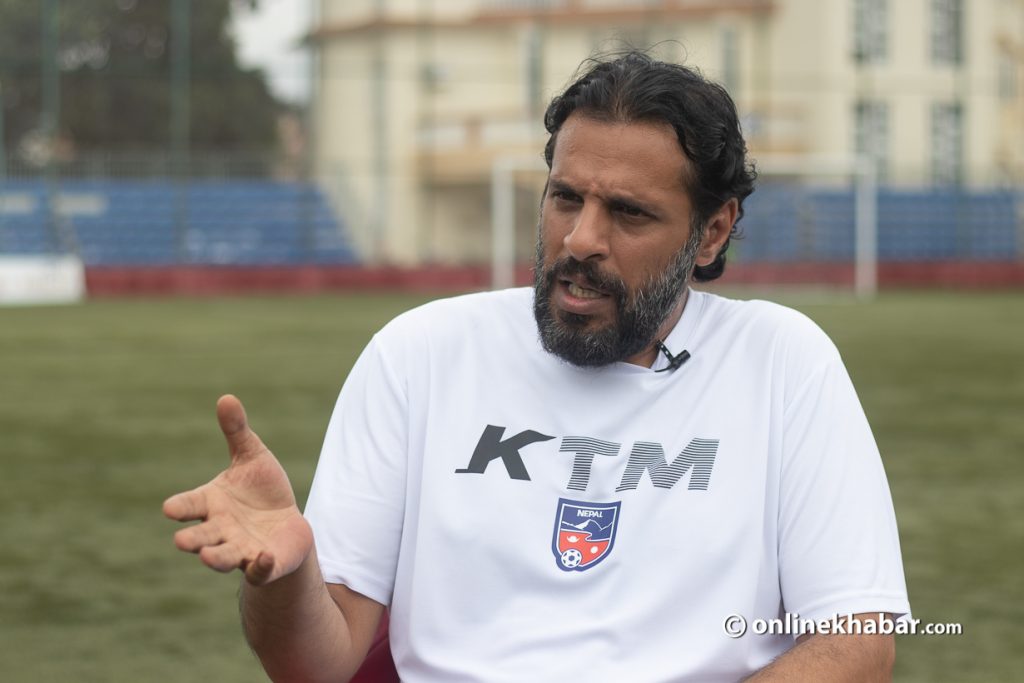 And, that is exactly what he has been doing as that was the formation he used in all four games he has managed. But, to do that, he had to ensure that the team believed in him and his vision and goal.
Before taking over, he had three major goals on his mind, two of which he says he has already achieved.
"The first was to qualify for the third round of the Asian Cup Qualification which we have done. The second was to change the mindset and character of players and bring in more young players. That has also been done," he says.
His final goal as the head coach is to reach the finals of the tournament as he aims to create history by doing so.
"If I am able to do this, I'll be happy."
Adding values to the team
For that, works are underway as the team has been training constantly as a 50-man closed camp has been shortlisted to 36 for the SAFF Championship which is due to take place in September.
Also read:
Nepal in World Cup, Asian Cup qualifiers: Positive performance despite negative results signals hope
The team look together too as they are put through the paces by Al Mutairi. But, that wasn't the case when he first took over as he says that the national team, like most of Nepal, were quite divided.
"There were groups," he says. "They were not together, but gradually they've come along as they've believed in my goal of playing as one group for the country."
He says that players are coming on board with his philosophy as he is teaching them not to be scared.
"Previous coaches were too scared to lose and played too defensive. But, I am not scared to lose because it is a part of the game," he says.
He is also teaching the players to be humble as he is leading from the front. Despite being offered a car, he travels to and from ANFA on his bicycle. Recently, he sent a pair of boots and a jersey to Neteesh Purbachane Magar from Bara after seeing the young boy playing with torn boots.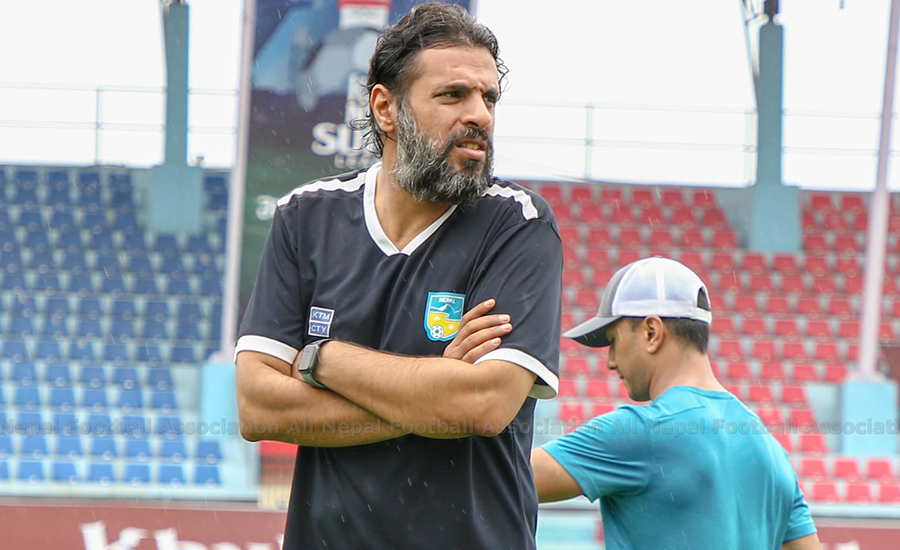 The players have also followed him as the team donated two projectors to an orphanage in the Kathmandu valley.
"It's good that they are giving back. This will increase the brotherhood between them."
Players are also believing in what he is trying to do. Biraj Maharjan, in an interview, told Annapurna Express how Nepal were lucky to have a coach like Al Mutairi. The former captain, who retired after the Three Nations Cup said Al Mutairi had energised the squad as the coach was planning to build the team for the future.
Hopes for the future
There are rumours that he has recently signed a six-month extension. But, nothing has been official as he remains coy about it. When asked if it is true, he brushes the question away as he says that his current focus is the SAFF Championship, after which he will decide if he wants to stay or go.
"There is a good chance that I will leave after the SAFF Championship," he says. "I've had three offers from national teams who want to work with me, but I didn't want to abandon these projects, which is why I will try to win the SAFF Championship."
He seems happy with what ANFA has done for him too. He says the host has fulfilled all promises made to him while hiring and hails the work done by the president and his team.
"People say they have not worked for the development of football. But, they have," he says. "They've just not marketed what they have done."
He says works are underway to sign agreements with various organisations as ANFA is currently looking for a hospitality partner after signing an MoU with the Star Hospital as the national team's medical partner.
"We need the help of these organisations to develop the game."
His hope now is that Nepal develops its league structure as he believes that in its current format, football will take years to develop. Mentioning the single-round league system, he says that a two-round, six-month league, is a necessity at the moment. For that, clubs have to be on board, he says.
"They need to be a bit practical and support ANFA because they have plans that are great for Nepali football," he says. "But, the clubs need to stop being selfish because until they don't do that, football in Nepal will never get better."