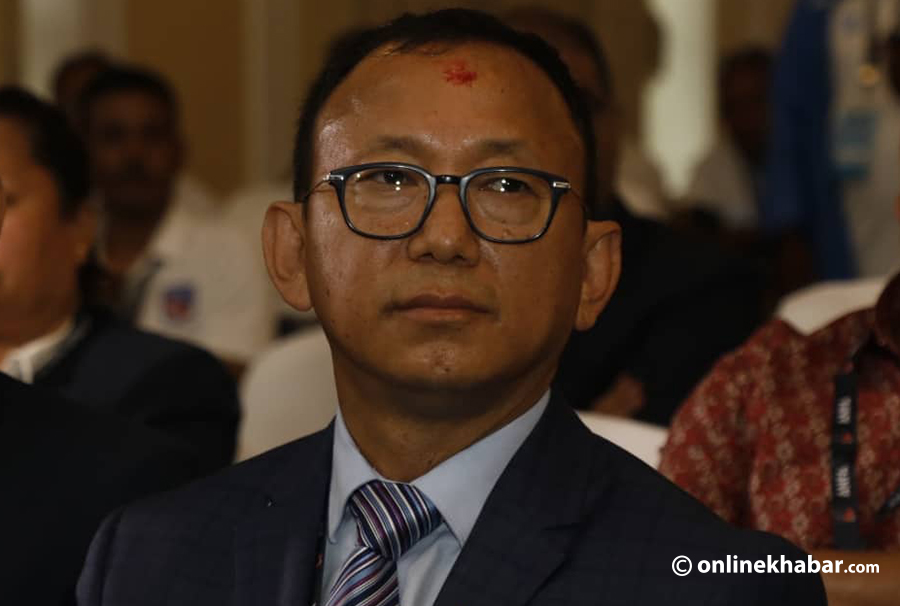 Pankaj Bikram Nembang, the president of the All Nepal Football Association, dodged a bullet on November 9. Nembang, who faced a vote of confidence, came through unscathed. However, the road ahead is challenging, as he is destined to encounter tough tests while continuing to lead Nepali football.
Nembang was elected the president of ANFA on June 21, 2022, after defeating former president Karma Tsering Sherpa by six votes. A challenging year later, he faced near removal from ANFA as members expressed dissatisfaction with his perceived failure to effectively lead Nepali football.
Despite having multiple plans, Pankaj Bikram Nembang has struggled to execute them as intended. On the day of the oath-taking ceremony, he appointed a general secretary and treasurer without a predefined agenda, sparking controversy. This gradually snowballed as a majority of members, led by Karma Tsering Sherpa, on September 11 submitted a written application to dismiss Nembang and general secretary Kiran Rai.
Pankaj Bikram Nembang is the first ANFA president to face a vote of confidence.
According to Article 36 of ANFA's statute, there is a provision for convening a special general convention. If 40 per cent of the members submit a written request for such a convention, the working committee is obligated to organize it within a 30-day timeframe.
On October 4, an emergency meeting of the ANFA working committee called for a special general meeting on November 9, with the sole agenda of removing Nembang.
Same old ANFA
The meeting was held in Hetauda. Before the voting could take place, Nembang addressed the ANFA members. When those who filed for his removal asked to speak, they were denied. That sparked further fury as the disgruntled faction led by former ANFA president Sherpa decided to leave the meeting and not take part in the voting at all.
"They did not let us speak. They did not follow the regulations. There was no point in staying in the meeting," says Karma Tsiring Sherpa.
Sherpa contends that voting proceeded without the approval of the agenda. Nevertheless, the voting was carried out. Out of the 107 members of ANFA, 87 hold voting rights but 34 abstained from the voting process. That meant only 53 members cast votes, and of those, 52 votes were deemed valid. Notably, all the votes were in favour of Nembang staying in office as ANFA president.
"He has saved his post. But this shows how things in ANFA will never change. There are many challenges Pankaj has to face. I don't see the situation changing as he will face even more scrutiny," says an ANFA central member on the condition of anonymity.
Challenging future
Upon being elected as president, Pankaj Bikram Nembang expressed his commitment to treating everyone equally, ensuring financial transparency, and establishing a women's football academy. Additionally, he stated that during his tenure, Nepal would secure victory in the SAFF Championship and initiate the national league.
However, up to this point, he has not fulfilled these promises. The Martyr's Memorial 'A' Division League that he organised faced numerous issues. Failing to conduct the B Division and C Division, along with the inability to organise the second round of the National Women's League and the Lalit Memorial U19 competition, has been another setback.
The performance of both the men's and women's teams has been subpar, leading to a significant number of national footballers leaving the country, with many relocating to Australia. This has resulted in a deterioration of the structure and strength of the national football team.
The Nepali football's governing body is currently entangled in internal conflicts, and even the special meeting failed to address these issues. In this challenging situation, Nembang must engage in effective collaboration with the disgruntled group to navigate through the prevalent conflicts.
"He should improve the relationship with everyone," says a central member of ANFA. "Now the leagues should be organised and financial transparency should be maintained, otherwise there will be trouble."
ANFA knows that the upcoming days will be challenging. Suresh Shah, the spokesperson has called for calm and asked everyone to come together for the betterment of Nepali football.
"We should not be fighting amongst ourselves. That will kill Nepali football. We should work together to develop Nepali football. For that, ANFA is always up for a rational discussion with anyone," says Shah.
Sherpa, the leader of the dissident group, insists that ANFA should adhere to the established rules and regulations, emphasising the need for efficient management within the football sector.
 "We will support ANFA if they will work properly," says Sherpa. 
Nevertheless, with Pankaj Bikram Nembang still in charge, one can expect that Nepali football is poised to encounter further drama.