A new-look Nepal, led by an outspoken coach Abdullah Almutairi, have reached Kuwait to take part in the last round of fixtures of the World Cup and Asia Cup qualifiers. They will take on Chinese Taipei, Jordan and Australia.
To prepare for these tough matches in an unpleasant condition, Nepal took on Iraq on Saturday, losing by a scoreline of 6 goals to 2. The result, however, was expected as Almutairi had named a relatively young team full of debutants as he left out 13 players who had recently won the Three Nations Cup in March.
"I have announced a young team because I want them to learn," said Almutairi at a press conference before leaving for Iraq. "If they lose now, they will learn and win in the future."
This attitude has been hailed by football lovers in Nepal. But, if the team do any well against top opponents in hot and humid conditions is yet to be seen.
History and hopes
Nepal are currently in fourth position accumulating three points from five games in the qualifiers. Their only win in the qualifiers came against Chinese Taipei in September 2019 in Taiwan while they have lost the remaining four games without scoring a single goal.
If one goes by history, this does not look too good as Nepal have no chance of qualifying for the either the World Cup or the Asia Cup. But, coach Almuitari says that they will give it a go and will play progressive and positive football and trouble these opponents.
Their first match is against Chinese Taipei on Thursday. Nepal are the favourites to win this game, but with hot and humid conditions against them, Chinese Taipei will prove to be a tough test for an inexperienced side who have recently been trounced 6-2. But, Nepal on the other hand will want to bounce back from a loss where they made too many errors which led to the goals against them.
They will face Jordan next on June 7 which will be quite tough as they lost the previous game 3-0. With the conditions favouring Jordan, it is unlikely that Nepal will get anything out of the game. However, with a coach who is determined in playing attacking football and proving his naysayers wrong, there is a chance that Nepal might upset Jordan.
In the final match, they take against powerhouse Australia who are on the top of the group with 12 points and have conceded only one goal. When Nepal took on Australia in October 2019, they were bullied by the physique of the Australians who looked like scoring out of every set piece. And, given Nepal's problem with dealing with crosses and set pieces in the recent friendly match against Iraq, if Almutairi does not address this in the team meetings, it is going to be a long night for Nepal.
What next?
With the World Cup qualification out of Nepal's reach, their main aim now is to try to qualify for the 2023 Asia Cup. There are two ways they can do that.
The first is to finish the second or third. That is also unlikely as Jordan and Kuwait both have 10 points and are second and third respectively. But, with the two playing against each other, Nepal will have a chance if they win all three of their remaining games.
The other way Nepal can get to the final qualification round of the 2023 Asia Cup is by being one of the four best fourth-placed sides in the group stage. While the second and third will get a direct entry to the third qualifying round of the Asia Cup 2023, four out of eight best fourth-placed teams will also get a chance.
But, the road to Asia Cup is not easy. Nepal will have to get at least four points out of the nine available to be in contentions as it will have to hope that others drop points in order to take part in the Asia Cup for the first time.
Focus on youth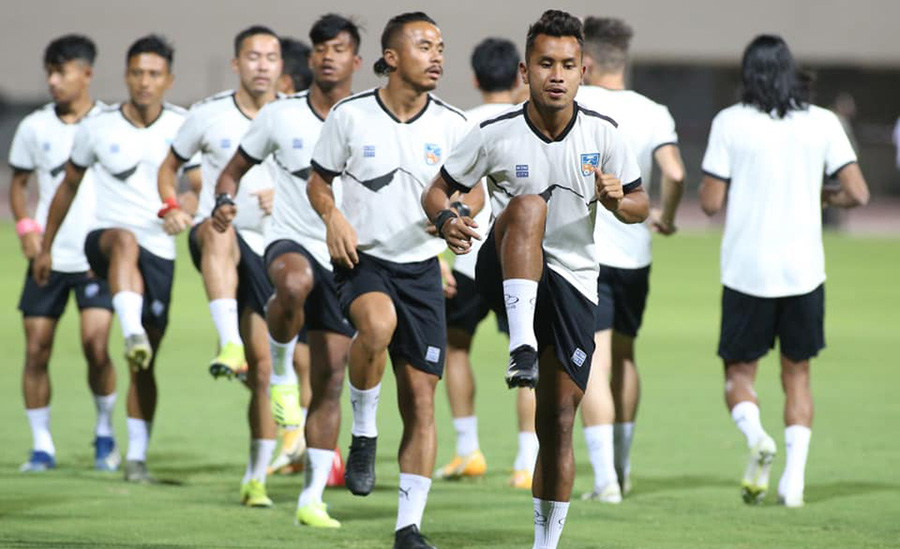 Almutairi says that his aim goes beyond the SAFF Championship, a competition Nepal are yet to win. He says he wants to build a team for the future so that Nepal can compete with the best teams in Asia and go on to compete at the Asia Cup one day.
He is developing a team full of youngsters instilling a new philosophy where he wants his team to play brave, attacking football and not hide during matches.
It will be interesting to see how he lines up against Chinese Taipei and Jordan because if Nepal win these two matches, it will give them a great chance to compete in the 2023 Asia Cup.
Even if that does not happen, Nepal will have another shot at the third qualifying round by playing a playoff. But, playoff matches are full of pressure, which is why Almutairi is hoping that his team can do the job in the next three matches.
Nepal squad
Goalkeepers: Kiran Kumar Limbu, Deep Karki, Bishal Sunar
Defenders: Ananta Tamang, Gautam Shrestha, Suman Aryal, Rohit Chand, Dinesh Rajbanshi, Bikas Khawas
Midfielders: Bishal Rai, Sunil Bal, Pujan Uparkoti, Arik Bista, Suman Lama, Manish Dangi, Santosh Tamang, Ayush Ghalan, Suraj Jeu Thakuri, Kamal Thapa
Forwards: Abhishek Rijal, Aashish Lama, Anjan Bista, Nawayug Shrestha