When Rohit Chand received a red card for dragging back Martin Boyle on the cusp of halftime, it was clear that Nepal were in for a long night. They were getting mauled by Australia with 11 men on the field during the last match of this round of the World Cup and Asia Cup Qualifiers in Kuwait last Friday as they trailed 2-0 going into the half thanks to goals from Mathew Leckie and Fran Karacic. But, with their best players and talisman seeing red, things just got a lot harder.
Even though they started the second half better than they had done the first, they soon conceded a goal from Boyle after failing to deal with a simple cross into the box as Australia piled on the pressure. From that point on, things did not look better as Nepal continued to face the music as Australia piled on the pressure as they hit 36 shots in the allotted 90 minutes.
Attacking-wise, Nepal were poor as they did not even force the Australian keeper to make one save. But, defence-wise, there are things to be proud of particularly the performance of Kiran Chemjong, Ananta Tamang and Pujan Uparkoti. That all but ended Nepal's chance at direct qualification into the next round of the Asian Cup Qualifier, but there were positive signs that have given Nepali fans hope.
'Positive' playing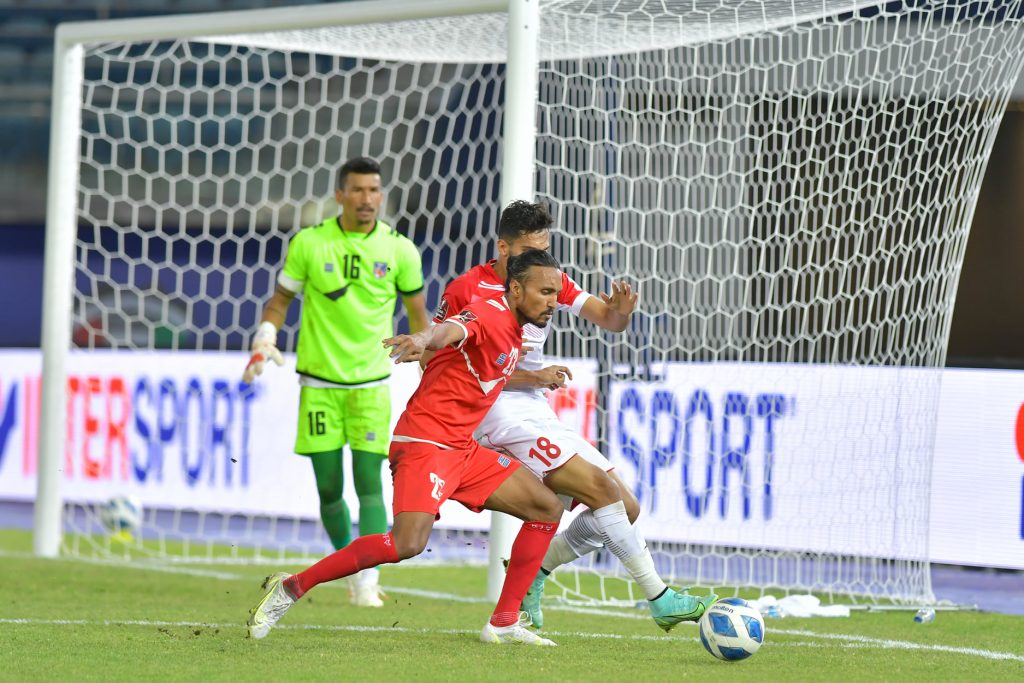 "It is a tough loss but we gave our best," said Abdullah Almutairi after the match. "Our game plan was to hit them on the counter, but when you're playing such a good side who are physically dominant, it's hard."
Australia's coach Graham Arnold also praised Nepal's fighting mentality as highlighted that Nepal's performance on Friday was much better than the one in Australia where they lost 5-0.
"They fought hard and didn't stop running. They gave us a fight," said Arnold.
Nepal played their remaining three matches of the World Cup and Asian Cup Qualifiers, out of which they won one against Chinese Taipei and lost the others with Australia and Jordan.
The win against Chinese Taipei was a routine one. Starting the game on the front foot, Nepal raced to an early lead as Anjan Bista dispatched an early penalty. Bista, throughout the game, had a lot of chances to extend Nepal's lead, but poor decision making in the final third coupled with poor finish meant that the game remained tight until the 80th minute when Nawayug Shrestha came from the bench to put the result beyond doubt.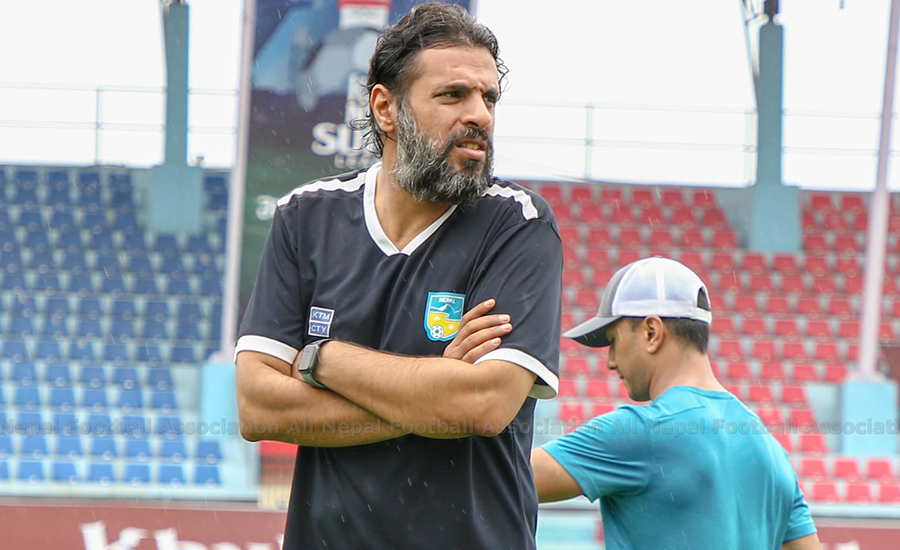 This game, after Nepal's 6-2 loss against Iraq on May 29, showed Nepali fans hope that Nepal were capable of playing positive attacking football as they took advantage of the space left by the Iraqi side to score the goals. Most of the young players impressed but what caught the eyes of fans was how positively Nepal played.
Gone were the long hopeful balls as Almutairi's side played with composure and confidence. Yes, there were times where players made mistakes resulting in goals (especially against Iraq), but their performance against Taipei was very positive.
Players were looking up and trying to pick out players who were taking runs, both in behind and out.
The Gorkhali way and hope for goals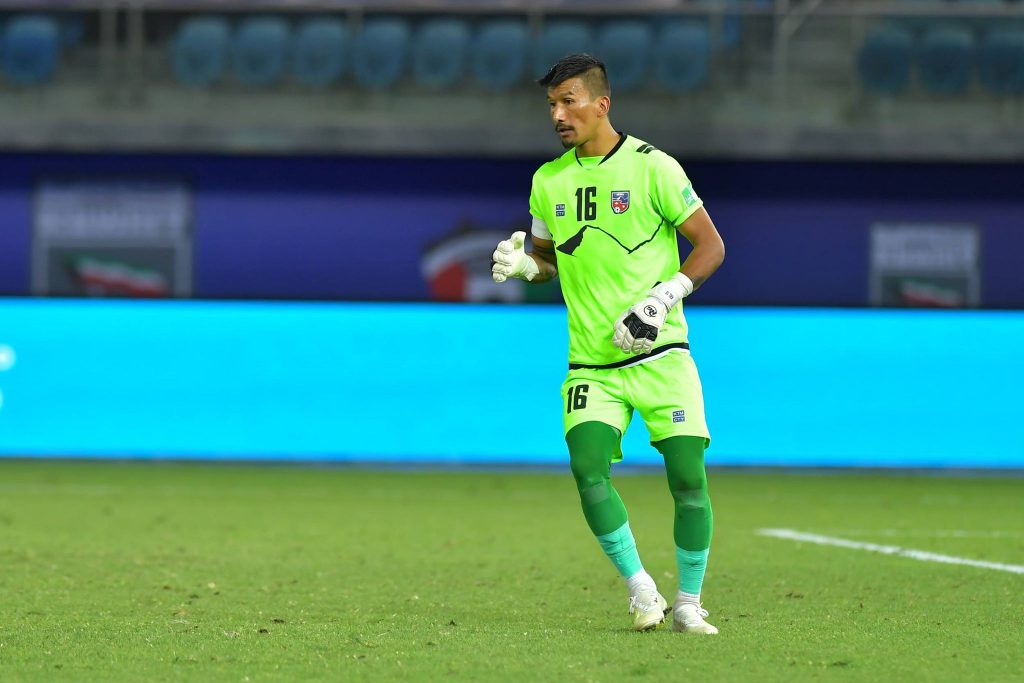 Most of the passes played by Nepal were on the ground as they looked to thread throw balls into runners who made ambitious runs behind the defence. Wide players also did a great job using the space as they created a lot of trouble for Chinese Taipei who were very poor that night.
That gave the fans a lot of hope as many were looking for a similar performance against Jordan. But, it was not to be. Nepal were shown how much they needed to improve to compete with the likes of Jordan.
Jordan started the match on the front foot, pestering Nepal with crosses and long-range efforts. Nepal dealt with them quite well until Rohit Chand conceded a sloppy penalty to give Jordan the lead. Despite Jordan's continuous attack, Nepal kept them in the game hoping to hit them on the counter but had no luck as Jordan's power and pace troubled Nepal throughout the half.
The second half was a similar show. Nepal conceded from Baha Faisal free-kick which put the game beyond Nepal's sight. Yazan Al-Arab finished the game off heading home the third from yet another set-piece.
Nepal's performance in this game was positive. Like against Iraq and Taipei, they played with a game plan to exploit spaces. But, against better teams, it does seem likely that the players need to execute the plan well.
"We played like Gorkhalis," Almutairi said after the loss against Australia.
And, he was right. After Graham Roberts, Nepal have a coach with a character and an attitude. In a short time, Almutairi has put in a lot of effort as he is planning to build a team for the future. Even when put under pressure by the oppositions, Nepal's team were not as fazed as they kept on playing positive football. For now, this is a good sign as the performances have been good even though the results have not happened so.
For that to happen, a lot of work on the training ground is needed and Almutairi knows that.