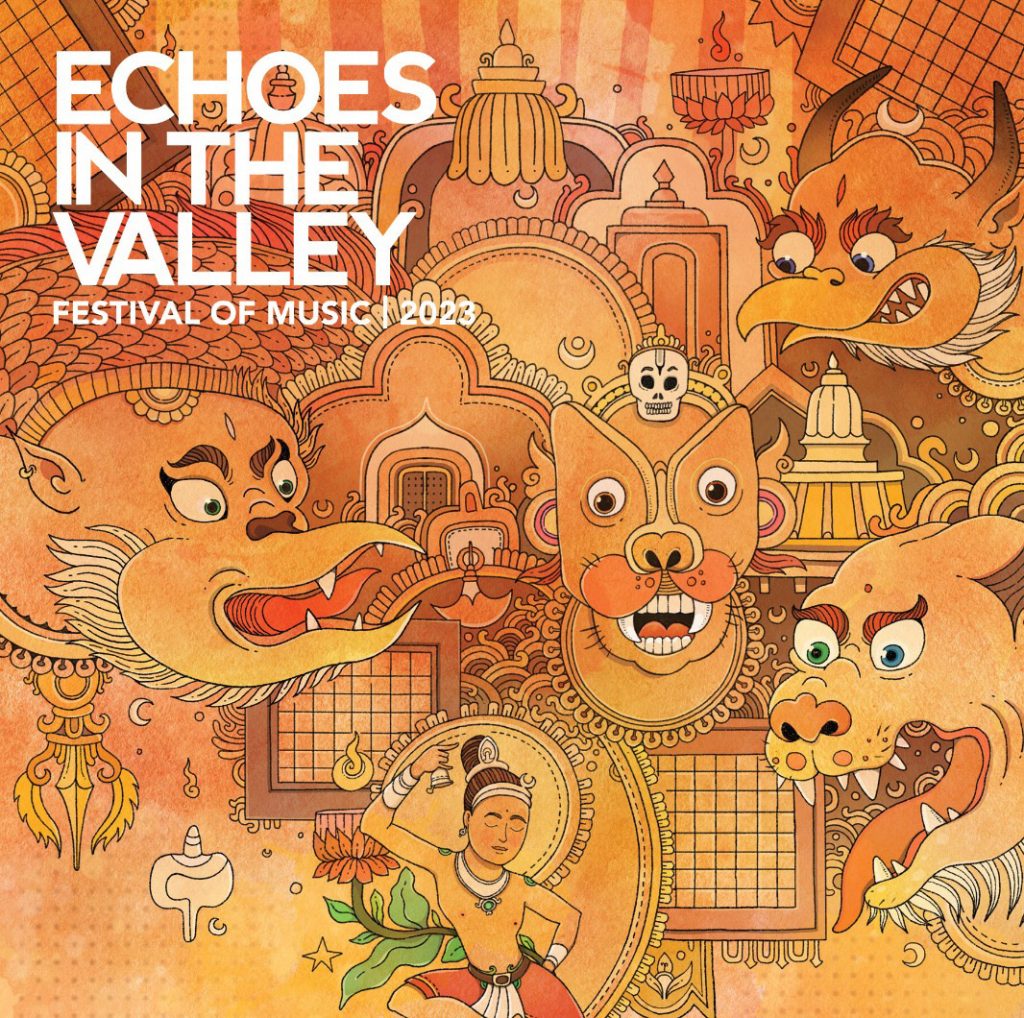 Kathmandu, March 14
The seventh edition of Echoes in the Valley is taking place in Kathmandu on Friday and Saturday.
The two-day event will see musical performances, a confluence and other events like heritage walks, live calligraphy and film screening.
The event will kick off on Friday at Kathmandu University's Department of Music in Tripureshwor at 9 am with a confluence, an annual conference on music with musicians and practitioners.
The topics that will be discussed are the use of folk elements in contemporary music, research writing on folk music, and challenges in reviving folk music.
This year's confluence will be jointly organised by EITV and Raithane Music, supported by UNESCO Office in Kathmandu.
After that, Echoes in the Valley will move to the Daboos of Kathmandu where Nepali and foreigners will perform individually and with each other. The first day will see performances around Teen Deval Shivalaya and Laxmishwor Mahadev. There will be different events in Pachali Bhairav too.
The festival will then move to Ason, Santaneshwor Temple and Dagu Baha on day two with events taking place in Naasa Dabu in Jana Baha, Itum Baha, Bhotahiti, Nhyakantala, Taachen Baha, Paltan Chhen and Kamalachhi.
A music workshop is also being conducted at the Department of Music in Tripureshwor on Wednesday and Thursday from 2 pm to 4 pm. The workshop will be conducted by Vilma Timonen.
Over 70 artists are taking part in this year's edition, most of whom are from Kathmandu, and a few from Lamahi and Dolpo. The rest are from Chile, Finland, India, South Korea, and the United States.
In addition to live performances, the festival will provide visitors with various exciting experiences, including music workshops, a music conference, heritage walks, film screenings related to music, two exhibitions and a Newa-style hookah Bajān stall; and numerous children's activities such as book bus, storytelling sessions, Ranjana Lipi calligraphy, visits to the museum and interactive board games. The festival's satellite events include a book launch by the renowned poet Durga Lal Shrestha and an art exhibition by Kathmandu University Department of Arts students.
The festival is supported by the Kathmandu Metropolitan City Office, Globus Opstart, Goethe Zentrum Kathmandu, UNESCO Office in Kathmandu, and Alliance Française in Kathmandu, in collaboration with various programming and local partners.
Echoes in the Valley was established in 2017 with the goal to bring together a vast range of folk, traditional and indigenous sounds from Nepal and around the world.
Organisers say the festival is the only free international event in Nepal to celebrate folk tunes and the heritages and cultures that are tied to the ecosystem of the music.
The full festival schedule can be found here.