On February 22 this year, hundreds of fans of Nepali rock band Cobweb gathered at Bhandarkhal Garden in Patan Durbar Square, Patan to celebrate the band's 30th anniversary. As soon as the event opened, they were taken by surprise as they also saw members of Kutumba, an instrumental folk music band, on the stage.
Previously, Cobweb's rock songs had been accompanied by power chords and distortion. However, this time they added a folky flavour to their music. Listeners responded positively to Cobweb's collaboration with Kutumba.
In a recent interview with Onlinekhabar, popular singer Deepak Bajracharya said he is now focused on promoting traditional and folk music. Of late, he incorporates such music, even Lakhey dances, into his live shows.
Like in rock songs and live shows, folk music is reviving its significance in modern songs and filmy numbers too. Artmandu, a popular production house, is avidly using folk musical instrumentals in their songs. Likewise, popular singer Sajjan Raj Baidya, in Dhairya, has featured the sound of the sarangi.
On one hand, popular artists are actively incorporating folk and traditional elements into their songs. But on the other, the practitioners of the same genre remind them of the numerous challenges to sustaining themselves. Yet, they are hopeful that if committed, the Nepali music industry can overcome the challenges and revive and popularise folk music.
A difficult path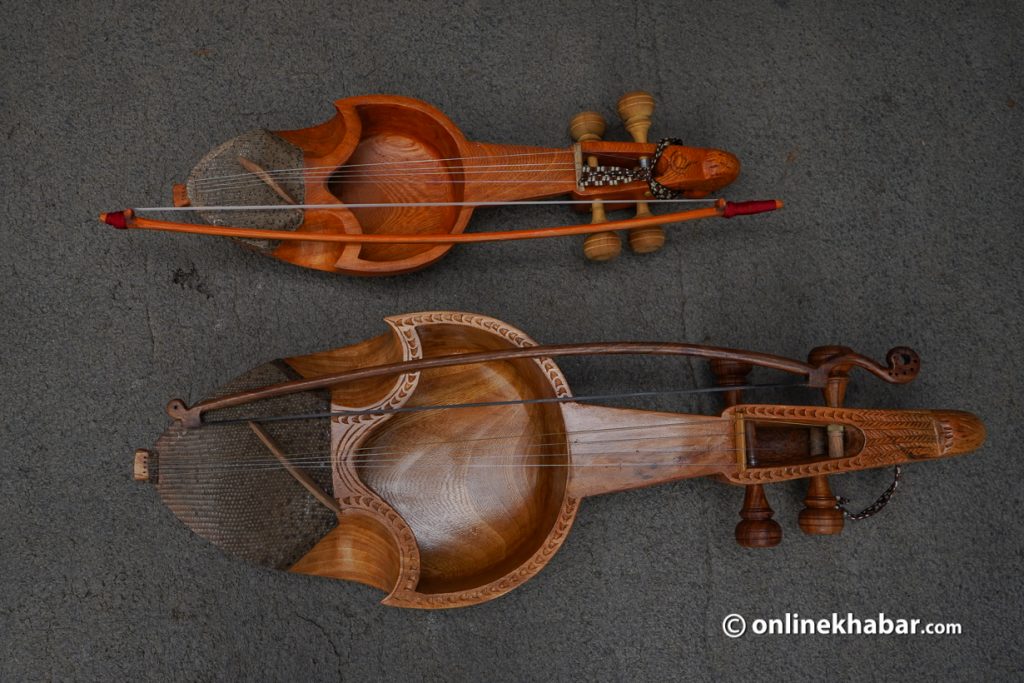 Traditional folk music holds great significance as they represent one's identity. It is also a source to understand a community's history and society. However, its popularity and awareness are still not up to the mark. So revival is important, say stakeholders.
But there are too many challenges. Semduk Lama, a folk music promoter in Dolpa, says, "We haven't been able to promote our music and this has posed a great challenge in reviving it. Modern music has dominated our youths' playlist."
Sarada Dangol, the founder of the all-women instrumental band Shree Tara, says reviving traditional and folk music is not easy.
The first challenge is seen when it is presented in live shows where the performers might be discouraged from traditional music. "It's not just the audience but sometimes even organisers ask us to play Bollywood item songs."
"People give more priority to someone who plays drums or guitars rather than to someone who plays madal, sarangi or other kinds of folk instruments," Dangol says.
Basanti Chaudhary, a folk singer based in Lamahi in Dang, agrees with Dangol and says, "People prefer DJ music and item songs over folk music, which is why it is hard for a folk artist to be financially independent."
Dangol has even bitter experiences with financial issues. "The organisers do not pay us timely." she says, "They do not receive our calls after the show when it's their time to pay us. They do not value our work and the effort we have kept to create music."
Overcoming social barriers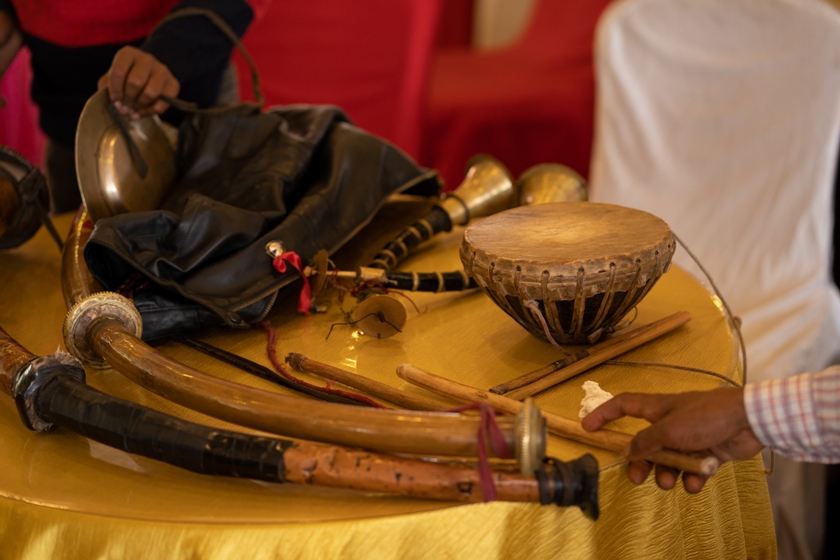 Tsering Dolma Lama, the vocalist at Didibahini, an ethnic pop all-female band, also finds society's perception of folk musicians challenging.
"Many times there are people who would claim that we received an opportunity to perform because of our gender and not for our skills and effort," she says, "They do not value the hours of practice and research we do."
About gender barriers, Chaudhary says, "Many people in my (Tharu) community still don't easily accept a female singer."
Whereas gender has made an impact on the journey to revive folk music, geography has been another factor. Artists outside Kathmandu complain lack of platforms and institutes to learn traditional music has become a big problem.
But around Kathmandu, there are some spaces that teach folk and traditional music. Yet, Dangol says they are not free of problems. Many local-level institutions do not have professional and experienced teachers. "In those places, one beginner is seen teaching another beginner," she says.
It means identifying who can teach folk music is also a serious problem, says Tsering Dolma Lama, the Didibahini vocalist.
There is a practice of covering folk songs and not giving credit to their original singer or creator. This trend deprives people of understanding the significance of the song. Lama urges every singer to be responsible in this context.
"If someone is singing a song that was originally created in the Chepang community, the artist must give credit to them," she says, adding her band gives the credit to the original artist or tells the audience about the significance of a specific song before performing any folk music.
Immediate solutions
Although there are a lot of challenges to reviving folk and traditional music, there is still some hope.
Dangol says that there must be continuity among the contemporary practitioners of folk and traditional music. While she is disappointed that the government does not have any plans and policies for the promotion of traditional folk music, she hopes non-government efforts from the musical sector can make an impact.
Tsering Dolma Lama says disseminating proper information about traditional folk music can also be a great help for the revival. With that, she asks all the families to support their members if they are interested in folk music.
"Doing so would encourage many talented people to get into the sector."
Furthermore, Dangol says that the practice of fusion between folk and modern music also helps in reviving the genre.
"This kind of fusion just does not promote folk and traditional music, but it will gather audiences of both genres in the same space," says Dangol, "Such fusion will showcase how two different genres can collaborate with each other and promote music."