On December 1 morning, some 20 people went inside the Tribhuvan International Airport. Carrying spades, sickles, and shovels, they walked towards the runway.
No, they were not labourers who walked in for construction works. However, they apparently had a bigger intention at heart: heritage conservation.
The link between these youth's effort for heritage conservation and the country's international airport may be confusing, but Yadav Lal Kayastha and his team were assured that there was a lo: hiti (stone spout) and a phalcha (ancient Newari-style patio) inside the airport, which they wanted to find back.
This was the latest of Kayastha-led team's 100+ rehabilitation and excavation efforts focused on hitis and phalchas in the Kathmandu valley in the past three years.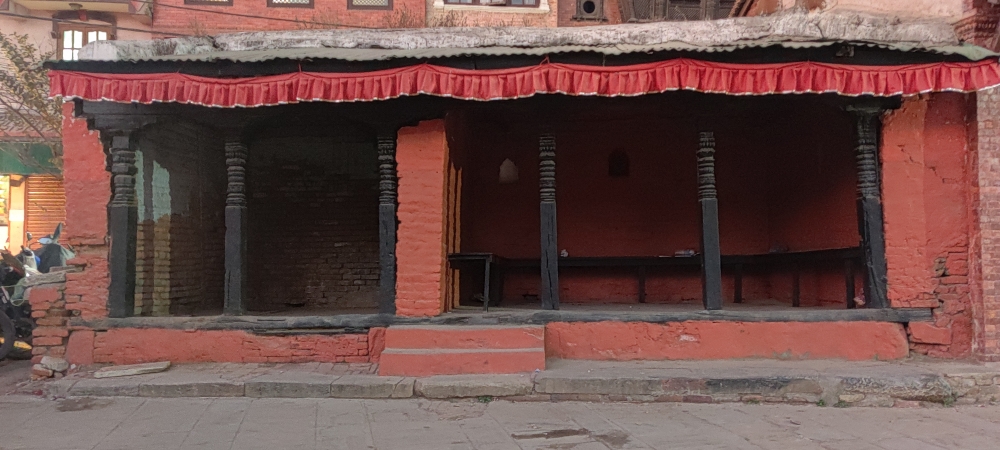 Why is the conservation of hitis important?
Kayastha has seen the streets of Kathmandu are filled with pictures of ancient temples, the living goddess, the festivals and the ancient hitis when international delegates visit Nepal. "Many places, including the airport, have hung the pictures of ancient hitis implying that Nepal is proud of them. But, in reality, not many are bothered or involved to preserve them."
The lo:hitis (literally, stone water spouts) in the valley were built for easy access to water resources for the locals, and many also were established as pilgrimage sites or sites for religious rites. They also served as recreational sites. Phalchas, on the other hand, were places where travellers could take shelter and locals could meet for informal gatherings and discussions.
But, the original use of such lo:hitis and phalchas are almost obsolete today. Except for a few lo:hitis in use today, many have gone neglected, unused, or misused. A few have been restored by campaigners like Kayastha, but they are waiting for regular water flow like before. So, one might question, what is the use of preserving them?
But, Kayastha believes lo:hitis, phalchas, temples and chaityas are both tangible and intangible heritage of Nepal that people must preserve. According to him, lo:hitis in the valley built during the last years of Kirant regime and during the Lichhavi and Malla regimes are archaeological assets, unique to Nepal. "We are yet to know the date of lo:hiti at the airport. Nevertheless, we have to preserve it."
He finds these spouts are also an example of architectural excellence. "The design of the hiti manga (the mouth of the stone spout) is a representation of different animals. And to support the long, heavy mouth, there is a base in form of Bhagirath that holds the spout in place. It also has religious importance as the water is considered to be coming directly from the clouds and Bhagirath is placed underneath to call upon Ganga for perennial water supply. The intricate filter system within the lo:hitis are also unique and assure healthy water supply."
Ignorant government
Kayastha's involvement in heritage conservation began with the movement against the encroachment of a phalcha at Sohrakhutte. This was some three years ago when they stopped the government officials from reinstating the phalcha above a lo:hiti. Since then, he has been the initiator and the prime activist to protect more than 100 lo:hitis in the valley including the ones at Swayambhu, Bijeshwari, Yengal, Jagati, and Bachamari. He was active even during the lockdown.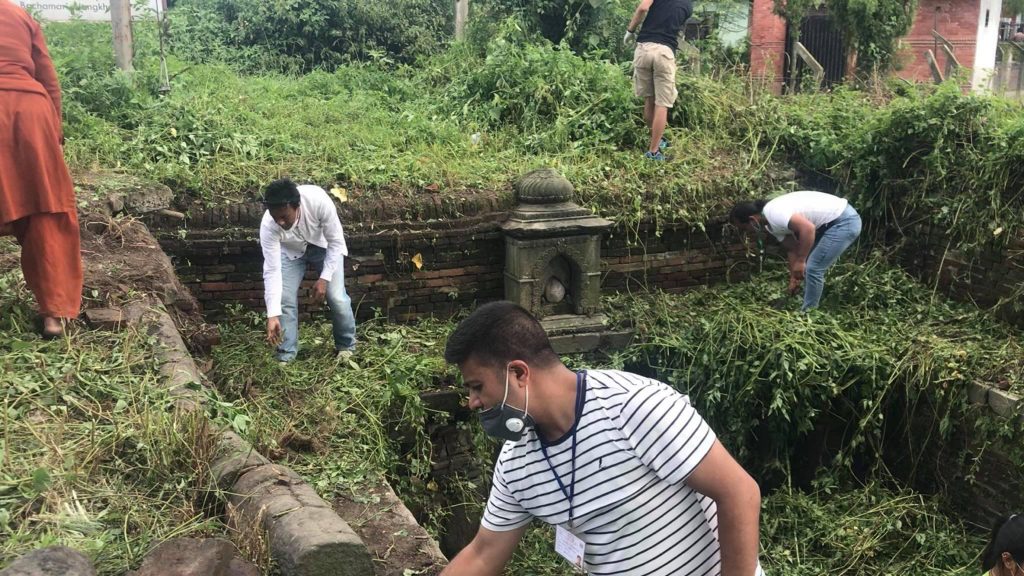 Heritage conservation is not an easy task and is rather expensive. Much like other activists, Kayastha is making the most of what he has. So, there are certainly many challenges. Kayastha says the biggest and most troubling of all is the attitude of government officials.
"There are offices at different levels established for heritage conservation. There are funds and people for this particular job," he laments, "But, to see their initiative is a far-fetched dream."
"It is difficult to get their cooperation even when we go to them with proof or even after we have excavated the lo:hitis from underground and shown them. It is difficult to find the officials who respond to our pleas and follow up properly."
Kayastha says his group has filed many petitions in the Department of Archeology for the preservation of heritage sites. "But, they are only collecting dust."
"We have reached out to UNESCO [in Kathmandu] too on many occasions, but they have turned our request down saying they only look at world heritage sites."
Another problem that bothers Kayastha is the lack of documentation and archives in the offices. "There are only about 400 lo:hitis documented in their [the government offices'] archives whereas our team within the three years alone has shown them proof of more than 100 undocumented lo:hitis around the valley. There are plenty more. And still, the department does not show their interest in their conservation."
Silver linings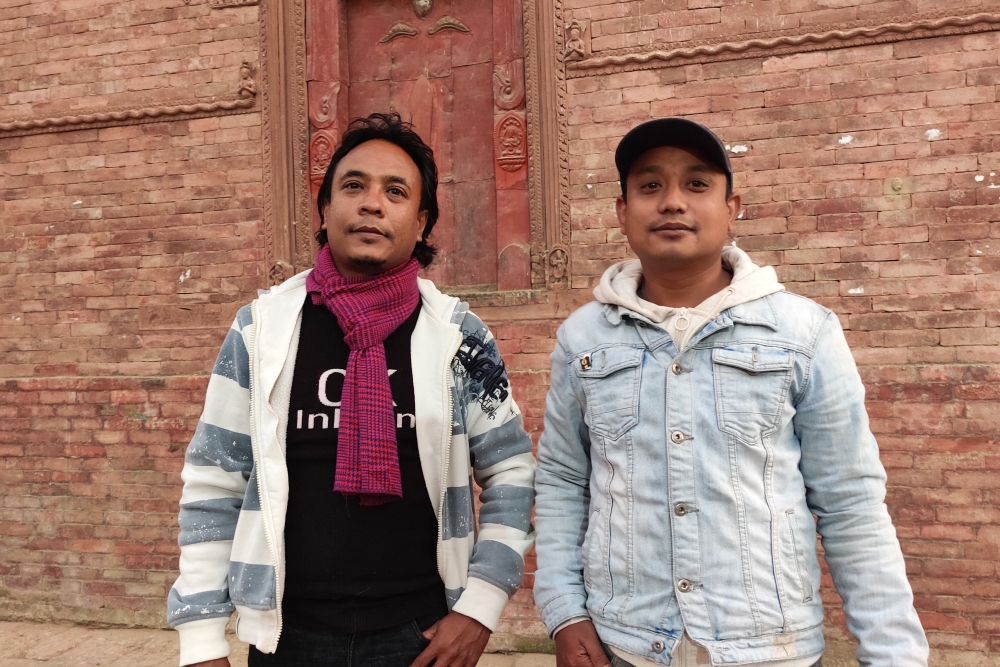 Despite the lack of support from the authorities, his greatest support has always been his group of friends that work with him. He has also been working closely with other fellow heritage activists working towards the same goal.
Another big support for Kayastha has been the Nepali Army officials. Kayastha chose his retirement in 2016 after 10 years of service. "Knowing the jurisdiction and protocols of the army has helped me to an extent. When you reach out to the right people with the right piece of evidence, they are bound to help you. Army officials have been a very inseparable part of these conservation efforts. They have worked with us in the field and helped a lot in the excavation efforts." 
Social media platforms have also been a boon to the activist and his cause. "All tips about different lo:hitis, phalchas and other cultural heritage manifestations that are being neglected, encroached, misused or are underground come from social media. Awareness and call for participation regarding the projects have been disseminated so far via such platforms."
He believes that if the general public is to be educated and made aware of the importance of heritage conservation, they can prove to be crucial.
The recent airport case exemplifies his hope. A local had reported him that a phalcha at Pepsicola of Kathmandu was encroached and used as a shop. Then, he and his team reached there to assess the situation. "It was then that we got the news about another lo:hiti and phalcha being neglected inside the airport," Kayastha recalls. 
Then, he visited the site and sought help from the personnel at Nepal Army Air Service station inside the airport to clear the grass and weeds so that an excavation can take place.
"We have only completed one per cent of the work. It will take days to weeks," Kayastha says, "I am not a historian nor an archaeologist. But, I know we need to preserve and respect the lo:hitis that have quenched the thirst of so many generations."