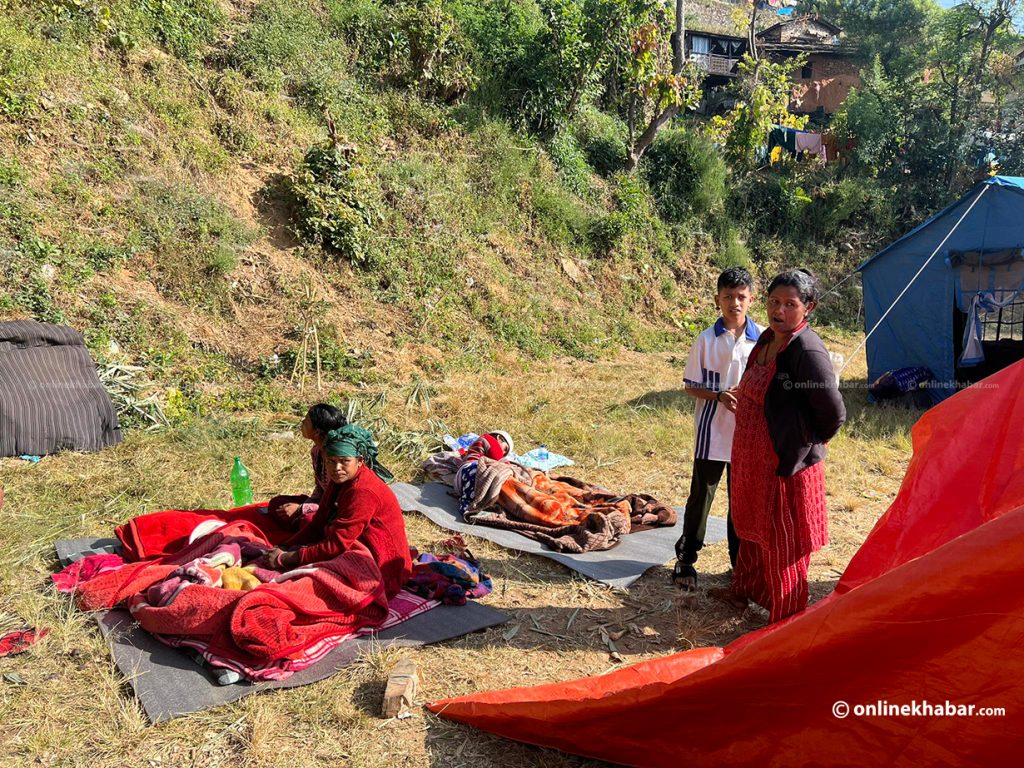 Bimala Tariwa, 20, sits with her four-day-old infant at the grounds of Kasturi Sahakari School of Khalanga, Jajarkot. It is a time when she requires high-protein food, but Bimala has not eaten proper food for the past two days.
When we met her, she was eating a samosa brought by her husband Rupesh. With no eateries open and no option to cook, Bimala does not know how she and the baby are surviving.
"I haven't even had the chance to drink hot water," says Bimala. "We have a major water shortage after last week's earthquake."
Bimala has been fortunate as her husband has managed to bring bottled water but she understands not everyone is as lucky as she hopes relief distribution becomes smoother in days to come.
After giving birth, Bimala was due to leave for Kushe Rural Municipality. But with the roads to Kushe damaged, Rupesh, Bimala and the baby are stranded in Khalanga.
"If we could go home, we could arrange food even though our home has been destroyed. We feel helpless right now as we have to stay here as this is the only place with a hospital," she says.
Gauri BK, 25, of Bheri Municipality is also living under the tarpaulin with Bimala. She too was eating a samosa holding on to her eight-day-old infant.
"There is nothing to eat. We have this (points at a thin sheet of plastic) for shelter. We need help," she says.
Unfair relief distribution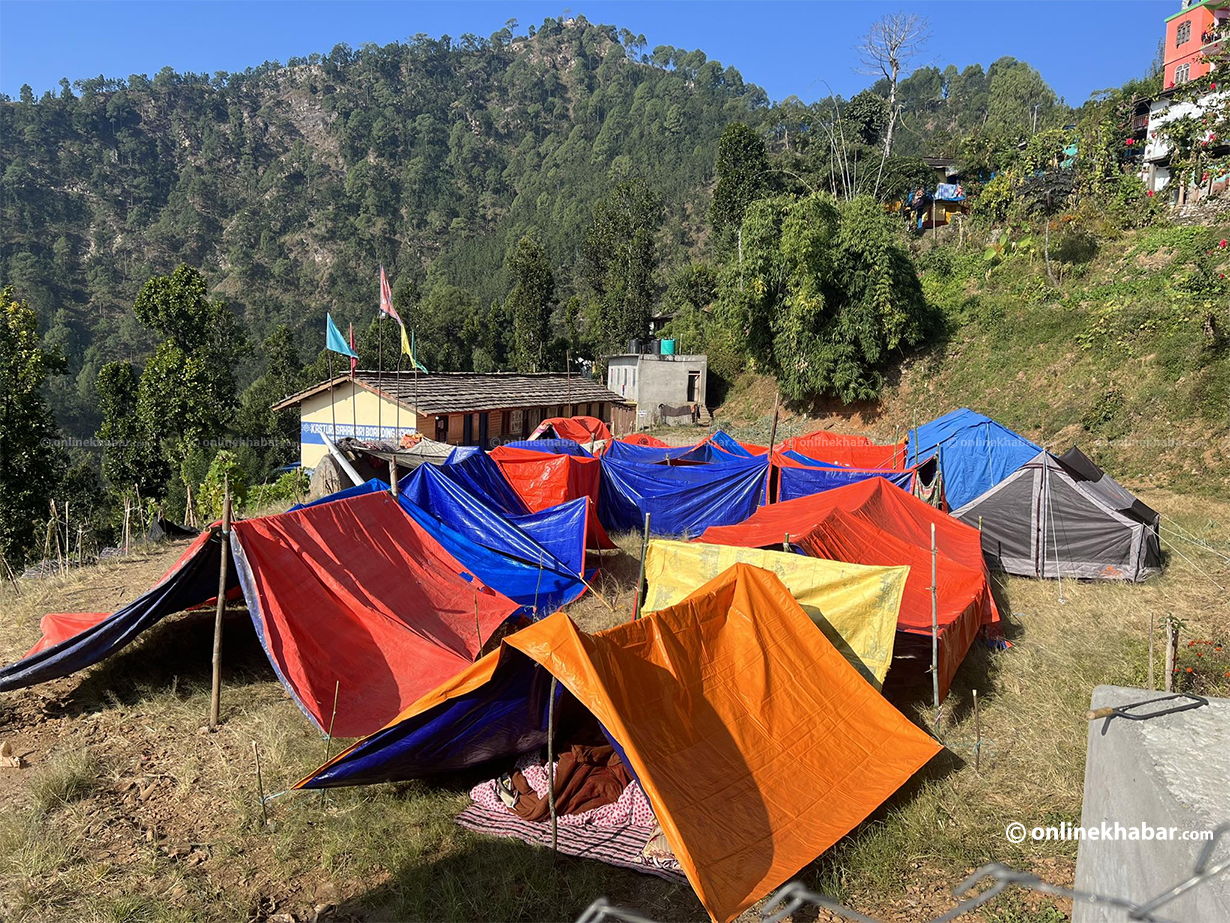 Relief distribution in the region has been an issue of late. Rupesh said even though the government has distributed relief in Khalanga, it did not at an awkward time.
"They distribute relief at 2 am and give it to specific people. It is not fair on us," says Rupesh.
Sunita Khadka of Bheri Municipality-4 says that she has not received any sort of relief yet. 
"A lot of relief is coming but we are not getting them. They should be distributed equally to everyone. Everyone is in despair. But most of us are overlooked," says Khadka.
What has frustrated people is some have received relief twice when many have yet to get it once. Frustrated, some youths from Bheri Municipality have padlocked the municipal office as a form of protest.
Given that the majority of Khalanga's population consists of non-natives, there is an argument that relief distribution has been primarily focused on individuals who are native to the region and registered voters.
Geeta KC, 36, alleges that the local representative displayed discrimination against non-natives during the relief distribution process.
"How can they consider us an outsider, while I have been running a hotel in this place for the last 10 years," she says. 
According to KC, after experiencing unfair treatment, she and several other women went to meet with the Chief District Officer of Jajarkot, Suresh Sunar, and the Mayor of Bheri Municipality, Chandra Prasad Gharti.
"We could not meet with the CDO but he said he will manage things for us. However, we haven't received anything till now," KC says.
They were asked to speak to Nepali Congress Rajiv Shash who, KC says, has not done anything to help those in need.
Risk of getting sick
Parbati Sunar, 29, has been coughing vigorously. With the temperatures at night dropping to single digits, she is scared she will fall sick.
"15 people were sleeping in the same place. It was very difficult to spend the night like that," says Sunar.
Bhawani Shahi, who was also seated on the grounds of Kasturi School, has two school-going children. After the earthquake destroyed her rented house, she no longer has a shelter and has been living on the school's ground.
"Somehow I managed to find a tarpaulin in which women live with their children. The men sleep outside turnwise," says Shahi. 
Shahi's 14-year-old nephew Rajib Singh Thakuri says things are unfair as some people have taken two blankets while they have not received even one.
"It is freezing at night," he says.
Hemanta Basnet of Khalanga says that the people who need help have not received relief from the government.
Kamal Singh, who lives near Kasturi School, asserts that the unjust relief distribution has further victimised them.
"If there is no discrimination in relief distribution, then why are they being distributed only to selected individuals at night," she says.